9 Best Non-Toxic and Organic Candles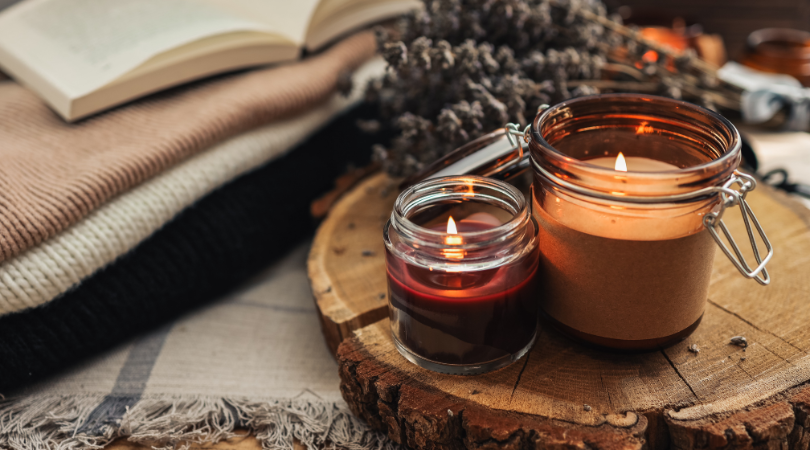 At the risk of sounding cliche, there's just something about organic candles that pretty much forces us to revel in that warm, tingly feeling they evoke as soon as the cold-weather season rolls around. 
The best non-toxic candles are pretty much synonymous with long afternoons curled up in front of a roaring fire with our softest sweater. And if you are into aromatherapy, natural candles are ideal for winding down at night, luxuriating beneath cashmere throw blankets after a long day in the crisp outdoors. To put it bluntly, no matter your scent preferences, the healthiest candles will turn your cramped city apartment or two-story house into a calming oasis with the swipe of a match. 
Read on to discover the most raved-about affordable non-toxic candles and luxurious clean candles ranging from warm and woody to bright and tropical. No lead wicks, formaldehyde, acetaldehyde, or any other chemicals.  
The Best Non-Toxic Candles With Organic Ingredients
1. Butterscotch Organic Candle
Price:
$422
Sustainable Materials:
Soy wax & all-natural ingredients 
(burn time of 40-80 hours)
Oatmeal Stout is one of the best organic candles that cater specifically to our spiked cider dreams. The USA-made organic soy wax candle has a complex blend of oatmeal, orange peel, and butterscotch notes sitting atop base notes of almond and vanilla.
To put it simply, it will emit the comforting smell of an oven oatmeal cookie, but you know, even better! Plus, Candelles candles feature an all-natural soy wax blended with only natural, phthalate-free fragrance oils, with no additives at all.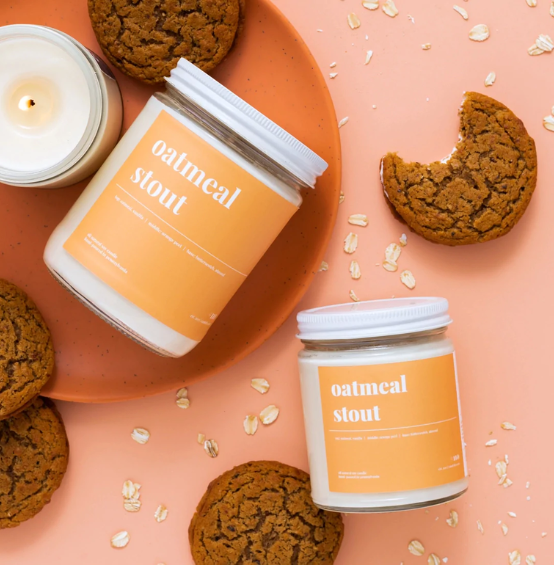 2. Spooky Ghost Stories Non Toxic Candle
Price:
$26.99
Sustainable Materials:
FSC-certified wick, organic coconut wax, soy wax, essential oils
(burn time 60+ hours)
Apple cider lovers, rejoice! Amidst the many winter-approved natural organic non-toxic candles, Spooky Ghost Stories certainly reigns supreme. Think of it as a warm and inviting blend of oranges, lemons, apple cider, and wood. A classically nostalgic scent infused with natural ingredients!
It's 98% organic coconut wax and 2% soy wax –but that's not all! Even the crackling wooden wick is FSC certified. So rest assured that these clean candles are totally worth it.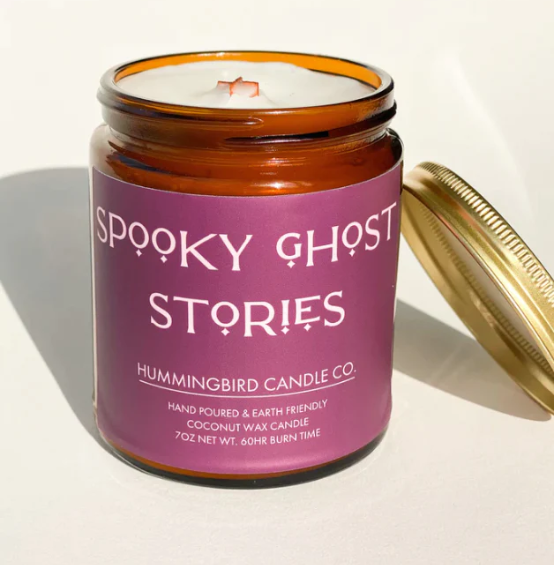 3. Pumpkin Souffle Clean Candle
Price:
$22
Sustainable Materials:
natural soy wax blended with only natural, phthalate-free fragrance oils
( 40-80 hour burn time) 
To put it simply, this fragrance is just lovely and perfectly captures the smell and nostalgia of our favorite sweet treats. The pumpkin soy wax candle features a more vanilla pumpkin with a bit of spice reminiscent of old festive family dinners and countless hours of snuggling up on the sofa when it's too grim outside.
Plus, Candelles, one of the best non-toxic candle brands that are family owned focuses on small batch production, eco-friendly products, and providing quality, hand-poured candles.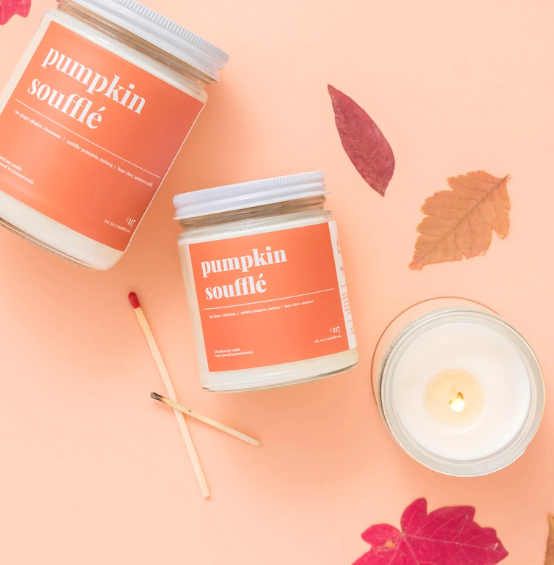 4. Apple Tree Organic Candle
Price:
$19
Sustainable Materials:
Soy wax, responsibly-sourced ingredients, non-toxic fragrance
(40-50 hour burn time)
Are you on the hunt for the best organic candles to get through autumn and winter by filling your home with a soulful, crisp, and inviting fall scent? This soy wax candle is hand poured, clean burning, and made in recyclable and reusable containers in NYC. It features notes of apple with warm notes of cinnamon and wood and is topped with dried apple blossoms.
Seriously, the combination of spices and baked apple smells good enough to eat! What's more, the brand gives back by donating 10% of monthly earnings to the Sylvia Rivera Law Project, an organization working to "guarantee that all people are free to self-determine gender identity and expression, regardless of income or race, and without facing harassment, discrimination or violence.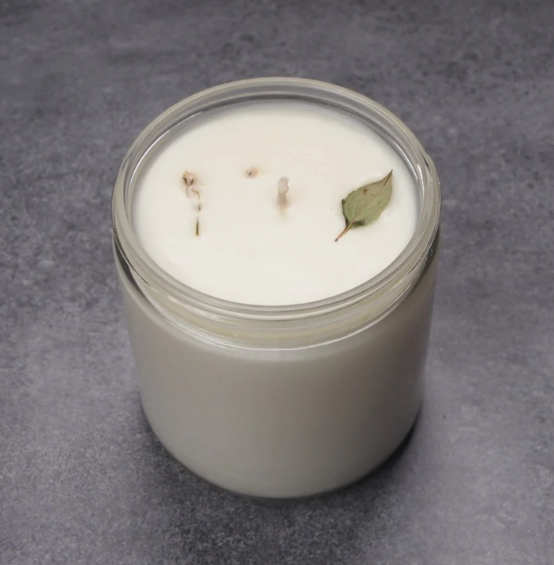 5. Cabin Getaway Organic Soy Wax Candle
Price:
$22
Sustainable Materials:
Soy wax, natural, phthalate-free fragrance oils
( 80-120 hours)
Hand-poured, down-to-earth, and utterly cozy, this healthy candle promised to take you on an escape, away from the hustle and bustle. In other words, it perfectly captures the vibe of quiet nights in a warm cabin with a fire going and delicious treats baking to perfection. You can thank the cinnamon bark, bayberries, cranberries, and orange zest notes for that delightful "escape". Of course, it's also ethically made in the USA.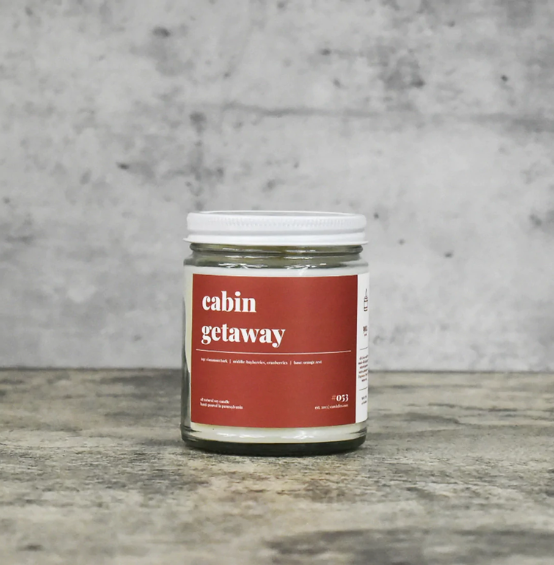 6. Hoodie Season Natural Candle
Price:
$26
Sustainable Materials:
Soy wax, coconut wax, essential oils
(70hr burn time)
Prepare your nose for dominant notes of sparkling champagne and citrus merged with a heart of balsam and cedar. Now add a dash of moss mixed with woodsy pine, juniper, and patchouli. Can you name a better combination? Hummingbird Candle Co creates some of the best non-toxic candles that are vegan, cruelty-free, and made in the USA with 98% coconut wax and 2% soy wax. Each blend is packaged in recycled glass vessels and features FSC Certified crackling wooden wicks.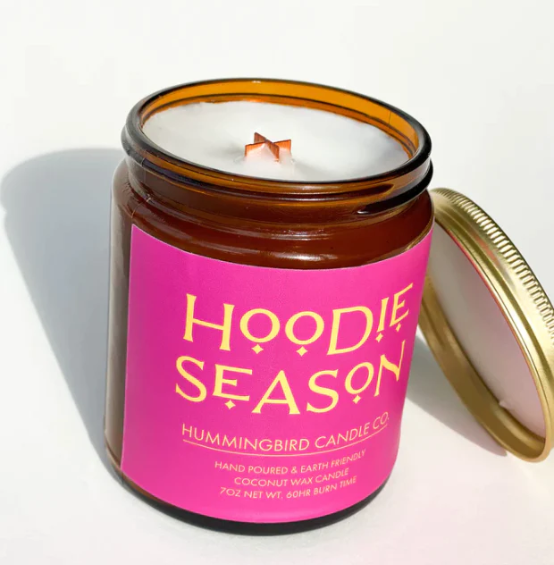 7. Cashmere Organic Candle
Price:
$28
Sustainable Materials:
Wooden wick, all-natural ingredients, coconut wax 
(45-50 hours)
Are you frantically looking for a rephrasing and mesmerizing scent for the modern soul who exudes soft sophistication and loves to treat themselves to the finer things in life? This utterly giftable coconut wax candle will bring notes of vanilla bean, ylang-ylang, and santal to your safe space – aromatherapy, at its finest.
Slow Made is well-known for its eco-luxe non-toxic candles that are renewable, vegan enhanced with 100% natural cotton wicks, lead and zinc free. The best part? All clean candles are hand-poured in small batches in their Chicago studio.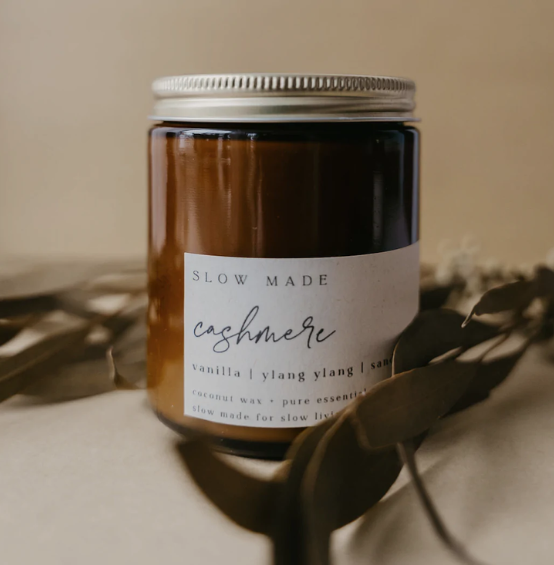 8. Gratitude Non-Toxic Candle
Price:
$22
Sustainable Materials:
 soy wax, essential oils 
 (25-28 Hour burn time)
The deep and complex scent of Gratitude will flood your home with a heavenly blend of Vanilla and Vetiver creating a sweet and woodsy aroma with earthy notes of amber and balsam. Get ready to relax and unwire in a rich and warm atmosphere while adorning your sleeve with the most display-worthy reusable cement vessels. Let's not forget that Thistle Farms is a nonprofit social enterprise dedicated to helping women survivors recover and heal from prostitution, trafficking, and addiction to boot.
9. The Black Flame Candle
Price:
$26
Sustainable Materials:
Coconut wax candle with fragrance oils
(70hr burn time)
The best organic candles are definitely the ones that have stories to tell – and this one is, well, pure Magic! The mysterious and intoxicating blend invokes the whimsical fragrance profiles of Bergamot, Violet, Rose, and Leather. Let's just say that This coconut wax candle will deliver the right amount of sexy and mystery in true Hummingbird Candle Co fashion– what more can we ask from an all-year-round affordable non-toxic candle?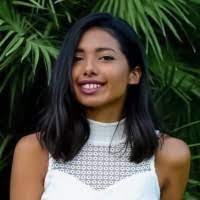 About Author
Konstantina Antoniadou
Freelance fashion and sustainability writer with an ongoing curiosity to explore new innovative technologies, and report on trends in "green" industries.