10 Organic & Ethical Gifts for Men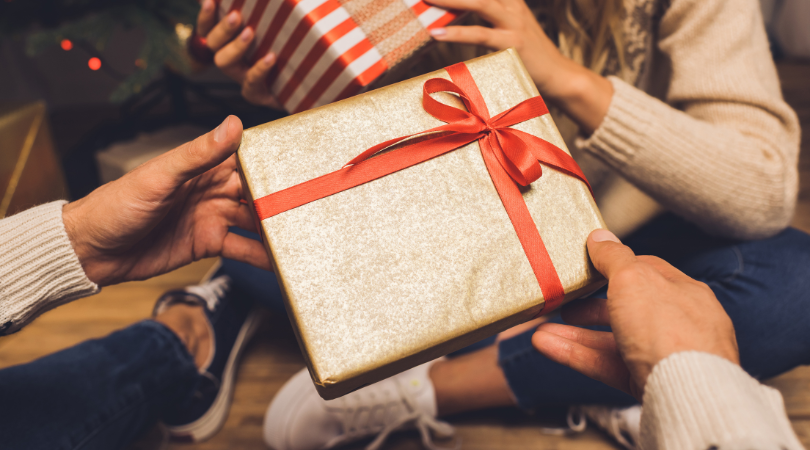 While some self-proclaimed pros spend an entire year plotting and planning foolproof checklists of ethical gifts for men, women, and everything in between to dazzle and delight them as soon as December rolls around, most folks don't have the same knack for nailing the subtle art of gift-giving years after year.   
The holiday season is not easy to navigate – especially if you are on a quest to find a gift that will elicit some delightful reactions out of your eco-conscious buds. That's why we took it upon ourselves to round up the best organic gifts for him who is always on a hunt to find the most durable, ethically-made, and stylish capsule wardrobe basics.
Knowing that Christmas is one of the most wasteful holidays of the year, we only picked the best-of-the-best eco-friendly gifts made to be loved long after they've been received. All of our options below are crafted skillfully with natural and sustainable materials in Fair trade factories where workers are paid fairly for their effort. Some brands thrive on diverting waste from landfills by turning it into enviable clothing while others reduce their impact on the environment with resource-saving technologies. 
Ahead, peruse our selection of ethical gifts for men that are primed to excite everyone on your holiday checklist. 
Organic & Ethical Gifts for Men
1. Taylor Stitch The Après Robe
Price:
$168
Sustainable Materials:
Organic Cotton
Having an ultra-soft and cozy robe is one of life's true joys–at least for those who can appreciate the dash of luxury and comfort this tailored loungewear have to offer. Après by Taylor Stitch, ethically crafted from organic cotton in a handsome sashiko weave, takes "me time" to a whole new level. By employing the ancient Japanese stitching pattern, the California-based brand managed to enhance this beauty with a textural curb appeal and extra durability. No chemicals and toxic dyes –just huge doses of style and comfort.
2. Pact Double Knit Waffle Sweater
Price:
$185
Sustainable Materials:
Organic Cotton
Sustainable sweaters for men are evidently the best ethical gifts for him who cherishes comfort above all else. Made with GOTS-certified organic cotton in a Fair Trade factory, Pact's soft thermal waffle knit has a gazillion styling possibilities. Aside from the beautiful cold-weather-approved shade that can take him from the office to afternoon drinks with ease, this sweater has a relaxed fit ideal for layering with his favorite shirts.
On top of that, Pact measures the impact of every single and offsets it through reforestation, renewable energy, and community projects that sequester carbon from the atmosphere. How darn cool is that?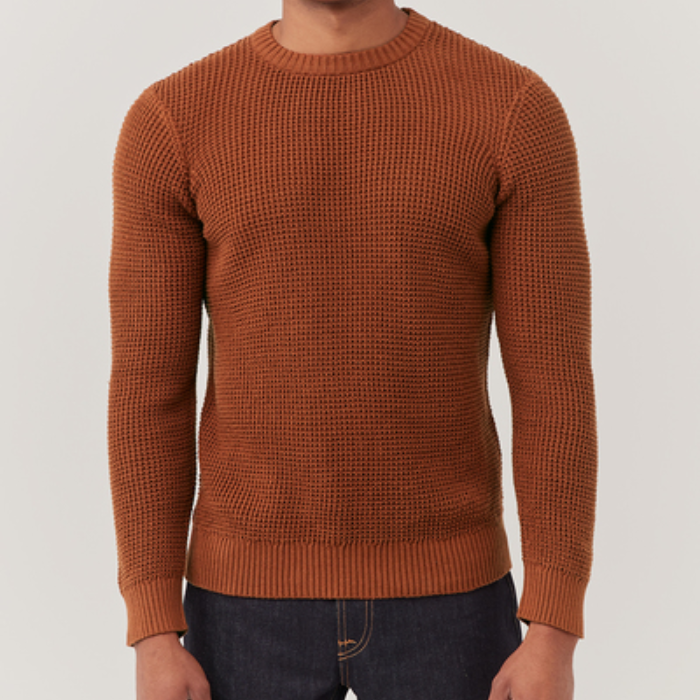 3. Ocio Classic SoftCore Crew
Price:
$118
Sustainable Ingredients:
45% Organic Cotton, 45% Tencel Lyocell, and 10% Spandex
Looking for ethical gifts for men who love curling up on the couch in their coziest of ensembles? This wear-me-everywhere crewneck sweatshirt will get him through the day – from lounging to strolling the light-up city streets. It is made from a buttery soft mid-weight custom fabric blend locally in Los Angeles at a Bluesign® Certified Facility. Now, on to the really good part. You can add custom embroidery to the piece and make it truly unique!
Also, keep in mind that it is low carbon and Certified Plastic Negative, meaning that Ocio facilitates remove twice the amount of plastic waste from our environment than they are responsible for.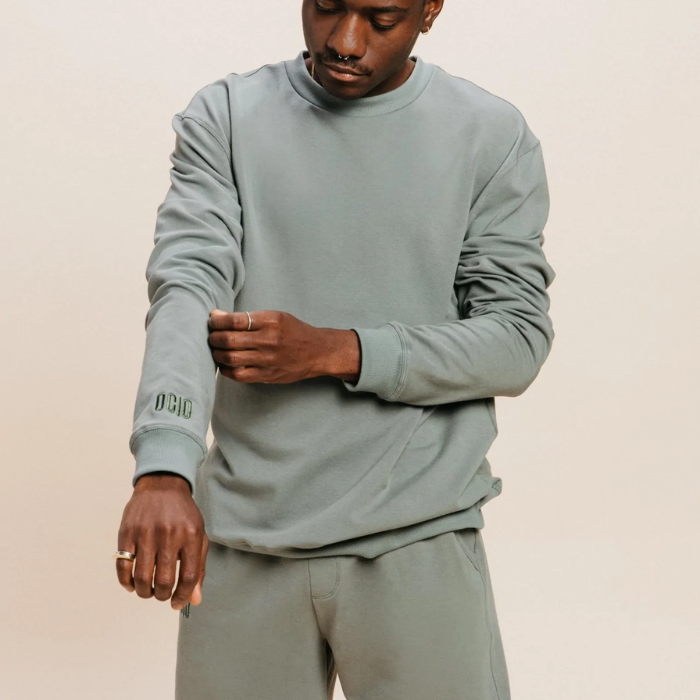 4. Warp + Weft Ethical Denim
Price:
$98
Sustainable Ingredients:
 Cotton, Lycra, and Tencel
Go ahead, name one guy who doesn't have an affinity for denim! Feed into his lust for quality jeans that will certainly withstand the test of time with Talloy – one of our favorite ethical gifts for him yet. It's a 70s-inspired medium indigo wash jacket adorned with brown corduroy accents at the collar – you know, vintage yet modern, the ultimate combo! Their materials of choice? Cotton, Lycra, and Tencel! Beyond that, the brand treats and recycles 98% of the water they use. Sustainability and ethics, what more can we ask for?
5. No Nasties Almond Scarf
Price:
$52
Sustainable Materials:
Organic cotton
Your quest to find the most affordable yet ridiculously stylish organic gifts for him is over. No Nasties' almond scarf is the ultimate neutral hue that can elevate (and match ) every outfit with ease. This zero-waste organic cotton basic is knitted from yarn into the exact shape of the scarf eliminating fabric waste. Additionally, the eco-conscious brand plants 3 trees with every single purchase, so rest assured that your ethical gift will have a positive impact.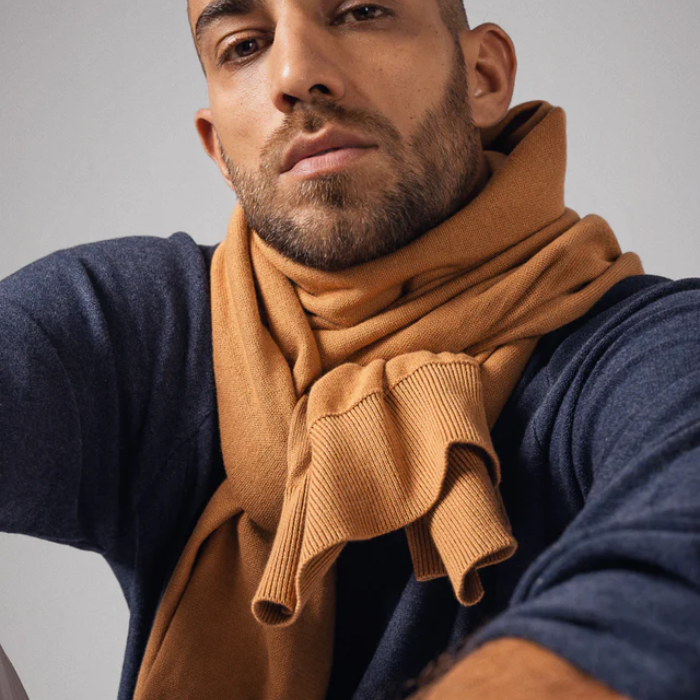 6. Tack and Stone Upcycled Hoodie
Price:
$95
Sustainable Materials:
10oz french terry fleece, 52% Upcycled Cotton/48% Recycled Polyester (rPET)
Our "organic & ethical gifts for men" wouldn't be complete without at least one reference to Tack and Stone. Aside from being enviably stylish and extremely soft and cozy, this upcycled hoodie is crafted from 100% recycled fiber, using zero chemicals and zero dyes. This means that the brand successfully diverts waste from our landfills and saves 1,197 gallons of water compared to a traditional cotton hoodie.
Plus, it's recyclable and skillfully made in Northern Portugal through the use of state-of-the-art cutting and sewing technologies that leave behind little to no carbon footprint!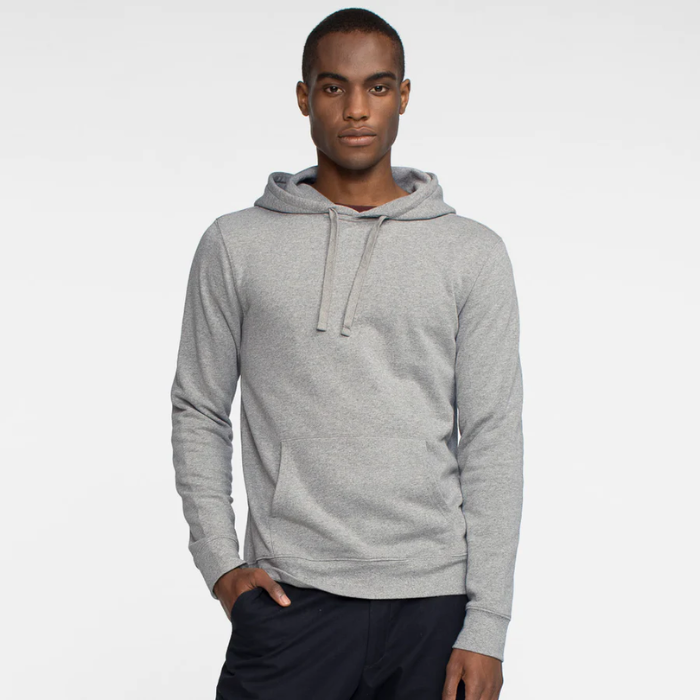 7. Faherty Knit Seasons Shirt
Price:
$200
Sustainable Materials:
100% Organic Cotton, Faux Corozo Buttons
If you are brainstorming on the best gift ideas for organic lovers who refuse to sacrifice style or sustainability, this medium-weight, versatile shirt is the answer. Faherty is toted for their exceptional range of ethical shirts but this one in particular reigns supreme. It is created as a knit, rather than woven, so it's basically a work-ready style that wears like your favorite tee.
Crisp, classic yet refreshingly modern, this piece will simply never go out of style. Plus, the 8 different color options pretty much guarantee that at least one of them will be able to meet his very particular taste.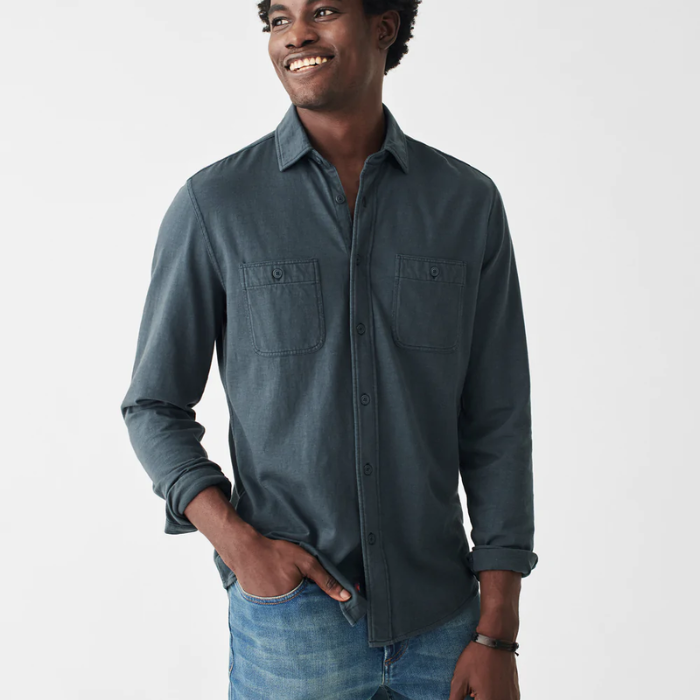 8. Outerknown Sojourn Tee
Price:
$71
Sustainable Materials:
Pima Cotton
Outerknown will forever be a top destination for ethical gifts for men who put all their trust in their everyday basics. Finding the best neutral-colored tee is like finding the perfect paint: a seemingly simple quest complicated by the slew of available options. Light, breathable, and unbelievably soft to boot! , this t-shirt has everything! It's ethically crafted with the world's finest Peruvian Pima cotton which is sourced from over 390 local farmers throughout Peru.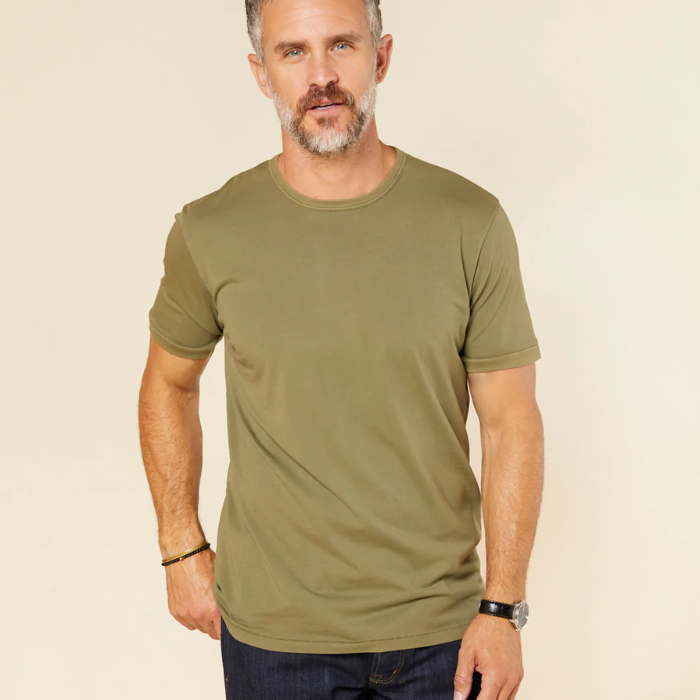 9. Asket The Overshirt
Price:
$180 
Sustainable Materials:
Organic cotton
With over 400 glowing reviews from eco-conscious folks, this overshirt is definitely one of the best ethical gifts for men who prefer time-proof, clean and minimalist pieces. Asket has equipped their best-selling 100% organic cotton twill shirt with a universally-flattering straight cut and 3 classic front pockets for functionality and comfort. What's more, it can be worn as a top layer for warm days and a middle piece for when temperatures drop. Yes, it's that versatile!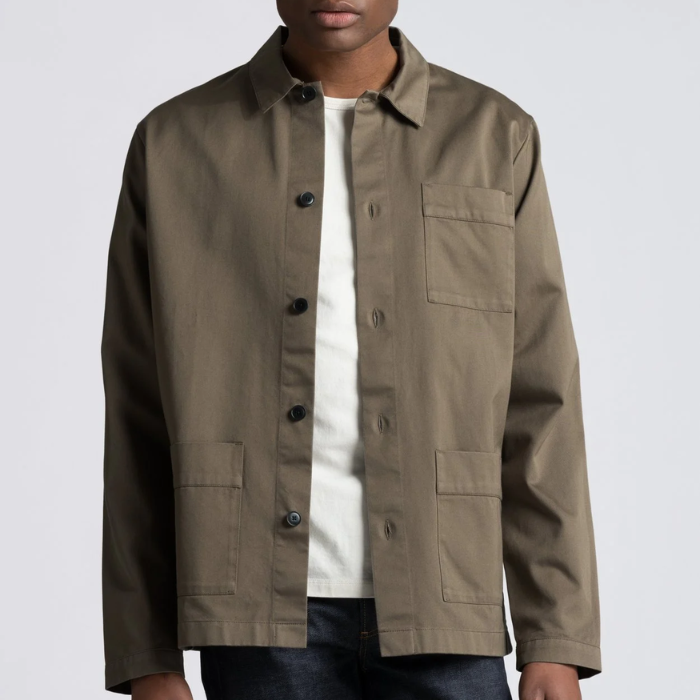 10. Jiva Apoha 1975 OM Oil
Price:
$175
Sustainable Materials:
Pure Essential Oils of Marigold, Mysore Sandalwood, Saffron, Frankincense & Amber
Last but not least in our ethical gifts for men checklist, a calming, revitalizing, seductive beauty oil that will sweep him off his feet. Inspired by the original Halston Classic fragrance with an echo of Yogi Guru Pattabhi Jois on his first American tour from India, this formula promises to set off an eternal wildfire in scent. It's an appealing aroma that holds woody and spice notes with a hint of floral.
Aside from the euphoric scent, this oil is sourced from herbal farms in India, the US, and South America. Of course, it's free of allergens, and parabens and ethically created in small batches.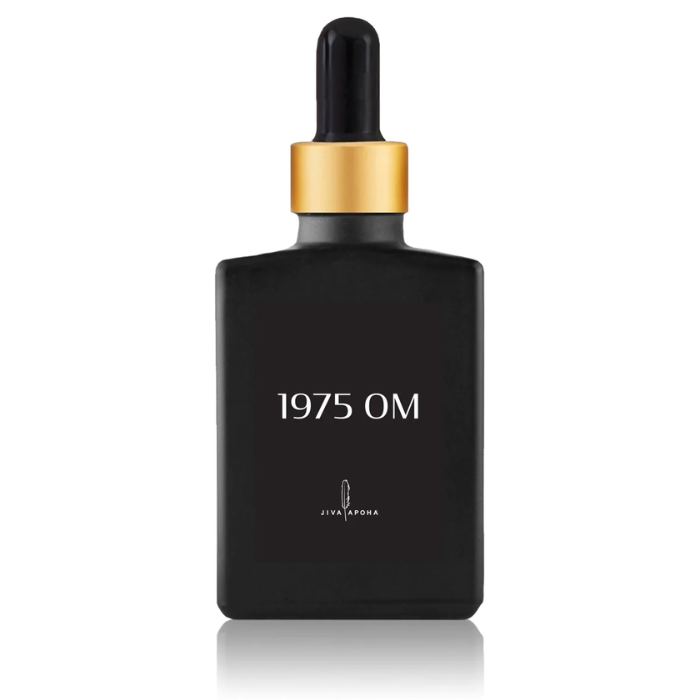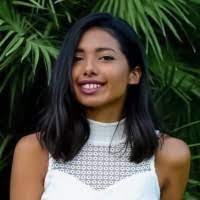 About Author
Konstantina Antoniadou
Freelance fashion and sustainability writer with an ongoing curiosity to explore new innovative technologies, and report on trends in "green" industries.