12 Top Sustainable Sweaters For Men in 2023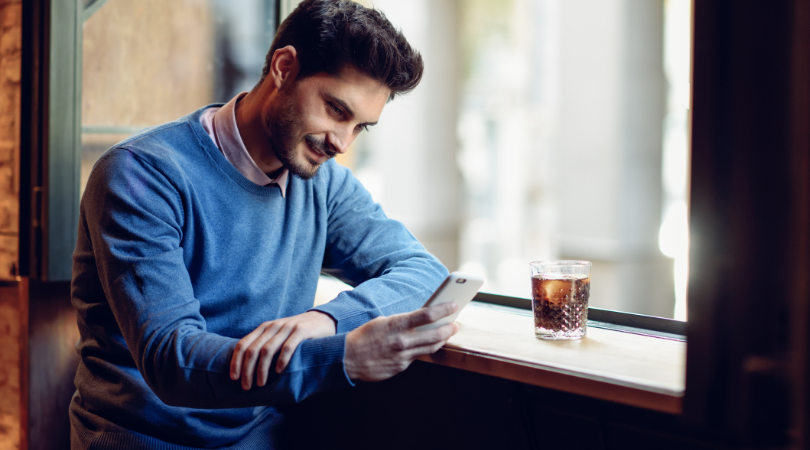 It appears we've officially entered sweater season yet again! For seekers of cozy, wool, cashmere and organic cotton sustainable men's sweaters are the holy grail of eco-friendly fibers. Because let's face it; there's nothing better than a warm, extremely soft knit to snuggle in while you venture out in the gloomy outdoors. It's no secret that sustainable sweaters for men are a true investment. However, not all luxurious knits are created equal –or ethical. 
 Wool production uses heat, water, and chemicals. On top of that, microfibers from synthetic fibers heavily contribute to plastic pollution in the world's oceans. Let's not forget that sheep are mutilated, abused, and skinned alive all in the name of fashion. These are only a few reasons why it's so important to choose ethical and sustainable men's sweaters that have been vetted and approved by third-party organizations.
Luckily, there is an influx of luxe options rendered with responsibly-sourced wool, recycled material, and organic cotton ready for grabs. Our most trusted ethical menswear brands below are lauded for their fantastic lines of Fair Trade, consciously-produced sustainable sweaters for men. Some employ skilled artisans from developing countries to handcraft their knits while others give back in a slew of different ways. One thing is certain; your quest to find the best men's sustainable sweaters ends here.
12 Best Sustainable Sweaters For Men In 2023
Price:
From 228,00€
Sustainable Materials:
Organic cotton & recycled cashmere
Outerknown's ever-growing collection of sustainable men's sweaters has something for virtually every taste. Staying true to their "For People and Planet" motto, the LA-based ethical fashion brand puts much emphasis on fair trade and sustainable sourcing, and thus, most of the pieces are made with natural and recycled materials.
Their ethical sweaters line ranges from super soft and luxurious cashmere crewnecks to 70's inspired staples crafted from organic cotton and COOLMAX®. Their collection also includes heavy-duty, neutral-colored sustainable sweaters for men who want to battle the coldest days of the season.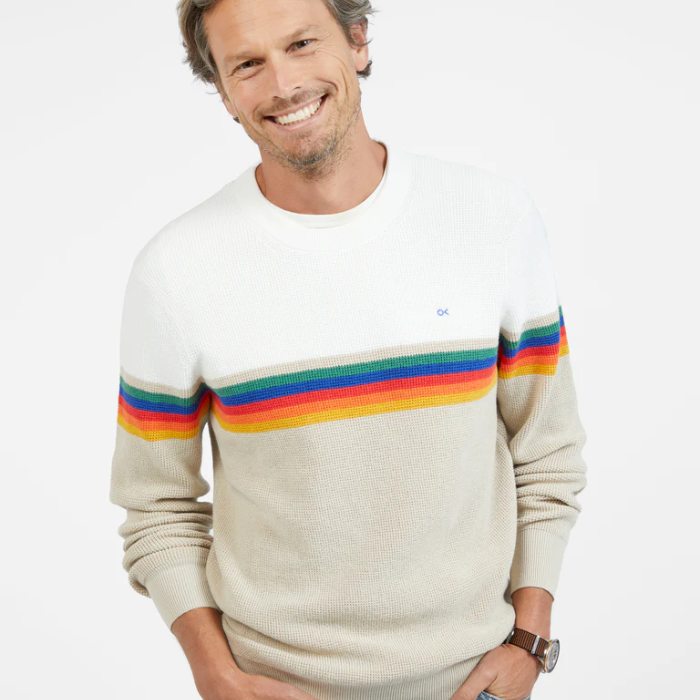 Price:
From $109
Sustainable Materials:
Recycled cashmere & wool
Aside from outfitting us for our outdoor adventures, Patagonia also offers an array of men's sustainable sweaters and pullovers – including sweater vests! Their top-selling recycled cashmere 1/4-zip sweaters can double as casual wear, workwear, or even athleticwear if you love hiking! Other styles are solely built for cool weather with recycled wool and nylon perfect for camping or everyday wear.
Of course, as one of the founding members of 1% for the Planet, the certified B Corporation focuses on protecting the environment. Also, the majority of their pieces are Fair Trade-certified sewn garments with a very transparent impact report.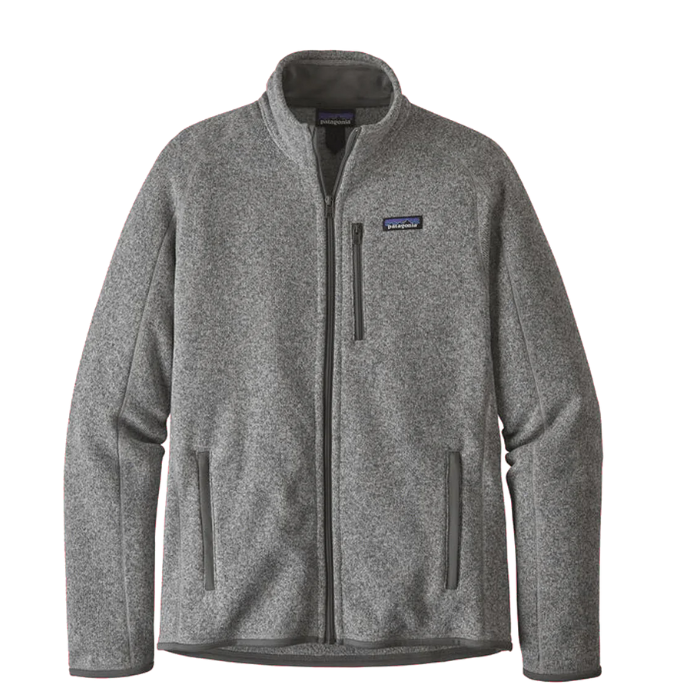 3. Taylor Stitch
Price:
From $168
Sustainable Materials:
Merino wool and 100% BCI certified organic cotton,
Taylor Stitch's range of sustainable sweaters for men will keep you warm and without forgoing style. Their 16-piece assortment of minimalist, ethical sweaters are true menswear classics with subtle vintage vibes. With responsibly sourced 4-gauge merino wool and 100% BCI cotton, their line is as sustainable as it is refined.
You can opt for cardigans, sweaters with double-layer ribbed necks, or quarter-zip styles in a slew of muted and neutral colors. Moreover, the brand is known for creating clothing in batch manufacturing using exclusive materials like dead stock fabrics. So to put it simply, Taylor Stitch is where versatility, all-seasons comfort, and ethical manufacturing principles collide.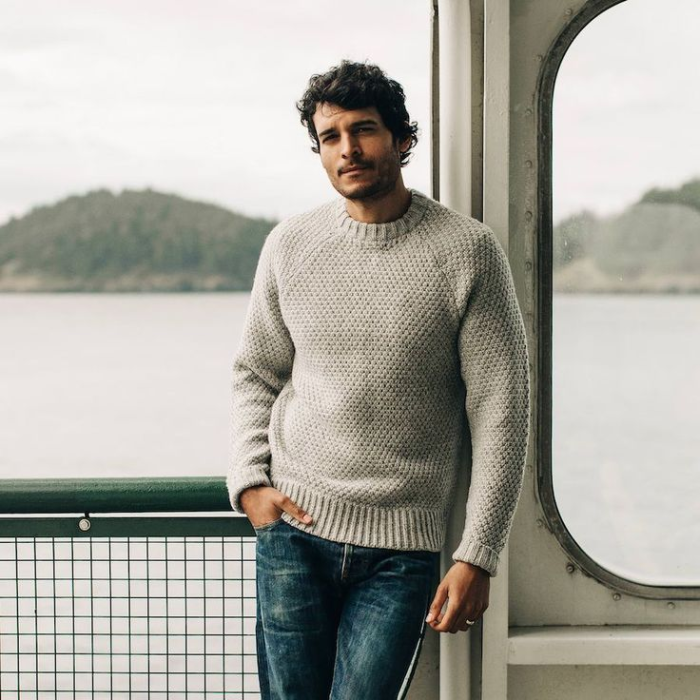 Price:
From $110
Sustainable Materials:
Organic cotton, hemp, recycled wool, TENCEL Modal, recycled poly
Cool-to-know fact: Prana is actually the first North American clothing brand to produce Fair Trade Certified clothing. Prioritizing natural materials like organic cotton, hemp, and recycled wool, the company tracks their entire manufacturing process from start to finish through the bluesign program. This means that their sustainable men's sweaters are both environmentally conscious and durable for active and adventurous lifestyles.
Currently, their collection includes full zip and ¼ zip hoodies, cozy button-down tops, and heavy overshirts too. To top it all off, most styles are sewn to perfection in Fair Trade Certified Factories.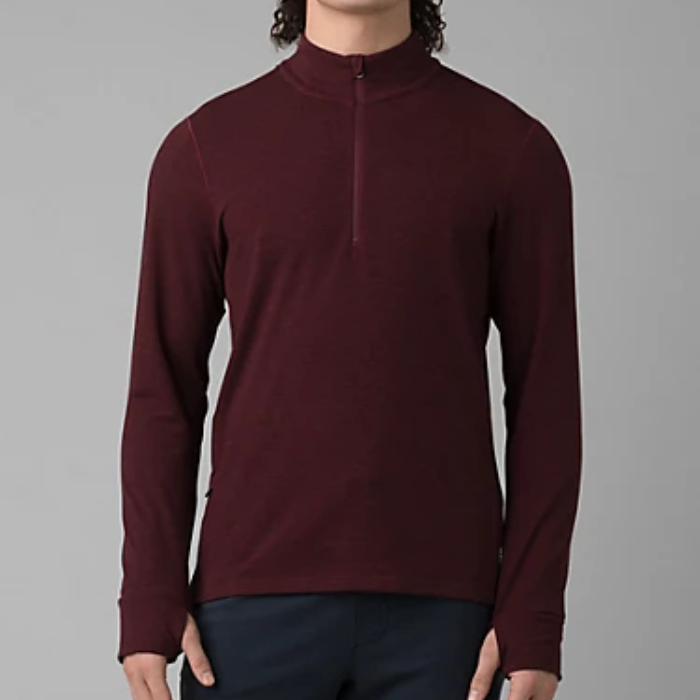 Price:
From €130
Sustainable Materials:
Merino Wool and pure British wool & recycled materials
Finesterre's range of sustainable sweaters for men includes many premium woolen jumpers, classic roll-necks, cable knits, and fisherman's sweaters – just to name a few. If you are into different patterns, you can also find chunky knits, striped jumpers, and flecked wool options.
No matter your preferences, their eco-conscious materials of choice are ethically-sourced Merino Wool and pure British wool so durability, comfort, and warmth are guaranteed. Of course, the B-certified corporation closely monitors their entire supply chain and publishes annual impact reports.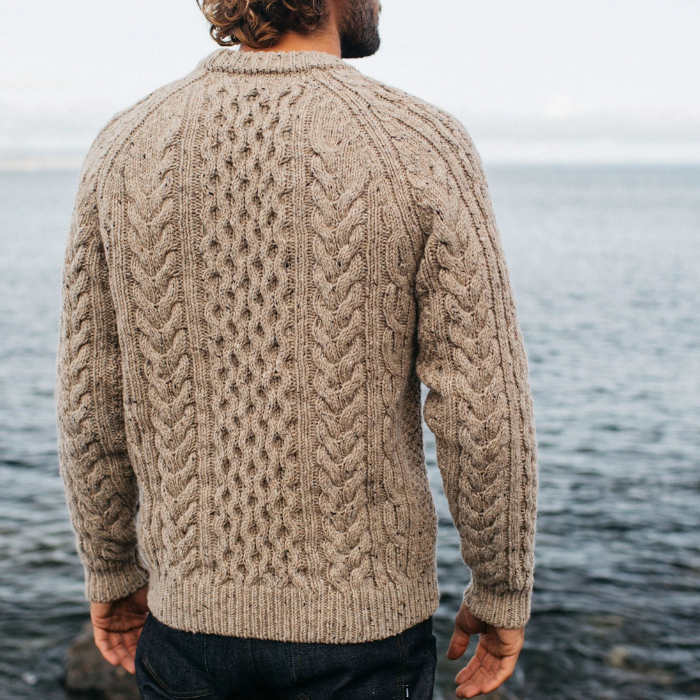 Price:
From $115
Sustainable Materials:
Merino wool, recycled wool & cashmere, organic cotton
AKSET's men's sustainable sweaters are made from luxurious, unblended natural fibers such as 100% traceable RWS-certified merino wool, GRS-certified recycled wool, and recycled cashmere to be "as soft on your skin as on our planet." They have a wide range of classic post-consumer cashmere and merino sweaters, layerable zip cardigans, polos, roll-necks as well as organic cotton men's sweaters.
As for the colors, they mostly lean towards the minimalist side –which is ideal if you are looking for timeless investment pieces for your capsule wardrobe.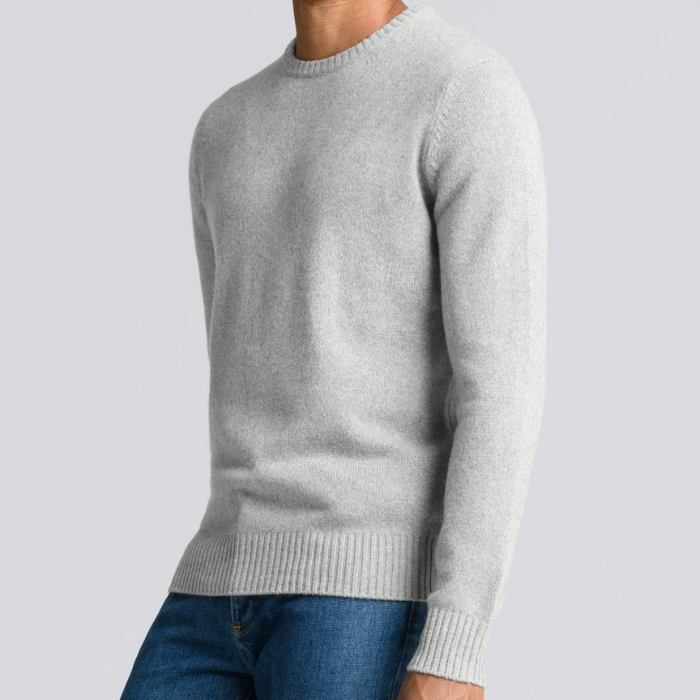 Price:
From $158
Sustainable Materials:
Alpaca wool, Tencel, organic cotton
For premium quality, organic cotton men's sweaters, look no further than Indigenous. The sustainable menswear brand offers 2 different handcrafted knits: an organic cotton crewneck and a long sleeve crew sweater made from a blend of baby alpaca, organic cotton, and  TENCEL materials. What's even more admirable? The skilled artisans behind Indigenous' collections are paid fairly and receive ith zero interest loans, free skills training, access to clean water, low-cost childcare, and much more.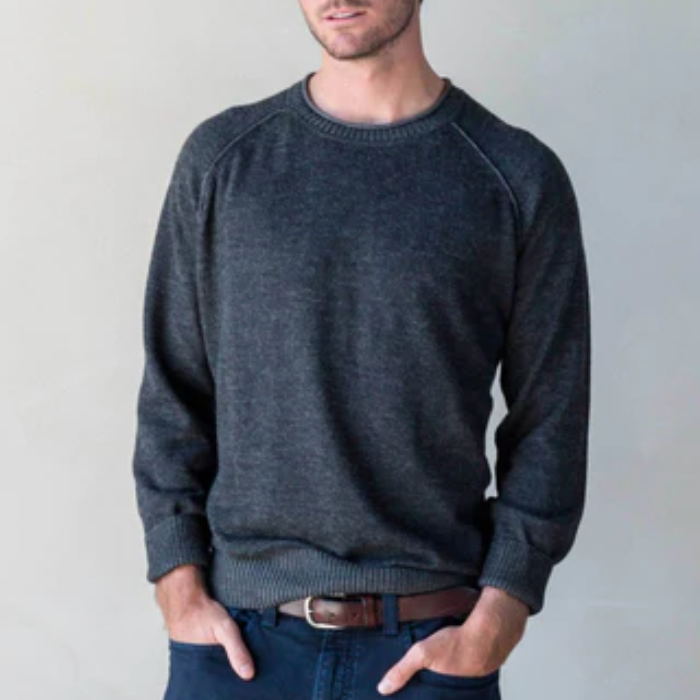 Price:
From $139
Sustainable Materials:
Alpaca
Ethically made from start to finish in Peru, Paka's sustainable sweaters are much more than just stylish pieces of clothing.  With every order, you are supporting 100+ women artisans in Peru to continue creating responsible alpaca sweaters with Natural OEKO-TEX-certified dyes. As you can imagine The brand sources their fiber from animals that roams free. So whether you are a van lifer, hiker, serial city stroller, or outdoors enthusiast, these sustainable men's sweaters are for you.
Price:
From $75
Sustainable Materials:
100% Mongolian Cashmere
By working directly with Mongolian herders, Naadam is able to pay them substantially more while we pay less for the world's best cashmere sweaters! Sounds like a pretty great deal. The brand's wide range of ethical sweaters includes breathable, wrinkle-resistant, and odor-blocking textured styles, V-necks, quarter zips, and full zip options in mostly dark hues. However, some of their most affordable knits come in more than 13 colors! So for only $75, you can get your hands on the raved-about "Essential" that has already gathered over 50k reviews.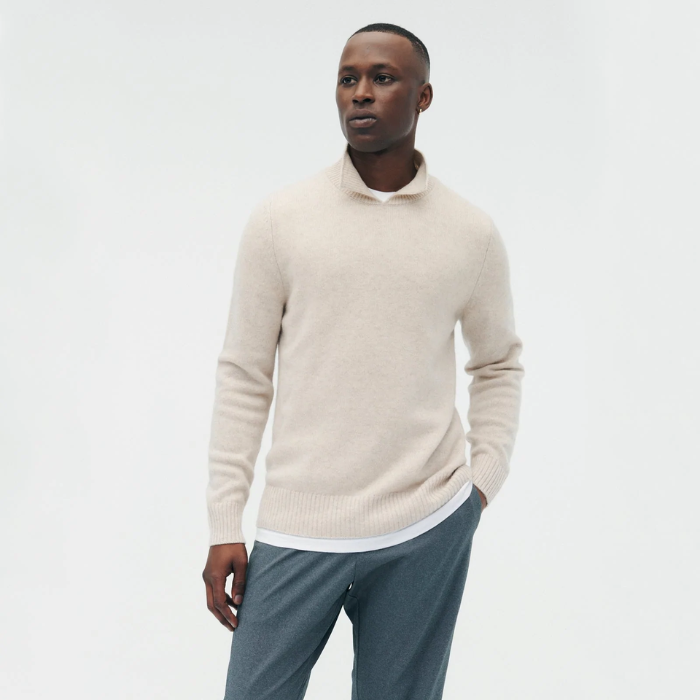 Price:
From $129
Sustainable Materials:
 Recycled Wool and Cashmere
Ecoalf sustainable men's knitwear line is made from recycled materials with minimal environmental impact. To put it simply, the manufacturing process has saved more than 1.1 billion liters of water and reduced CO2 emissions. So rest assured that your new classic, minimalist jumpers, quilted, zip-through, cashmere, or mock necks are not only inherently stylish but also very eco-friendly.
The collection boasts over 50 different designs all accompanied by a sustainability report. Plus, they also have their own non-profit organization whose main objective is to promote the selective recovery of waste in order to recycle, valorize and avoid its harmful effects on the environment.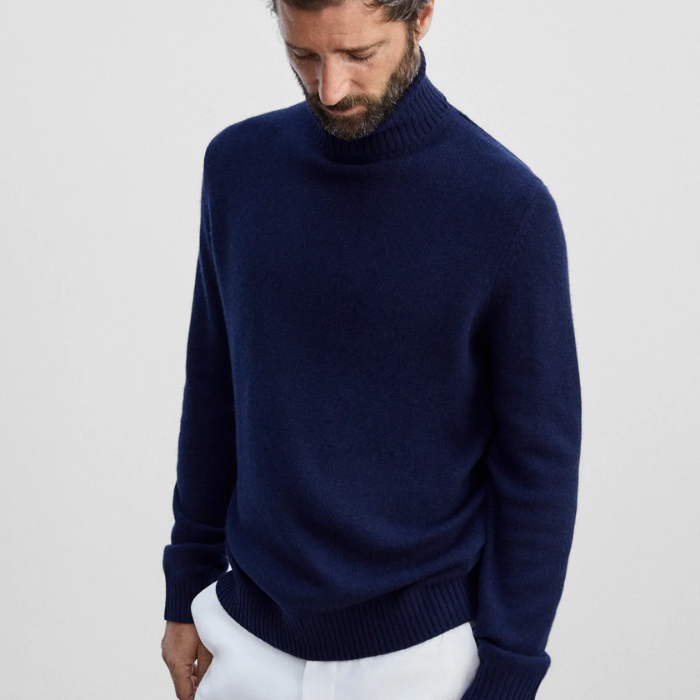 Price:
From £23.98
Sustainable Materials:
Certified organic cotton
Thought's virtual shelves are packed with affordable organic cotton men's sweaters for every occasion. Their certified organic, slim-fitting wardrobe staples come in two different colors to match your existing rotation with ease. Layer them over your flannel shirt or wear them on their own with your favorite sustainable jacket to battle the awfully unexpected autumn weather. As for Thought's values, they already have a stellar trade recycling program and only focus on sourcing responsibly-produced materials since 1995.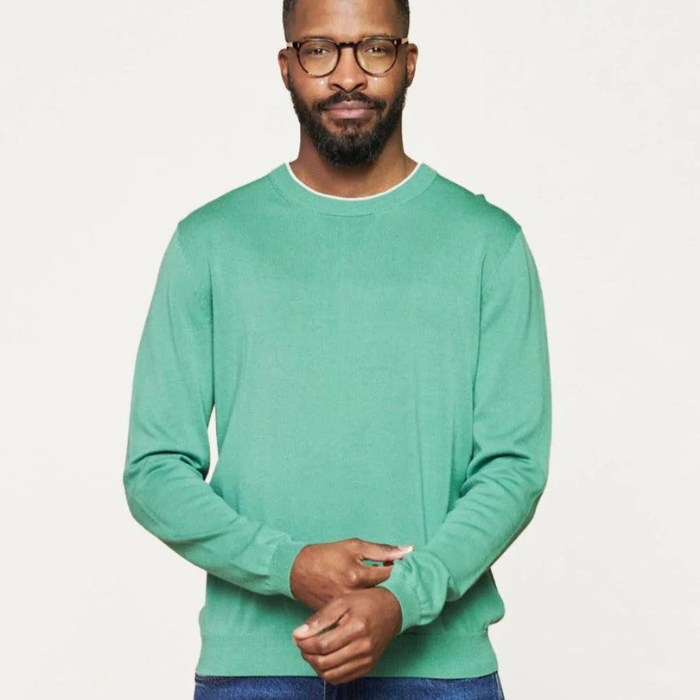 Price:
From €119
Sustainable Materials:
Organic cotton, Tencel, wool
Knowledge Cotton Apparel is ready to equip our wardrobes with premium quality, GOTS-certified merino wool rib knits, organic cotton sweaters, textured Tencel pullovers, and so many more ethically-made options. The brand currently has over 30 different styles to choose from running from modern to true timeless pieces. You can also opt for cardigans with a beautifully-vintage edge. No matter your preferences, Knowledge Cotton Apparel comes with a slew of certifications including GOTS, GRS, OCS, and PETA.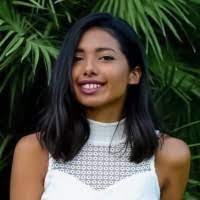 About Author
Konstantina Antoniadou
Freelance fashion and sustainability writer with an ongoing curiosity to explore new innovative technologies, and report on trends in "green" industries.