15 Sustainable & Ethical Jeans and Denim Brands for Women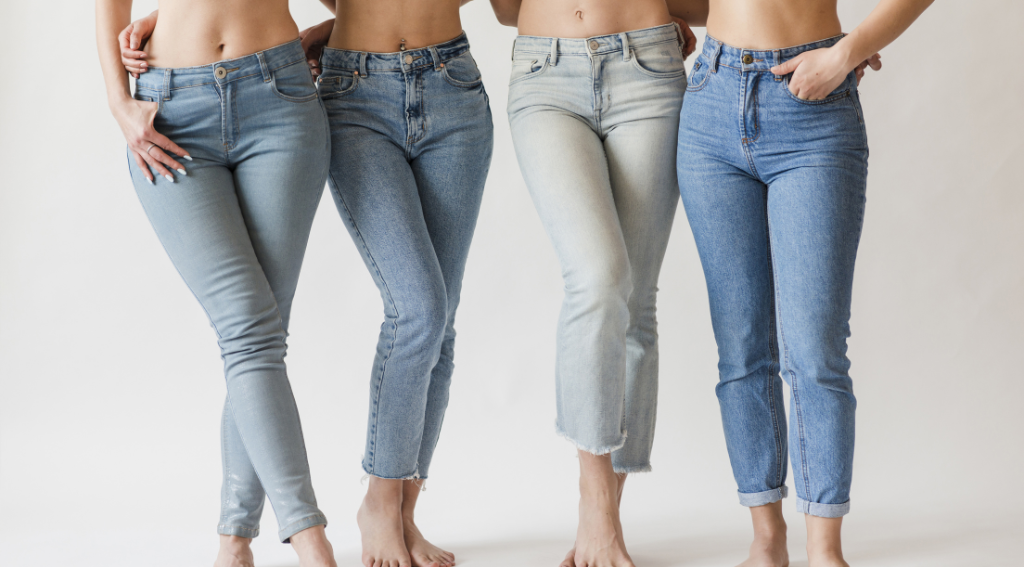 Are you on a quest to find the most ethical sustainable denim brands for women? We've got you covered. Our favorite ethical jeans companies below have everything you need!
We all know that denim is a wardrobe staple that can take your look from zero to hero in no time. But did you know that the denim industry is a major culprit when it comes to environmental damage? 
It takes a whopping 7,500 liters of water to make just one pair of jeans, and all that discarded denim contributes to a whopping 5% of landfill waste! Yikes!
But don't worry, you don't have to give up your denim dreams just yet. There are sustainable jeans out there that will keep you looking ultra-stylish while doing good for the planet. From classic affordable sustainable jeans to mom, boyfriend, and bootcup sustainable denim styles, the options are all in your favor.
Without further ado, here are our top picks for ethical denim brands for women in 2023. 
How can I tell if a denim brand is sustainable?
First, check if the brand uses sustainable materials such as organic cotton, recycled cotton or polyester, and Tencel or other sustainable fibers. Most sustainable jeans brands show off their ethical certifications with pride, so make sure to look for GOTS, Fair Trade, or B Corp companies that highlight their ethical and sustainable standards and make sure that they are being met throughout the entire supply chain.
Next, look for information on the brand's production methods. Ethical denim brands for women often use environmentally friendly techniques such as laser technology, ozone machines, and green washes that reduce water and chemical use during manufacturing.
Finally, a great ethical jeans brand should, in most cases, have a repair or recycling program in place to reduce waste and extend the life of their products.  
What are some sustainable materials used in denim production?
If you are looking for the most sustainable jeans brands for women, choose the ones that use eco-friendly materials such as organic cotton, recycled cotton, recycled polyester, deadstock fabrics, and Tencel. Spoiler alert: the options are MANY.
What is the difference between recycled and upcycled denim?
When you are on the hunt for affordable sustainable jeans, the words "recycled" and "upcycled" might come up a lot. The difference is pretty simple. Recycled denim is made from old or discarded denim garments that are broken down into fibers and then spun into new yarns. These yarns are then used to create new denim fabrics, which can be used for new clothing or accessories. Both approaches are sustainable as they reduce the amount of waste generated by the fashion industry and help to conserve resources.
On the other hand, upcycled denim is made by taking old denim garments and transforming them into new, unique pieces. This involves repurposing the old denim fabric in creative ways, such as cutting and sewing it into patches, adding embellishments, or combining it with other fabrics to create a patchwork effect.
Best Sustainable & Ethical Jeans and Denim Brands for Women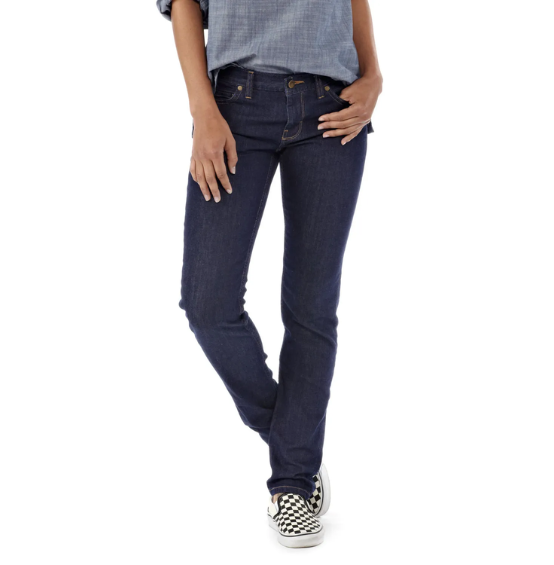 1. Patagonia
Price: From $63.99
Sustainable Materials: Organic USA-grown cotton,phthalate-free indigo dyes
Are you on the hunt for a pair of jeans that'll last through thick and thin? Look no further! You might know Patagonia as one of the best sustainable outdoor clothing brands of 2023, but did you know that they also offer amazing ethical jeans? These Fair Trade jeans are so durable, you could probably wear them while climbing a mountain, or maybe even while battling a dragon (but we don't recommend that). They've got reinforced knees that are practically indestructible, making them the perfect choice for the toughest jobs or the wildest adventures. Plus, they're sustainable and ethical, so you can feel good about your purchase.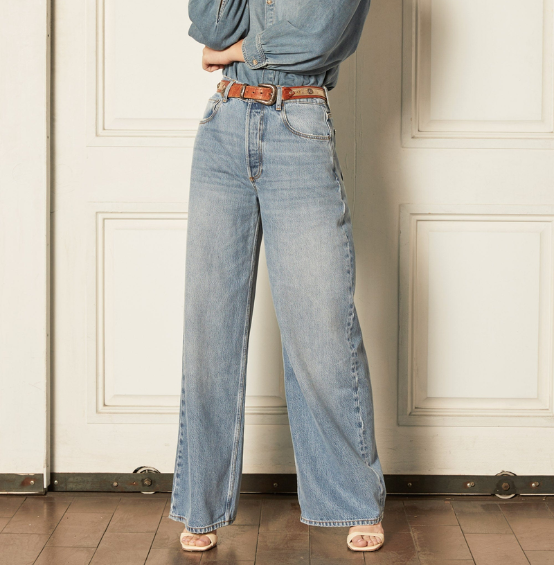 2. Boyish Jeans
Price: From $265
Sustainable Materials: Tencel, recycled cotton
Unfortunately, Not many sustainable jeans brands for women go as far as recycling water to keep harsh chemicals out of fresh-water streams. Boyish, however, excels at it! Their ethical jeans are made from recycled cotton and Tencel Lyocell, and their production process is low-waste and kind to the planet. But that doesn't mean you have to sacrifice style. With a range of cuts and styles, including frayed, straight, skinny, and flare, Boyish jeans have a vintage flair that will have you looking like you stepped straight out of the '80s. Plus, their materials come from certified mills, so you can feel good about your purchase knowing that you're supporting sustainable practices.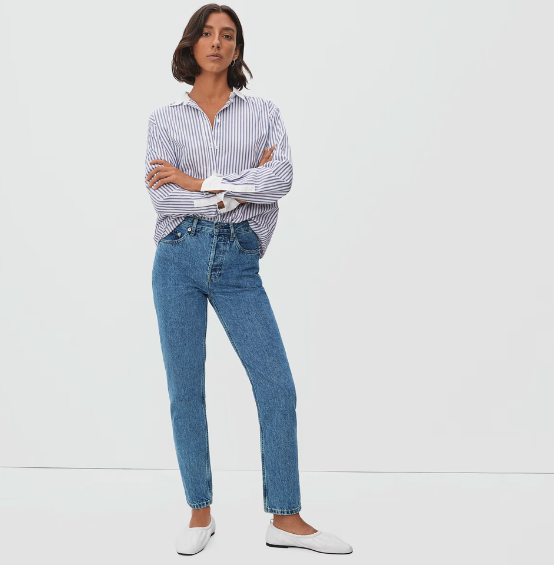 3. Everlane
Price: From $78
Sustainable Materials: Organic cotton, eco-friendly dyes
Everlane is practically the superhero of ethical jeans, offering premium quality and affordable prices for styles that fit every body type. Not only that, they use their superpowers for good by producing their jeans in eco-friendly factories that recycle water and use renewable energy. Their affordable sustainable jeans are made with organic cotton, dyes that don't release microplastics, and recycled materials for buttons and trim, so you can feel good about your fashion choices. With Everlane, you won't find any trendy gimmicks here. These jeans are designed to last forever, just like a comic book hero's legacy. It's no wonder why Everlane is lauded as one of the best ethical jeans brands women choose on-repeat. 
4. Reformation
Price: From $78
Sustainable Materials: Tencel, organic cotton, elastane 
Get ready to channel your inner vintage fashionista with Reformation's collection of sustainable denim. These stylish and ethical jeans are perfect for any occasion, whether you're looking for flirty shorts or classic bootcut jeans. Made with organic cotton, Tencel, and just a touch of elastane, these jeans are built to last and will keep you looking fab for years to come. And the best part? They're made in Turkey by employees who are paid fair wages, so you can feel good about your purchase. Oh, and did we mention that Reformation's eco-friendly processes save thousands of gallons of water? 
5. Outerknown
Price: From $178
Sustainable Materials: Organic cotton and recycled polyester
Outerknown is one of our favorite sustainable jeans brands for women who refuse to forgo style or ethics. Created by surfer Kelly Slater and designer John Moore, this California-based brand combines style and sustainability in its casual wear. Using organic cotton and recycled polyester, their ethical jeans come with a lifetime guarantee! We're talking high-quality denim that lasts forever and saves the planet at the same time. Their vintage-inspired styles are perfect for any fashionista looking for a comfortable yet chic look. Don't miss out on their 70's inspired flares and bell bottoms – they're ideal for dancing the night away or strolling the city.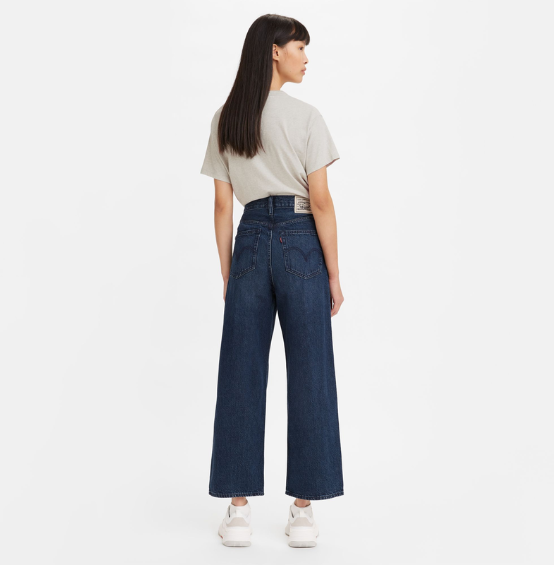 6. Levi's Wellthread
Price: From $138
Sustainable Materials: Recycled fabrics, tencel, cotton and more
Granted, when it comes to premium denim, Levi's is the name of the game. they've been dominating the denim game for ages, and now they're taking it to the next level with sustainable practices. From recycled vintage denim to responsibly sourced materials like Tencel Lyocell and cotton, they're reducing water waste and making sure your denim is as kind to the planet as it is stylish. Whether you're rocking a slim fit, high rise, or tapered look, there's something for everyone in the family, even the little ones. So go ahead, rock your favorite Levi's style while doing your part for the planet!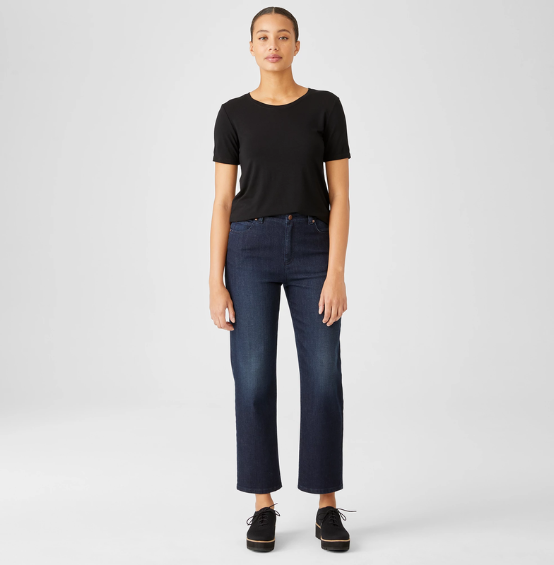 7. Eileen Fisher
Price: From $178
Sustainable Materials: Organic cotton
Get ready to add some sustainable style to your wardrobe with Eileen Fisher's undyed sustainable jeans! With a flattering lantern shape and cool side panel detail, these jeans are made from 98% organic cotton for a feel-good fit. Plus, Eileen Fisher is all about creating timeless, ethical clothes that work together seamlessly and last a lifetime. And the best part? The ethical jeans brand is committed to reducing greenhouse gas emissions and using eco-friendly materials. From petite to plus sizes, Eileen Fisher has got you covered in more ways than one!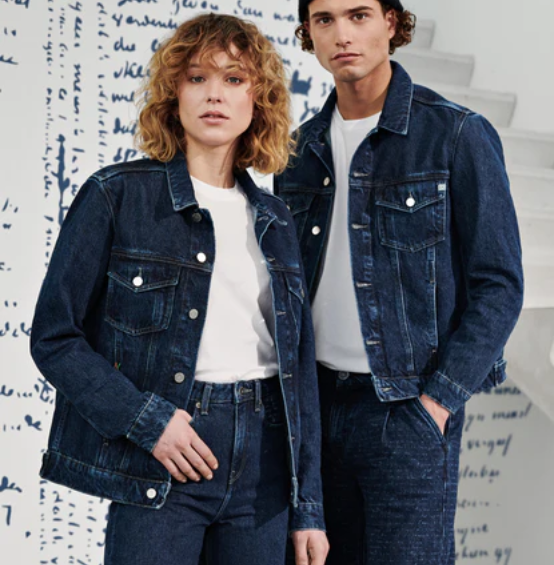 8. Mud Jeans
Price: From $120
Sustainable Materials: Recycled materials and organic cotton
Known as one of the best sustainable jeans brands for women, Mud Jeans should definitely be on your radar. Say goodbye to traditional manufacturing practices and hello to the circular economy. MUD is committed to using only recycled materials in the production of its ethical jeans. Yes, you heard that right – 100% recycled denim! Plus, you can lease a pair of jeans and even recycle your old ones for a 10$ gift voucher. It's time to join the denim revolution with MUD Jeans!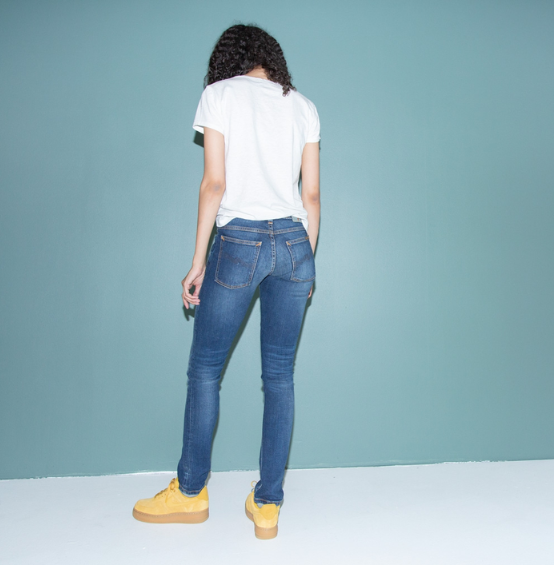 9. Nudie Jeans
Price: From $185
Sustainable Materials: Organic, Fairtrade, or Recycled cotton
Next up, is one of the most raved-about ethical denim brands, Nudie. Not only are their jeans made from eco-friendly materials like organic cotton and recycled polyester, but they offer free lifetime tear repairs AND a 20% discount if you send them your worn-out sustainable denim for a brand new pair. And if that's not enough to convince you, their Re-Use and Rebirth collections are made from recycled fibers and certified factories! You can even complete your sustainable wardrobe with their denim shorts, overalls, and more. Don't miss out on these stylish and responsible options!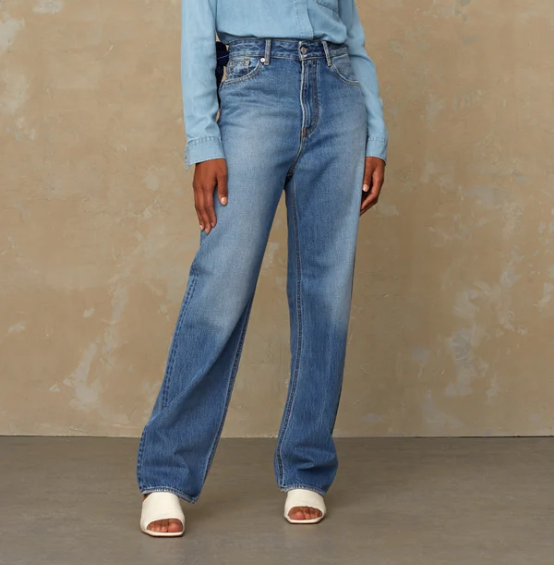 10. Kings of Indigo
Price: From $129.99
Sustainable Materials:  Organic and recycled cotton, recycled polyester, and Tencel 
This European brand has got you covered with its classic five-pocket sustainable jeans, cropped jeans, and overalls, all made with eco-friendly materials like organic and recycled cotton, recycled polyester, and Tencel. And let's not forget about their sustainable production techniques, like laser technology, which means you can rock your ethical jeans with pride, knowing that they were made with minimal water and chemical use. Kings of Indigo also works with fair-trade factories and suppliers, and they're super transparent about their supply chain and production methods. And if you want to give your old Kings of Indigo jeans a new lease on life, they've got a repair and recycling program, too. It's a win-win for you and the planet!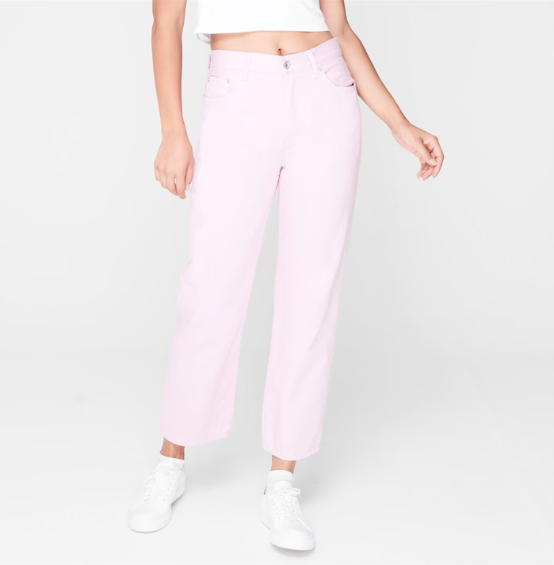 11. Monkee Genes  
Price: From £60
Sustainable Materials: PETA Vegan Approved GOTS cotton
If you're looking for stylish and sustainable jeans brands for women from the UK, have a look at Monkee Genes. Not only do they make awesome jeans, but they also offer a range of other cool clothes for your sartorial experiments. Their factories are certified by GOTS, which means they follow sustainable practices from start to finish. With Monkee Genes' wide-leg skater, cropped flares, and classic indie drainpipes, you can look good and feel good about your fashion choices.
12. Outland Denim
Price: $155
Sustainable Materials: Recycled and organic cotton
Grab your koala bear and slip into a pair of Outland Denim jeans, the Aussie brand making a big impact on the fashion world. With a heart as big as the Great Barrier Reef, Outland Denim is a certified B Corp that creates ethical denim with the help of at-risk women in Cambodia. Last year alone, they employed over 750 staff, used 57% less energy in production, and gave back a whopping $250K AUD. So put on your ethical jeans and feel good about doing good for both people and the planet!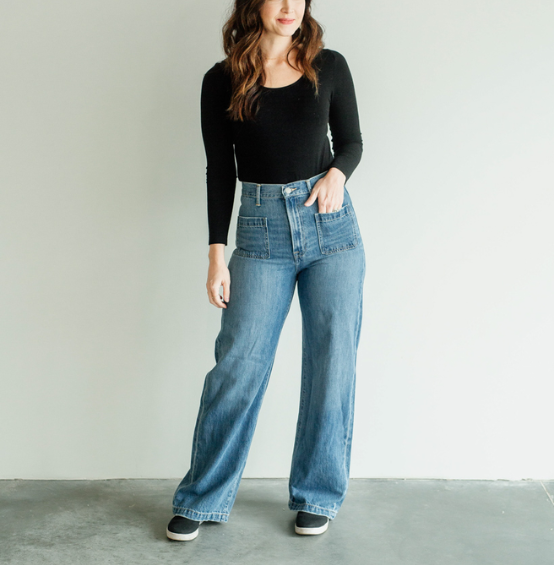 13. ABLE
Price: From $70
Sustainable Materials: Organic cotton
Affordable sustainable jeans shopping can be a real pain, but ABLE is here to make it a breeze! Their skinny jeans and boyfriend styles are made to fit like a glove and last for ages. With a commitment to ethical production and fair wages, you can feel good about your fashion choices while highlighting that booty with the perfect pair of high-waisted jeans. Let's just say that this Certified B Corp is one of the most ethical denim brands on the eco market.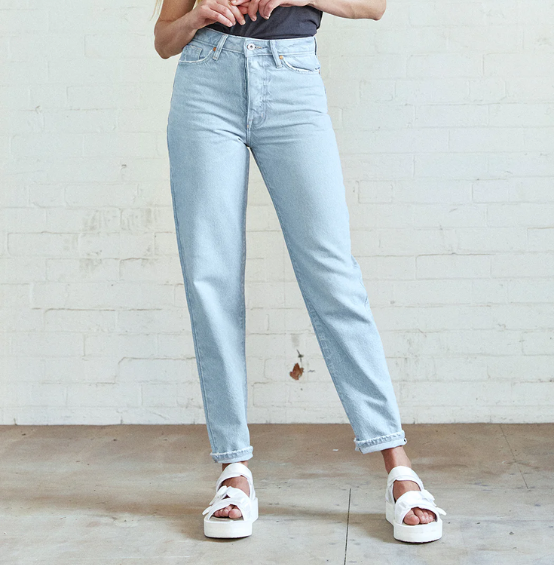 14. DL1961
Price: From  $150
Sustainable Materials: GOTS or OCS organic cotton
Seriously, get ready to fall in love with DL1961's jaw-dropping sustainable jeans for women! This ethical denim brand is a true pioneer in eco-friendly fashion, using recycled fibers and cutting-edge production methods that make the Earth smile. Not only are these jeans kind to the planet, but they also make your derriere look out-of-this-world! With a variety of cuts and rises to choose from, you'll have no trouble finding the perfect pair to flatter your curves. And if you're into thrifting (who isn't?), keep an eye out for DL1961's timeless styles that are built to last. Your wardrobe and Mother Earth will thank you!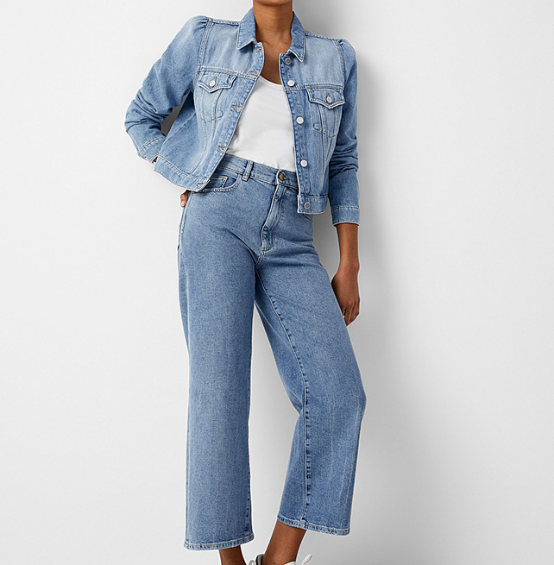 15. Citizens of Humanity
Price: From $158
Sustainable Materials: Recycled And Organic Materials
Last, but not least, Citizens of Humanity–one of the most popular sustainable ethical jeans brands for women. This LA-based company takes their eco-friendly practices seriously, with a vertically integrated system that covers everything from design to shipping. They're all about green washes, laser technology, and ozone machines that use less water and energy, making for some seriously sustainable jeans. Plus, Citizens of Humanity is totally transparent about their process – no secrets here! While the price tag may be a bit higher, the superior quality of these pieces will more than make up for it. And let's be real, who doesn't want sustainable jeans that last through thousands of wears?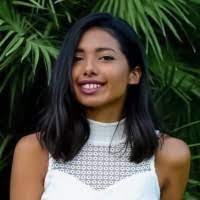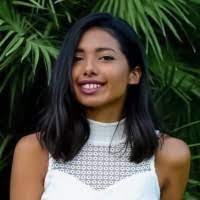 About Author
Konstantina Antoniadou
Freelance sustainability and fashion writer with an ongoing curiosity to explore new innovative technologies, and report on trends in "green" industries.