9 Sustainable Sunglasses for Women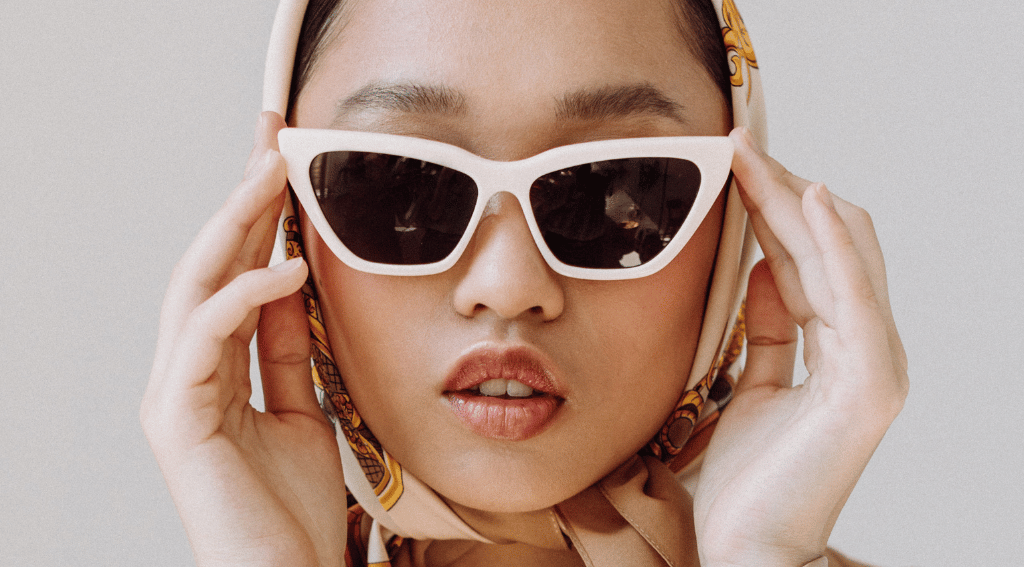 Your quest to find the most stylish and sustainable sunglasses for women is officially over. We rounded up a list of top-rated, affordable eco friendly sunglasses, ahead. From BPA free sunglasses made of natural materials to recycled sunglasses that minimize our impact on the environment, there's something for everyone.
Eco-friendly, sustainable sunglasses for women in 2023
Sustainable sunglasses have long been recognized as a quintessential accessory, capable of elevating any outfit and adding that perfect finishing touch to your ensemble. Whether you're dressing up for a casual day out or a vibrant night on the town, the right pair of eco-friendly sunglasses can effortlessly level up your style game.
However, quality sustainable sunglasses go beyond just fashion! By investing in environmentally friendly sunglasses crafted from recycled materials or featuring innovative eco-friendly designs, you not only enhance your own style but also contribute to a more sustainable future for our planet.
To top it off, eco options – even premium, sustainable polarized sunglasses– are surprisingly affordable. You can find safe, BPA free sunglasses for as low as $30!
Read on to find our list of sustainable sunglasses for women in 2023.
BPA-Free, Eco Sustainable Sunglasses for Women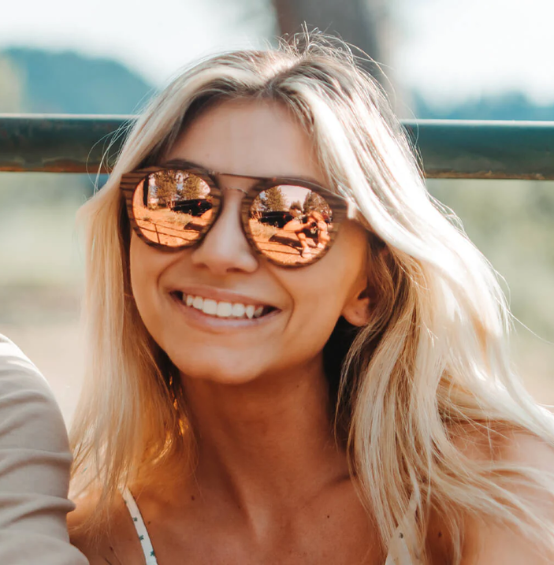 1. Proof Eyewear
Price: From $65
Sustainable Materials: Recycled sunglasses, sustainable wooden sunglasses
Get ready to meet the eyewear brand that's taking sustainable style to the next level! Based in the heart of Boise, Idaho, Proof Eyewear is a fantastic eco-friendly sunglasses brand, making waves in the world of eco-conscious fashion. Starting with their iconic wooden frames, Proof has expanded their sustainable offerings to include recycled aluminum and cotton-based acetate designs. Plus, With their innovative recycling program, you can bid adieu to your old frames by sending them back, contributing to a circular fashion ecosystem. To top it off, through various initiatives, they've donated glasses to those in need, planted trees, and supported health and vision programs.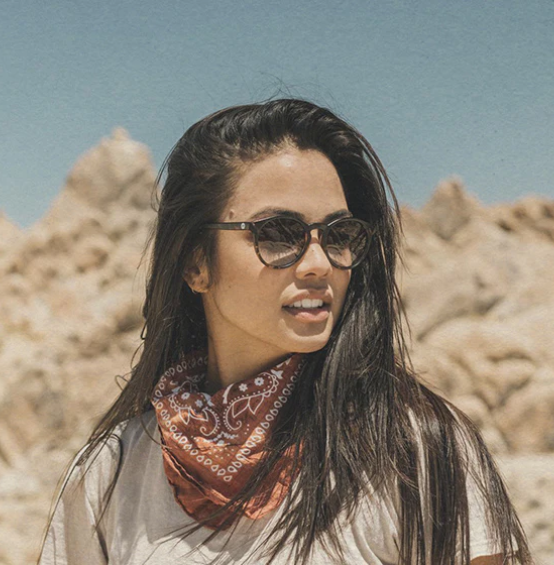 2. Sunski
Price: From $58
Sustainable Materials: Recycled sunglasses made of plastic resin
Hailing from the sunny state of California, Sunski crafts sunglasses that embody both affordability and eco-consciousness. Not only are these sustainable sunglasses for women feather-light, but they're also guilt-free, being made from recycled materials. Sunski takes their commitment to the environment further by adopting plastic-free packaging, ensuring every aspect of their product is eco-friendly. From an array of styles to a kaleidoscope of colors, there's a pair of BPA free sunglasses for every personality and occasion. Plus, they haven't forgotten the little ones – with stylish options designed just for kids.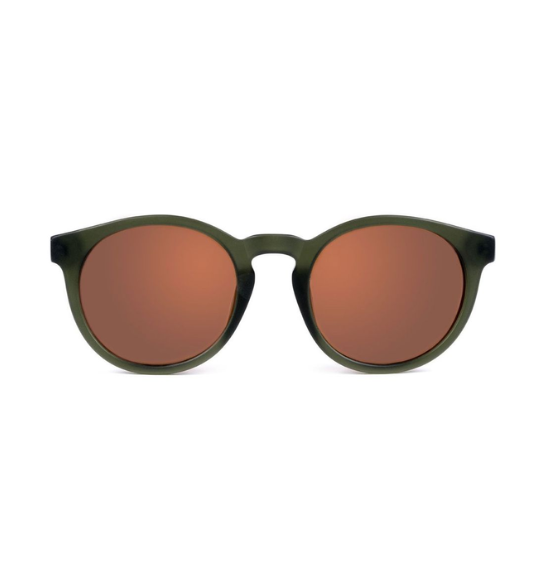 3. SOLO eyewear
Price: From $59
Sustainable Materials: Sustainable polarized sunglasses (Bamboo and recycled plastic)
When it comes to polarized sunglasses, SOLO Eyewear stands out. Their eyewear line, crafted with adventure in mind, features lenses that not only keep the glare at bay but are also polarized for ultimate clarity and eye protection. Perfect for those sunny outdoor escapades, these shades keep you stylish and shielded. Not stopping at materials, SOLO Eyewear goes the extra mile by recycling their packaging and even defective affordable eco friendly sunglasses, ensuring a minimal ecological footprint. What's more, they are donating a remarkable 10 percent of their profits, and they've restored vision for over 13,000 individuals. Plus, eye exams, glasses, and cataract surgeries are made possible for those in need, thanks to the unwavering dedication of SOLO Eyewear.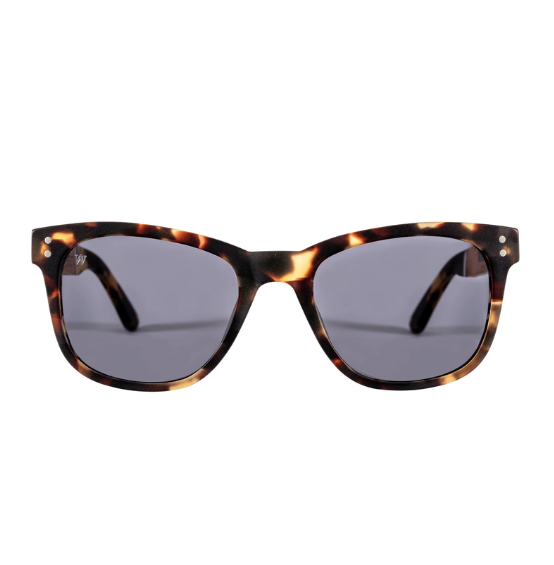 4. Woodzee
Price: From $49
Sustainable Materials: Wood & bamboo sunglasses, recycled sunglasses
Woodzee excels in blending sophistication with nature's influence, delivering sustainable sunglasses for women who stand out in a crowd. They seamlessly integrate wood, bamboo, and even recycled skateboards into their eyewear, creating a unique blend of style and sustainability. Every pair of Woodzee sunglasses has a natural, organic aesthetic that's both fashionable and environmentally responsible. Whether you're in the heart of the city or on a beach halfway across the globe, you can rock your eco-friendly sunglasses everywhere. And through their recycling program, you can get rid of your old frames sustainably and receive a generous 50 percent discount on their next order.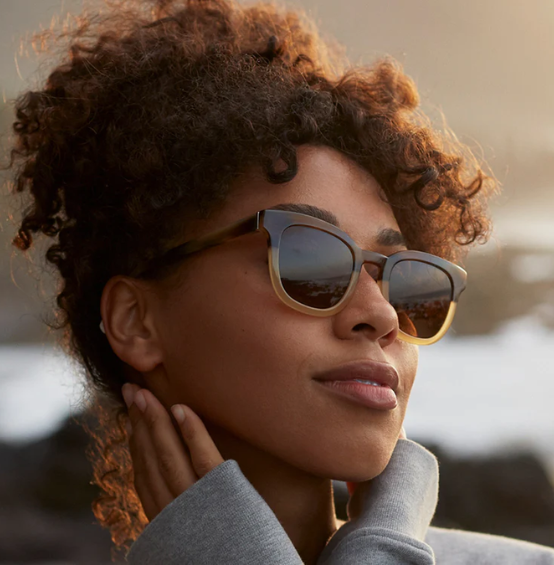 5. Pala
Price: From 145 €
Sustainable Materials: Plant-based, biodegradable materials
The crowd-favorite brand Pala opts for Italian bio-acetate, a 100 percent plant-based and biodegradable material, setting a benchmark for eco-friendly eyewear. The frames have a unique groovy vibe women absolutely love! Plus, the environmentally friendly sunglasses brand collaborates with artisans in Ghana to craft sunglass cases using recycled plastic which is amazing. Lastly, by partnering with eye-care projects in Africa, Pala contributes to improving eye health and vision for communities in need. For UK-based shoppers, the brand offers a recycling service for frames, exemplifying their commitment to reducing waste and making responsible choices.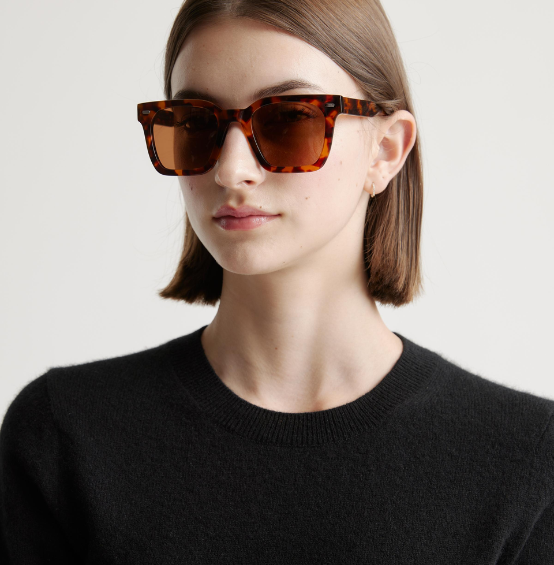 6. Quince 
Price: From $50
Sustainable Ingredients:  Eco-friendly acetate
Touted as one of the most ethical and fashionable brands in 2023, Quince's fashion lineup extends to eco accessories as well. Offering genderless, classic styles, the brand's collection of sustainable sunglasses for women is made of eco-friendly acetate, a material derived from wood pulp and cotton.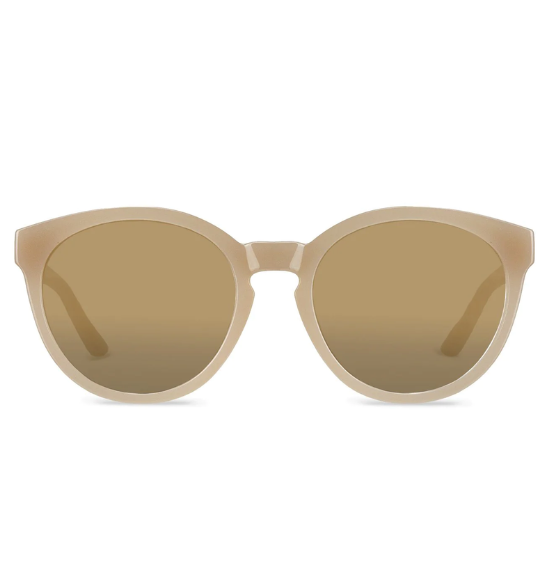 7. Pela
Price: From $30
Sustainable Materials: Recycled sunglasses
You might recognize Pela for their adorable phone cases, but did you know that they also extended their commitment to sustainability into the realm of sunglasses? The company offers a unique and affordable approach to eyewear while minimizing waste and maximizing impact. Their sustainable sunglasses for women are crafted from recycled materials to help reduce the use of new resources. Impressively, the production process for these sunglasses emits 33% less CO2e emissions, uses 34% less water, and generates 82% less waste compared to conventional methods. What's more, they've implemented a robust recycling program, inviting customers to send in their old eco friendly sunglasses for upcycling, recycling, composting, and proper disposal.
8. EcoTeck Eco-Friendly Polarized Sunglasses
Price: From $89
Sustainable Materials: Vegetable based plasticizers
Next up is Ecotech Eyeglasses' Ultra Green Series. These eco-friendly sunglasses are setting a new standard for sustainability while keeping you on trend. They've revolutionized their frames by using new "Bio Acetates," a groundbreaking material employing vegetable-based plasticizers instead of harmful phthalates. With their "Zero Solder Point" hinge designs, these BPA free sunglasses are completely non-toxic, devoid of lead or cadmium, ensuring a safer, cleaner planet. Heck, even the hardware is designed with sustainability in mind, crafted from reclaimed surgical steel, reflecting their commitment to minimizing waste and utilizing recycled materials. From stock colors for the frame to temple colors and styles, you have a variety of choices to create sunglasses that resonate with your unique style. hundreds of positive reviews—they're a total hit among the outdoor tribe.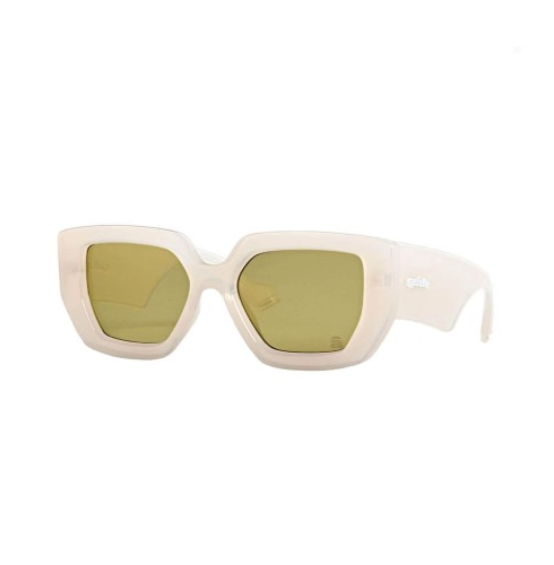 9. Szade
Price: From $70
Sustainable Materials: Sustainable Sunglasses Made of Recycled materials
When it comes to eco-friendly sunglasses, Szade is leading the charge, especially in Australia. They've redefined sustainable eyewear by ingeniously utilizing recycled sunglasses to create a range that's not only environmentally conscious but also affordable. Their sustainable recycled sunglasses are crafted from post-consumer recycled polycarbonate, sourced from discarded sunglasses in China. By repurposing these landfill-bound sunglasses, Szade breathes new life into materials that would otherwise contribute to waste. Additionally, the lenses of Szade BPA free sunglasses are made from the highest grade of impact-resistant polycarbonate available, ensuring durability without compromising on style. Lastly, aligning with their sustainable ethos, their studio is powered partially by solar energy and further supported by their local Cityswitch energy efficiency program. Talking about the best sustainable sunglasses for women in Australia!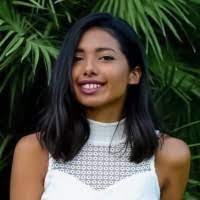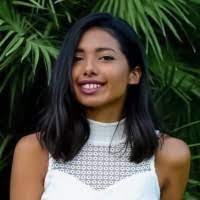 About Author
Konstantina Antoniadou
Freelance sustainability and fashion writer with an ongoing curiosity to explore new innovative technologies, and report on trends in "green" industries.