10 Eco-Friendly Sustainable Candles For A Clean Burn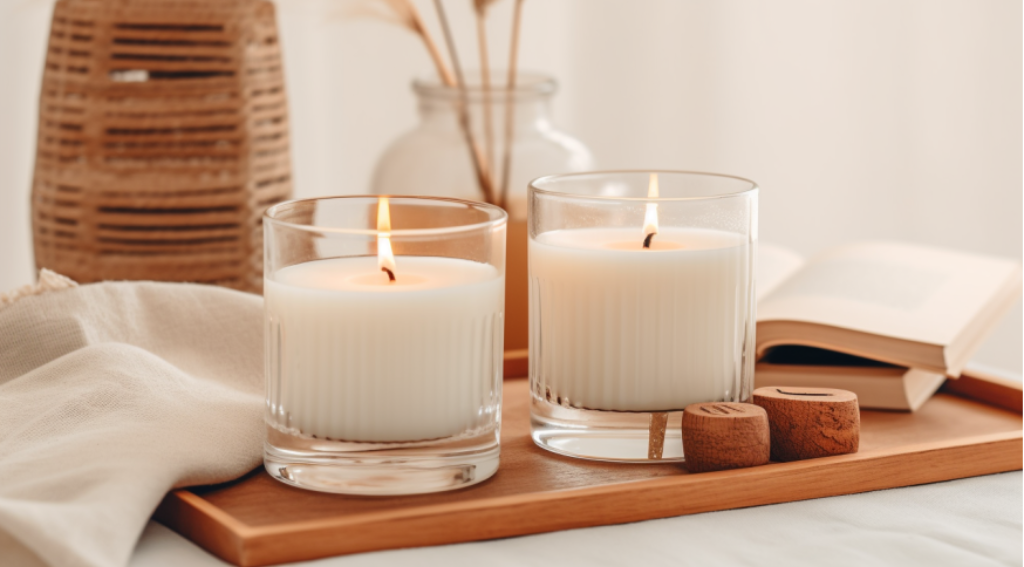 Looking for the best sustainable candles in 2023? Our curated list of the most eco-friendly candles, below, will persuade you to kick all chemical-packed options aside once and for all. Light one up, unwind, and revel in the pure scents of nature, knowing you've made a conscious and sustainable choice for yourself and the world around you!
Why Choose the Most Eco-Friendly Sustainable Candles?
What makes sustainable candles the best option for your humble adobe? First things first, these eco-conscious options are made with natural and renewable materials like soy wax, beeswax, or coconut wax, which are way better for the environment than traditional paraffin candles.   
Paraffin candles are made from petroleum, a non-renewable fossil fuel. When burned, they release toxic substances like benzene and toluene into the air, which can be harmful to human health when inhaled. Prolonged exposure to these chemicals may lead to respiratory issues and other health concerns. That's right! The emissions from burning paraffin candles contribute to indoor air pollution. 
Poor indoor air quality can lead to irritation of the eyes, nose, and throat, especially in individuals with asthma or allergies. Plus, Paraffin candles are notorious for producing black soot, which can stain walls, ceilings, and furniture over time. Additionally, this soot can contain harmful particles that further degrade indoor air quality.
One of the best things about sustainable candles is that they are completely free from harmful chemicals, phthalates, and synthetic fragrances. This means you can breathe easy, knowing you're not releasing any nasty toxins into your home. Clean air = happy lungs! On top of that, many sustainable candle brands take great care to work with local farmers and artisans, which means your candle purchase supports small businesses and sustainable practices. It's a win-win for everyone!
From renewable soy wax that sows the seeds of change to cruelty-free wicks, here are 2023's best zero-waste candles that ignite good vibes and greener lives.
Best Sustainable Candles From Eco-Friendly Candle Brands In 2023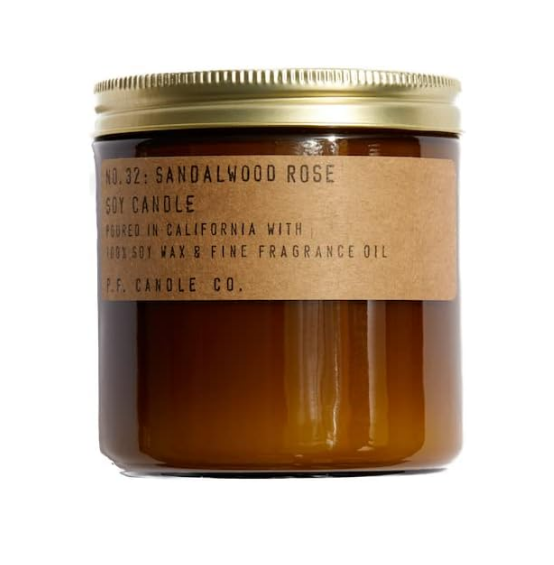 1. P.f. Candle Co.
Price: From $14
Sustainable Materials: Sustainable soy candles
First up is 2. p.f. candle co- one of the most raved-about sustainable candle brands in 2023. All heavenly-scented candles are made from soy wax, which is not only environmentally friendly but also domestically grown in the good ol' USA! What's really cool about these zero-waste candles is that they're hand-poured into beautiful glass amber jars, giving them a rustic apothecary vibe. And the cherry on top? The kraft paper label and brass lid add a touch of elegance to these eco-friendly goodies!
They're completely paraben-free and phthalate-free, making them super safe to use and they've never been tested on animals! That's right, cruelty-free all the way! They come in a bunch of different scents, around 12 to be exact! So you can find the perfect fragrance to suit your mood or match your home decor. Talk about variety!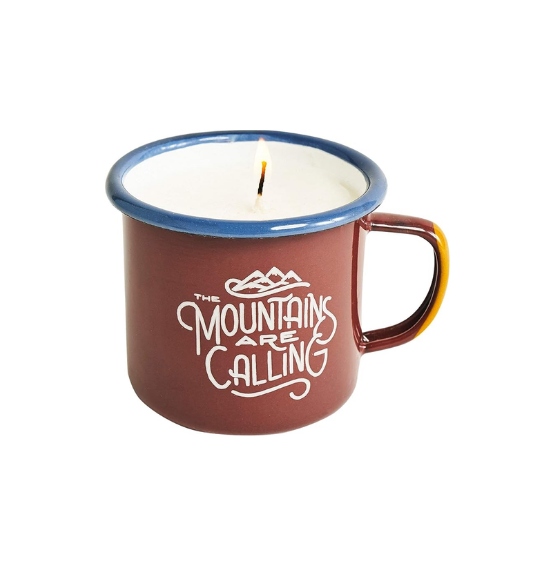 2. United by Blue
Price: From $24
Sustainable Materials: Sustainable soy candles
United by Blue's sustainable candles are made with GMO-free soy wax, which is widely known for creating some of the best non-toxic candles out there. What's more, they also come with cotton wicks, making them even more environmentally friendly! Now, let's talk scents! United By Blue offers five delightful main scents to choose from – sounds like a treat for our senses! And the options don't stop there; you can pick between two sizes: a cute 3 oz option or a larger 8.5 oz one – perfect for setting the mood in any room. The best part is that these eco-friendly candles are lovingly hand-poured right in the heart of Philadelphia, PA. It's great to know that they're made locally with care and attention to detail.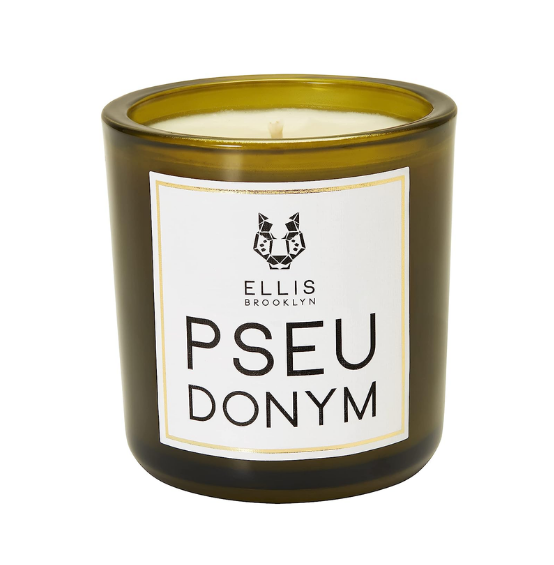 3. Ellis Brooklyn
Price: From  $14
Sustainable Materials: Sustainable soy candles
Ellis Brooklyn, one of the most popular sustainable candles brand in 2023, offers a wonderful selection of five unique options in their organic candle line. So, you can indulge your senses in a variety of delightful aromas. These eco-friendly candles feature a domestically grown soy wax blend that not only smells amazing but also supports local farmers. The cherry on top? The container is made from recycled glass – that's right, they are the perfect zero-waste candles! Plus, you'll love to know that the holder is not only handcrafted but also lead-free, making it safe for you and the environment. Lastly, everything, from the wax blending to the candle pouring, is proudly done right here in the USA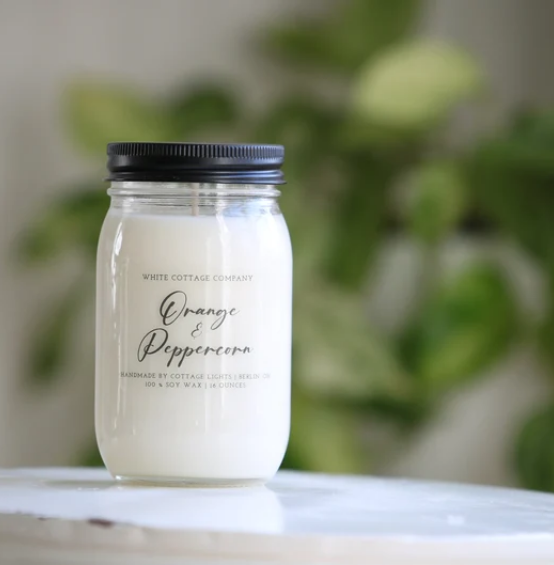 4. The White Cottage Co.
Price: From $14.82
Sustainable Materials: Sustainable soy candles
The White Cottage is the ultimate destination for eco-friendly sustainable candles! All products are hand-poured with love and care, ensuring that every detail is just perfect for your enjoyment. What makes it so clean-burning? These affordable eco-friendly candles are crafted using all-natural soy wax, which means you can light it up without worrying about harmful chemicals or toxins polluting the air. And you know what's even better? They use cotton and paper wicks, making it an even more eco-friendly choice! And here's something to feel good about: the soy used in these zero-waste candles is sourced from American farmers, not from overseas.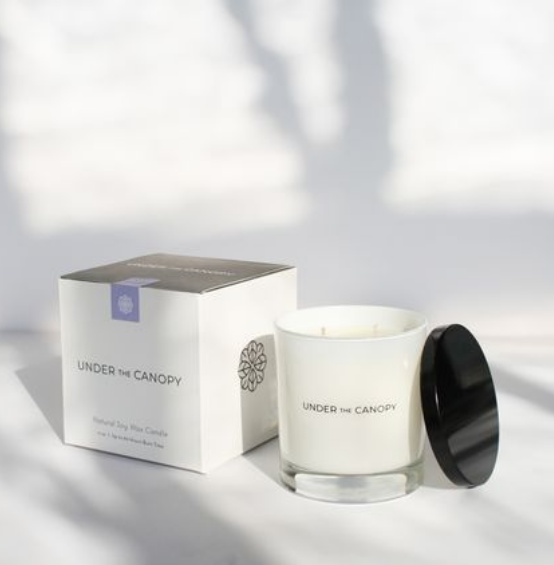 5. Under the Canopy
Price: From $26
Sustainable Materials: Sustainable soy candles
Under the Canopy a beloved sustainable home brand that now offers eco-friendly candles too! The Eucalyptus Lavender scent sounds like a dream – I can almost smell it from here! It's so cool that they use 100% natural soy wax, which is not only eco-friendly but also grown right here in the US. Supporting local farmers is always a win! And the best part? These candles are infused with essential oils for a cleaner and more natural burn. No need to worry about any harmful phthalates, dyes, or additives – they keep it pure and safe for you and the environment.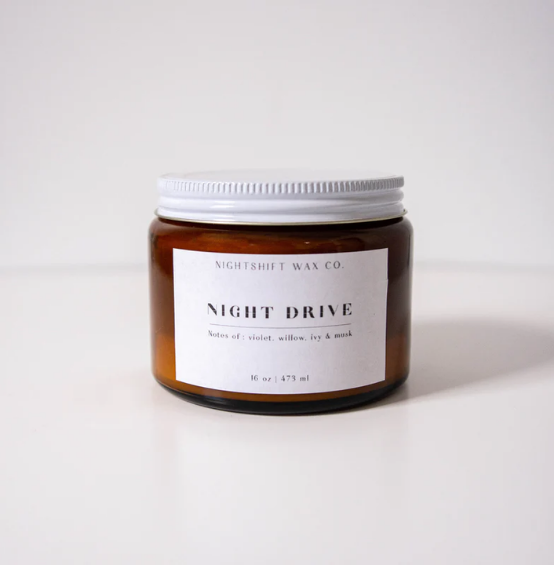 6. Nightshift Wax Co
Price: From $27
Sustainable Materials: Sustainable soy candles
Next up, Nightshift Wax Co's incredible vegan and cruelty-free candles! What sets these eco-friendly candles apart is their commitment to using only the purest ingredients. They are free from any synthetic stuff, animal ingredients, phthalates, chemicals, or fillers – it's all about keeping it natural and safe for everyone! Of course, you won't find any paraffin or petroleum in these candles! They are 100% plastic-free, from the American-grown soy wax they use to the recycled glass jars they come in. It's an eco-friendly choice all the way, and you'll love the organic cotton braided wicks too!
7. Keap
Price: From $54.50
Sustainable Materials: Coconut wax candles
Keap's most eco-friendly candles are ethically made from coconut wax right in their Brooklyn, NY studio!  
Let's talk scents first – Keap offers a delightful selection of 8 main scents for you to choose from. And if you become a subscriber, you'll unlock the privilege of enjoying 3 exclusive scents just for you – how cool is that? The candleholder they provide is not only returnable but also reusable. You can get creative and repurpose it as a drinking glass, or if you'd rather let it go, Keap offers a free return option through their Eternal Flame tumbler return program. Last, but not least, Keap uses Ecovative's Mushroom packaging, which can go directly into your compost bin. So, no need to worry about waste piling up, it's all biodegradable and earth-friendly.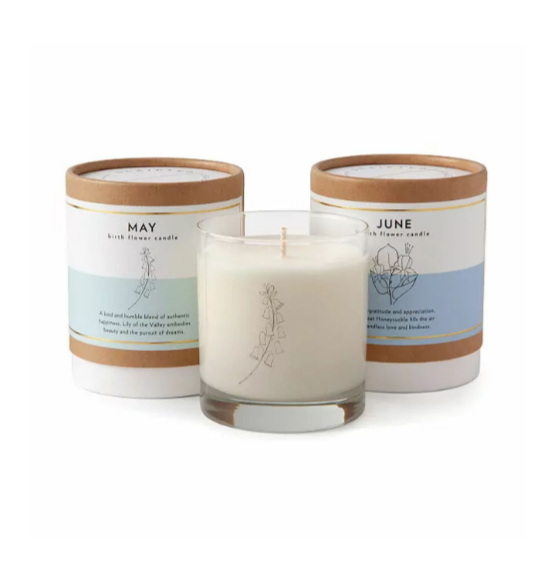 8. Birth Month Flower Candles
Price: From $45 
Sustainable Materials: Sustainable soy candles
Gift-givers and candle lovers, rejoice! We've got something special for you – the Birth Month Flower Candles, handcrafted in New York with love and care! These sustainable candles are made from hand-poured soy wax, which means you can enjoy a clean and natural burn. And to make them even more delightful, they are infused with essential oil blends for a soothing and aromatic experience. Each month comes with a custom flower and a unique scent to match it. How cool is that? For example, October's candle boasts the soft and sweet fragrance of marigold .
On top of that, these eco-friendly candles come in signature glasses adorned with beautiful floral silhouettes. And here's a fun idea – after the candle has worked its magic, you can easily scoop out the remaining wax and repurpose the glass as an adorable drinking cup.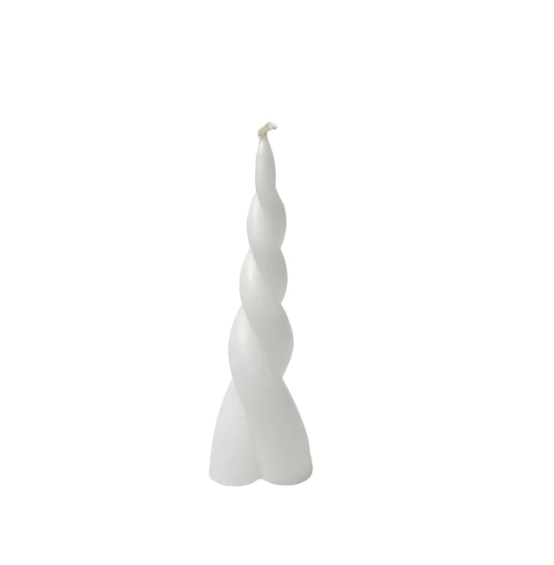 9. Obakki
Price: From $27
Sustainable Materials: Sustainable soy candles
If you're on the hunt for some truly decorative and unique eco-friendly candles, Obakki is the name you need to remember! Their sumac candles are like little pieces of art, carefully handmade in Ishikawa, Japan, by a family-run business with a rich tradition of crafting traditional Japanese candles, known as 'wa-rousoku', since way back in 1892. How amazing is that? But that's not all – these candles are not only beautiful but also eco-friendly and vegan! Obakki ensures their candles are sustainable by using wax harvested from the fruit of the Japanese Haze tree.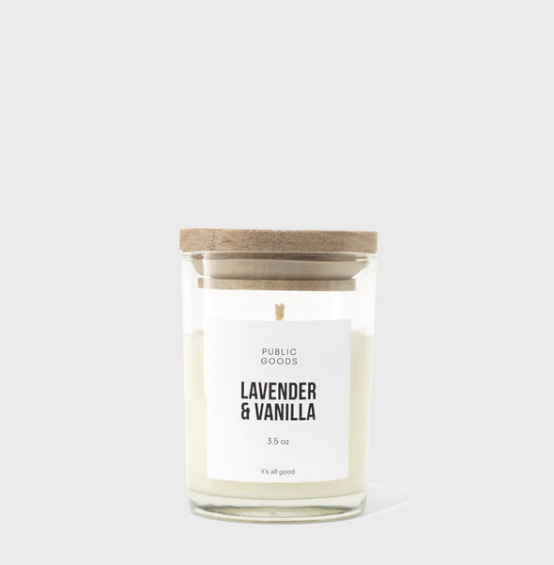 10. Public Goods
Price:  From $5.95
Sustainable Materials: Sustainable soy candles
Affordable eco-friendly candles? Yes, please. These candles are not only gentle on your budget but also gentle on the planet. Made with natural hand-poured soy wax and cotton wicks, they embody eco-friendliness and sustainability. What's more, Public Goods uses premium fragrance oils like cedarwood and jasmine to create delightful scents that will fill your space with a lovely ambiance. Plus, they are proudly made in the USA, supporting local communities and reducing their carbon footprint.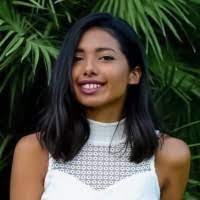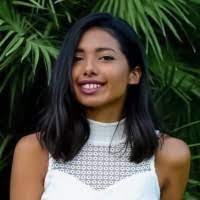 About Author
Konstantina Antoniadou
Freelance sustainability and fashion writer with an ongoing curiosity to explore new innovative technologies, and report on trends in "green" industries.