6 Best Energy-Efficient Electric Stoves and Ranges in 2023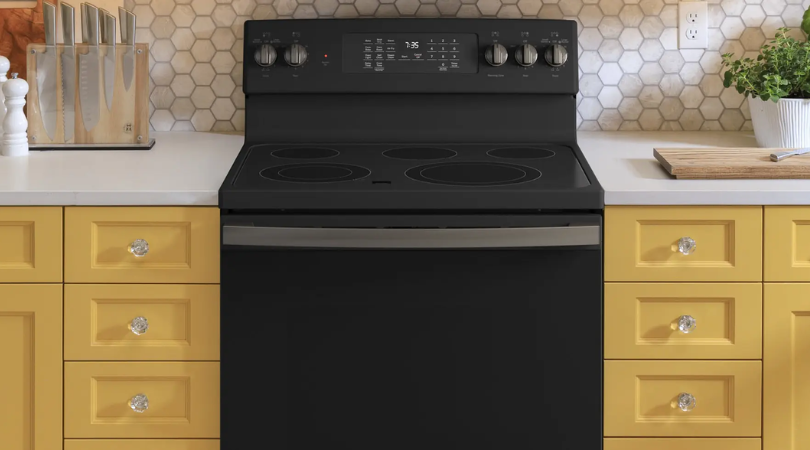 You've heard the news! Most probably, the best energy-efficient electric stoves will soon decorate the kitchens of pretty much every eco-conscious home in the country. A federal agency is considering a ban on gas stoves, a source of indoor pollution linked to childhood asthma. In NYC, the City Council passed a bill that effectively bans gas in new buildings, starting in 2024 for those under seven stories and in 2027 for anything taller.
Why Energy-Efficient Electric Stoves Are The Best Option?
Unlike energy-efficient electric ranges and stoves,  the oh-too-familiar gas stoves have been secretly releasing high levels of nitrogen dioxide on top of particulate matter and carbon monoxide for years. In fact, even when you turn off your device, it can still leak methane. A potent greenhouse gas that is responsible for more than 25 percent of the global warming we are experiencing today. According to the experts, "Methane has more than 80 times the warming power of carbon dioxide over the first 20 years after it reaches the atmosphere."
It goes without saying that electric ranges are a fantastic option for eco-friendly homes. Don't fret. There are so many budget-friendly and premium energy-efficient electric stove and oven options on the market. All you have to do is find the one that suits your cooking preferences the most. Luckily, we've already done the necessary research to help you out. 
Best Energy-Efficient Electric Stoves and Ranges in 2023
1. GE – 5.3 Cu. Ft. Freestanding Electric Range with Self-cleaning
Price:
$749.99
Features:
Two 9″/6″ Power Boil elements, Self-clean oven, Dual-element Bake, Ceramic glass cooktop, Removable full-width storage drawer, 5.3 cu. ft. oven capacity
If you don't want to spend quite so much on an energy-efficient electric stove, why not choose a freestanding GE range that fits your budget? The GE JB645 offers an of cooking features that can typically only be found on much pricier models and is known for having great build quality.
Aside from the smooth cooktop that easily wipes clean, this affordable energy-efficient electric stove has a sizable, 5.3-cubic-foot oven that's bigger than those of most competing models. Additional features include two 9″/6″ Power Boil elements and a removable full-width storage drawer.
The dual-element baking lets you get the most out of this oven's 5.3 cubic-foot capacity. Plus, it can easily be incorporated into your kitchen without the need to rearrange counters or create cutouts.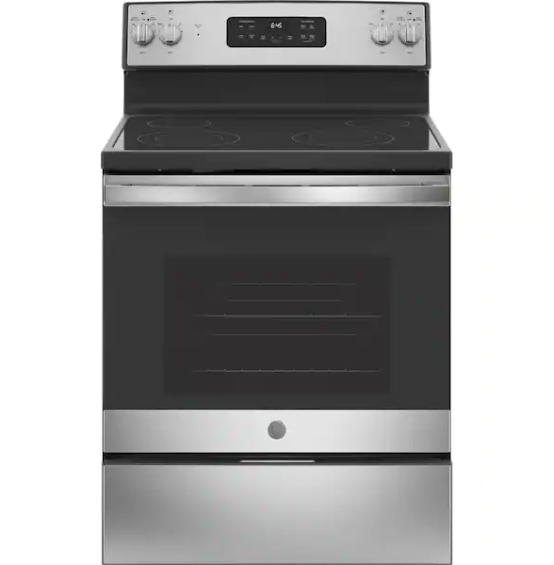 2. Blomberg BERU30420SS  
Price:
$1,749
Features:
5.7 Cu. Ft. Extra Large Oven Capacity with Large Window, Convection Oven with Boost Function, 12″ XL Cooking Zone with Reduced Boiling Time,10 Cooking Modes, Self-Cleaning
For seekers of budget-friendly freestanding energy-efficient electric stove ranges with high-end features and finishes, the Blomberg 30-inch is a fantastic option. It has a 5.7 cu. ft. of oven capacity plus a storage drawer and digital controls. The model also boasts 12 oven functions including a programmable self-clean mode with three-, four-, or five-hour cleaning options.
By choosing the self-clean function, you'll minimize energy expenditure. The cooking modes include everything we need –Bake, Roast, Broil (high & low), Convection Bake, Convection Roast, Warm Keeping, Slow Cook, Pizza Cooking, Proof, and Defrost.
What's more, it carries a smooth stovetop with an extra-large cooking zone of 12 inches across. The company holds the 2018 ENERGY STAR® Partner of the Year in the Product Brand Owner category certification and solely works in factories certified for responsible environmental management.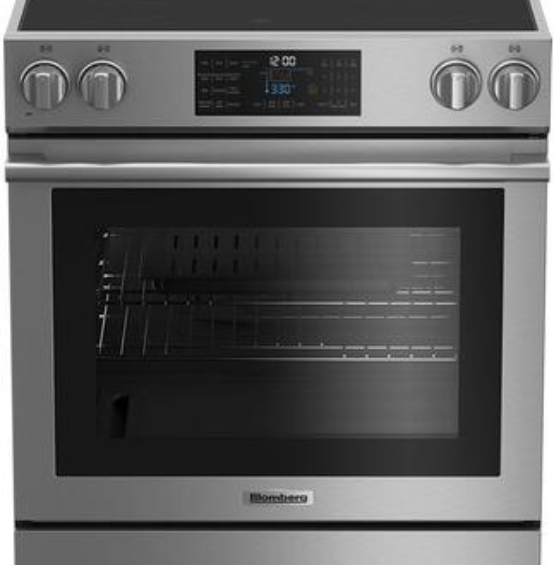 3. Whirlpool WGE745C0FS  
Price:
$1,799
Features:
Frozen Bake™ Technology, True Convection Cooking, FlexHeat™ Triple Radiant Element, Convection Conversion, Temperature Sensor
Whirlpool makes Budget-friendly, energy-efficient electric stoves that can meet all our cooking demands. The Whirlpool WGE745C0FS is a 4.2 cu upper / 2.5 cu lower, freestanding smooth top range that features 5 surface cooking elements, including a dual element (9 inch/6 inch) and a triple element (12/9/6 inch), as well as a warming element.
Additionally, you can take advantage of the 'Steam-Clean" options. But keep in mind that it's not a 'self-clean' mode. This means that it has the potential to last longer due to less temperature stress but it's not as energy-efficient as the other electric ranges on the list.
It does, however, offer both a dual element and a triple element to help minimize heat loss and save energy.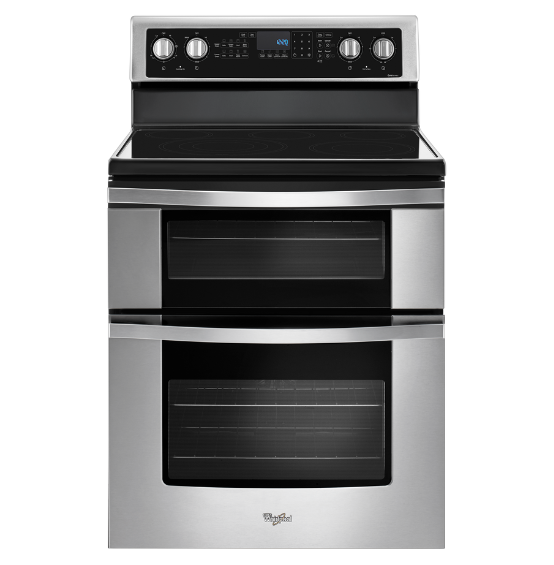 4.Viking 3 Series
Price:
$5,239
Features:
30 Inch Freestanding Electric Range with 5 Radiant Elements, 3,200 Watts, 4.7 cu. ft. Convection Oven, Halogen Lighting, Self-Clean and TruGlide Full-Extension Rack
If you are ready to invest in premium quality energy-efficient electric stoves range with 4 elements and 4.7 cu. ft. of cooking capacity with multiple cooking modes, this one is for you. The USA-made over is equipped with a self-cleaning mode which basically means that it's well insulated.
On top of that, it also carries a rapid preheat system, a soft-close door, and a large viewing window with interior halogen lighting. The 8.5-inch fan works bi-directionally for excellent airflow. Plus, there is also a 10-pass dual bake element as well as a large 10-pass broiler with a heat reflector.
As for the cooktop of this top-notch energy-efficient electric stove and oven, it features a glass ceramic surface and SoftLit LED Lights.
The cooking modes are the following: Bake, convection bake, TruConvec™ Convection Cooking, Convection Roast, Hi, Med and Low Broil, Convection Broil, Convection Dehydrate, and Convection Defrost.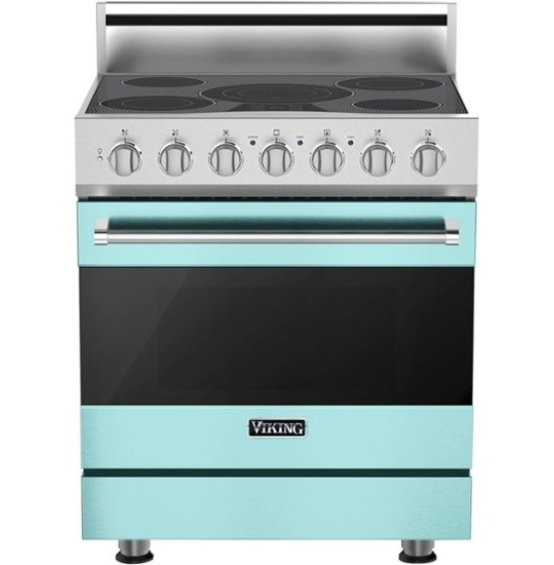 5. Frigidaire 30″ Stainless Steel Freestanding Electric Range
Price:
$1,249
Features:
SpaceWise® Triple Expandable Element, Quick Boil Element, Fast Steam Cleaning Option, One-Touch Self Clean, Quick Preheat
Our list of the most energy-efficient electric stoves of 2023 can't be complete without mentioning the Frigidaire 30″ Stainless Steel Freestanding Electric Range with Air Fry. For starters, it has a total capacity of 5 cubic feet and a stovetop that features 5 electric burners. The cooktop has four heating elements.
Also, you can get three elements in one with our Triple Expandable element – a 6" inner ring for smaller pots and pans and a 9" and 12" outer ring to make room for larger cookware. Plus, you can also take advantage of the built-in storage drawer and the One-Touch Self Clean system.
Overall, it's a great option for everyone who is on the hunt for electric ranges around the $1000 mark.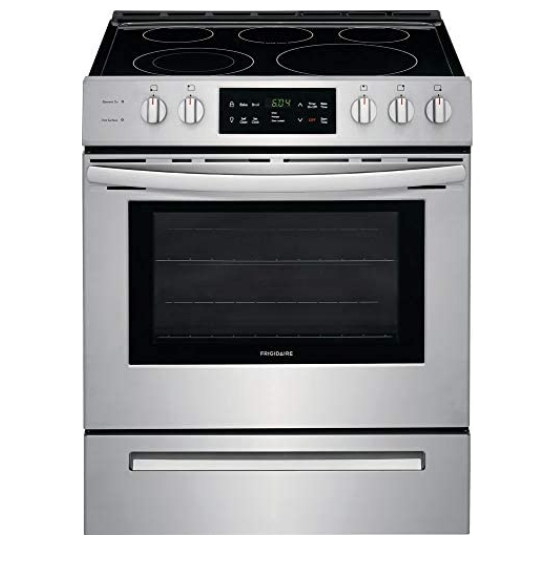 6.  KitchenAid  6.4 Cu. Ft. Self-Cleaning Freestanding Electric Convection 
Price:
$1,699.99
Features:
Even-Heat True Convection,6.4 Cu Ft. Oven Capacity, 5 Cooking Elements Including a Warm Zone, EasyConvect Conversion System, Storage Drawer, Hidden Bake Element, 2 Dual Elements (12/9″ and 9/6″)
Last but not least, on our best energy-efficient electric stoves and ranges in 2023 list, KitchenAid, and its 6.4 Cu. Ft. Self-Cleaning Freestanding Electric Convection model.
The bow-tie design and convection fan ensure the inside of the entire oven is heated to, and stays at, the perfect temperature. The cooktop of this energy-efficient electric stove features five heating surfaces, including a dedicated warming zone. Also, let's not forget that the oven is 6.4 cu ft., which offers an extra-large capacity that lets you easily prepare multiple dishes at once.
As for the Storage Drawer, it will add additional storage space that's perfect for pots, pans, and baking sheets. And as soon as the mean-prep session is complete,  Aqualift will clean your oven in less than an hour without odors and at a temperature below 200°F. What more can we ask from a premium energy-efficient electric stove and oven?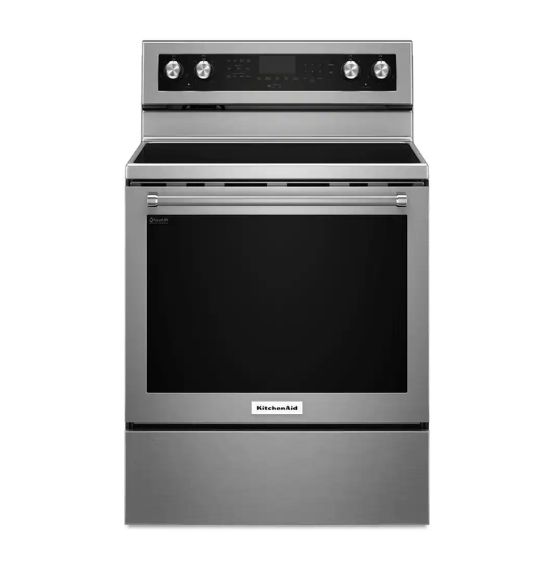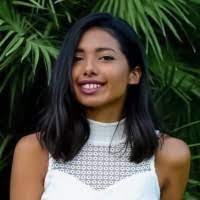 About Author
Konstantina Antoniadou
Freelance fashion and sustainability writer with an ongoing curiosity to explore new innovative technologies, and report on trends in "green" industries.