Best Sustainable Activewear Brands For Women In 2023
Are you on a mission to discover as many of the best sustainable activewear brands as possible to help you upgrade your eco-friendly sportswear arsenal? You are in the right digital place. It's no secret that most of us take our athletic fit very seriously. We want our sustainable workout clothes to be comfortable and durable enough to get us through biking, running, and all spin and yoga sessions without showing any signs of wear and tear.
Bonus point if our environmentally friendly activewear is cute enough to be worn during our next city strolls or as a WFH 'fit. Of course, there are also our non-negotiable factors: the use of recycled and organic fabrics, and ethical practices and certifications.
Why Choose Eco-Friendly, Sustainable Activewear?
Sustainable workout clothes are made from high-quality, breathable fabrics that provide superior comfort during physical activities. Think natural or recycled materials, such as organic cotton, bamboo, recycled polyester, or Tencel. These fabrics are most often biodegradable and have a lower environmental impact than synthetic fabrics. They are also hypoallergenic, which means they are less likely to cause skin irritation.
Additionally, sustainable activewear brands for women offer options that are moisture-wicking, which means they absorb sweat and moisture away from the body, keeping the wearer dry and comfortable. Plus, many eco-friendly sportswear brands use advanced technologies to enhance the performance of their products, such as odor control and UV protection.
Last, but not least, environmentally friendly activewear is made ethically and responsibly under fair and safe working conditions.
From sustainable sports bras with plant-based treatments that absorb unwanted sweat and eco-friendly compressive leggings to sustainable yoga clothes drenched in prints, discover some of the best ethical activewear brands, ahead. 
Best Sustainable Activewear Brands For Women In 2023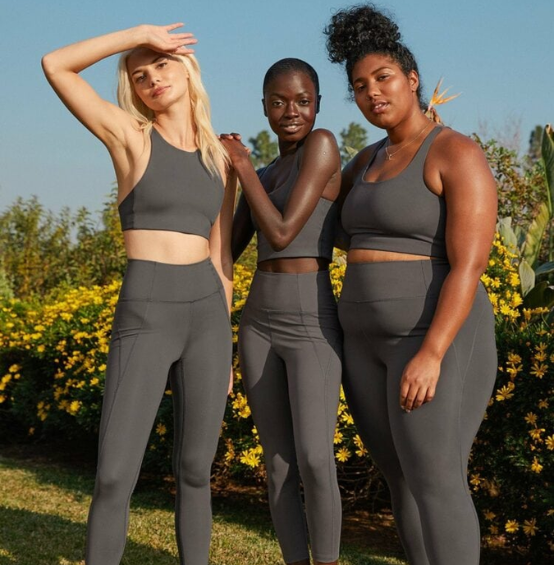 1. Girlfriend Collective
Price: From $28
Sustainable Materials: ECONYL®, Recycled PET, Recycled Nylon, Cupro
Lauded as one of the best sustainable activewear brands for women of all shapes and sizes, let's just say that Girlfriend Collective is the mecca of eco-friendly sportswear. From skorts and leggings to sports bras and swimwear that go up to 6XL, their collections have everything we need for our indoor and outdoor workouts.
Plus, in addition to using recycled fabrics from post-consumer waste, Girlfriend Collective's vibrant ethical activewear is also responsibly cut-and-sewn at an SA8000-certified factory in Hanoi, Vietnam. Their best-selling Compressive Leggings, for example, are made with 25 recycled water bottles –how awesome is that?!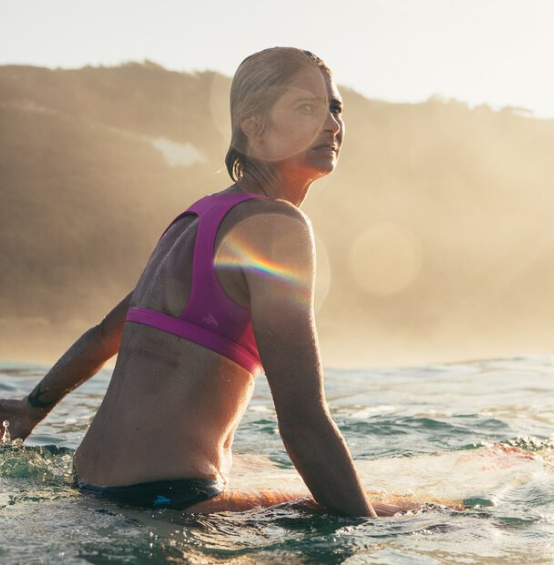 2. Patagonia
Price: From $49
Sustainable Materials: Recycled nylon, poly, hemp, organic cotton, rubber, wool
Patagonia's sustainable fitness clothing needs no introduction. The ethical outdoors apparel brand has entire collections dedicated to Sport-specific eco-friendly activewear. Think women's yoga clothing, durable sports bras, fleeces, tank tops, and sustainable leggings that move with you through poses, workouts, or climbs. You can also find thermal running jackets and hiking pants for your winter-weather adventures.
The B-certified corporation that's also a founding member of 1% for the Planet supports the ideal of circular fashion by offering repairs, as well as a secondhand shop chock full of affordable, slightly used options!
To top it all off, almost all sustainable workout clothes are Fair Trade Certified™ sewn.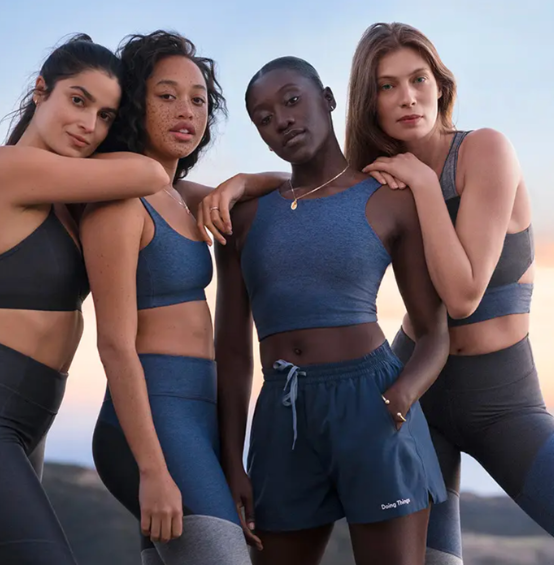 3. Outdoor Voices
Price: From $48
Sustainable Materials: Merino wool and recycled polyester, BCI cotton
Outdoor Voices is on our list of the sustainable activewear brands women opt for on-repeat due to their amazingly-crafted lineup of crop tops and workout shorts. There's also an ah-mazing volley dress that just came out. To upgrade the quality of your gym life, the company harvests the comfort and durability of sustainable textiles, such as responsibly sourced merino wool and recycled polyester made from water bottles.
What's more, each item has a brief explanation of its intended purpose. The FreeForm sustainable leggings, for example, are ideal for Low to medium-sweat Recreation — think yoga, pilates, stretch, and rest days. Their All-time bras, on the other hand, are designed for High sweat recreation — think running, jogging, training, HIIT, and court sports.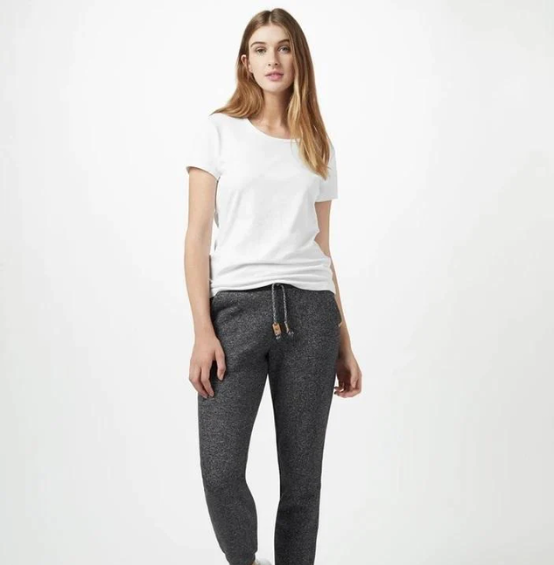 4. Tentree
Price: From $48
Sustainable Materials: Tencel, Recycled Polyester, Organic Cotton, Hemp
Tentree is known as one of the best sustainable activewear brands for women who cherish comfort above all else. The company that has planted over 43 million trees thus far, and offers a wide range of Sports bras, leggings, graphic tees, and many more eco-friendly sportswear options made of organic and recycled materials.
We absolutely love their InMotion line which, aside from the beautiful colors, is s made in a closed-loop process that recycles post-consumer garments. What's more the certified B corporation is also carbon neutral and works only with manufacturers and suppliers that are conscious of their environmental impact, and that guarantees a safe and respectful environment for their employees.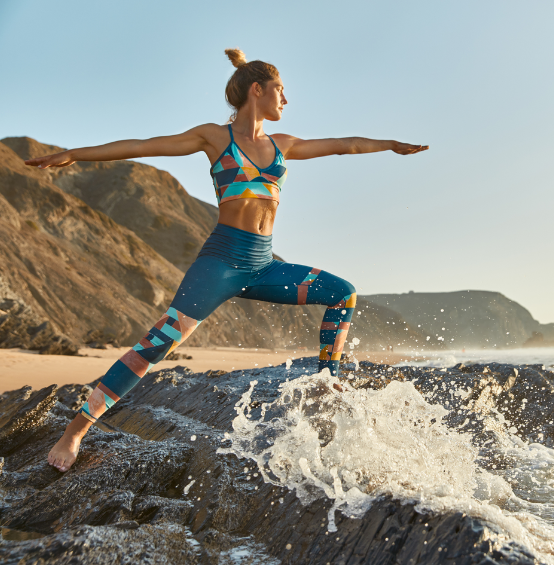 5. prAna
Price: From $45
Sustainable Materials: Recycled Nylon, Recycled Polyester, Recycled Wool, Recycled Cotton, Organic Cotton, Organic Hemp
Sustainable workout clothes for yoga, travel, & outdoor adventure enthusiasts? Yes, please. Prana is one of the most popular sustainable fitness clothing brands with an array of eco-friendly sportswear options that check all our quality and sartorial boxes.
Their best-selling UPF tops offer UPF 50+ protection; the women's tanks and t-shirts line is ideal for all your outdoor workouts; their moisture wicking, highly stretchy, and compressive leggings are ideal for heavy and low-impact exercises – the list goes on and on. No matter your environmentally friendly activewear of choice, you can rest assured knowing that Prana's collection is both Bluesign and Fair Trade Certified!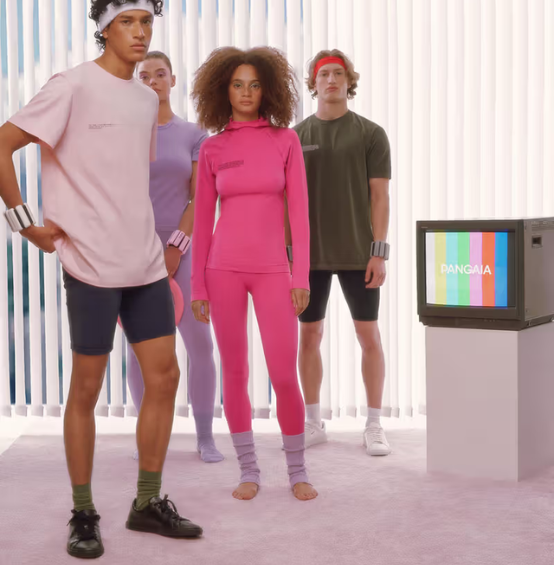 6. Pangaia
Price: From $105
Sustainable Materials: Biodegradable nylon, biowick
Unlike most sustainable activewear brands for women on the list, PANGAIA's eco-friendly sportswear is made with plants. That's right! Their sustainable sports bras and leggings, for instance, are made from specially-formulated nylon that has the ability to biodegrade in a shorter space of time when disposed of in oxygen-poor environments. And because it's treated with biowick® – a plant-based treatment that absorbs unwanted sweat and peppermint oil (pprmint™) – it also boasts anti-odor properties. We can't help but admire this B-certified corporation's dedication to not only using stellar eco materials but minimizing waste as much as possible.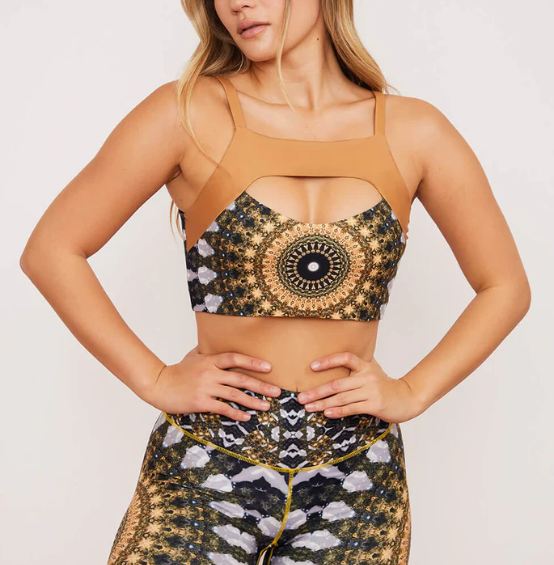 7. Wolven
Price: From $36
Sustainable Materials: Recycled materials
Last but not least, Wolven –one of the most beloved sustainable activewear brands for women who love color and vibrant prints that make a statement. Wolven's eco-friendly activewear is crafted responsibly with OEKO-TEX-certified sustainable materials under WCA-certified ethical working conditions.
In addition to repurposing post-consumer recycled plastic to create ethical activewear, the brand also removes a pound of plastic waste from the ocean with every purchase.
No matter if you are into supportive sports bras, stretch leggings, or reversible tops, Wolven's sustainable workout clothes have something special for everyone.