11 Top Picks for Compostable and Biodegradable Trash Bags
Are you frantically looking for the best biodegradable trash bags that can easily break down into carbon dioxide, water, and biomass within a few weeks? We've got you! We made a list of the most noteworthy compostable trash bags that are backed up by an array of certifications from third parties in the USA and Europe. 
Why Compostable And Biodegradable Trash Bags Are Better Than Plastic? 
Biodegradable trash bags are designed to break down quickly and completely when exposed to certain environmental conditions, such as sunlight, moisture, and microorganisms. This means that they do not contribute to the buildup of plastic waste in landfills and oceans, which is a major environmental concern. 
It's no secret that, even after 1,000 years, a plastic bag will leave behind tiny particles of what it once was, never fully disappearing. In fact, about 730,000 tons of plastic bags, sacks, and wraps were generated in the United States in a single year. Plus, an estimated 300 million plastic bags every year end up in the Atlantic Ocean alone. Shockingly, by 2050, the world's oceans could contain more plastic than fish measured by weight.
Compostable garbage bags, on the other hand, are made from sustainable materials, such as cornstarch, sugarcane, and bamboo, which are renewable resources. In contrast, plastic trash bags are made from non-renewable resources like oil and gas, which are, of course, nothing close to sustainable.
Last but not least, the best compostable trash bags are as strong and durable as plastic trash bags, so they can hold up to the same amount of weight and garbage without tearing or leaking.
So without further ado, here are our top picks for biodegradable trash bags.
Best Compostable Trash Bags in 2023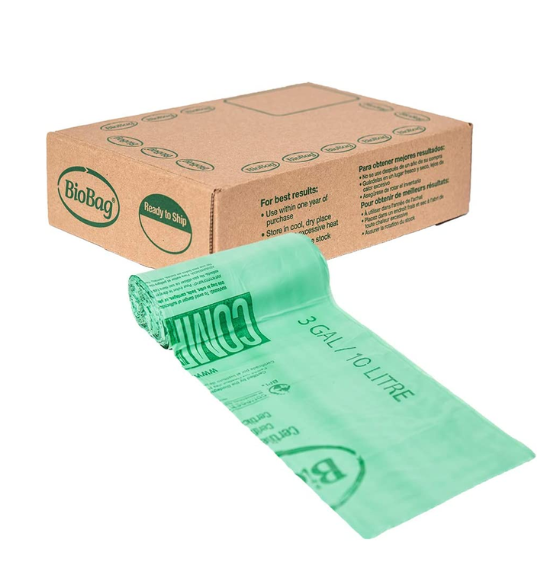 1. BioBag USA The Original Compostable Bag, 3 Gallon
Price: $24.12 
Sustainable Materials:  Plant starches and vegetable oils
Biobag's compostable trash bags are here to help us keep organic waste out of landfills with ease. Their range of biodegradable garbage bags is available in several different sizes and all are certified "home compostable." They are made locally in the USA with renewable materials, such as plant starches and vegetable oils, rather than petroleum-based materials. Along with their compostable kitchen trash bags, you can shop for compostable pet waste bags for your furry friend,, compost bin bags, resealable bags, yard waste bags, snack bags, and more. Plus, despite being compostable, Biobag's compostable trash bags are strong and durable, able to hold up to the rigors of daily use.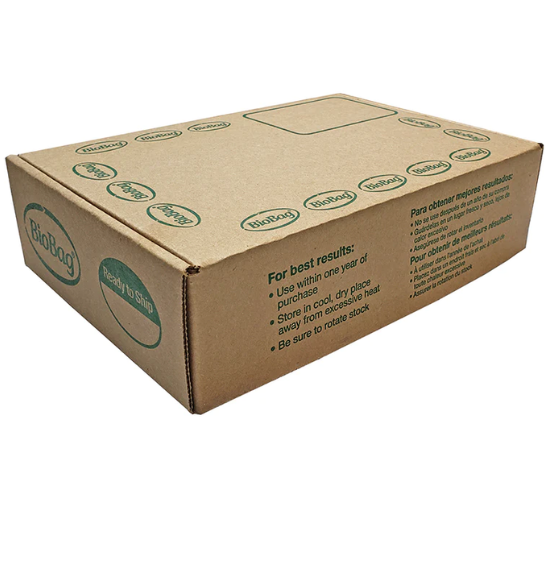 2. EarthHero Biobag 13 Gallon Compostable Kitchen Ba
Price: $23.99
Sustainable Materials:  Mater-Bi
On EarthHero's virtual shelves, you can find an array of biodegradable garbage bags made from renewable resources like plant-based materials, rather than petroleum-based plastics. The compostable trash bags offered by EarthHero are certified by organizations such as the Biodegradable Products Institute (BPI) and meet ASTM D6400 standards for compostability.
If you are on the lookout for heavy-duty options, many of the compostable garbage bags offered by EarthHero have a leak-proof design to prevent messes and spills. Additionally, they are breathable to reduce moisture, mildew, and odors! Luckily, the eco-friendly brand offers various sizes to fit different trash can sizes and needs.
Made from Mater-Bi, an innovative family of bioplastics derived from the starches of plants, vegetable oils, and compostable polymers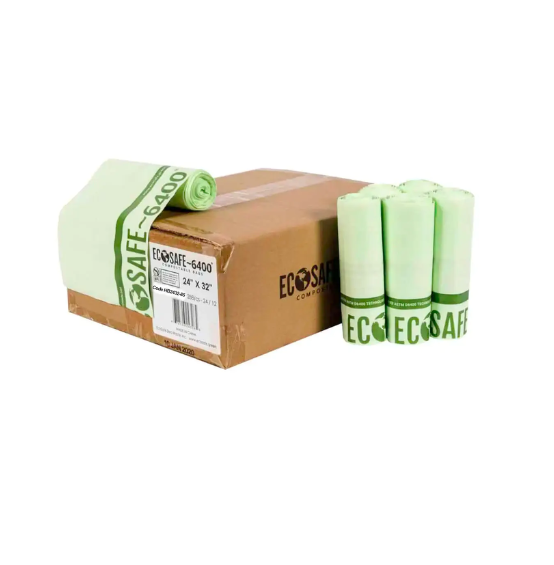 3. Green Paper Products 13 gal Heavy Duty Trash Bags
Price: $111.36
Sustainable Materials: Plant-based proprietary resin
If you are sick and tired of leaks or rips, yet, you still want to choose fully biodegradable trash bags that don't cause any harm to the environment, Green Paper is for you. The brand offers fantastic 13-gallon  compostable garbage bags that will never fall apart no matter what you –and life– throws at them). They are super durable and are made from a compostable plant-based proprietary resin here, in the US. The brand mentions that their products are fully compostable in under 100 days in properly maintained compost facilities as they are certified by Biodegradable Products Institute (BPI®) and Meet the ASTM D6400 standards for Composability.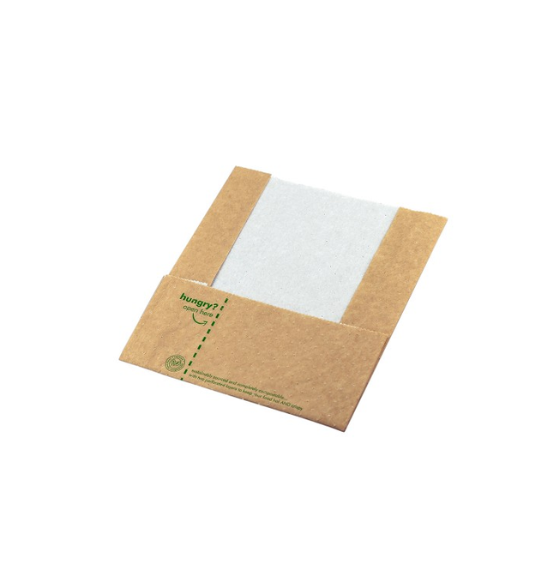 4. Vegware US Compostable Bin Bags
Price: From $32.15
Sustainable Materials: Plant-based Mater-Bi
Vegware is a manufacturer and visionary brand, the global specialist in plant-based compostable food service packaging. But we are especially amazed by their compostable bin bags. Made in Europe from plant-based Mater-Bi, these biodegradable trash bags are equipped with compostable caddy liners and certified compostable liter sacks for commercial kitchens. The options start at 8 liters and go all the way up to 240 liters. So they can definitely meet your home's demands with ease.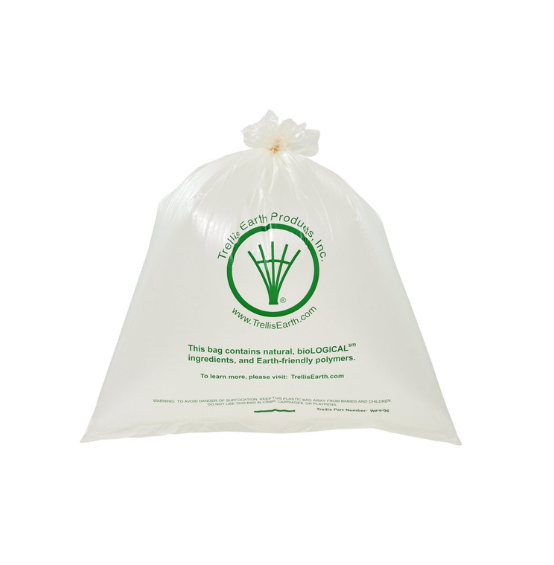 5. Trellis Earth WFB-06 BioPlastic Office Trash Liner
Price: $192
Sustainable Materials: Polymerized plant starch
Trellis Earth is an eco-conscious company that produces a range of biodegradable products, including some of the best compostable trash bags. What makes these bags sturdier and stronger than conventional plastic bags? The polymerized plant starch!
What's more, the compostable garbage bags from Trellis Earth are certified by various organizations such as the Biodegradable Products Institute (BPI), the Australian Standard AS 4736, and the European Standard EN 13432. Additionally, they are produced using renewable resources, which further lowers their environmental impact.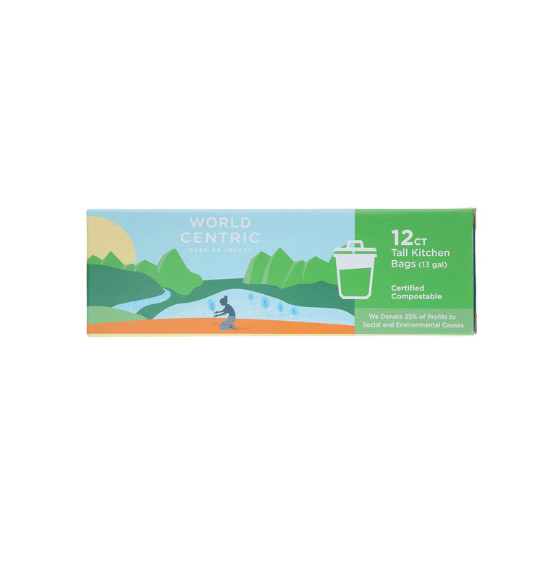 6. World Centric 13 Gallon Compostable Bags  
Price: $10.72
Sustainable Materials: Synthetic and starch based plastics
The certified B Corp World Centric is lauded for its wide range of compostable and zero-waste products which includes biodegradable trash bags. All options are made from a mixture of synthetic and starch-based plastics and printed with soy-based inks. From 3-gallon food scraps and 13-gallon tall kitchen sizes to 33, 39, 45, and 55-gallon liners, you name it, they have it! Of course, the company's best compostable trash bags conform to ASTM D6400 compostability standards. They are also certified compostable in 2 to 4 months in a commercial composting facility as well as certified by TÜV AUSTRIA for home composting in 10 to 12 months.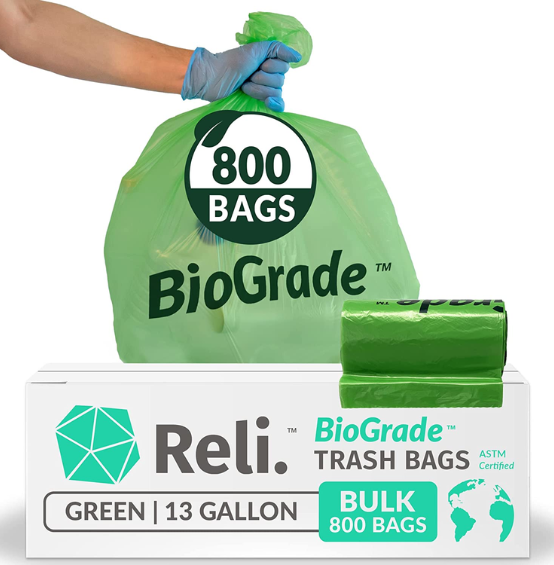 7. Reli. Biodegradable 13 Gallon Trash Bags
Price: $59.99
Sustainable Materials: EPI Additives
Relli biodegradable trash bags are strategically custom-designed to be tear-resistant, leak-proof, perforated, and compactor friendly.
For over 30 years, the company has been committed to producing premium quality products, offering value, and ensuring convenience. Therefore, each compostable trash bag is designed to be trouble-free. They can be easily torn off of the 20 coreless rolls (40 bags per roll), offering effortless usage and storage. What's more, the bottom of each trash bag has a unique Star Seal design to prevent leaks, improve carrying capacity, and accommodate your trash can shape. The best part? All bags are created with EPI additives which can help speed up the breakdown of bags 100's faster than conventional bags.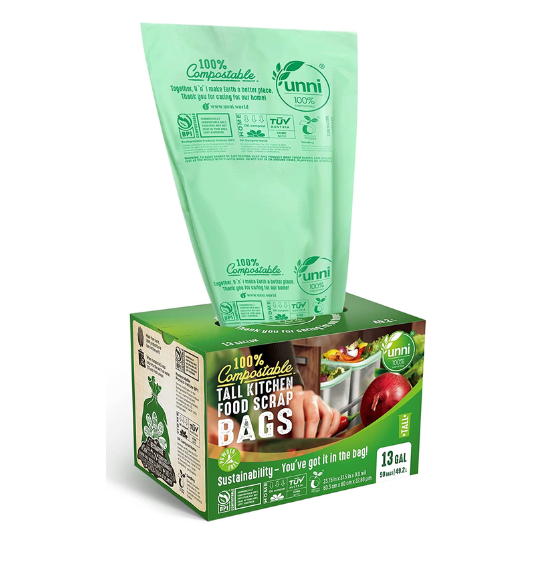 8. UNNI 100% Compostable Bags, 13 Gallon
Price:  $30.95
Sustainable Materials:  Plant starches
Certified by the Biodegradable Products Institute (BPI) under US standard ASTM D6400, as well as Certified OK Compost Home under European standard EN 13432 by Vinçotte and Tüv Austria, the Unni 100% compostable bags are made from plant starches and contain NO polyethylene. The convenient 13 Gallon-capacity is ideal for everyone who wants to sustainability get rid of food scrap waste at home as it guarantees 100% biodegradability in home composting facilities. It's no wonder why they have over 7,661 ratings on Amazon!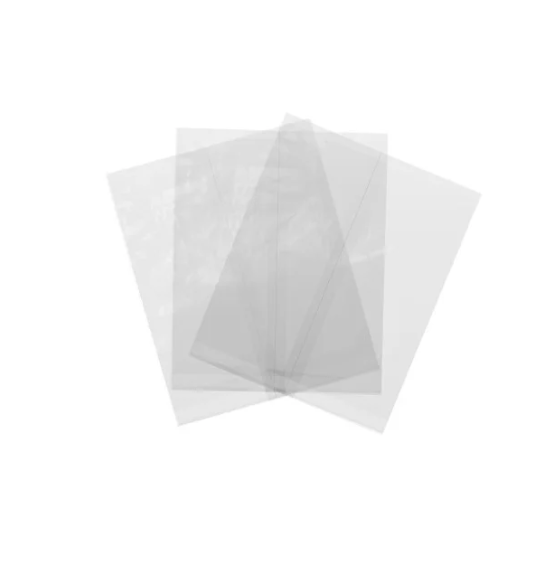 9. GreenGood USA
Price: From $65.29
Sustainable Materials: Paper, Reclaimed sugarcane, natureflex
GreenGood USA offers a wide range of eco-friendly, compostable, and plant-based food packaging including window boxes, hot bag wraps, sandwich plates, to-go bags, carrier bags, and carry packs. All options can be commercially composted with food scraps where accepted. Plus, independent bodies have certified that their products can break down in under 12 weeks in industrial composting facilities. In addition to their product offerings, GreenGood USA is also committed to promoting sustainability and environmental awareness. They offer educational resources and tools to help individuals and businesses reduce their environmental impacts, such as tips for reducing waste and information on the benefits of composting.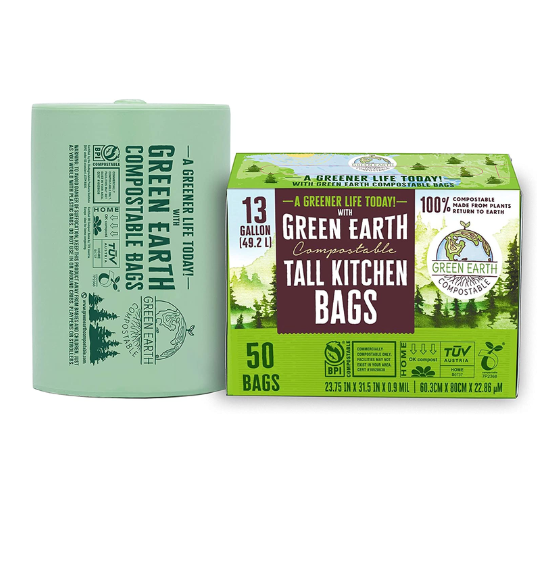 10. Green Earth Compostable Tall Kitchen Food Scrap Waste Bags, 13 Gallon
Price: $19.95 
Sustainable Materials:  Plant-based materials 
Handcrafted, GOTS & GOLS certified, non-toxic, and chemical free sustainable pillows? Yes, please. Soaring Heart Natural Beds'  best eco-friendly hypoallergenic pillows include options made of organic cotton, organic wool, and natural latex. Each option is designed for particular sleep needs – including stomach sleepers, back sleepers, etc. All Soaring Heart Natural Beds' pillows are free from synthetic materials, flame retardants, and other harmful chemicals. They are also certified by third-party organizations such as GOTS (Global Organic Textile Standard) and Oeko-Tex, which ensure that the materials used in the products are safe and sustainable.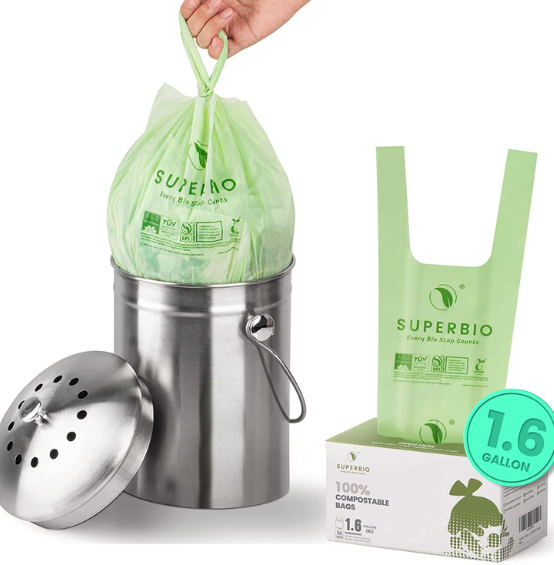 11. SUPERBIO 1.6 Gallon Compostable Handle Tie Garbage Bags
Price: $13.95
Sustainable Materials: Plant-based materials 
Last but not least, Superbio's biodegradable trash bags! They are 1.6 Gallon, small trash bags with handles that fit effortlessly into most countertop Bins! The bags have been awarded official compostable certificates from BPI and OK compost and Seedling from TUV, meeting both the US ASTM D6400 standard and the EU EN 13432 standard. This means that, when placed in a standard compost pile, the bags will degrade to humus, CO2, and water within 180 days. What's more, they come with a reinforced bottom to securely hold even the heaviest load. In other words, this is one of the best compostable trash bags for small loads..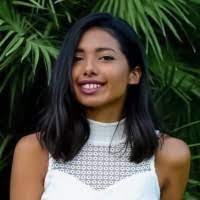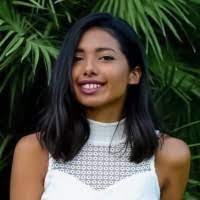 About Author
Konstantina Antoniadou
Freelance sustainability and fashion writer with an ongoing curiosity to explore new innovative technologies, and report on trends in "green" industries.