9 Best Sustainable Men's Dress Shirts You Need In 2022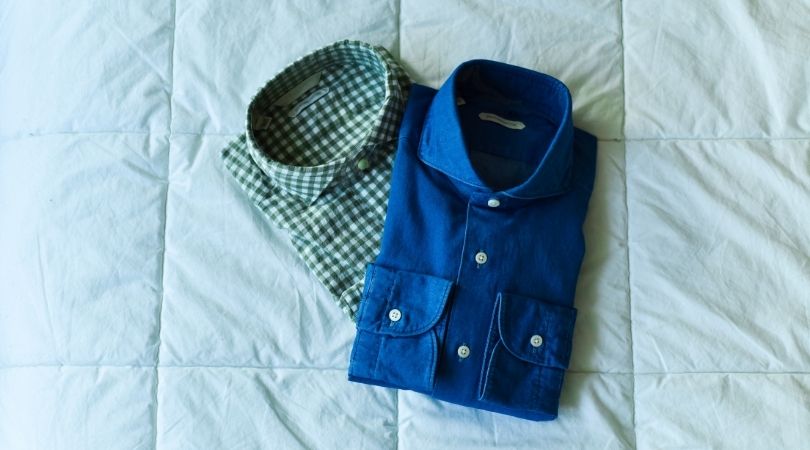 Luckily in 2023, finding the best sustainable men's dress shirts no longer requires us to compromise on style or comfort. With spring almost upon us, now is the quintessential time to discover ethical men's brands that align with your values and personal aesthetic.
If you do live by the motto "buy better, buy less", you are probably ready to invest in the most well-made sustainable men's dress shirts 2022 has to offer. From classic corporate looks to something more relaxed we rounded up the best ethical men's dress shirts below.
Our Top 9 Picks For Sustainable Men's Dress Shirts
1. Oxford Dress Shirt – Faherty
Price: $181
Sustainable Materials: Textile Exchange and BLUESIGN-certified, non-toxic dyes, GOTS Certified Organic Cotton, Tencel, EcoVero
When it comes to the best sustainable men's dress shirts, the family-run business Fatherty is at the top of the ethical fashion game. Their collections run the gamut from white, black, and heather blue classic button-up silhouettes to warm-weather appropriate prints that steal the attention. Their ethical men's dress shirts are made from organic cotton and EcoVera. They are adorned with Coconut Shell and Rivershell Buttons following The Textile Exchange's and BLUESIGN's standards.
Fatherty sustainable oxford dress shirts boast confidence, personality, and individual style – with a bit of stretch to enhance comfort and wearability. Rest assured that these shirts will take you from work to leisure and everywhere in between.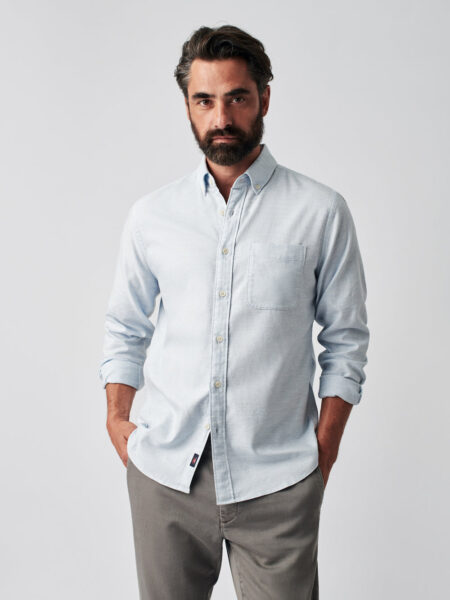 2. Oxford Dress Shirt- Asket
Price: $110
Sustainable Materials: 100% organic cotton Oxford cloth, The Impact Transparency
Asket's sustainable men's dress shirts adhere to their mission to create "zero compromise garments – essentials made to last". These crisp and easy everyday wardrobe staples are made from 100% organic cotton Oxford cloth and custom Mother of Pearl buttons. From Oxford dress shirts, linen shirts, to easy-to-wear flannels and wool overshirts, the options are seemingly endless.
If you want a contemporary twist to your classic rotation in an array of different colors, Asket is the ethical men's brand for you. Each order comes with an Impact Receipt detailing its cost, traceability, CO2 emissions, and additional info such as where it was manufactured, dyed, and milled.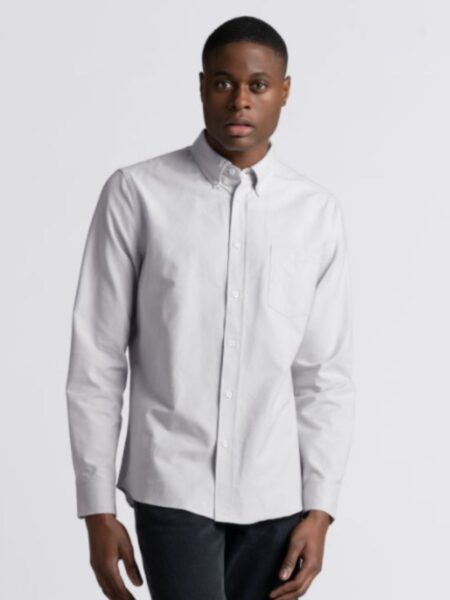 3. Organic Cotton Shirt – Vustra
Price: $110
Sustainable Materials: 100% certified organic cotton, OCS, USDA Organic, Fair-Trade certifications
The Nebulus Insulated Jacket by Finisterre is all about quality and sustainability. Luxuriously thick and finished with a hood and collar, this puffer is also the epitome of thoughtful design. It combines the look and feel of down with the functionality and sustainability of 100% recycled (GRS certified) polyester.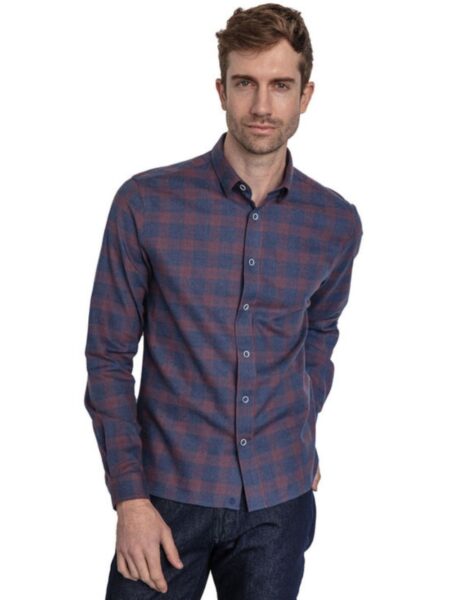 4. Stain Repellent, Sustainable Solid Shirts – & Collar
Price: $40
Sustainable Materials: Blend of sustainable fabrics and upcycled plastics, Oeko-Tex certified
& Collar's sustainable men's dress shirts are on a mission to defend you against spills, spit-up, and every other stain that might come your way. These wardrobe superheroes feature durable stretch fabric, moisture-wicking qualities, and the coveted silhouette of a classic button-down. Each one of their 8 different ethical dress shirts goes perfectly with just about anything which leaves much room for creativity.
The brand uses a blend of fabrics and upcycled plastics that serve maximum performance while also helping minimize plastic waste from the world's waterways and landfills. & Collar points out that each style is made with the equivalent of 15 plastic bottles!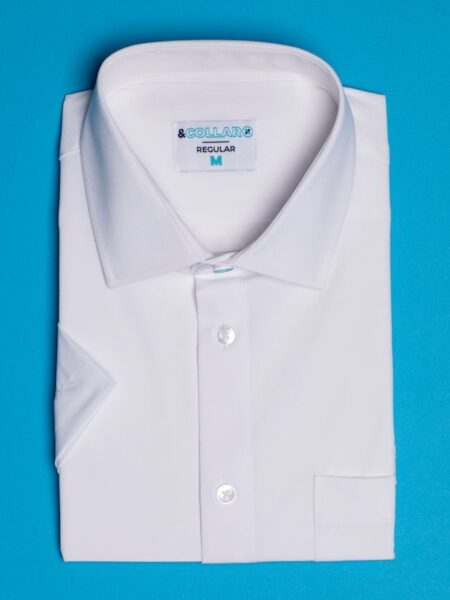 5. Men's Casual Button Up Shirts- Buck Mason
Price: $95
Sustainable Materials: Ethical Cotton and Rayon fabrics
When it comes to modern button-up shirts, Buck Mason manufactures the finest styles suitable for a formal, more put-together look. From silky, lightweight cotton blends and classic, full-fitting camp shirts cut from a mid-weight pinwale corduroy to office-ready button-ups that are equal parts soft and structured, every piece is highly stylish and functional as well.
Through their collection, Rhone prioritizes form and functionality. The fit is tailored in the body with plenty of movement in the arms and shoulders. The brand carries an extensive range available in different colors, styles, and sizes.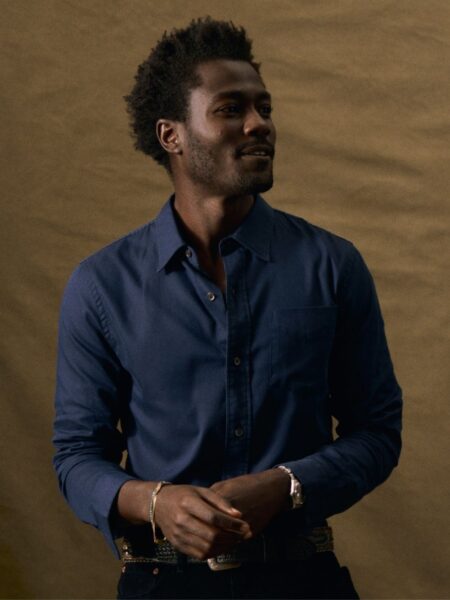 6. Oxford Shirts – Octobre
Price: $110
Sustainable Materials: DEMAIN solidarity program
The M's Bouncer Jacket by Houdini is luxury in a sustainable puffer. It's minimal design combined with durability to stand extreme weather and enough suppleness to move with you as your adventure makes it a practical must-have for the winter adventurer.
Transparency is also important to Houdini and every product they make has a full, in-depth rundown of the materials used and origin of the element.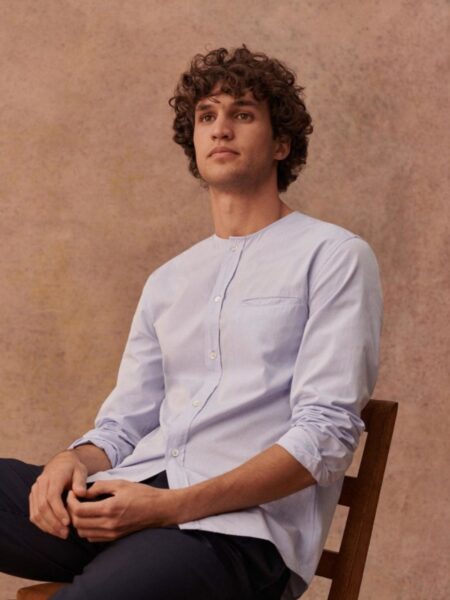 7. Men's Ethical Shirts – Thought
Price: $93
Sustainable Materials: GOTS certified cotton and hemp, Environmental Policy commitment
Thought's bespoke patterns and contemporary hues are thoughtfully designed to meet their Environmental Policy commitment. They source natural, sustainable yarns that require less water, fewer pesticides and create less CO2.
Each one of their ethical dress shirts for men is made from Fairtrade organic GOTS certified cotton fabric inspired by our love of traveling. Soft breathable and remarkably stylish, Thought's collection comes in solid colors as well as vivid and unapologetic prints for all your casual and formal dressing needs.
8. Classic Men's Shirts – Taylor Stitch
Price: $98
Sustainable Materials: 100% organic cotton, certified by the Leather Working Group, Fair Trade Apparel, Schoeller Textiles AG, and more
Taylor Stitch's sustainable men's shirts are designed to make you look and feel your absolute best. Whether you prefer keeping things casual or looking shits to match your polished and sharper look, the brand offers the right amount of sturdy for year-round wear.
Their collection is made from 100% organic cotton featuring the brand's signature Jack button-down collar, a double-needle felled construction throughout. No matter your personal preferences, you're sure to find many sustainable men's dress shirts that suit your style.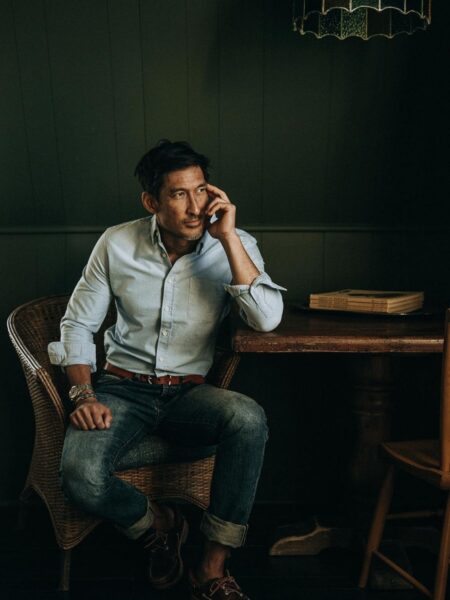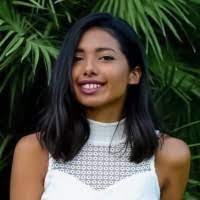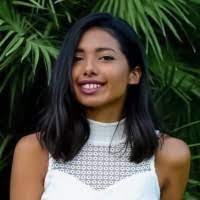 About Author
Konstantina Antoniadou
Freelance sustainability and fashion writer with an ongoing curiosity to explore new innovative technologies, and report on trends in "green" industries.