Sustainable Flannels Perfect For Fall 2023
Fall means flannels, and this year, it's all sustainable.
As the leaves change color and cooler weather settles in, we're reminded of change not just of the seasons but of the world. The ability to be dynamic and adjust to change is as important now as it always has been, and in the spirit of that, we bring you fall flannels by sustainable, eco-friendly, and conscious brands, who are all about the dynamism that will see our planet protected for years to come.
Keep reading to find sustainable flannels perfect for this fall.
Planet-Friendly Fall Flannels
Price:
$148
Sustainable Materials:
Supima Cotton and Recycled Nylon Blend
Faherty's The Movement Shirt is a classic plaid button-up. Soft and airy, it was designed for all-day comfort and that classic clean winter look.
Faherty is a family-run brand driven by their unshakeable want to create high-quality feel-good favorites all with sustainability in mind. Through sourcing sustainable fibers and partnering with eco-minded organizations as well as native artists, Faherty is a must-support brand for winter and every season.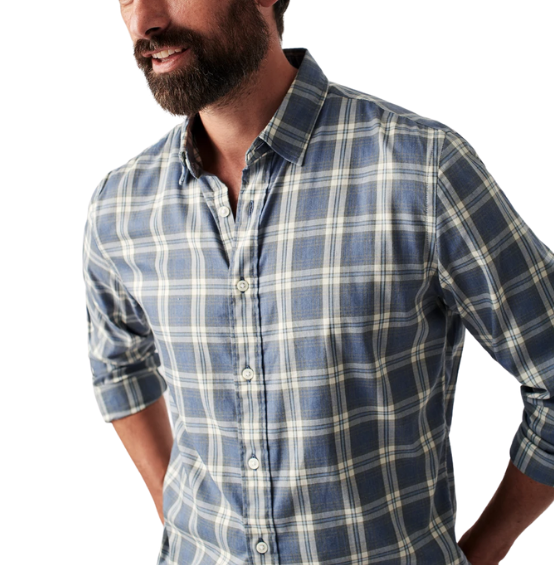 Price:
$140
Sustainable Materials:
Organic Cotton
The Flannel Shirt by Asket is a fresh take on a grunge and hipster classic. It combines comfort and style with an effortless fit, classic finishings and a soft custom brushed cotton.
Asket is a sustainable fashion brand in the pursuit of less. Their timeless designs and conscious production make them a must for the modern man.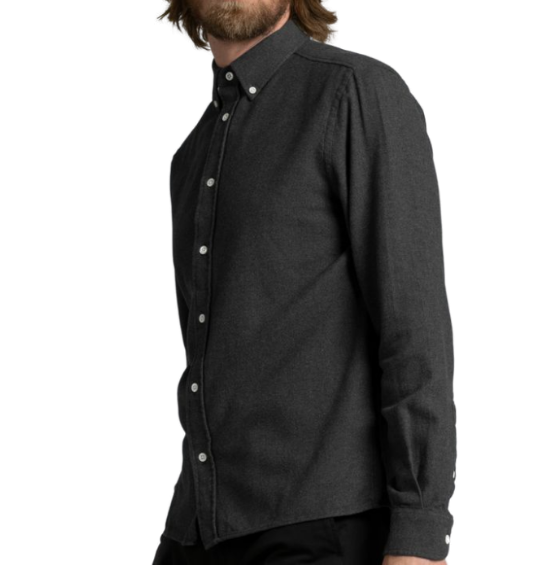 Price:
$148
Sustainable Materials:
100% Organic Cotton
Outerknown's all-time best-seller is back this winter for style and coziness like nothing else. 100% organic cotton finished with buttons made from nuts, the Blanket Shirt will stand up to winter weather and enhance any winter look in the process.
Outerknown is dedicated to sustainability and fair trade. For five years the brand has been uncompromising on sustainability and style so that you can have it all this and every winter.
Price:
$80
Sustainable Materials:
100% Organic Cotton
Toad & Co is changing the winter fashion game with their Indigo Flannel Shirt. The Indigo dye ages like a good whiskey or some smooth jazz and it only gets better with age and wear.
Toad & Co is committed to giving back wherever possible, and that includes giving great quality to their customers, fair labor to their workers, and resources back to the planet.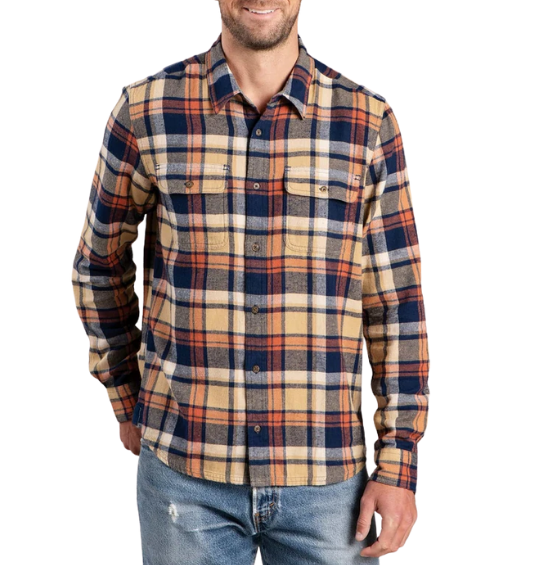 Price:
$98
Sustainable Materials:
100 % Organic Cotton
The Organic Striped Double-Cloth Button Down is United by Blue's  revolutionary double-cloth fall/winter essential. With two layers of 136GSM soft, airy, cotton, this button down hones in on comfort with style. Breathable and utra-comfortable, the double-cloth button down brings double the comfort without compromising on looking good.
United by Blue is committed to making change in waves through their sustainable clothing, accessories, and home products. For every product purchased, United by Blue removes a pound of trash from the ocean.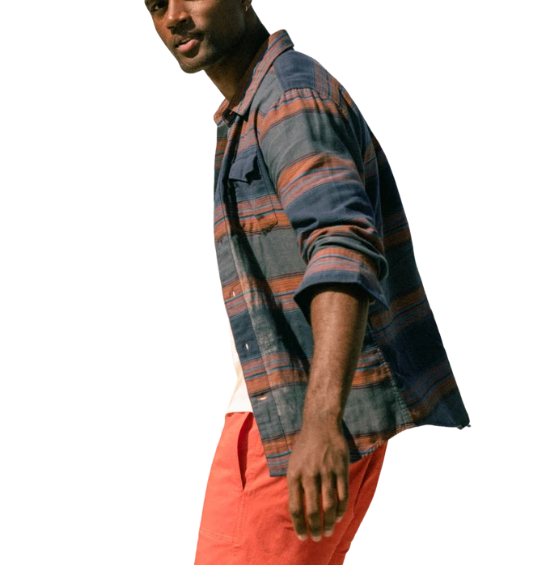 Price:
$152
Sustainable Materials:
100% Organic Cotton
KnowledgeCotton Apparel's PINE big checked heavy flannel overshirt is a classic fall/winter flannel in fresh vibrant colors. The boxy design boasts 91 % less water use, 61 % less energy use, and 46 % less carbon dioxide than a conventional fiber counterpart would.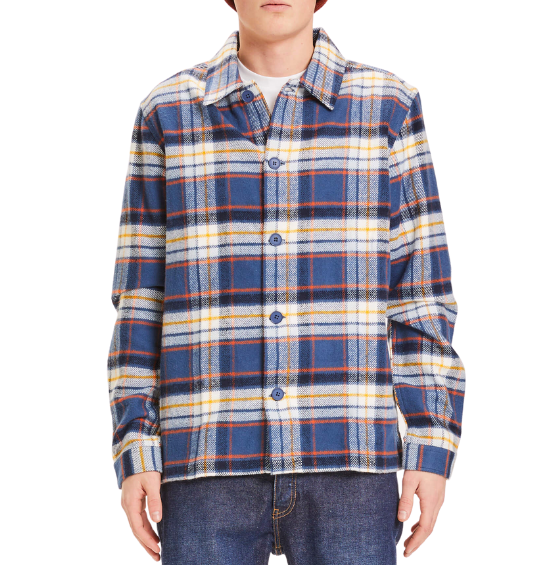 Price:
$89
Sustainable Materials:
100% Organic Cotton
Patagonia's Men's Long-Sleeved Organic Cotton Midweight Fjord Flannel Shirt combines the classic flannel button-down fit with a variety of fresh colorways to bring a splash of difference to your closet this winter. Patagonia is yet another sustainable fashion brand dedicated to all things good. From on-site childcare for employees to transparent, conscious manufacturing, Patagonia is one to remember when it comes to doing things right.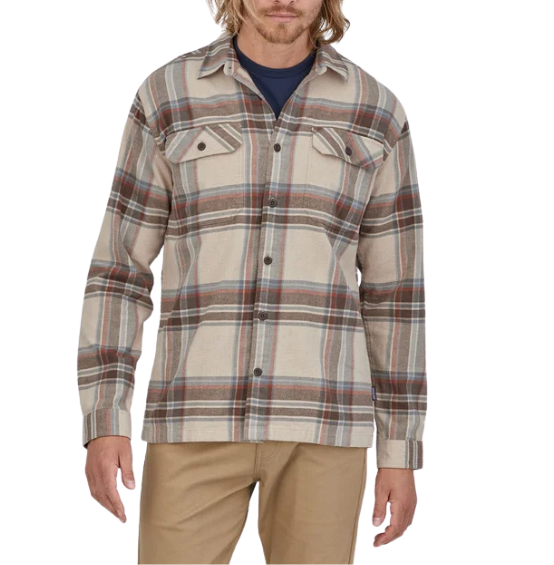 Price:
$152
Sustainable Materials:
100% Organic Cotton
Tentree's Heavy Weight Flannel Shirt is a rugged fall/winter classic. Made for the outdoors, the hearty fabric of this shirt softens in the best way with each wear. Sustainability is key in its design, using over 1000 liters less water and saving an extra 1.13kg of carbon emissions than traditional manufacturing. Tentree believes that big change starts small and they live that. With every purchase they plant ten trees, so your decisions make difference.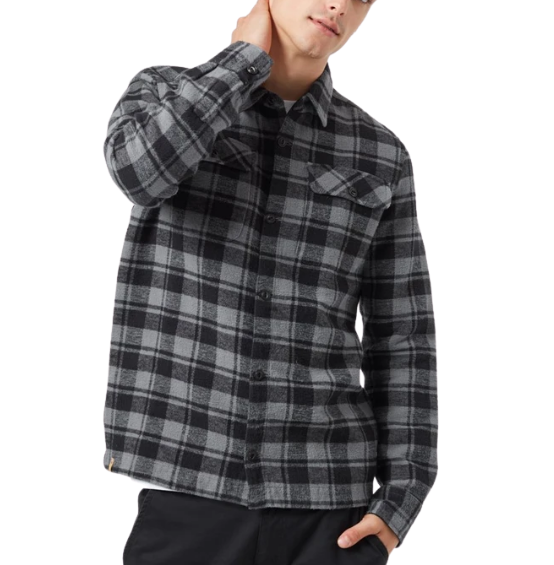 Price:
$72.41
Sustainable Materials:
100% Oxford Cotton
The Belavista Shirt by Portuguese Flannel, made from Oxford Cotton and finished with mother of pearl buttons, is the pinnacle of elevated fall/winter fashion. Focused on zero-plastic designs and designed by expert craftsmen in Northern portugal, Portuguese Flannel works their plastic-free and conscious ethos into every aspect of their clothing.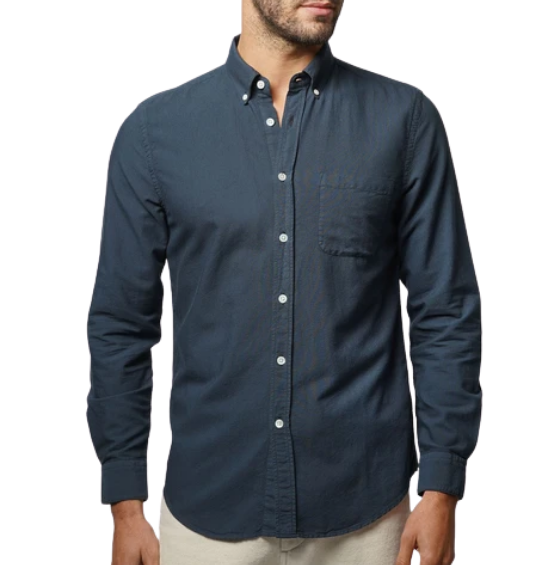 Each new season is an opportunity for reinvention, and fall is no exception. With the world in a state of constant change, choosing sustainability becomes a regular opportunity, and with so many sustainable fashion brands to choose from, it's getting easier season by season. Want more green brands? Check out all IndieGetup brands 
here
.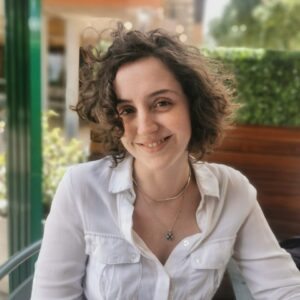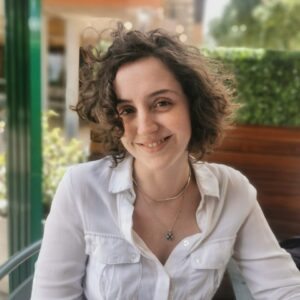 About Author
Jessica Robin
I strategize and write blog content for sustainability and health brands that want some action. Find me on LinkedIn and let's chat about writing your vision to life.