10 Sustainable Lightweight Hoodies Perfect for Summer 2023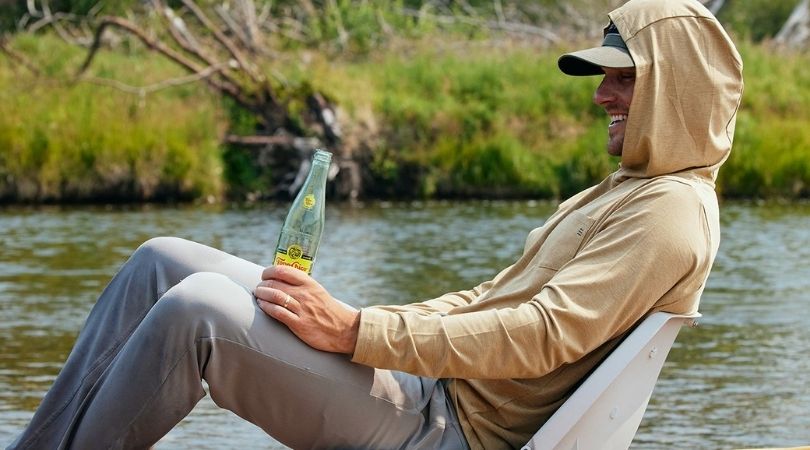 Summertime is the perfect time to kick back and unwind. What better way to enjoy those calm summer nights than in a comfortable lightweight hoodie? We've got an answer to that: kicking back in a sustainable comfortable lightweight hoodie.
There are quality brands out there that not only create that perfect combo of long-sleeved goodness that just feels so right on a summer night – they do it with sustainable materials and with ethical production standards.
Read on to discover 10 sustainable lightweight hoodies perfect for Summer 2023.
Sustainable Hoodies for Summer Nights in 2023
Price:
$65
Sustainable Materials:
70% Bamboo
Free Fly Apparel is a bamboo clothing brand that offers durable, organic, environmentally-conscious clothing free from toxic chemicals. Free Fly's bamboo fabric is sourced and manufactured in the United States.
All of their products are made with a natural, sustainable material that will never break down for thousands of years, unlike cotton or polyester which are both made from petroleum-based materials. They also make sure to avoid any harmful dyes and chemicals in order to maintain a green manufacturing process and healthy working environment for their employees.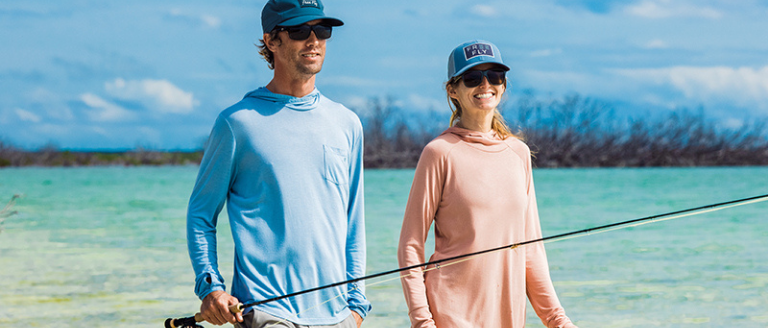 2. Jetty Hoodies & Sweatshirts
Price:
From $54.95
Sustainable Materials:
OYSTEX fabric
Jetty is an eco-conscious that operates with a strong commitment to environmental responsibility, social justice, and community involvement. Their wide range of crazy soft fleece hoodies, zip-ups, and crew neck sweatshirts will bring tropical island vibes to your casual city strolls thanks to the array of amazing graphic prints and colorways.
You can find sustainable hoodies that are light, fast drying, and equipped with UPF 50+ for serious angling and boating. That's right! The B-certified corporation came out with a new eco-friendly OYSTEX fabric blend of pulverized oyster shells with recycled polyester (RPET) to create a soft and breathable fabric without limiting stretch or durability.
Plus, the company runs its own nonprofit, the Jetty Rock Foundation, which focuses on supporting community-based initiatives.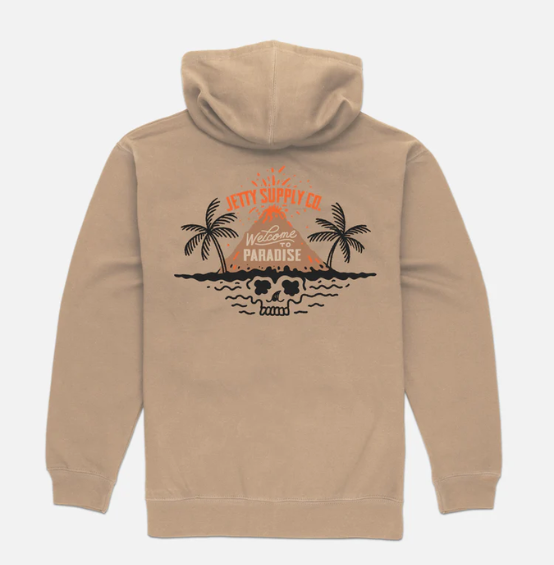 Price:
$165
Sustainable Materials:
Merino Wool
Sleek, timeless, and minimalist design – all the features you need while looking great in any situation. Casual and versatile style with no flashy logos, this hoodie also dries really fast, keeping you comfortable while keeping bad smells at bay even after weeks of wear, unlike cotton and synthetics.
In a world dominated by fast-fashion, Unbound Merino has slowed things down. They produce sustainable, timeless, versatile pieces that have you looking great in any situation and can be worn for weeks on end without needing a wash.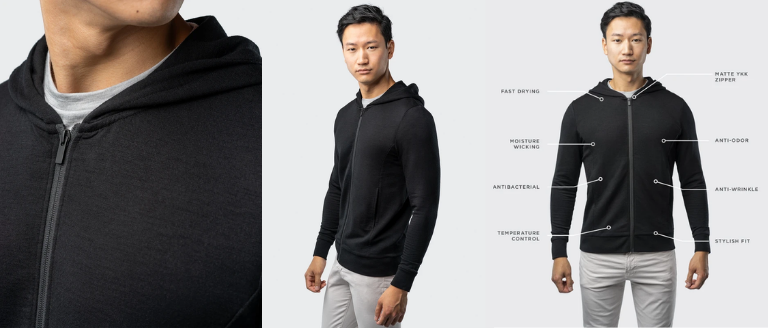 Price:
$128
Sustainable Materials:
Hemp, Organic Cotton
It looks like a hoodie, but the inside feels like a towel – and it is made sustainably and ethically. Outerknown is all about disrupting the status quo of design and production, which is evident in this modified classic French terry-cloth hoodie with kangaroo pockets and a super sturdy, zipper.
This brand's vision  is  a future where clothing contributes to a world where people and planet prosper, and transform the way we outfit the world by inspiring an industry to reimagine design and embrace circularity. And they are pretty good at contributing to this vision.
Price:
$48
Sustainable Materials:
Recycled Polyester, Hemp
United By Blue wants to prove that fashion can be a force for good. Through their commitment to sustainable materials, ethical manufacturing, and a zero-plastic policy, this brand is always searching for better ways to put the planet first.
The latest example of this sustainable excellence is their lightweight pocket hoodie, a great-fitting, long-lasting product with the exclusive use of materials that are environmentally and ethically sourced.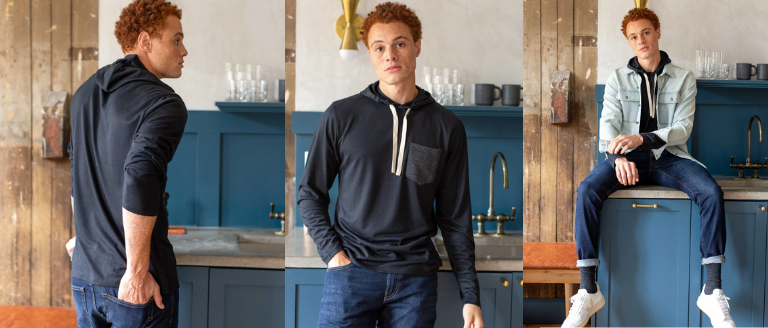 Price:
$75
Sustainable Materials:
Polyester, Recycled Coffee Grounds
Toad&Co's lightweight Debug Solaer Hoodie is treated with invisible, odorless Insect Shield® Technology to repel bugs and features thumbholes and a full hood for maximum coverage. And if that's not enough, this sustainable fabric (partially made from recycled coffee grounds) also moves moisture and keeps UV rays and odors at bay.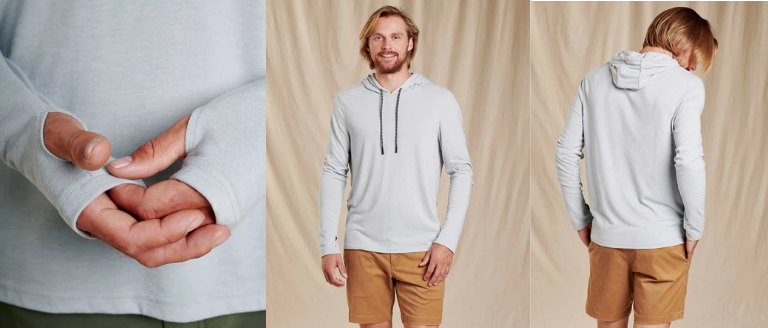 Price:
$90
Sustainable Materials:
Coffee Grounds, Recycled Plastic Bottles
The Evolution Hoodie stuffs fully into the zippered kangaroo pocket and becomes a cozy camp or travel pillow, making it ideal to be worn on-the-go. The material is constructed with microscopic pores which increase its surface area, meaning that moisture is spread throughout the hoodie, accelerating the drying process. And the best part: it is made from recycled coffee grounds!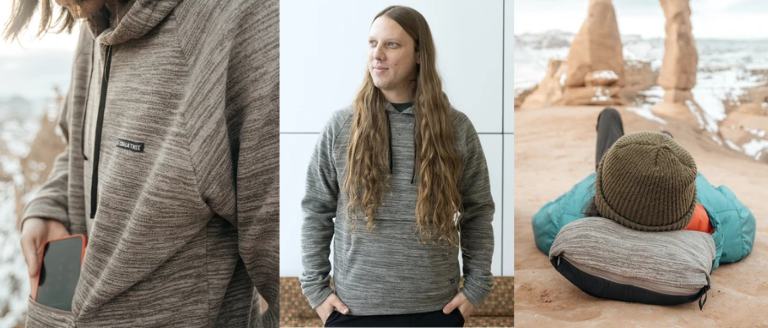 Price:
$58
Sustainable Materials:
USA Cotton
The perfect Mid-Weight French Terry hooded sweater for those summer nights on the beach, this sweater is part of LA Apparel's garment dye line, which is always custom dyed, shrink-free and sewn with 100% USA-grown cotton.
This hoodie is 100% sustainably made in the U.S.A.  – right in South Central Los Angeles.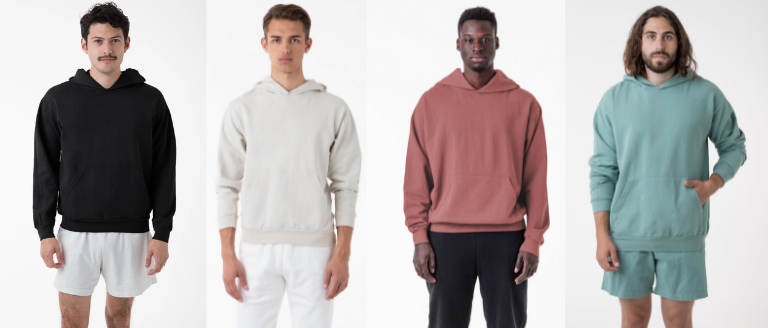 Price:
$69
Sustainable Materials:
Egyptian Cotton
A breezy update to a beloved silhouette, Kotn reimagined their best-selling Essential Hoodie in a mid-weight French terry: the same signature softness of Egyptian cotton, now in a more breathable, absorbent knit.
This hoodie features drawstring fastening at the self-lined hood, ribbing at the cuffs and hem, and a roomy kangaroo pocket at the waist.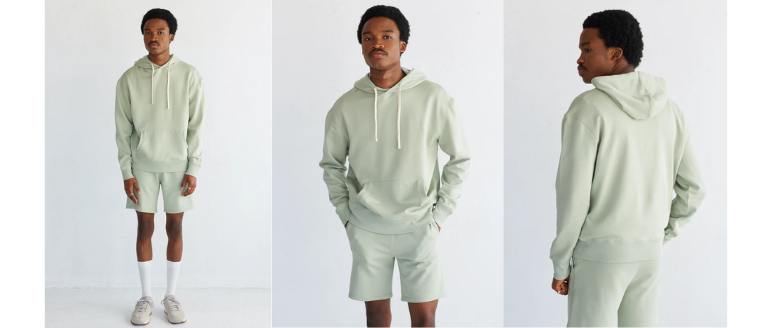 Price:
$64
Sustainable Materials:
Organic Cotton
Introducing the first hooded sweatshirt from Known Supply, made from 100% organic cotton and available in unisex sizing. This will likely be the softest hoodie you own – not bad for their first garment in this area.
Summertime is always enjoyable – and it's even better with these sustainable hoodies. These are all great options to help the environment without having to compromise quality or style. One garment a time, we can make the world a greener place.
Want to shop some of the most revolutionary companies? IndieGetup makes it easier for you to have access to clothing with a conscience. Click here to visit more brands we love that are creating a greener future.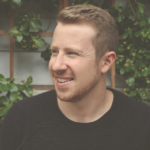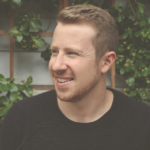 About Author
Brandon
Owner of IndieGetup, the premier sustainable marketplace for men to shop ethically.