8 Top Sustainable Puffers For Men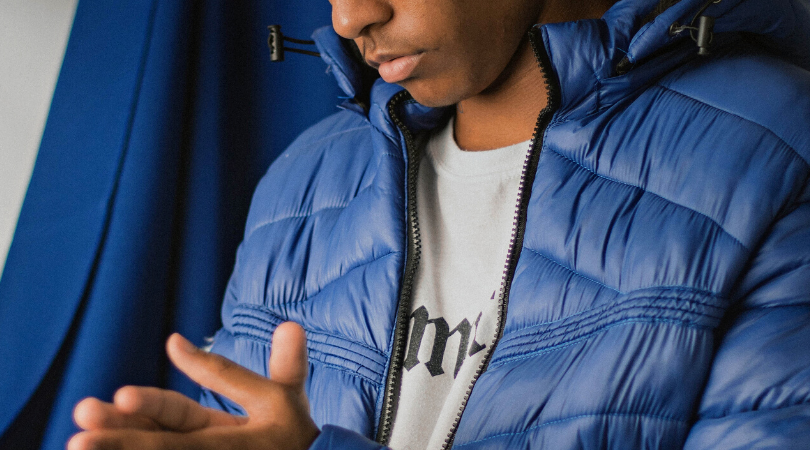 Sustainability never goes out of style, and that means eco-friendly stylish winter fits are not only achievable, but effortlessly cool.
Moving into February, winter isn't over just yet. There's still some time to enjoy some snowy adventuring, so whether you're hoping to hit the slopes one more time or enjoy a few more snow days in the city, we've got the sustainable puffer jacket for you. Here are our top 8 sustainable puffers for men.
Our Top 8 Picks For Sustainable Men's Puffers
1. Cloud Shell Packable Puffer – Tentree
Price: $158
Sustainable Materials: 100% recycled materials
Tentree's Cloud Shell Packable Puffer is the perfect sustainable men's puffer. Combining everything we know and love about a traditional puffer jacket with an eco-friendly twist, this beauty is lightweight, easily portable, and insulating as ever. The classic look and timeless puffer silhouette makes it work in any closet for any occasion.
This puffer was made for the man on the go. Boasting a ridiculously light weight and next-level compactibility it's ideal to pack for weekends away and day trips alike. If you like packing light, this puffer is an essential.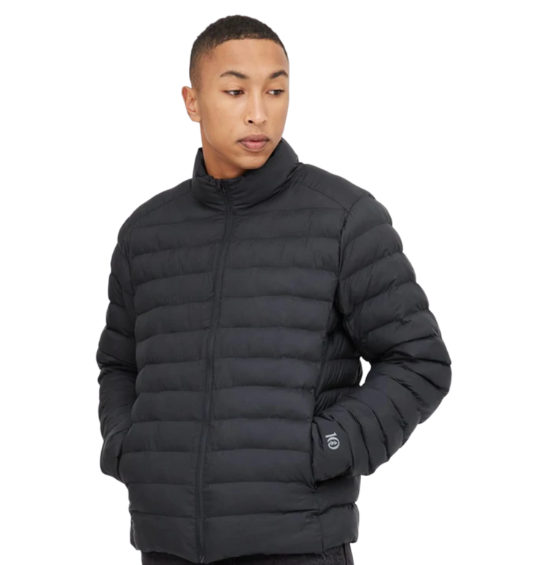 2. Hooded Puffer – Outerknown
Price: $248
Sustainable Materials:Recycled polyester, 700-fill-power down certified by the Responsible Down Standard
Outerknown's Hooded Puffer is another sustainable men's puffer to remember. It's a classic puffer design with a hood for extra warmth and versatility. It's a great option if you want a down puffer without the guilt, as the luxurious 700-fill-power down is Responsible Down Standard certified.
Outerknown is all about sustainable fashion. 90% of the fibers they use are organic, recycled, or regenerated, and 100% of their trunks are made from recycled materials. They also value social impact, and invest in the livelihoods of 5000 workers who help put Outerknown's quality products together.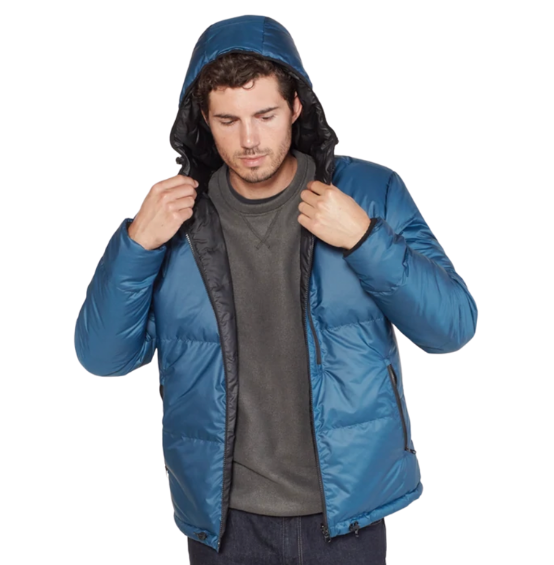 3. Men's Nano Puff® Jacket – Patagonia
Price: $199
Sustainable Materials: 60-g PrimaLoft® Gold Insulation Eco 100% postconsumer recycled polyester, 100% recycled polyester shell and lining
Patagonia's Men's Nano Puff Jacket is warm, windproof, water resistant, lightweight, and compressible, so you can take it anywhere for anything.
The colour range is something to behold, with vibrant greens and reds, to mustard yellow, and classic neutrals. There really is something for every man.
An added bonus is this men's puffer is completely sustainable, made from 100% recycled materials.
Patagonia prioritizes product durability, because they know long-lasting, quality products are key to consuming less, and their Men's Nano Puff Jacket is true to this ethos. Made with durability in mind, this sustainable puffer will see you through many years of thrilling weather and environmental explorations.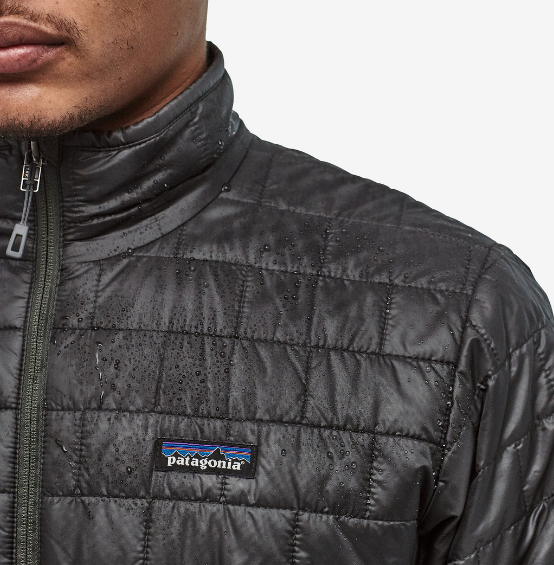 4. Nebulas Insulated Jacket – Finisterre
Price: $264
Sustainable Materials: 100% recycled (GRS certified) polyester
The Nebulus Insulated Jacket by Finisterre is all about quality and sustainability. Luxuriously thick and finished with a hood and collar, this puffer is also the epitome of thoughtful design. It combines the look and feel of down with the functionality and sustainability of 100% recycled (GRS certified) polyester.
Finisterre is a certified B Corp, and everything they do is guided by their will to protect and conserve the ocean. From thoughtful design with durability in mind to their Lived & Loved repairs initiative, they're a sustainable fashion brand that truly walks the walk.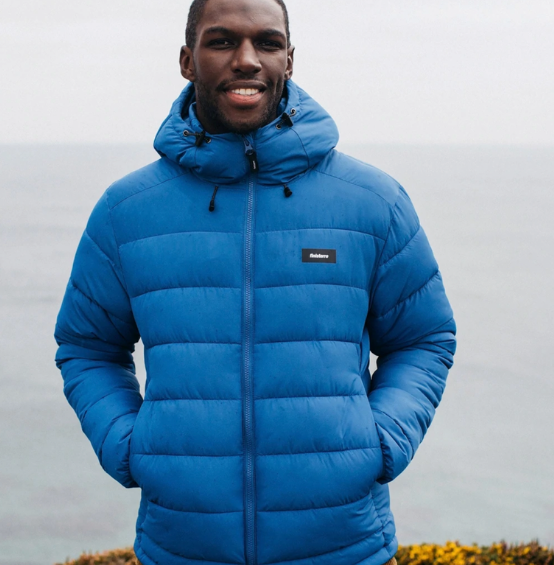 5. Asp Men's Recycled Polyester Jacket – Know The Origin
Price: $202.99
Sustainable Materials: Recycled polyester and Primaloft®
The Asp Men's Recycled Polyester Jacket by Know The Origin  is super lightweight but robust enough to keep you warm. Featuring a hood with elastic drawstring for protection from the wet weather, and handy front pockets with hidden zips, this sustainable men's puffer is made for stylish practicality.
Know The Origin was born from a frustration with the fashion industry. It's mission is to build hope through a new system, that elevates fashion, empowers people and lifts them out of poverty, and creates communities, all in an effort to restore the fashion world to justice and fairness. Every product on Know The Origin was created with this vision of the future at the heart.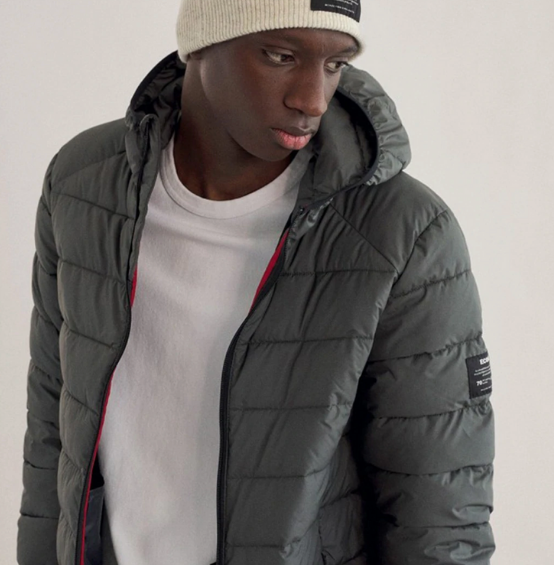 6. Men's Burton Evergreen Snap Jacket – Burton
Price: $122.46
Sustainable Materials: Bluesign® approved materials, 80/20 RSD light down 650 fill
The Men's Burton Evergreen Snap Jacket is one of Burton's greatest men's jackets. It's made using only Bluesign approved materials and safe chemicals ensuring that the jacket's production does no harm to the planet or her people. Designed to have a versatile fit, this puffer is ideal for stacking on top of and underneath multiple layers.
Burton is another clothing brand with circularity and sustainability at it's center. All Burton products are made using low-impact, responsibly sourced materials, all in an effort to reduce resource consumption and release minimal emissions in the manufacturing process. They're big fans of organic cotton, recycled polyester, and responsibly sourced down for their quality products.
7. M's Bouncer Jacket – Houdini
Price: $700
Sustainable Materials: 70% Eco Circle® recycled polyester, 30% polyester, Atmos™ 100% polyester membrane
The M's Bouncer Jacket by Houdini is luxury in a sustainable puffer. It's minimal design combined with durability to stand extreme weather and enough suppleness to move with you as your adventure makes it a practical must-have for the winter adventurer.
Transparency is also important to Houdini and every product they make has a full, in-depth rundown of the materials used and origin of the element. Their design philosophy is, quality and intention over quantity. Good design is a priority for them, and that means crafting durable, quality pieces, championing minimalism and purpose.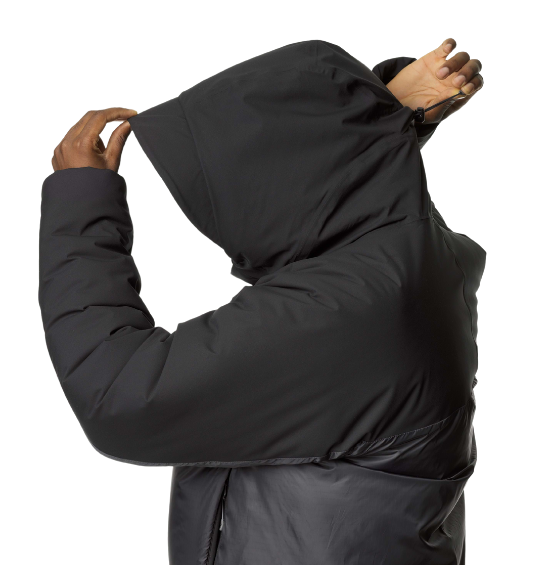 8. Kole Cire Puffer – Norden
Price: $239
Sustainable Materials: Nylon / Cire rip-stop, Polyester / Shredded Polyfill
Norden's Kole Cire Puffer is every man's ideal sustainable hooded puffer. Packable, breathable, comfortable, sustainable, and warm, this men's puffer also boasts adjustable features to customize your fit and style.
The smart storage means you can take your essentials with you everywhere, from the streets to the slopes.
Borden's vision is to make meaningful clothes; clothes that hold up individualism, sustainability, versatility, and comfort. Every Norden piece is designed with these qualities at the forefront, and with sustainable and responsible methods to protect our only planet.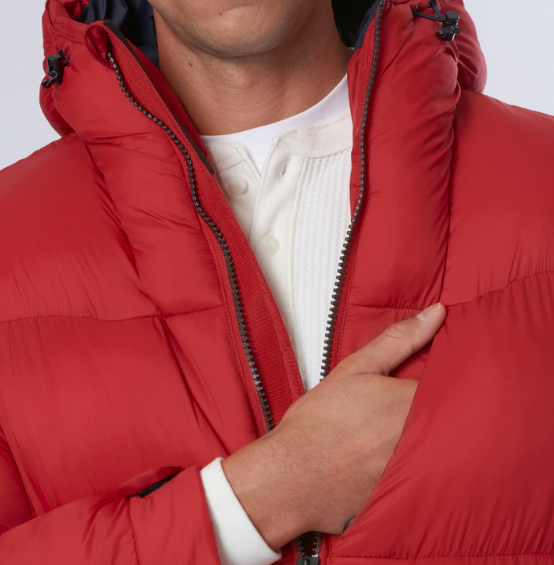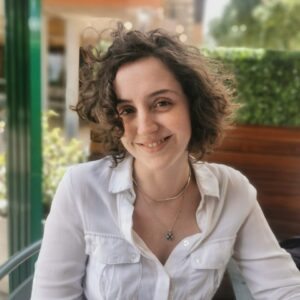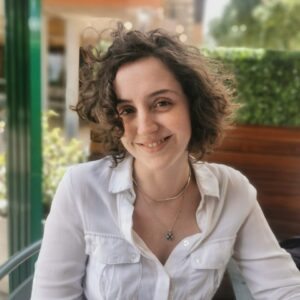 About Author
Jessica Robin
I strategize and write blog content for sustainability and health brands that want some action. Find me on LinkedIn and let's chat about writing your vision to life.