20 Sustainable & Ethical Sneakers for Women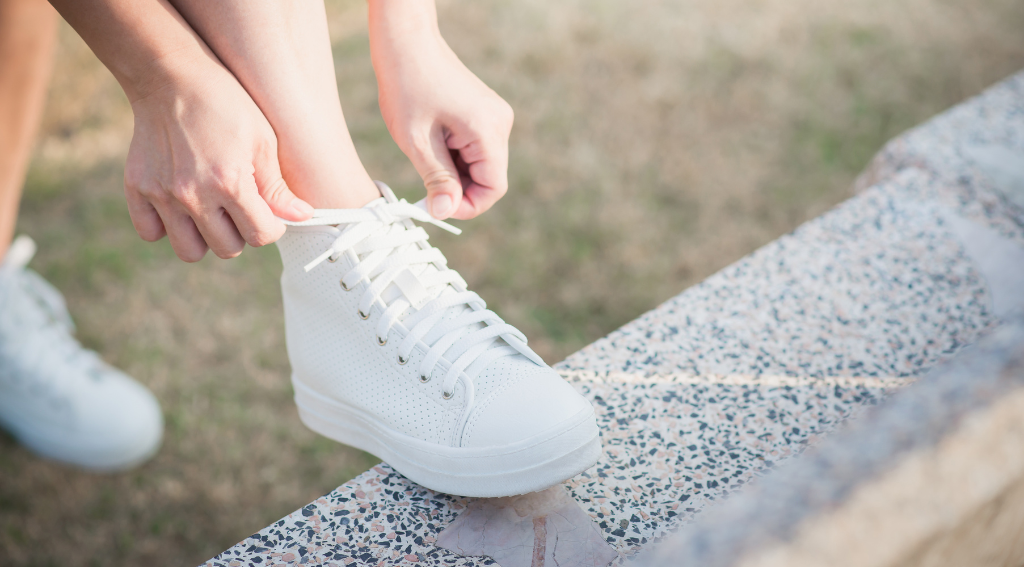 Looking for the best ethical sneakers for women? To help you upgrade your eco-conscious sartorial rotation, we made a list of 20+ ethical women's sneakers that can take you from the office to early-afternoon drinks with friends. The top-rated eco-friendly sneakers, below, are not only ultra-stylish but also made with planet-friendly materials such as organic threads, recycled fibers, and more. 
Without further ado, here are the best eco sneakers for women who cherish sustainability and comfort above all else.
20 Sustainable & Ethical Sneakers for Women in 2023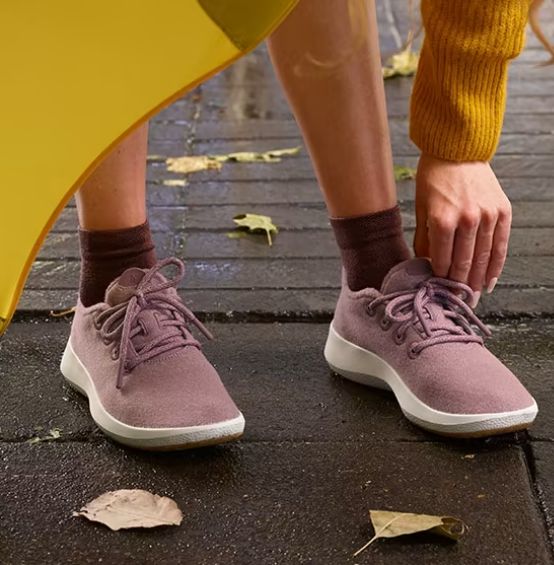 1. Allbirds
Price: From $105
Sustainable Materials: Merino Wool, Puddle Tech, recycled fabrics
The top-selling sustainable ZQ Merino wool sneakers are equipped with the remarkable water-repellent Puddle Guard® technology, making sure that your ethical sneakers will remain dry even in damp conditions. The options are all in your favor. You can opt for the laceless running shoe known as the "Tree Dasher," which is crafted from fully renewable materials, including meticulously sourced leftover stock yarn. Running enthusiasts, in particular, will rejoice in the arrival of the "Tree Flyers," equipped with a high-performance midsole that offers exceptional cushioning and energy return, elevating your long runs to new levels of comfort and ease.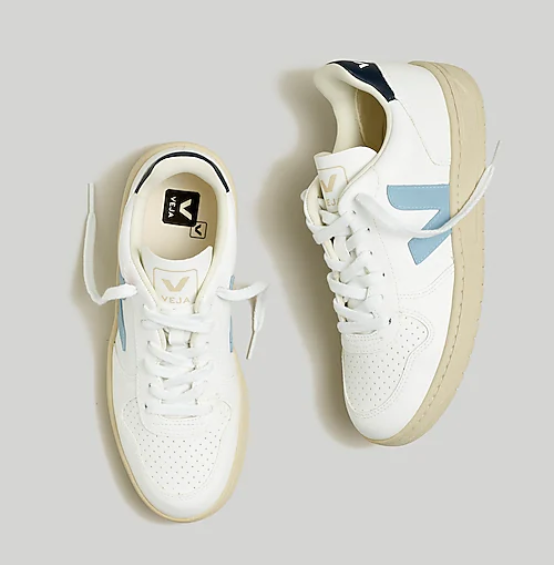 2. Veja
Price: From $136
Sustainable Materials: Recycled material from waste
With a commitment to sustainability, Veja breathes new life into waste materials, transforming them into products of higher quality and increased value. At the forefront of innovation, Veja has developed their own revolutionary B-Mesh fabric, renowned for its lightweight, breathable, and waterproof properties. This amazing material ensures that your feet stay comfortable and protected in any environment. Whether you prefer the timeless elegance of all-white low tops, the bold statement of high-tops, or the ethical alternatives to popular New Balance silhouettes, Veja leaves no room for disappointment.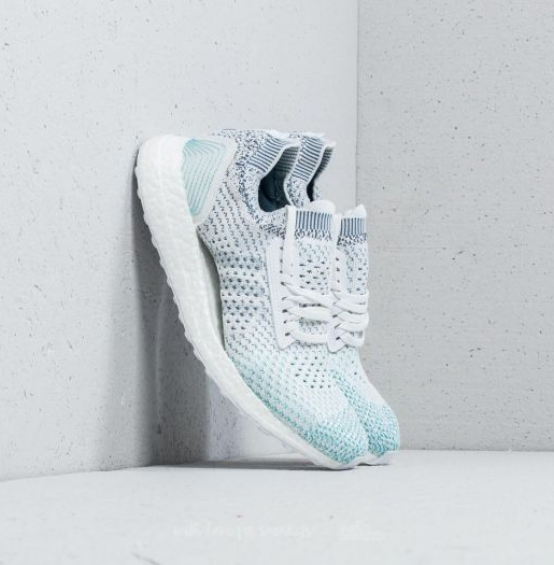 3. Adidas x Parley
Price: From $100
Sustainable Materials: Recycled fabrics
The Adidas Parley collection represents a remarkable collaboration between the renowned German multinational company Adidas and Parley for the Oceans, a visionary organization dedicated to tackling environmental threats posed by plastic pollution to our precious oceans. This unique partnership has given rise to an amazing line of clothing and footwear, including some of the best sustainable sneakers of the year. By repurposing and recycling plastic waste found in our oceans, Adidas Parley strives to create sustainable and eco-friendly products that not only deliver on style and performance but also contribute to the preservation of our marine ecosystems.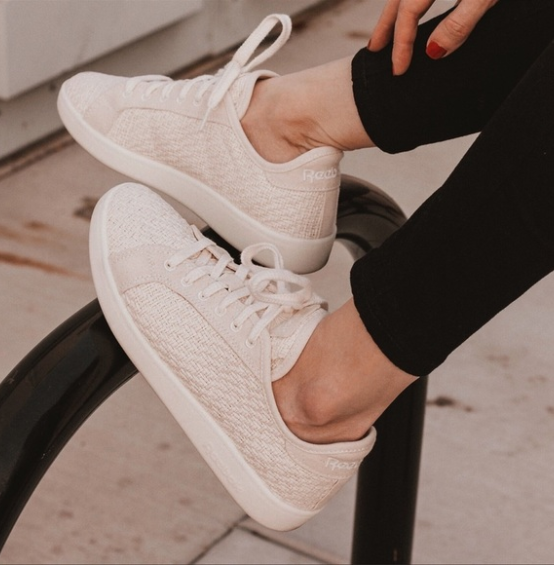 4. Reebok Cotton + Corn
Price: From $41.92
Sustainable Materials: Corn, organic cotton
The Reebok Cotton + Corn features a 100 percent cotton upper and a bio-based sole made from a corn-based plastic substitute. In fact, it contains "75% USDA-certified bio-based content." Heck, even the insole is made from castor bean oil. The fabrics are left undyed, and Reebok chooses recycled packaging to boot.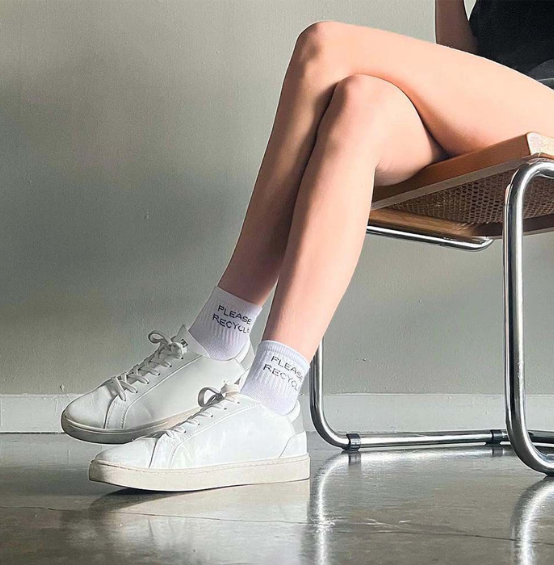 5. Thousand Fell
Price: From $145
Sustainable Materials: Leather, bio-leather, natural qurtz,
Thousand Fell's ethical sneakers are not only crafted with comfort and breathability in mind but can also be effortlessly recycled at the end of their lifecycle. Circular fashion, at its finest! Featuring an innovative bio-leather fabric, enhanced with a natural quartz coating, these sustainable sneakers easily repel stains and liquids, akin to a water-resistant shield. Plus, instead of real leather, the brand opts for a vegan blend, crafted from a combination of corn waste, coconut husk, and recycled bottles.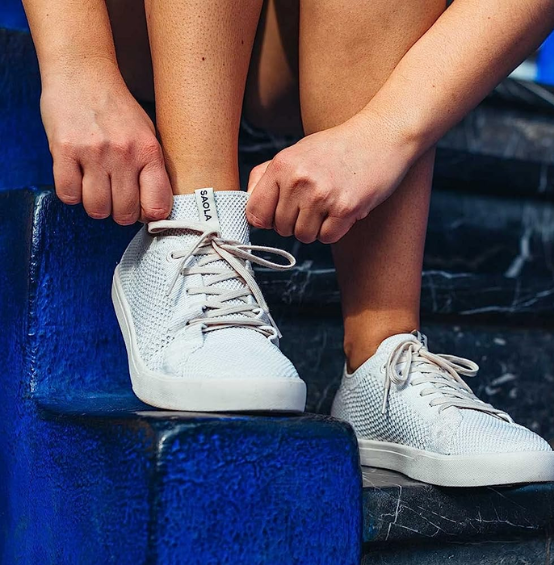 6. Saola
Price: From $99
Sustainable Materials: Recycled fabrics 
Saola is an amazing recycled shoes brand that uses an array of recycled materials to create versatile ethical sneakers for women. The conscious company chooses synthetic leather made from a 40/60 ratio of Recycled Gold Standard-certified PET and PU on top of the recycled canvas knit. Plus, all sustainable sneakers carry organic cotton laces, natural cork insoles, and a lower outsole made of recycled algae Bloom Foam.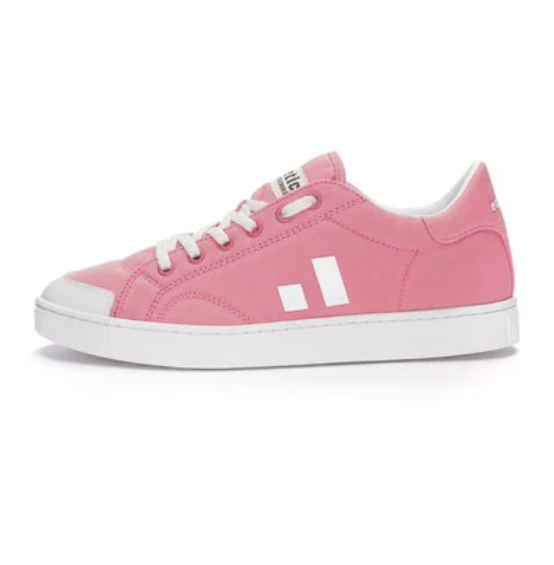 7. Ethletic
Price: From $100
Sustainable Materials: Fair trade organic cotton
Each pair of Ethletic sustainable sneakers is consciously crafted from Fairtrade-certified organic cotton, ensuring a commitment to ethical sourcing and production. What's more, these remarkable sneakers are 100% cruelty-free, aligning with your values. Plus, their lineup includes an array of stunning options, ranging from partly padded canvas boots to skateboard-style sneakers available in captivating tartan or tweed patterns.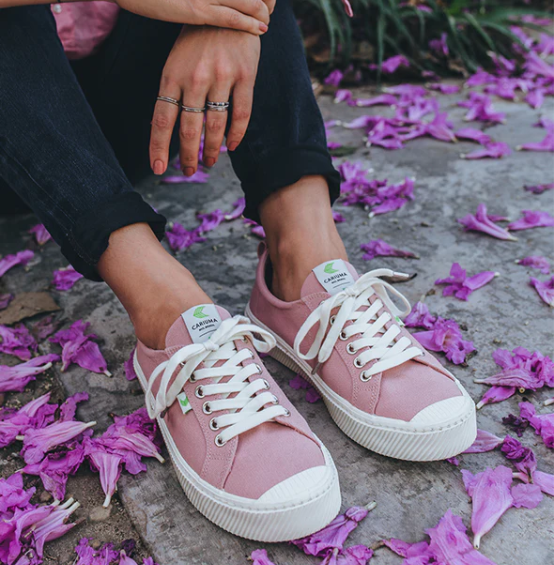 8. Cariuma
Price: From $109
Sustainable Materials: Recycled plastoc bottles
Cariuma stands out as one of the best sustainable sneaker brands in 2023, committed to utmost ethical standards, emphasizing the utilization of fair trade certified cotton, sustainable rubber, and ethical leather in their manufacturing process. In fact, their entire collection features laces, labels, uppers, and threads meticulously crafted from recycled plastic bottles. From wear-me-everywhere classic, white canvas low tops to high-tops and slip-ons, the timeless assortment has everyone's sartorial taste covered.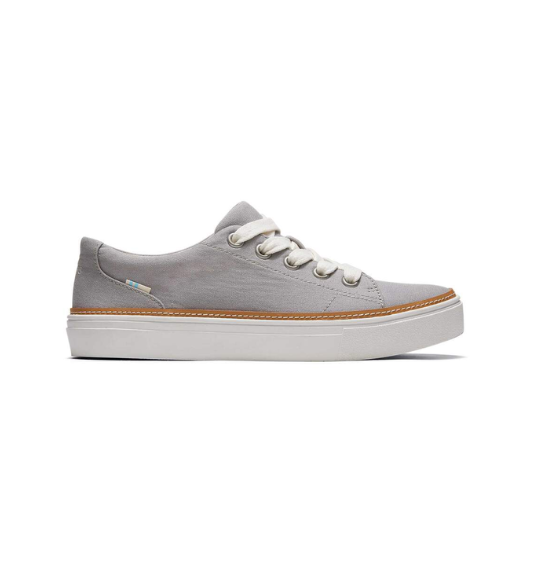 9. TOMS
Price: From $50
Sustainable Materials: Recycled polyester, natural hemp and organic cotton
The B-certified corporation TOMS is loved by many due to their one-for-one charitable model. This innovative approach has garnered immense popularity, making TOMS a symbol of compassion and generosity. Driven by their core values, TOMS dedicates one-third of its profits to support grassroots causes that have a profound impact on society. Their commitment extends to crucial initiatives such as ending gun violence and providing essential funding for access to mental health resources. Their great lineup of ethical sneakers for women is equal parts comfortable and stylish. Plus, you'll want to wear it everywhere – yes, it's that versatile.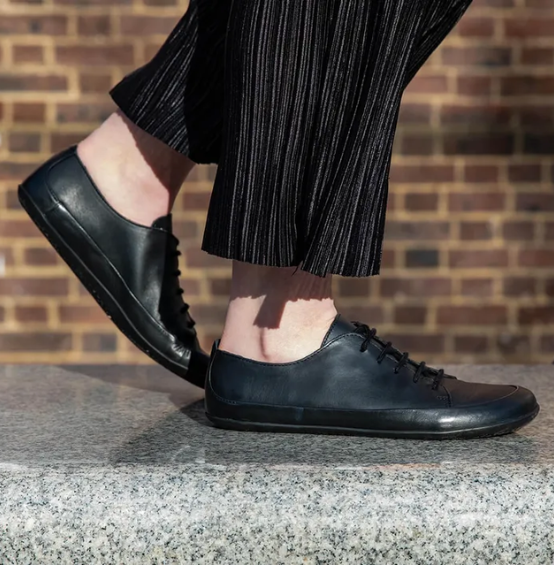 10.VIVOBAREFOOT
Price: From $178
Sustainable Materials:  Recycled fabrics
As a proud B Corp, Vivobarefoot places tremendous emphasis on monitoring their entire supply chain, ensuring transparency and accountability. Their commitment to sustainability is reflected in their use of recycled all-weather mesh textiles, which are thoughtfully incorporated across their collections.
For those seeking natural stability, Vivobarefoot offers ethical sneakers for women made with merino wool and wild hide leather, providing both comfort and durability while allowing for ample space and freedom of movement.
Additionally, Vivobarefoot caters to vegan options, all featuring the brand's signature waterproof technology and feature water-resistant treatment uppers sealed with hi-tech precision.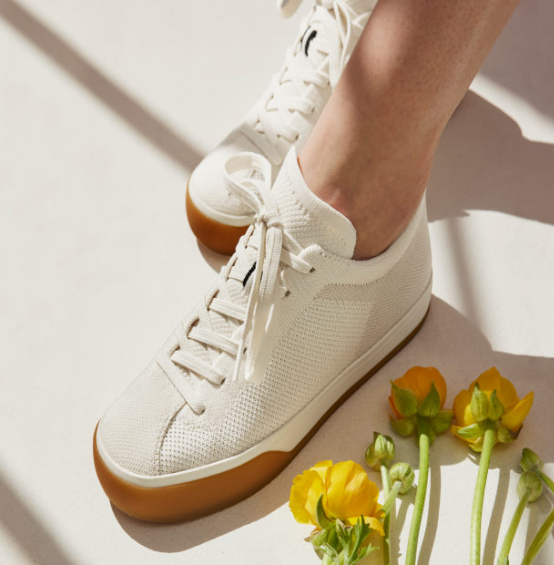 11. Rothy's 
Price: From  $119
Sustainable Materials: Scrap materials, plastic waste
Rothys not only have their own ethical factory but also design their own materials. They take everything from plastic bottles and production scrap to even old pairs of Rothys and give them a brand new life. To no one's surprise, the factory was awarded a LEED Gold certification in 2022.
12. Native Shoes
Price: $110
Sustainable Materials: Algae
Embracing their commitment to 100% animal-free footwear, Native offers a great assortment of women's ethical sneakers crafted with repurposed algae, utilizing the groundbreaking 'Rise by Bloom' technology. Not only are they oh-so-stylish, but they also offer remarkable practicality. These washable wonders are designed to be sock-absorbent and possess an impressive odor-resistant quality, ensuring a fresh and comfortable experience.
13. Panafrica
Price: From $75
Sustainable Materials: Recycled rubber, apple waste material
Consciously made in Africa and around the world, Panafrica's assortment of sustainable sneakers not only incorporates recycled rubber but also Yoke – a vegetable material based on apple waste. The gorgeous colorways and vibrant prints are what set this ethical sneakers brand apart form the rest. Plus, they are on a mission to create sustainable fashion products that support local artisans and contribute to environmental and social initiatives in Africa.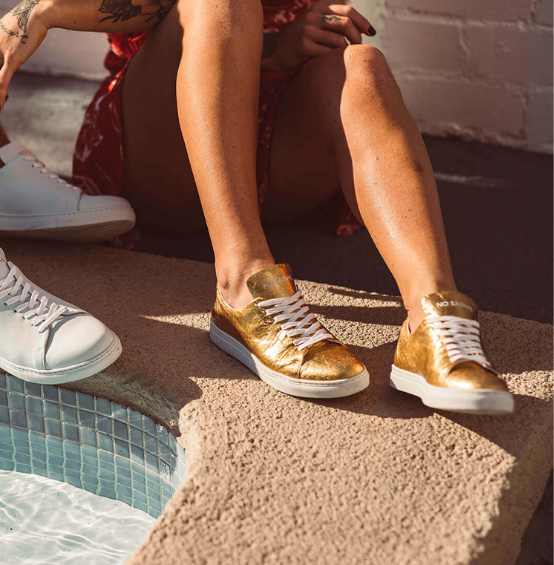 14. No Saint
Price: From $192
Sustainable Materials: Bio leather,microsuede, recycled poly
No Saints is a bold shoe company offering high-quality handmade animal-free sneakers. Instead of real leather, they opt for apple and pineapple leather as well as microsuede and recycled poly. What's more, all ethical sneakers are handcrafted by highly skilled shoemakers in Portugal. Each pair goes through many hands, each doing their bit with love and care, to put together the final product before it makes its way to you
15. WAES
Price: From $124
Sustainable Materials: Plastic-free
WAES was the first-ever brand to create plastic-free sustainable trainers, sneakers, and shoes! That's right! Their vegan styles are made from 100% natural animal-friendly materials with the lightest of eco-footprints. They also offer plastic-free leather trainers! The perfect combination of comfort, practicality, and sustainability, these women's ethical sneakers are made from 100% biodegradable materials.
f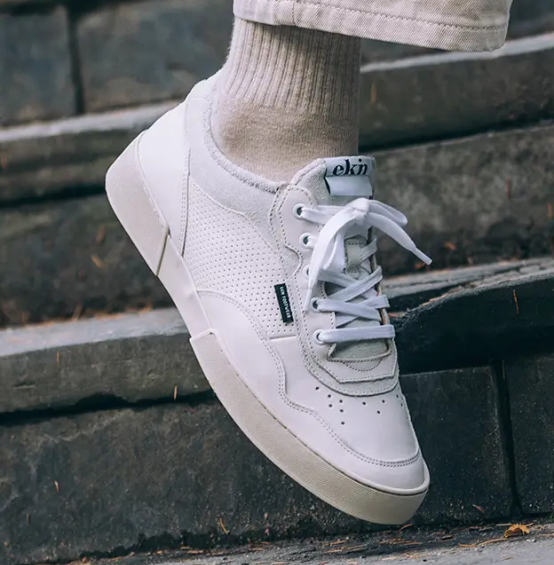 16. EKN Footwear
Price: From $249
Sustainable Materials: Recycled synthetic leather & neoprene
EKN, the Berlin-based sustainable sneakers brand for women has an unwavering commitment to mindful material sourcing and their partnership with Portuguese shoe artisans. What makes them so unique? The ethical sneaker uppers are made from recycled synthetic leather & neoprene, while the special EVA sole, is made from recycled materials and recycled chloroprene rubber. Furthermore, EKN opts for small quantity runs, focusing on quality over quantity. This deliberate approach not only allows for greater attention to detail but also reduces waste and supports a more sustainable production model.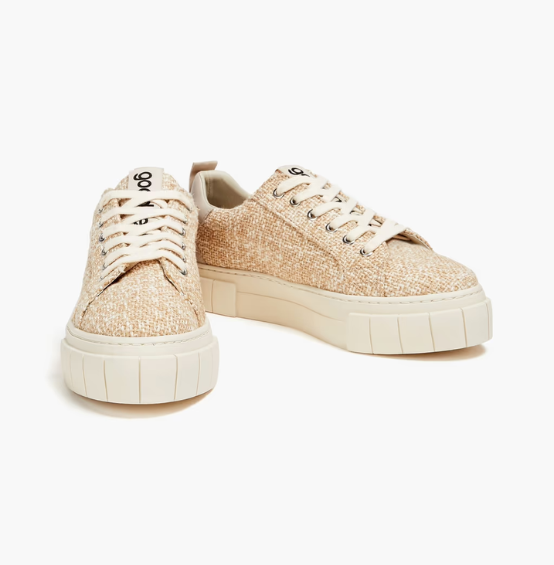 17. Good News
Price: From £84.00
Sustainable Materials: Recycled rubber, plastic bottles
The British sustainable shoe company, Good News, offers a plethora of stylish and ethical footwear options made from vegan materials such as BioVeg; made from agricultural waste and recycled plastic bottles. Each pair also comes with a recycled rubber outsole, which is attached to the shoe with eco glue. We absolutely love their comfortable yet style-led designs!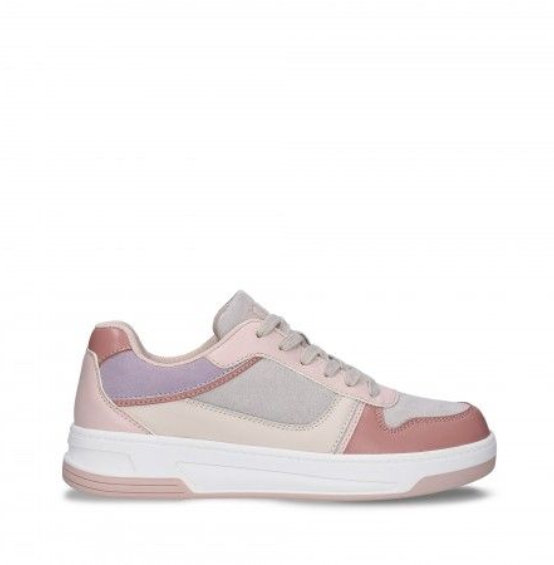 18. Nae Vegan Shoes
Price: From $72,80
Sustainable Materials: Pinatex, organic cotton, cork, and recycled PE
NAE, a leading sustainable brand in ethical sneakers, offers a fantastic lineup of products for both women and men, including shoes and accessories. At the core of NAE's philosophy is a steadfast commitment to veganism, fair-trade practices, sustainability, and organic materials. Each product is meticulously crafted in Portugal using a remarkable selection of sustainable materials such as Pinatex, organic cotton, cork, and recycled PET. These choices not only ensure a cruelty-free approach but also contribute to the preservation of our planet's resources.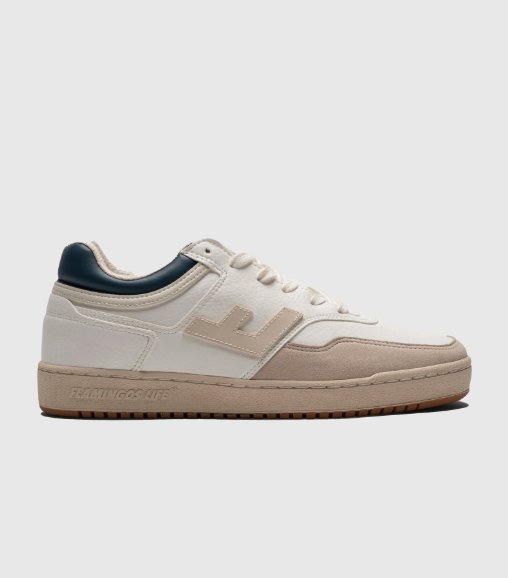 19.  Flamingos' Life
Price: From €135
Sustainable Materials: Plastic waste, organic cotton, rubber, corn
Flamingos's Life uses an fantastic blend of recycled plastic bottles, organic cotton, and natural rubber, as well as innovative materials like corn waste and bamboo to create sustainable women's sneakers. Each pair of Flamingos Life ethical sneakers is "drenched" in nostalgia for the 70s, 80s, or 90s, which we absolutely love. And fear not, hi-top enthusiasts, as Flamingos Life also offers an amazing selection to cater to your style preferences.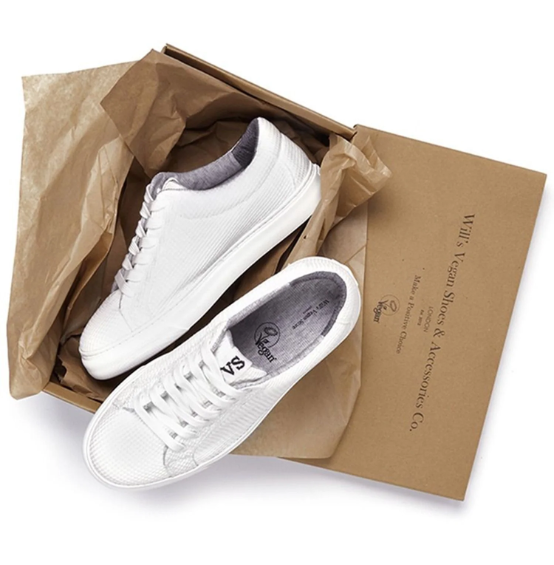 20. Will's Vegan Store
Price: From €109
Sustainable Materials: Recycled poly, bio-based leather, ceral crop oil
Crafted ethically in limited batched in Italy and Portugal, Will's Vegan's sustainable sneakers carry the carbon-neutral certification. The brand also adheres to the esteemed Oeko Tex 100 and REACH regulations, ensuring a truly ethical production process. Some styles are completely made from 100% recycled polyester mesh knit while other ethical sneakers feature vegan leather made with plants using bio oil sourced from organic cereal crops grown in Northern Europe.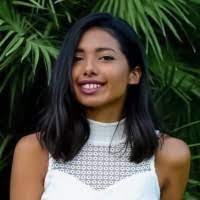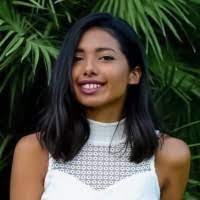 About Author
Konstantina Antoniadou
Freelance sustainability and fashion writer with an ongoing curiosity to explore new innovative technologies, and report on trends in "green" industries.