7 Sustainable Dopp Kits and Toiletry Bags for Men
Chances are that you are pretty adamant about keeping all your toiletries organized while traveling. And honestly, judging by the glowing reviews on the best sustainable toiletry bags men buy on repeat, most people can absolutely agree with you. Traveling is always pretty exciting — until you're faced with the task of having to neatly pack all your necessities in one carry-on. Even if you are looking for easy ways to keep your bathroom organized at home, the best eco-friendly toiletry bags for men will also help you save space and keep your drawers mess-free.
We rounded up the best men's toiletry bags 2023 has to offer ahead. From the extra-large toiletry bags and sustainable Dopp kits to the most practical men's organic cotton toiletry bags for traveling, the list below has all your needs covered.
Best Dopp Kits & Sustainable Toiletry Bags For Men
1. Sustainable Cosmetic Toiletry Bag
Price: $19.95
Sustainable Materials: GOTS-certified organic cotton
Amazon is the e-home of the best eco-friendly toiletry bags for men who need sustainable Dopp kits that hold up against frequent travel. TERA THREAD's ethically sourced and Fairtrade certified canvas toiletry bag is large enough to hold all your necessities, while also giving easy access thanks to the top zipper.
Rest assured that these men's organic cotton toiletry bags are GOTS-certified, carbon-neutral, and produced with renewable energy. Plus, being machine washable makes them super practical as well.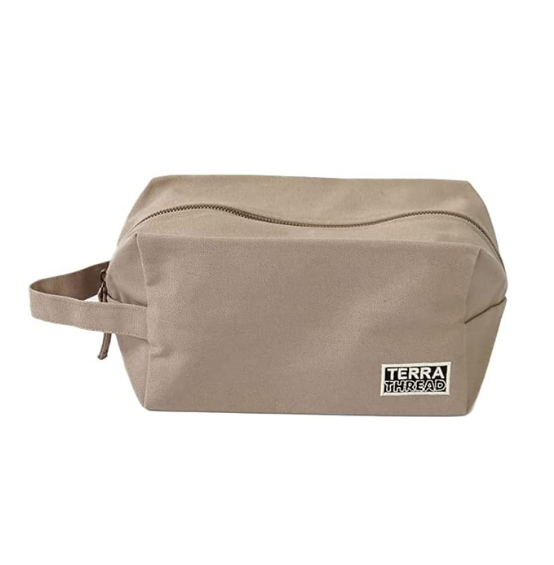 2. Munich Toiletry Bag
Price: $55
Sustainable Materials: Recycled billboard vinyl
If you are looking for the best sustainable toiletry bags men buy on-repeat, look no further than Rareform's Munich eco-friendly toiletry bag collection.
These recycled plastic Dopp kits are not only lightweight, super stylish, and durable, but also come in 408 different colorways and styles.
The brand uses recycled billboard vinyl across the entire collection. In fact, over the past 7 years, they've processed 3 million pounds of vinyl that would have been dumped in landfills.
3. JULE Vegan Vanity Case
Price: $70
Sustainable Materials: Vegan leather and recycled plastic lining
Matt & Nat's sumptuous leather Dopp kit is a vivid example of how the best sustainable toiletry bags for men don't need real leather to look luxurious. The case comes with a metal zip closure and a travel-friendly top handle.
The interior is equipped with a zipper mesh pocket, and a small elasticized slip pocket to keep all your things organized at all times. On top of that, the interior lining is made from recycled water bottles.
Last but definitely not least, these eco-friendly toiletry bags come in a slew of colors to choose from.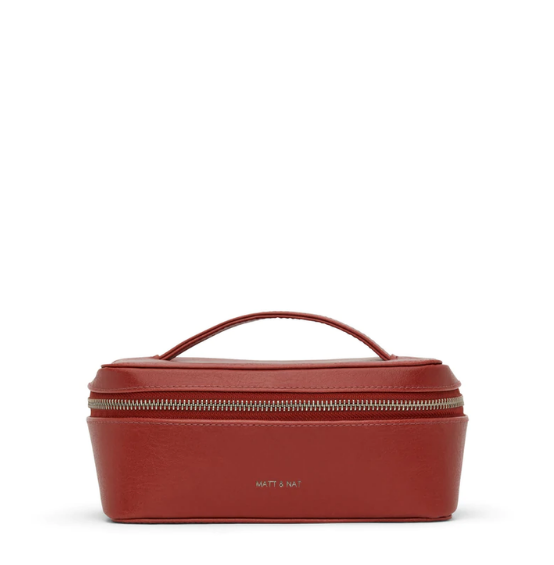 4. Elliott Dopp Travel Kit- Large
Price: $40
Sustainable Materials: The exterior is made from reclaimed truck inner tubes with a tube valve zipper pull
If you are looking for recycled leather Dopp kits that are equal parts high-quality and extremely stylish, Alchemy Goods' sustainable toiletry bags for men are for you. This one is made from sleek, highly water-resistant, and durable reclaimed truck inner tubes. As for the zipper pull, it is crafted from a tube valve.
Additionally, the eco-friendly toiletry bag features a full handle loop on one end and a smaller hanging loop on the other for hassle-free carrying. To top it all off, you can opt for one of the 5 different lining & zipper colors according to your aesthetic.
What's even more impressive? The markings and patterns on every case vary widely which makes it one-of-a-kind.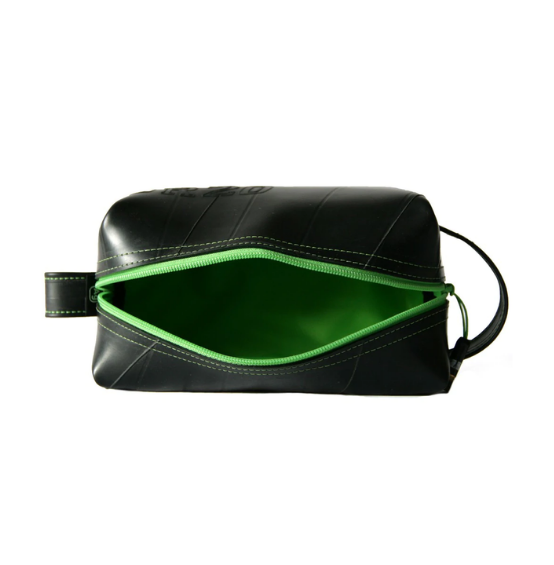 5. Eco Travel Wash Bag, Miho Black
Price Range: $66
Sustainable Materials: PU leather with recycled polyester lining
When it comes to the best men's toiletry bag 2022 has to offer, OneNine5's eco-conscious travel bag is definitely amongst the top choices. The vegan leather Dopp kit includes a reusable, clear liquid bag to neatly pack all your toiletries.
Plus, it features water-resistant zippers and seven different compartments. Even the packing is made from recycled materials that are biodegradable, and recyclable.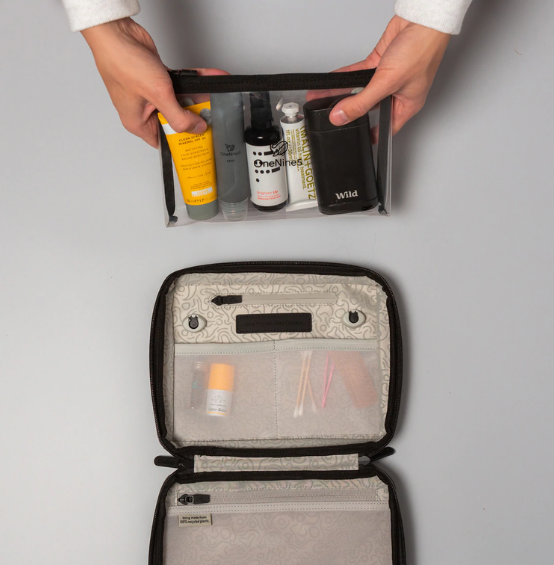 6. Pack Bag – 10L
Price: $24
Sustainable Materials: Nylon and fabrics from certified dye mills
Your quest to find the best eco-friendly toiletry bags for men that are spacious enough to carry pretty much all your necessities is over. Topo Designs carries a Fair Wear production certificate, so rest assured that your sustainable extra-large toiletry bag was made ethically.
On top of that, the brand has a MAP Guarantee™ Repairs Program to expand the lifecycle of each product. As for the Dopp kit itself, it has a U-shape opening for easy access, a practical top carry handle, heavy-duty YKK zippers with paracord pulls as well as webbing pull handles.
Did we mention that it's one of the most sustainable toiletry bags for men?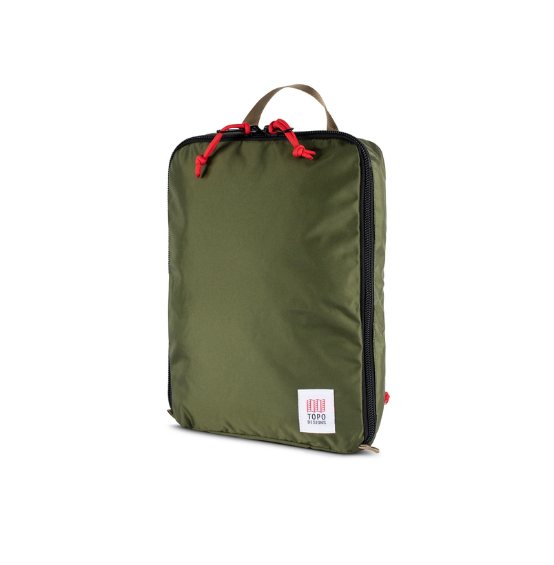 7. Tego Roll-And-GoTravel Bag
Price Range: $100-800
Sustainable Materials: Recycled pet outer cell and inner lining
Granted, when we think of the best eco-friendly toiletry bags for men, rolling travel bags might not instantly come to mind. However, Tego's fully customizable water-resistant, roll-up kit is the invitation our future travels desperately need.
This recycled plastic Dopp kit is the first bag in the world that's customized to your stuff. seriously, it comes with 7 mix & match modular sections that allow for hundreds of combinations.
Furthermore, the climate-neutral certified brand uses 2.7 plastic bottles from the landfill per product.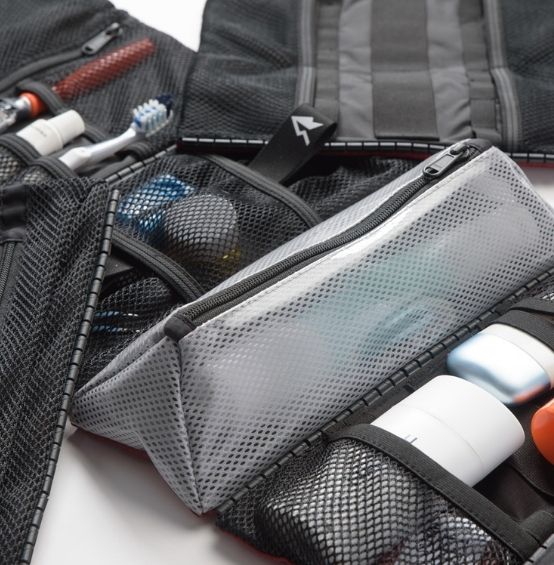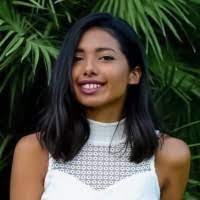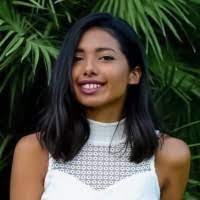 About Author
Konstantina Antoniadou
Freelance sustainability and fashion writer with an ongoing curiosity to explore new innovative technologies, and report on trends in "green" industries.