10 Ethical Engagement Rings That She'll Absolutely Love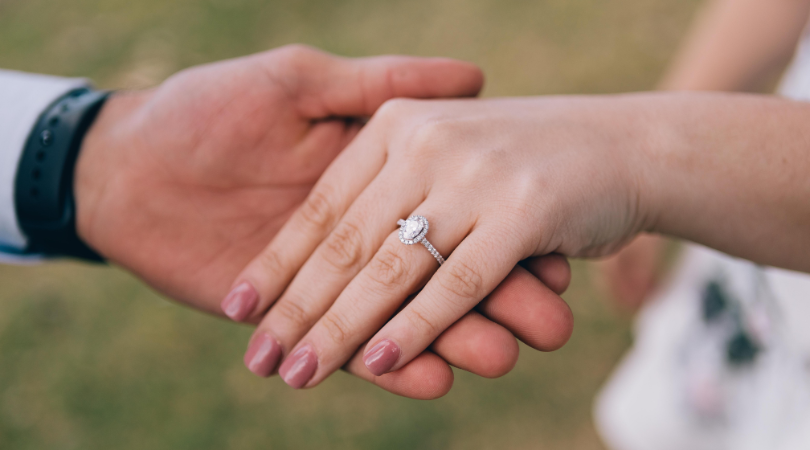 If you are on the lookout for the best eco-friendly ethical engagement rings to dazzle your significant other the moment you finally decide to pop the question, we've got your back! Shopping for conflict-free diamonds is far harder than it seems. Sure, timeless and distinctive jewels are extremely easy to come by. However, when it comes to engagement rings, opting for settings that look like genuine works of art, is simply not enough. 
From despicable human rights abuses to unethical mining practices that can lead to soil erosion and strip the soil of its natural nutrients, the glittering appearance of diamonds masks the tremendous social and environmental impact of a downright abusive industry. In fact, the environmental effects of diamond mining were so severe, that the local community of Angola, in Central Africa was forced to relocate. 
That's exactly why choosing ethical engagement rings is so important. From classic, certified conflict-free diamonds to colored recycled diamond rings, the eco-conscious options are seemingly endless. If your taste leans toward modern and statement-making stones, then alternatives like moissanite, lab-grown, or covered salt-and-pepper diamonds are the best non-traditional sustainable engagement ring for you. Finally, antique and vintage rings always equate to inherently cool –just saying.
Take a look at our roundup of the best ethical wedding brands with sustainable diamond rings that are guaranteed to make you forget all about untraceable, traditional diamonds. 
Ethical Engagement Rings With Conflict-Free Diamonds
1.  Brilliant Earth
Price:
Starting at $450
Sustainable Materials:
Recycled diamonds, lab-created diamonds
The San Francisco-based sustainable jewelry has adorned the finders of soon-to-be brides with brilliant ethical wedding rings since 2005. On their virtual catalogs, you can find an array of Beyond Conflict Free diamonds that have been carefully selected for their ethical and environmentally responsible origins. Each stone comes from countries that have demonstrated their commitment to following internationally recognized labor, trade, and environmental standards.
 What's more, Brilliant Earth offers recycled diamond rings as well as lab-created rings that require no mining. The most impressive part? By using industry-leading Blockchain technology, they can securely track gemstone origin and provide greater consumer assurance. As for their coveted range of conflict-free engagement rings, it includes round, oval, emerald, pear and so many more shapes!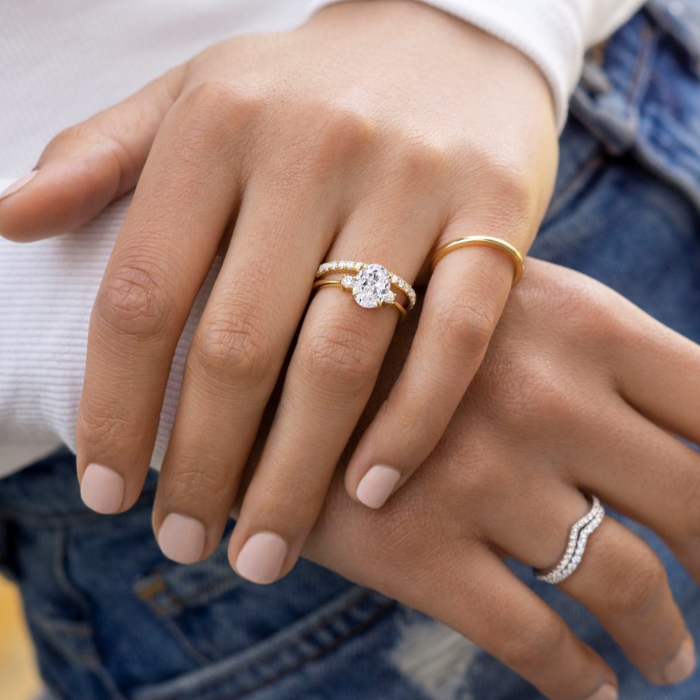 2.Valley Rose
Price:
Starting at $420
Sustainable Materials:
Fair mined gold and SCS-certified conflict-free diamonds. 
Valley Rose's conflict-free engagement rings are unique, yet mesmerizing! The Northern California-based brand uses an intricate technique called lost-wax casting to create their utterly striking sustainable diamond rings inspired by the "beauty of the cosmos." Valley Rose uses the highest quality and ethical materials like fair mined gold and SCS-certified conflict-free diamonds.
In fact, they've partnered with WD diamonds, the world's first sustainably rated 100% climate-neutral diamond. What's more, if you want to create something extremely special and a la carte, you can book your virtual appointment with the designer and bring your dreams to Life with custom jewelry design. All pieces are guaranteed a lifetime warranty.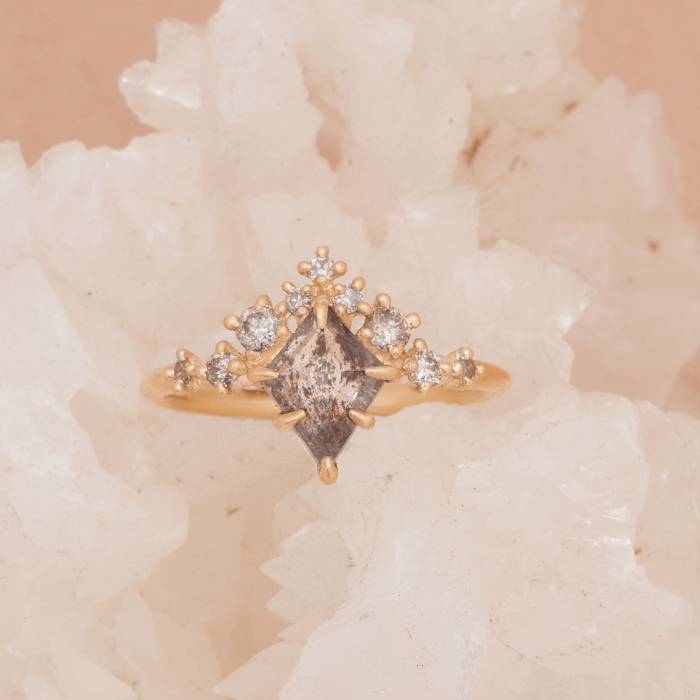 3. Mejuri
Price:
Starting at $700
Sustainable Materials:
Ethically sourced stones, recycled gold
Aside from being the ultimate, go-to-destination for sustainable men's necklaces, rings, and bracelets, Mejuri is also touted for its wide range of ethical engagement rings that can match every taste! The brand specializes in creating whimsical sustainable engagement rings with ethically sourced natural gemstones.
It's important to point out that 80% of the gold used is recycled, however, the remaining 20% is certified responsible. On top of that, every conflict-free engagement ring is designed in-house and handcrafted by expert artisans around the world–think India, Italy, and Korea.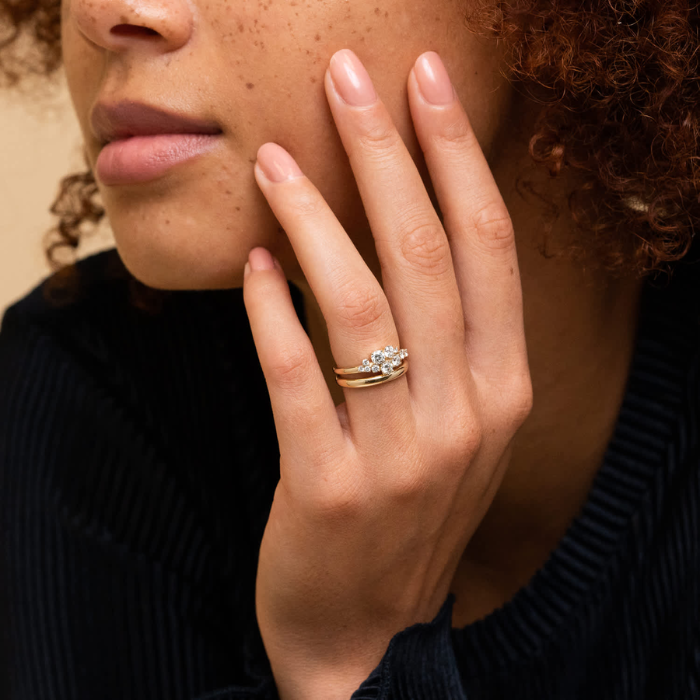 4. Bario Neal
Price:
Starting at $840
Sustainable Materials:
Fairmined Certified & recycled gold, traceable stones
The Philadelphia- and Brooklyn-based jewelry brand Bario Neal designs and crafts eco-friendly ethical engagement rings and wedding bands for every gender. For their handmade pieces, they use premium recycled metals, traceable stones, and Fairmined certified gold.
Eco-conscious jewelry connoisseurs have been raving about the brand's signature cluster rings and updated solitaires for quite some time, so why not make them a line in your love story? weather you decide to opt for something from their virtual catalogs or create your own engagement right with conflict-free diamonds, rest assured that sustainable sourcing and mindful production are guaranteed.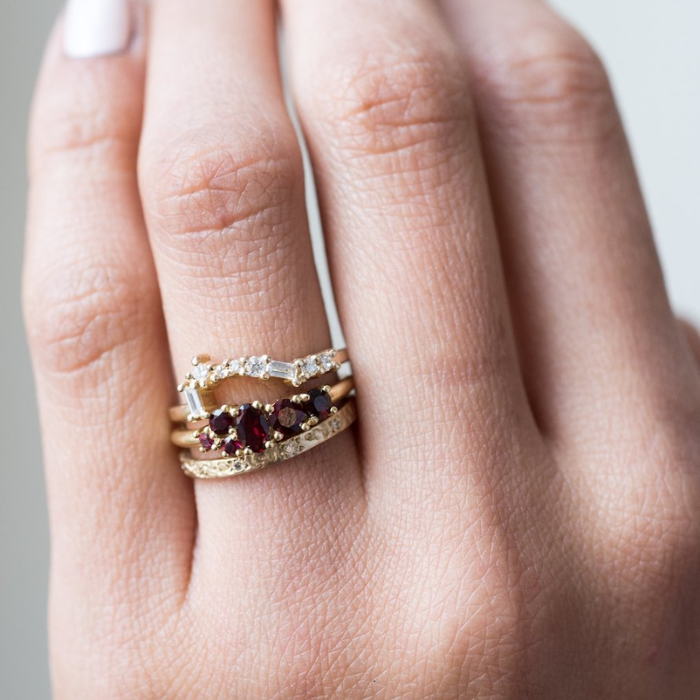 5. James Allen
Price:
Starting at $780
Sustainable Materials:
Lab-grown and Conflict-free diamonds
With such an impressive range of over 200,000 conflict-free engagement rings and lab-grown diamonds touted for their clarity, it's no wonder why James Allen is currently the largest privately held online diamond retailer worldwide. The collection runs the gamut of cut, color, carat, clarity, and shape to fit everyone's budget.
The best part? You can inspect every aspect of your ring using 360° HD views and up to 40x magnification. Alternatively, you can take advantage of the 24/7 customer service for a real-time inspection. On top of that, all ethical engagement rings are backed by a lifetime warranty.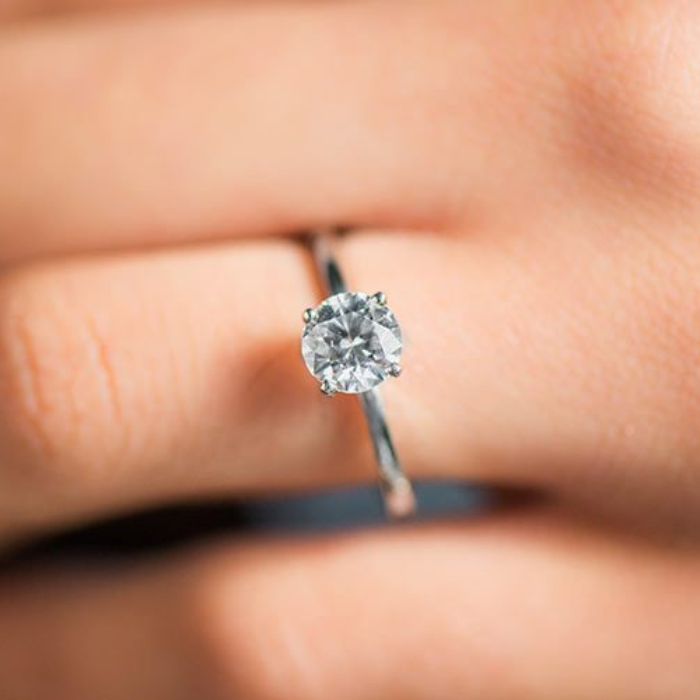 6. Miadonna
Price:
Starting at $595
Sustainable Materials:
 Lab-grown diamonds, recycled metals
Handcrafted in the USA using ethically sourced conflict-free lab-grown diamonds, lab-created gemstones, and recycled precious metals, Miadonna's Sustainable diamond rings not only cost up to 40% less but also come free of any negative environmental or humanitarian abuse. This solitaire, vintage styles, halo, 3-stone designs, as well as Moissanite Engagement Rings.
The B-certified corporation offers a stellar in-home try-on service that allows you to inspect their ethical wedding rings before committing to a purchase. You can consider the brand as a modern twist on an antiquated industry that never shies away from being an advocate for diamond mining communities, global societies, and the earth.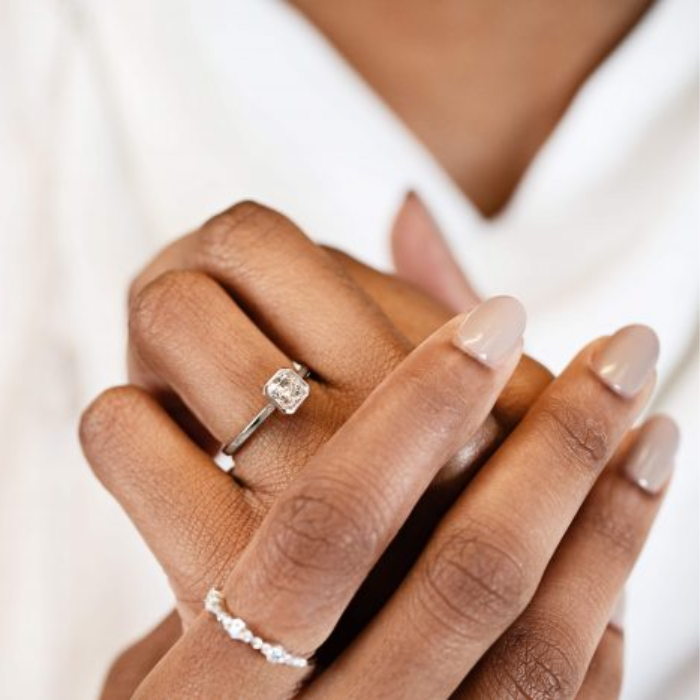 7. Noémie
Price:
Starting at $2,250
Sustainable Materials:
Conflict-free & lab-grown diamonds, recycled gold
Noemie is lauded as one of the best direct-to-consumer sustainable engagement ring designers in 2022. They not only use premium recycled 18K gold and certified conflict-free diamonds to create their dazzling range of ethical wedding rings but also thrive on educating people about the tremendous impact of precious stone mining.
Each piece comes with a lifetime warranty, and all diamonds arrive with IGI certification cards. If you really need to create a unique and sustainable engagement ring, you can Reach out for a custom design to create jewelry for today and heirlooms of tomorrow.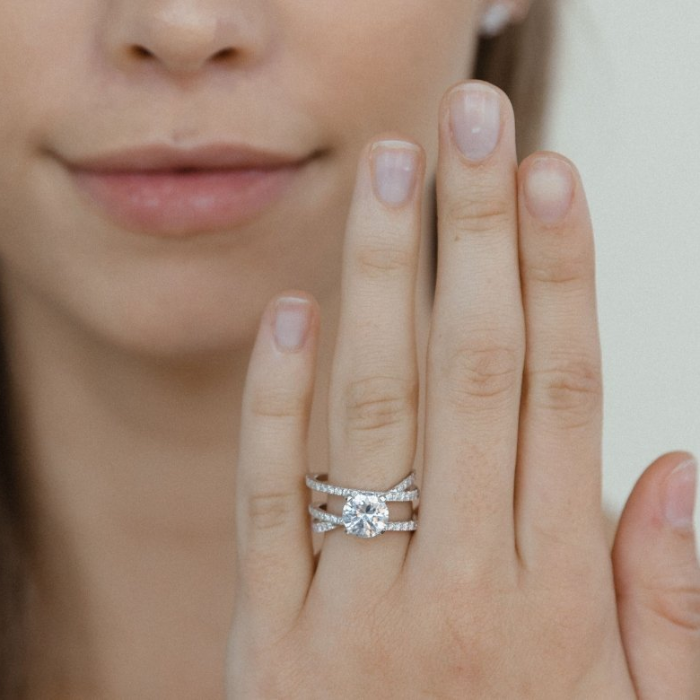 8. Vrai
Price:
Starting at $1,580
Sustainable Materials:
Lab-grown diamonds
Vrai's minimalist aesthetic and commitment to transparency are reflected in each one of their ethical engagement rings. Their curated collection of white and black diamonds, which comes in a slew of stone sizes, is skillfully Made in the USA with lab-created diamonds from Diamond Foundry.
The styles include some of the most coveted options like solitaire, hidden halo, and cathedral as well as classic three-stone settings–just to name a few. More importantly, their sustainable diamond rings carry the world's only diamonds produced with zero carbon footprint –Certified Carbon Neutral.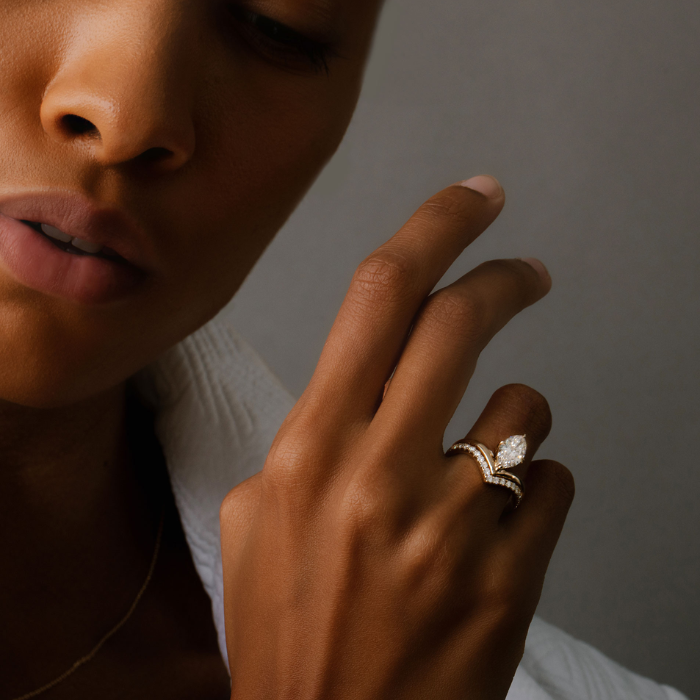 9. Sofia Kaman
Price:
Starting at $990
Sustainable Materials:
Lab-grown diamonds, ethically sourced stones, recycled metal
From utterly unique antique gems to modern recycled metal engagement rings with minimum environmental impact, Sofia Kaman's collection of sustainable wedding rings is amazing, to say the least. Handcrafted in Los Angeles with conflict-free stones that have been sourced by the Kimberley Process, the options range from chic, boho, and classic, to minimal, romantic, and vintage. In addition, you can create your own custom ring using a lab-grown diamond that was made with renewable energy–how cool is that?!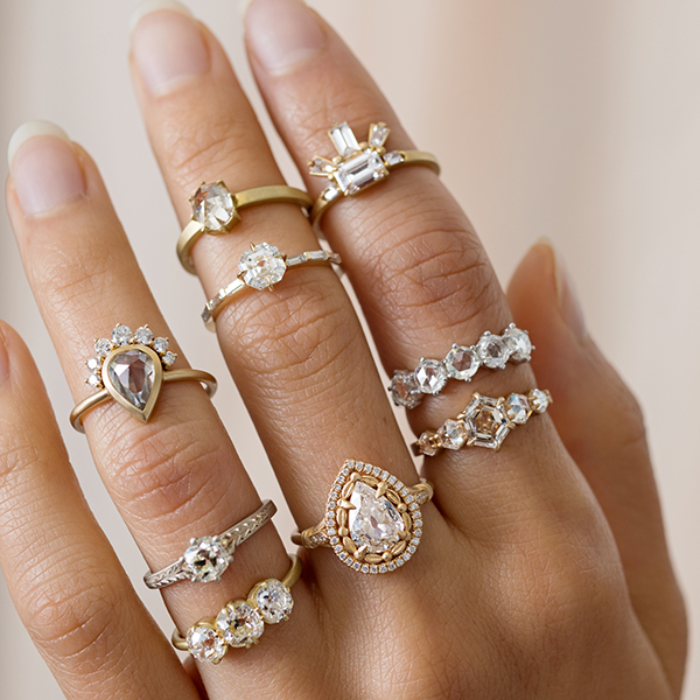 10. Valerie Madison
Price:
Starting at $722
Sustainable Materials:
Recycled & conflict-free diamonds, ethically sourced gemstones, recycled metals 
Valerie Madison takes modern romance to a whole new level by introducing alternative engagement rings made with recycled gold and diamonds, ethically sourced stones, and diamond alternatives such as lab-produced Moissanite.
You've never seen such an interesting lineup of eco-friendly ethical engagement rings–and that's a fact. Think peach sapphires, teal oval stunners, Zabian emeralds, and much more. What's more, you can also create the ethical engagement ring of your dreams by taking e full control of the design process!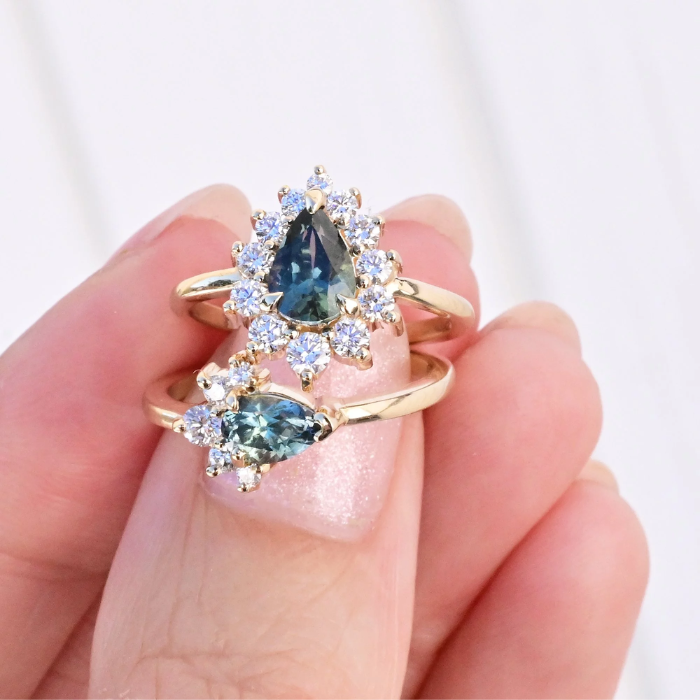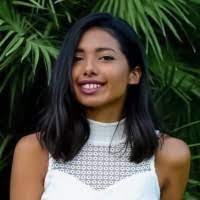 About Author
Konstantina Antoniadou
Freelance fashion and sustainability writer with an ongoing curiosity to explore new innovative technologies, and report on trends in "green" industries.