12 Best Eco Laundry Detergent Sheets in 2023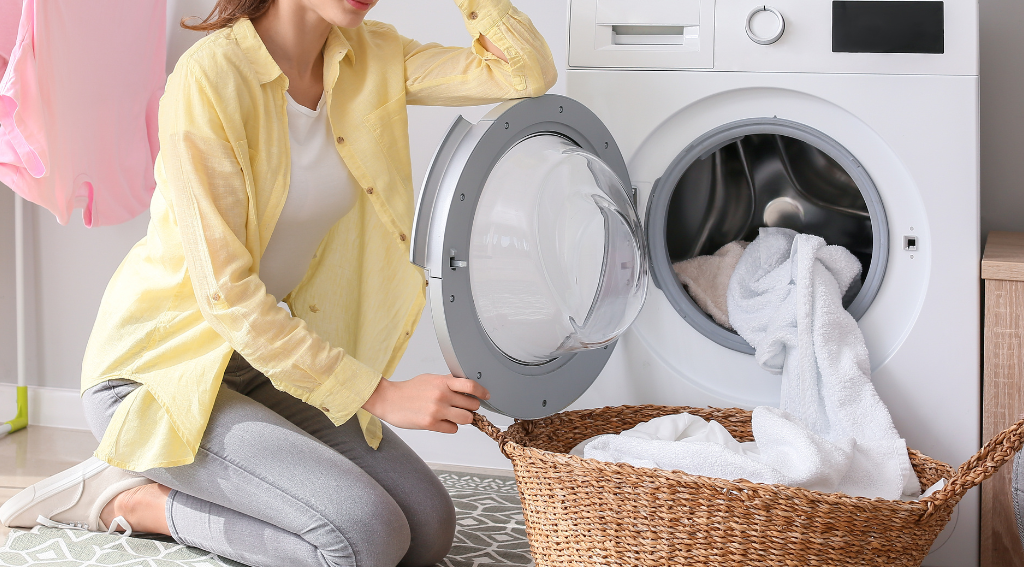 Are you on a quest to find the best eco laundry detergent sheets in 2023? Say goodbye to bulky plastic bottles and wasteful measuring cups, and say hello to a greener, cleaner laundry routine with the top-rated eco-friendly and natural laundry detergent sheets, below.
Best Natural & Eco-Friendly Laundry Detergents
Unfortunately, like most cleaning solutions, traditional liquid or powder detergents often come in plastic bottles that contribute to our planet's growing waste problem. On the other hand, 2023's best, eco-friendly sheets are packaged in recyclable or biodegradable materials, minimizing plastic waste and reducing your carbon footprint. 
Traditional formulas are, in fact, a serious threat to water. The hazardous chemical content contained damages air quality and causes the death of water biota. Phosphates, for example, are a common ingredient in many laundry products that can be released into nearby rivers, lakes, and oceans and lead to algal blooms.
Eco laundry detergent sheets are formulated with plant-based ingredients that are gentle on both your clothes and your skin. They are completely free from harsh chemicals like parabens, phosphates, and dyes, making them a safer choice for those with sensitive skin or allergies. 
Now, in case you are sick and tired of heaving to measure every drop, you'll be happy to know that environmentally friendly laundry detergent sheets are pre-measured and easy to use—just toss a sheet into your washing machine, and you're good to go. No more messy spills or guesswork with measuring cups.
Plus, their compact size means they take up less space in your laundry room, making them ideal for small living spaces or on-the-go lifestyles.
Best Eco Laundry Detergent Sheets in 2023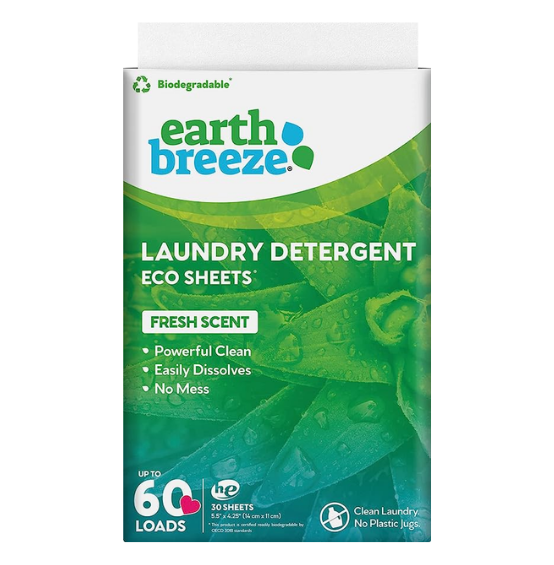 1. Earth Breeze
Price: From $13.49
Earth Breeze Eco Sheets are a revolutionary laundry solution that combines convenience, effectiveness, and environmental consciousness. These eco laundry detergent sheets are designed to dissolve within seconds in both hot and cold water, making them suitable for all types of washing machines, including HE machines. With Earth Breeze, you can effortlessly contribute to a greener planet without any extra effort on your part.
Choose from the refreshing fresh scent or fragrance-free options, both of which are eco-friendly and packaged in plastic-free materials. Earth Breeze goes the extra mile by offering free shipping on all purchases, making it even easier for you to embrace sustainable laundry practices.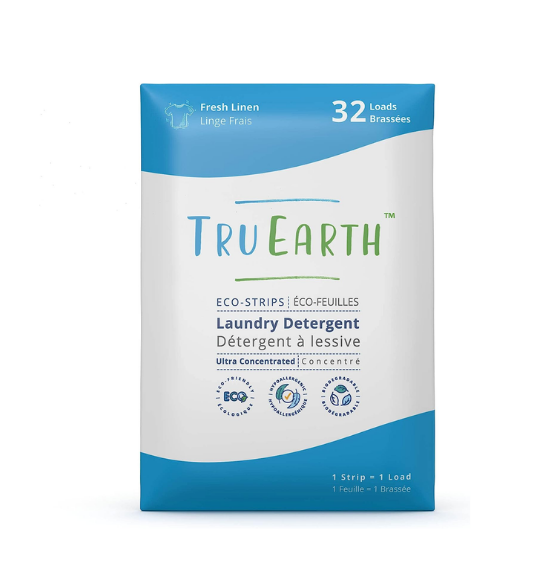 2. Tru Earth Eco Strips
Price: From $11.88
These tiny strips are packed with a powerful punch of sustainable cleaning power in every strip. With options available in both fresh linen and fragrance-free, Tru Earth Eco-Strips make laundry day a breeze while ensuring a clean conscience.
They are paraben-free, phosphate-free, and cruelty-free, guaranteeing that you're making a responsible choice for both your family and the planet. These strips are also carbon neutral, septic safe, dye-free, and packaged in zero-waste, plastic-free materials, further minimizing your environmental impact.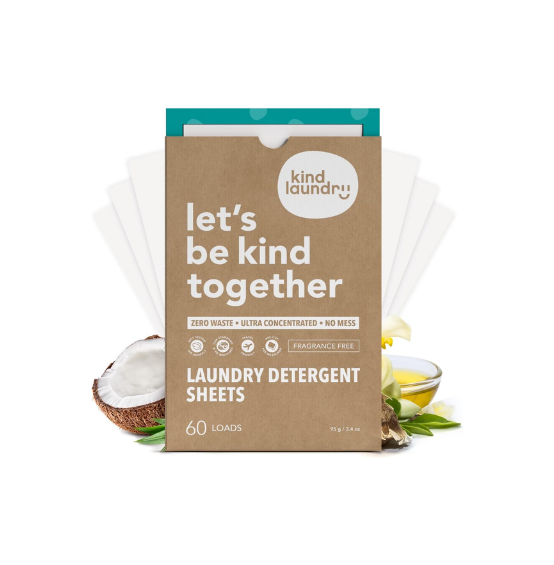 3. Kind Laundry
Price: From $17.96
The Kind Laundry Detergent Sheets are the eco-friendly solution for effective and safe laundry cleaning. These eco laundry detergent sheets are crafted with safer plant-based ingredients, and free from optical brighteners, ensuring a gentle and responsible approach to cleaning your clothes.
Not only are they better for the environment, but they also outperform many conventional detergents available today, delivering outstanding cleaning results. Kind Laundry sheets are packaged in zero-waste, plastic-free materials that dissolve in water, minimizing waste and reducing your ecological footprint. Choose from scented options for a delightful laundry experience or fragrance-free for those with sensitivities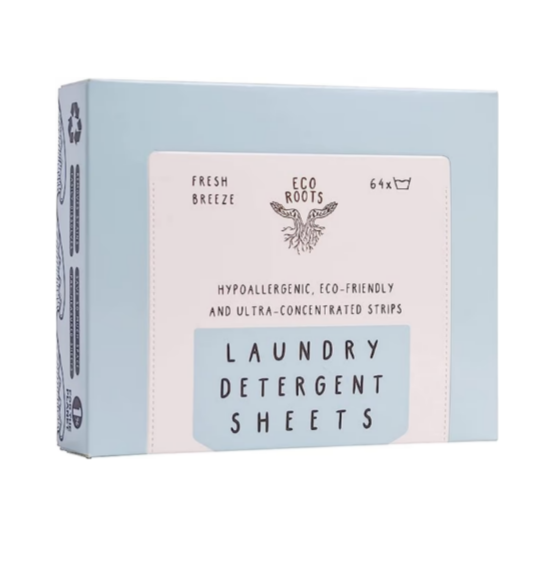 4. Eco Roots
Price: From $14.37
Next up, Ecoroots– the ethical choice for your laundry routine. These sheets embody a commitment to cruelty-free practices, as well as being free from phthalates and optical brighteners. With plastic-free packaging and a palm oil-free formulation, Eco Roots prioritizes sustainability and responsible sourcing. Choose between the refreshing fragrance-free option or the invigorating Fresh Breeze scent, derived from essential oils and plant extracts. Experience a laundry detergent that not only cares for your clothes but also considers the environment.
5. Eco-Living Club
Price: From $9.49
Net up, Eco Living Club Laundry Strips, the eco-friendly solution for your laundry needs. Powered by plant-based enzymes, these innovative laundry sheets effectively clean your clothes while minimizing the impact on the environment. Say goodbye to wasteful plastic pods or jugs as these lightweight sheets are compact and easy to use. Not only are they environmentally conscious, but these powerful cleaning enzymes ensure that your clothes come out looking and smelling fresh. Experience the confidence of clean, vibrant garments with every load.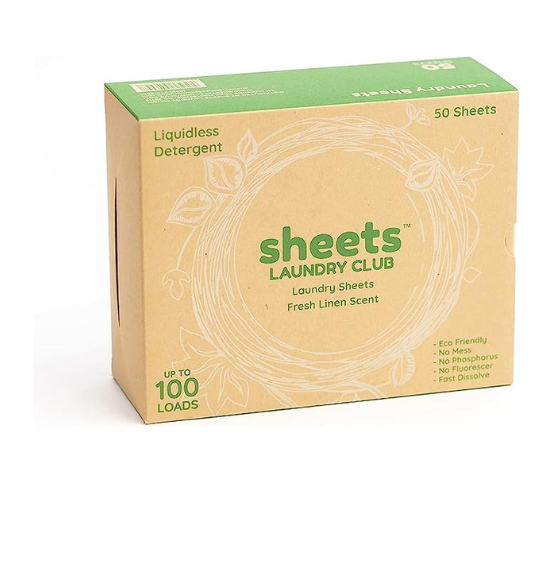 6. Sheets Laundry Club
Price: From $15.06
Sustainable Materials: Cork, plant foam made of sugar cane & recycled tires
These innovative eco laundry detergent sheets are designed to dissolve quickly and effortlessly in any water temperature, leaving no messy residue behind. Choose between the invigorating Fresh Linen scent or the fragrance-free option, catering to your personal preference. The Fresh Linen variants of Sheets Laundry Club utilize naturally derived surfactants crafted from coconut oil, ensuring effective cleaning power while remaining environmentally conscious.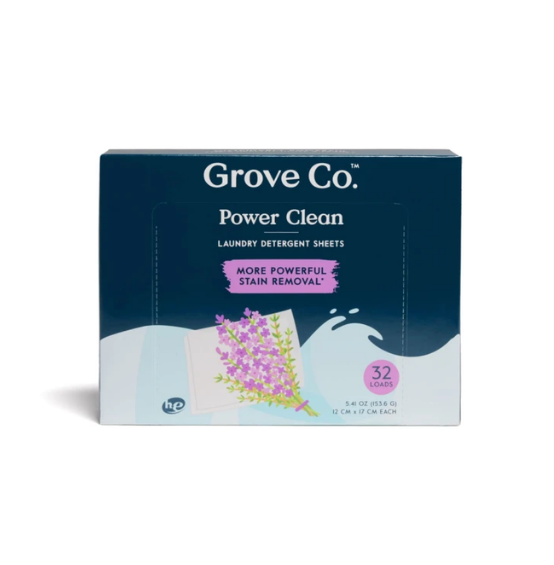 7. The Groove
Price: From $12.99
The Grove eco laundry detergent sheets aim to make laundry cleaning a whole lot greener. These sheets dissolve effortlessly in any water temperature, providing a residue-free and clothes-friendly cleaning experience. With a gentle formula, Grove is kind to your skin, making it suitable for everyday use. Choose from a variety of scented versions, each crafted with ingredients such as water, glycerin, coco, polyvinyl alcohol, and esters. These laundry strips are highly effective in tackling a wide range of stains, from grape juice and makeup stains to spaghetti sauce mishaps. Trust Grove to leave your clothes fresh and spotless.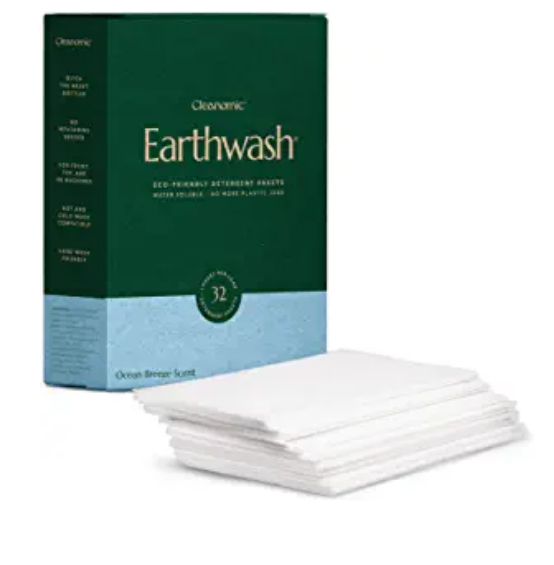 8. Earth Wash  
Price: From $15.29 
The Earth Wash eco laundry detergent sheets are designed to simplify your laundry routine while delivering exceptional cleaning power. Say goodbye to the hassle of lugging around heavy detergent bottles and embrace the convenience of these lightweight strips. Despite their small size, they possess remarkable stain-fighting abilities, ensuring that even the toughest stains are no match for their cleaning prowess. Watch as your clothes are effortlessly revived, colors brightened, and whites restored to their former glory.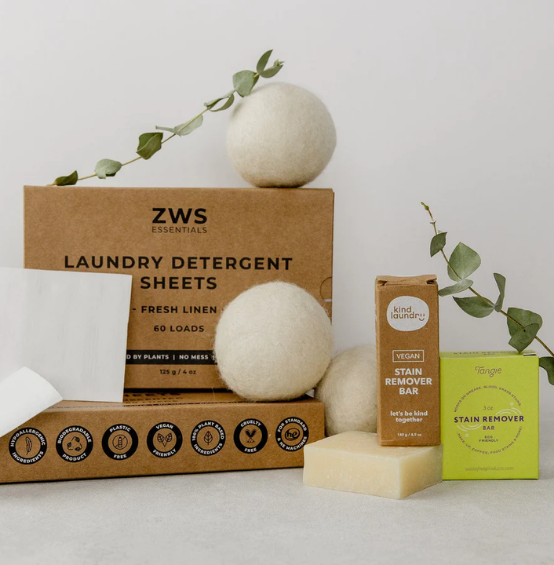 9. ZeroWaste Store
Price: From $19.99
Zero Waste Store is your go-to destination for a wide range of zero-waste essentials. Keep an eye out for their plastic-free Laundry Stain Remover Bars, Multi-Use Home Cleaning Powder, and Eco-Friendly Hangers, among other thoughtfully curated products. Of course, we do have a soft spot for their eco-friendly laundry detergent sheets. Zero Waste Store's laundry strips are vegan, cruelty-free, and 100% plant-based. These biodegradable detergent sheets are free from allergens, providing a safe and gentle cleaning solution. Choose between scented and unscented formulations to personalize your laundry experience.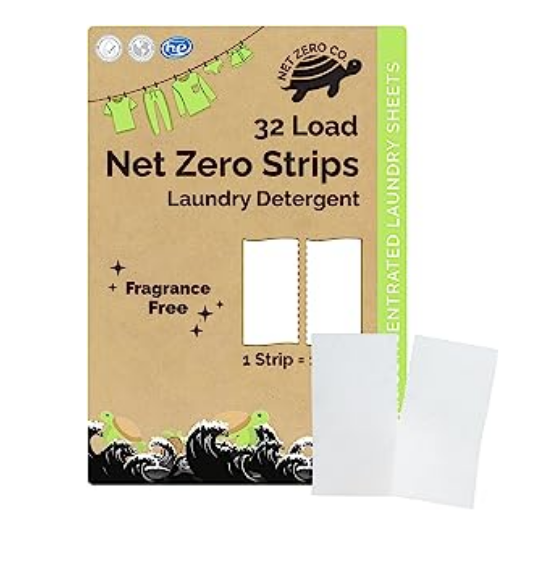 10. Net Zero Co.
Price: From $15.95
Unlike standard options that are mostly water, Net Zero Co's ultra-concentrated strips significantly reduce transportation pollution, making a positive impact on our planet. What's more, they are hypoallergenic, making them suitable for sensitive skin, and they are free from harmful chemicals like parabens, phosphates, dyes, bleach, and formaldehyde commonly found in conventional detergents. With packaging options for 32 or 64 loads, these strips offer a no-mess laundry solution. You no longer need to measure or worry about spills. They work effectively in both cold and hot washes and are compatible with regular and high-efficiency (HE) washers, providing versatility for all your laundry needs.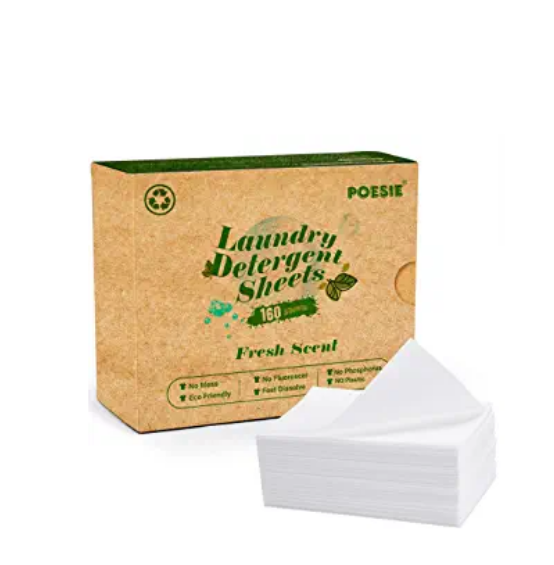 11. Poesie
Price:  From $8.99
Poesie eco Laundry Detergent Sheets, the perfect choice for conscious consumers. These detergent sheets are not only highly effective but also prioritize the well-being of our planet. Made from renewable plant-based ingredients, they significantly reduce plastic waste, minimizing your environmental footprint. What's more, these sheets are free from dyes and added fragrances, ensuring a gentle and skin-friendly laundry experience.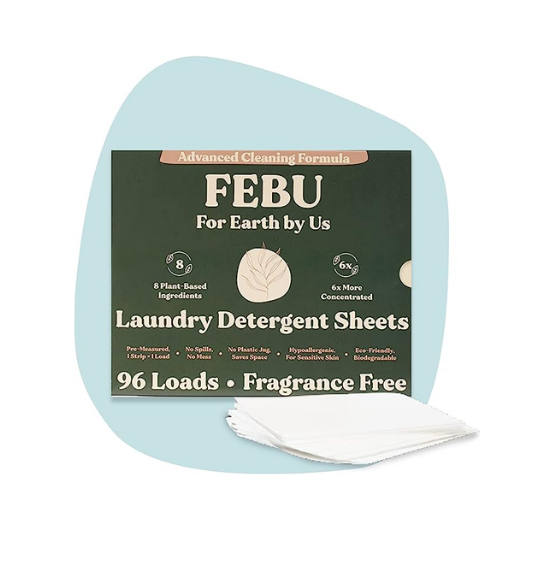 12. FEBU
Price: From $16.16
If you're on the hunt for the ultimate eco laundry detergent sheets, your search ends with FEBU's remarkable product. These sheets, crafted from plant-based ingredients and packaged in easily recyclable materials, prioritize the well-being of both your family and the planet.FEBU's laundry detergent sheets boast an array of impressive features, including preventing color fading, eliminating odors, and producing fewer suds. This ensures an efficient and effective cleaning experience that aligns with your eco-conscious lifestyle.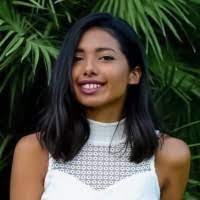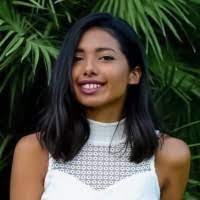 About Author
Konstantina Antoniadou
Freelance sustainability and fashion writer with an ongoing curiosity to explore new innovative technologies, and report on trends in "green" industries.