Best Merino Wool Underwear for Women in 2024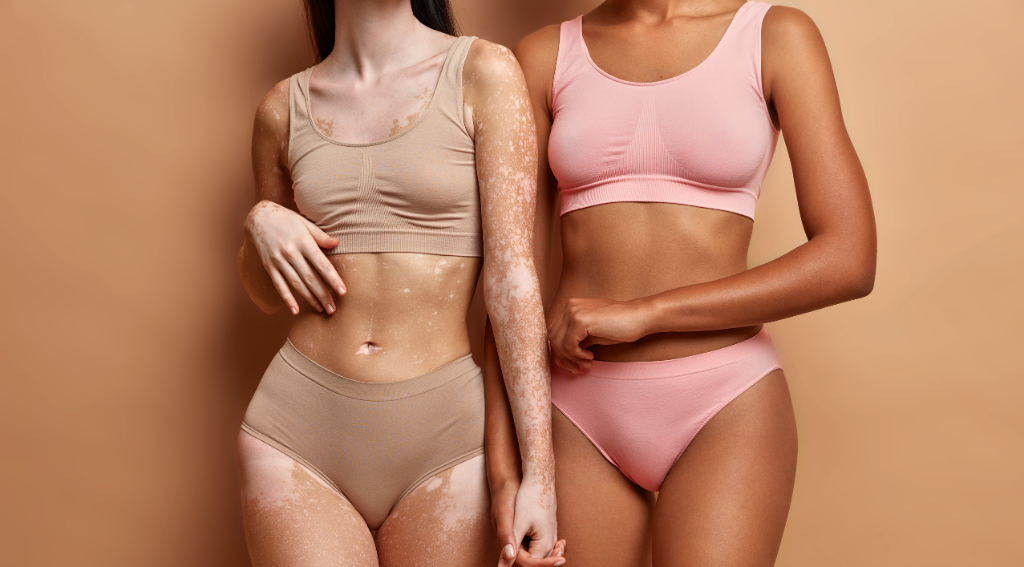 Let's be honest. Merino wool underwear for women is the cozy secret that once discovered, you never want to let go. Especially for outdoor enthusiasts, women's merino wool underwear (and base layers, in general) are the ideal choice for natural temperature control. Whether you're conquering a mountain or just conquering your to-do list, merino wool keeps you cool when it's hot and warm when it's not.
What's more, this amazing fiber wicks away moisture, again, naturally! It pulls sweat away from your body, so you stay dry even during the most intense activities. Imagine hiking up a steep trail, and instead of feeling like a sauna down there, you're cool, fresh, and ready for more.
Ultimately, whether you're camping, hiking, running, or doing yoga on a mountaintop, women's merino wool thermal underwear has your back (and your front). It's durable, flexible, and designed for movement. No chafing, no discomfort—just pure, unadulterated freedom of movement. Plus, it's naturally antimicrobial, meaning it fights off the funk, so you can go longer between washes.
Read on to find 2024's best Merino wool for women! And, don't forget to check out the best sustainable boxers and underwear for men as well.
Best Merino Wool Underwear Women Choose On Repeat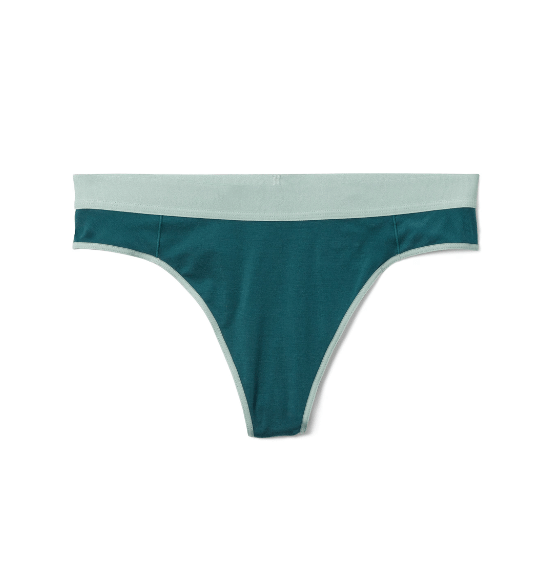 1. REI Co-op Merino Thong Underwear 
Price: From $24.95
Sustainable Materials: 48% merino wool/32% TENCEL lyocell/15% nylon/5% LYCRA spandex  
The REI Co-op's women's Merino wool underwear offers a luxurious feel with its ultrafine 150g core-spun nylon wrapped in merino. Ideal for multi-day trips, the merino wool naturally breathes, wicks away sweat, dries quickly, and resists odors. What's more, the underwear features flat seams and merrow-stitch construction to eliminate chafing, and soft elastic trim keeps it in place. Designed to hug the body for optimum performance, these panties are machine washable. Plus, they are ethically produced in a Fair Trade Certified™ factory that guarantees safe working conditions and sustainable livelihoods. Pair them with the Merino Bralette and Merino Base Layer Tank Top for a complete, comfortable trail-ready outfit.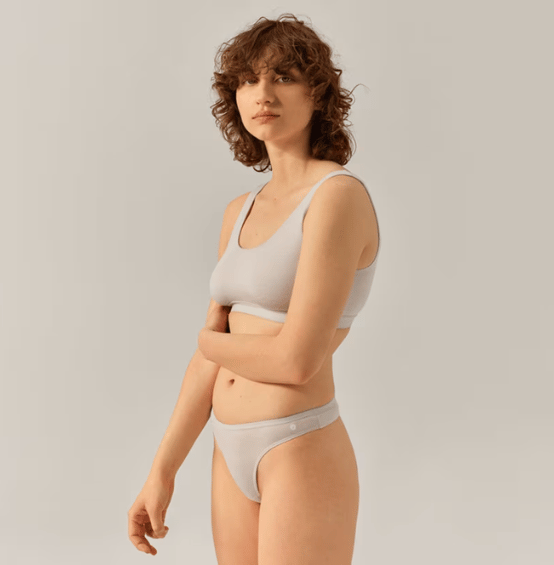 2. Allbirds Tencel & Wool Underwear for Women
Price: From $16
Sustainable Materials: 65% TENCEL™ Lyocell, 28% Merino Wool, and 7% Spandex
Next up is AllBirds, a sustainable casualwear brand touted for prioritizing renewable materials to reduce odor and moisture. Their carbon-neutral performance underwear is made from Tencel, Lyocell, Recycled Nylon, and ZQ Merino Wool, offering antibacterial properties and effective thermoregulation. The key feature here? Silky-soft seams, a Trino® lining, and a design so trim, you'll forget you're wearing them! The brand is B-certified, demonstrating a commitment to sustainability, and actively purchases offsets to minimize their environmental impact.
3. Icebreaker Women's Merino Bikini Briefs
Price: From $39.95
Sustainable Materials: 83% Merino Wool/ 12% Nylon/ 5% LYCRA®
Icebreaker, the outdoor apparel brand, has 25 years of experience showcasing nature's incredible merino wool. On their virtual shelves, you can find an array of base layers, including merino wool underwear for women and men. Crafted from durable Merino Corespun fabric, this modern slim-fit underwear ensures comfort in all weather conditions. The unique merino blend not only provides a luxurious feel but also regulates body temperature, making it an ideal choice for any day.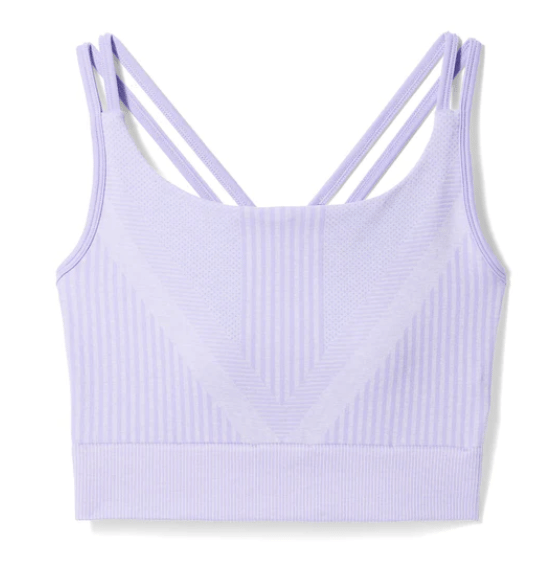 4. Smartwool Merino Sports Bras and Bottoms
Price: From $75
Sustainable Materials: 72% Merino Wool, 25% Nylon, 3% Elastane.
Stylish, thermoregulating, and utterly comfortable, these Merino wool sports bras are meticulously designed with a seamlessly knit Merino wool interior for superior next-to-skin comfort, paired with an outer layer for added support. The engineered knit cups offer both shape and lift, ensuring you feel confident throughout the day. The slim fit is tailored to follow your body's contours, and the ribbed bottom band, along with removable padding, adds to the versatility of this bra.
In the same collection, you can also find the Women's Seamless Bikini—no seams, just pure comfort. Crafted with seamlessly knit Merino wool, this Merino wool underwear for women ensures enhanced next-to-skin comfort. The mesh knit throughout the body enhances breathability, setting it apart from your old underwear. The slim fit is designed to follow your body's contours, providing a comfortable and breathable option for everyday wear.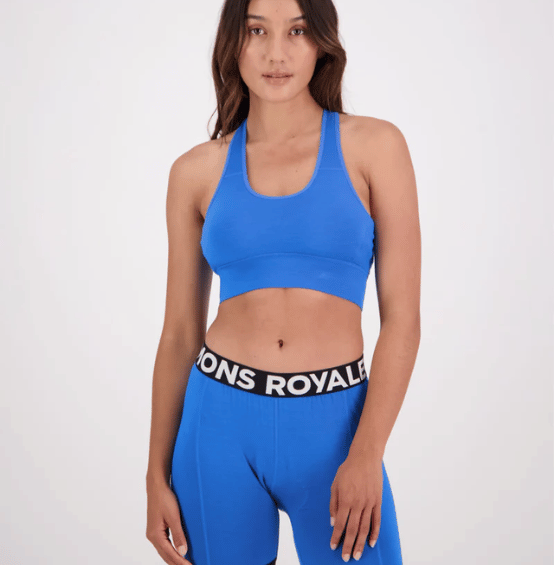 5. Mons Royal Women's Merino Wool Thermal Underwear
Price: From $49.95
Sustainable Materials: 83% Merino Wool 13% Nylon 4% Elastane
Designed for multisport use in all conditions, Mons Royal's collection of merino wool underwear for women includes sports bras, hot pants, briefs, boylegs, and thongs. The company is proud to partner with New Zealand's ZQRX Merino, the world's leading ethical wool brand. The undies are spun at Süedwolle – A global leader for worsted spun yarn for weaving, circular and flat knitting in pure wool and wool blends. Then, all pieces are sewn ethically by an innovative world-class manufacturer that specializes in merino wool. In fact, SCT is the first manufacturer in Shanghai to be awarded the new Chinese Environmental Certification. Ethical, warm, and comfortable, exactly like our Merino wool underwear for women!