12 BEST Sustainable Eco-Friendly Yoga Mats For A Non-Toxic Practice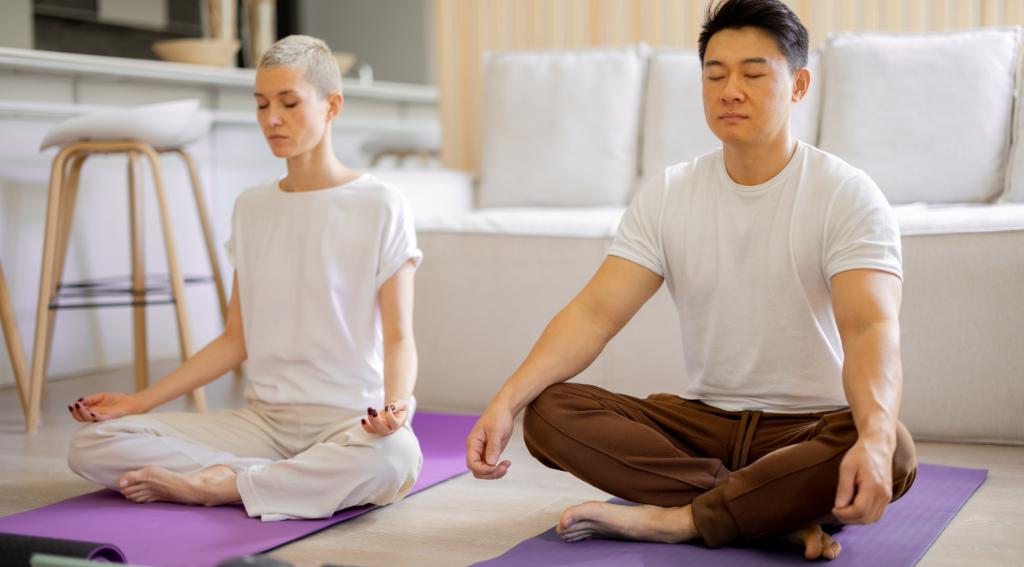 Are you looking for the best sustainable eco-friendly yoga mats suitable for all your blissful yogic adventures? No matter if you are at the beginning of your journey or already a master of sirsasana, picking the right non-toxic yoga mat for your practice is no easy feat. Don't fret. 
To help you calm your mile-a-minute mind, we went over hundreds of satisfied yogi-reviewers' comments to find the most noteworthy sustainable yoga mat options on the eco market.
Why choose eco-friendly yoga mats?
You've probably smelled the synthetic odor that comes from synthetic yoga mats many times before. That's PVC! Unlike sustainable yoga mats, plastic options are chock full of chemicals like PVC which is a synthetic plastic that is known to release toxic chemicals, such as dioxins, during its production, use, and disposal.
This chemical can be released into the air or absorbed through the skin during use, potentially causing harm to the user's health. In fact, exposure to PVC has been linked to EVERYTHING from respiratory problems, and reproductive issues, to cancer.
Non-toxic eco-friendly yoga mats, on the other hand, are made from healthy and safe materials like natural rubber. Natural rubber has an excellent grip, which means that it provides a secure and stable surface for your yoga practice. 
This is especially important for more vigorous yoga styles or poses where you need to maintain your balance. What's more, sustainable yoga mats made from natural rubber can withstand the wear and tear of regular use. They are resistant to cracking, tearing, and stretching, which means that your natural and ethical yoga mats will last longer than other materials.
There's an array of supportive, grippy options that can keep you in place yet smooth enough to support your joints in many different thickness levels –and colors.
Here's our roundup of the 12 best vegan and non-toxic eco-friendly yoga mats for a comfortable, safe, and peaceful practice.
Best Eco-Friendly Yoga Mats For Sustainable Yogis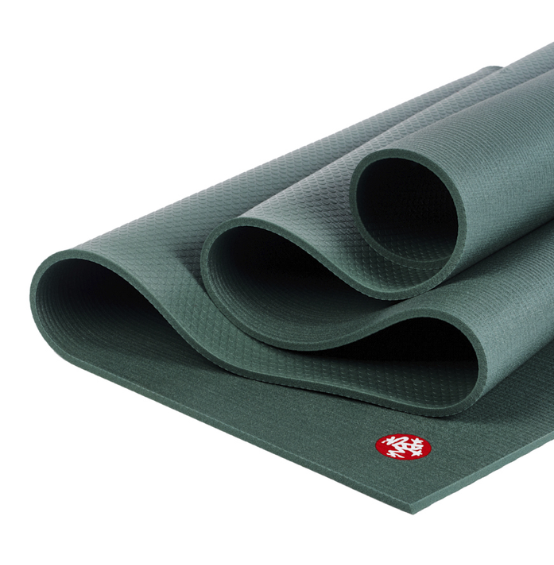 1. Manduka PRO and eKo yoga mats
Price: From $100
Sustainable Materials:  Biodegradable, non-Amazon harvested, natural tree rubber with non-toxic foaming agents and non-AZO dyes.
Known for their high-quality, sustainable eco-friendly yoga mats, Manduka offers an array of options with naturally grippy surfaces made from biodegradable, natural rubber, or recyclable materials. On their virtual shelves, you can find two non-toxic yoga mat options: PRO and eKo. Eko, the most affordable and highly rated eco-friendly yoga mat, is crafted ethically with biodegradable, non-Amazon harvested, natural tree rubber and manufactured with zero waste and zero harmful plasticizers. Plus, through Manduka's Live On program, you can sustainably recycle your old mats and receive $20 toward your next purchase.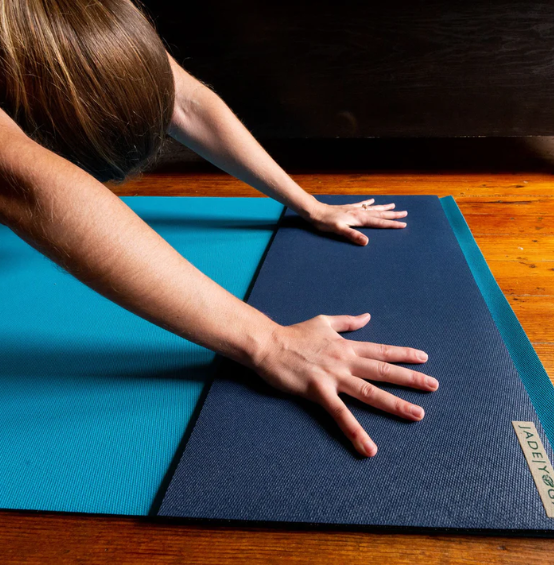 2. Jade Yoga natural rubber mats
Price: From $84.95
Sustainable Materials: Natural rubber tapped from rubber trees
Founded almost 20 years ago, the sustainable company Jade Yoga offers some of the best eco-friendly yoga mats on the eco market made from natural rubber! Whether you are on the hunt for a thick, sustainable yoga mat, travel-friendly mini, or naturally non-slip options, they've got you covered.
Our personal favorite? Jade Harmony! It's their popular mat that provides great traction and cushion while still providing stability for standing poses. These affordable eco-friendly yoga mats are crafted with natural rubber that offers the converted no-slippery benefits without the need for any synthetic rubber (PVC, EVA, etc.). What's more, all of their mats are made in the United States and a portion of their sales goes towards planting trees.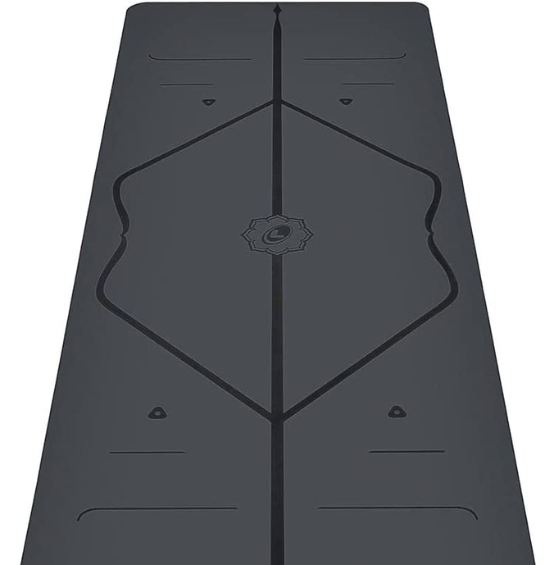 3. Liforme non-slip yoga mats
Price: From €121,50
Sustainable Materials: Natural Rubber base and Liforme's unique eco-polyurethane top surface
Looking for the best sustainable, eco-friendly yoga mats with unrivaled grip and planet-friendly credentials? The Liforme non-toxic yoga mat collection took them 5 years of hard work to create. It's all down to the brand's unique and patented three-layer construction and our quick-drying CleanGrip® Technology which stops sweat from making its way into the natural rubber base. Additionally, most non-slip mats are adorned with graphics of the lunar cycle to inspire your next transformation.
The B-certified corporation also offers customizable eco-friendly yoga mats made with the same game-changing materials. And with every order, Liforme pledges to plant 5 trees.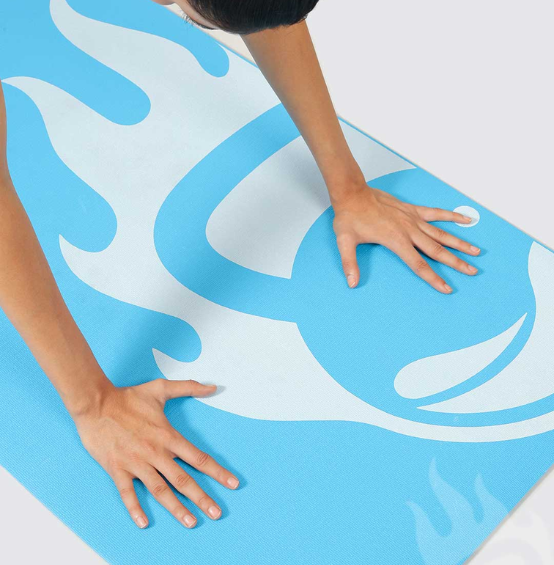 4. PrAna yoga mats
Price:  $99
Sustainable Materials: natural rubber, TPE, or PER
Sustainable sweaters, activewear, climbing-approved apparel, and sustainable eco-friendly yoga mat options – is there something Prana can't produce amazingly good? The company offers a range of non-toxic yoga mats made from natural rubber, TPE (thermoplastic elastomer), or PER (polymer environmental resin). Available in standard and large sizes, the mats have an anti-slip grip, excellent elasticity, and comfortable cushioning as well as Shape-retaining internal scrim. Plus, they come in an array of colors from black to pink!
Lastly, The Fair Trade Certified clothing brand tracks their entire manufacturing process from start to finish through the bluesign program. It's safe to say that their best ethical yoga mats are not only high-performing but also extremely sustainable.
5. Gaiam thick eco-friendly yoga mats
Price: From $15
Sustainable Materials:
Recycled, natural, & sustainable materials
From yoga blocks made of 100 percent recycled cork to eco-friendly yoga mats made from non-toxic, biodegradable materials such as TPE, natural rubber, and jute, Gaiam has everything we need to practice safely. What we love the most about these sustainable yoga mats is their range of thickness options. You can find vegan and non-toxic eco-friendly yoga mats in 4mm,5mm, 6mm, and 10mm. And if you are a fan of hot yoga, there's a Performance Jute Yoga Mat ideal for all your sweaty endeavors. The best part? The "premium" line comes with a lifetime guarantee! Yes, they are that durable.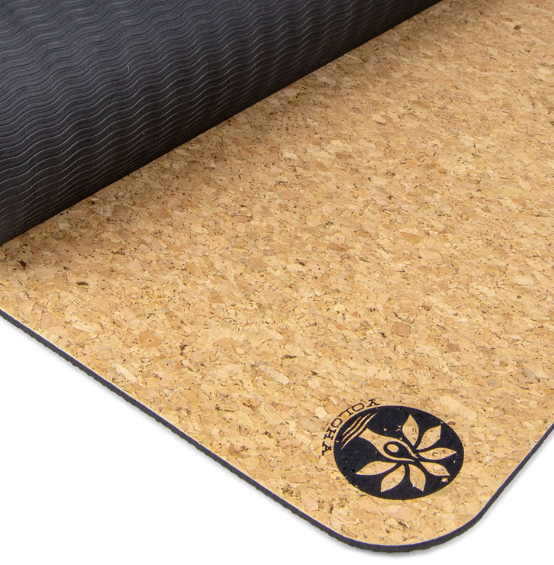 6. Yoloha cork yoga mat
Price: From $149
Sustainable Materials: Cork, plant foam made of sugar cane & recycled tires
Yoloha creates sustainable yoga mats from their signature Unity to their Original Cork Yoga Mat + Plant Foam. It's basically a non-toxic blend of recycled cork and rubber made out of recycled tires that contains no PVC or any other nasty chemicals. In order to strip the tires from Polycyclic Aromatic Hydrocarbons (PAHs) and heavy metals, each eco-friendly yoga mat goes through a triple washing process.
Additionally, the cork used in their mats is extracted from the outer bark of the cork oak in the Mediterranean area. Also, they recently invented their own plant foam which is a blend of 55% ethically sourced sugar cane and cork. Last but not least, Their sustainable cork yoga mats are proudly made in the USA.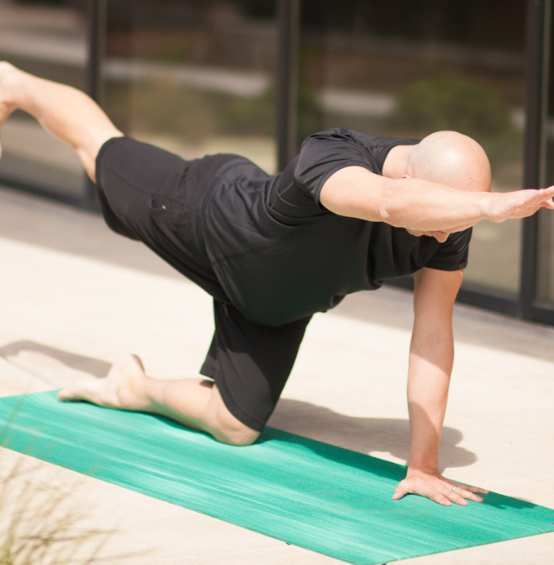 7. Hugger Mugger natural rubber mats
Price: From $99
Sustainable Materials: natural rubber
Hugger Mugger Hugger Mugger carries a variety of sustainable eco-friendly yoga mats, props, and accessories with a variety of features for your unique practice. Their non-toxic yoga mat line is made from natural rubber, TPE, and sustainably harvested cork. These mats also feature two sides with two different grippy textures to help you take your practice to the next level with this mat's unmatched stability and support.
More precisely, the striated side of the eco-friendly yoga mat is covered in tiny rubber bumps that hold you perfectly in place, while the solid-colored side has a woven-like, rubbery super-grip that's great for hot yoga. Plus, the colors are so pretty!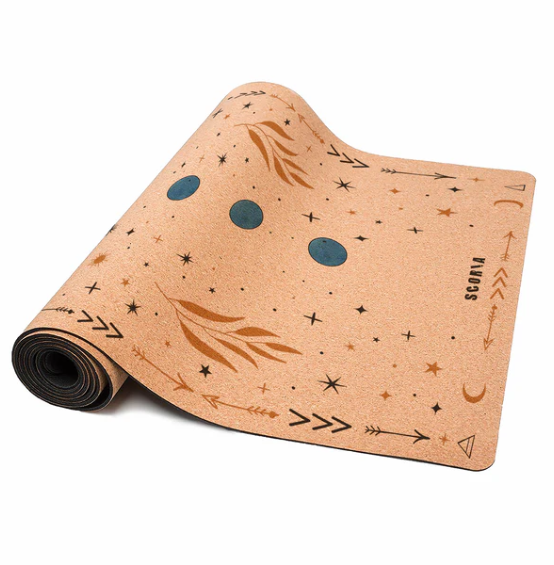 8. Scoria printed yoga mats
Price: From $95
Sustainable Materials: 100% natural cork and rubber
If you are on the hunt for a sustainable yoga mat in Canada, Scoria should definitely be on your radar. The company produces sustainable cork yoga mats using natural cork, recycled materials, and water-based inks for their unique designs. non-toxic and free from TPE and PVC, all eco-friendly yoga mat options feature water-based inks and an eco-glue, making them 100% biodegradable.
They are also SGS REACH certified and the cork is harvested ethically in Portugal. What makes these vegan and non-toxic eco-friendly yoga mats so darn unique? The intricate-designed prints!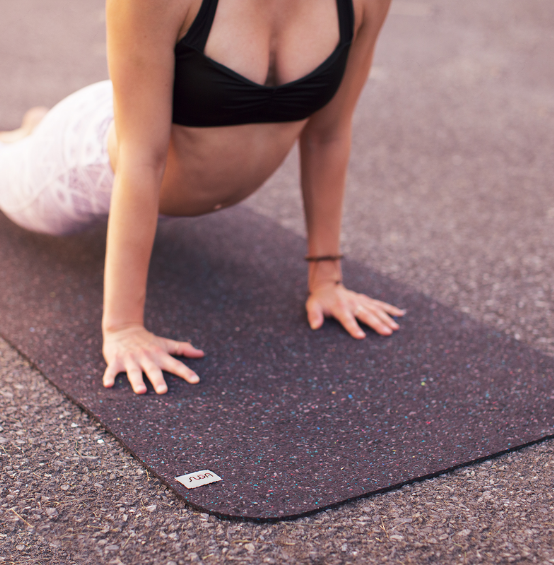 9. Suga Recycled Wetsuit Yoga Mat
Price: From $89
Sustainable Materials: Recycled wetsuits
Suga's sustainable yoga mat line reigns supreme due to its fantastic choice of materials! We are talking about the Recycled Wetsuit Yoga Mat​​s, of course. They are made from recycled wetsuits, diverting waste from landfills and reducing their environmental impact. Suitable for all your blissful yogic adventures, these eco-friendly yoga mats come in Regular and extra-long sizes. Plus, you can also find easy-to-carry non-toxic travel yoga mats for taking your asana practice on the road!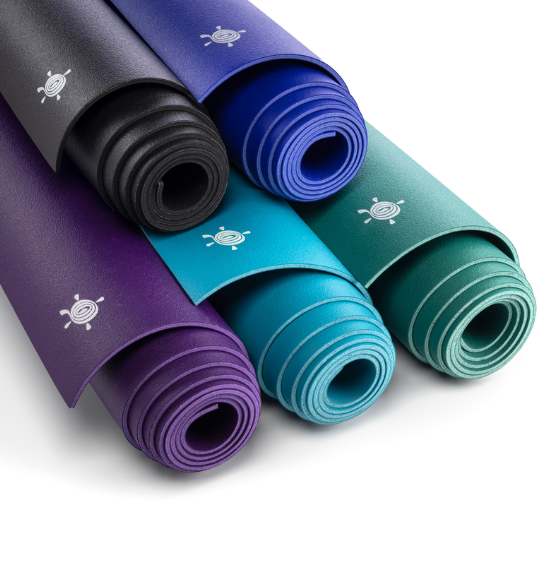 10. KURMA eco-friendly mats – extra long
Price: From €72
Sustainable Materials: Natural rubber, cork, and TPE
Non-toxic sustainable yoga mats, blocks, bolsters, cushions, blankets, straps, belts, and eye pillows – KURMA has everything we need and more! Their range of eco-friendly yoga mats is made from biodegradable, non-toxic materials like natural rubber, cork, and TPE for ultimate functionality, durability, comfort, and quality. The GECO mat line is crafted with high-grade natural non-Amazon forest harvested rubber, synthetic as well as recycled rubber, and is, in fact, The only rubber yoga mat that can be 100% recycled. To top it all off, the entire collection is STANDARD 100 by OEKO-TEX® certified and produced in Europe with emission-free, energy-efficient manufacturing techniques.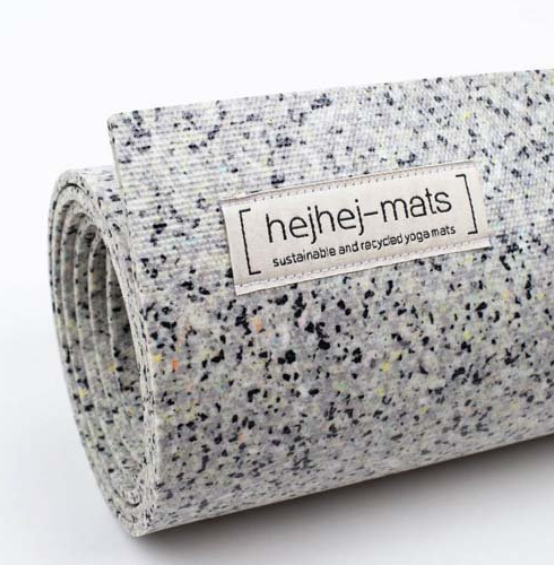 11. HejHej recycled yoga mats
Price:  From €139
Sustainable Materials: Recycled materials
Recycled and closed-loop yoga mats? Yes, please! The German company HejHej produces premium-quality sustainable yoga mats in In two different lengths from secondary raw materials. It features a structured surface for outstanding slip resistance and is 5 mm thick for good damping. Heck, even the logo is made of biodegradable hemp. On top of that, hejhej mats are produced CO2 neutral.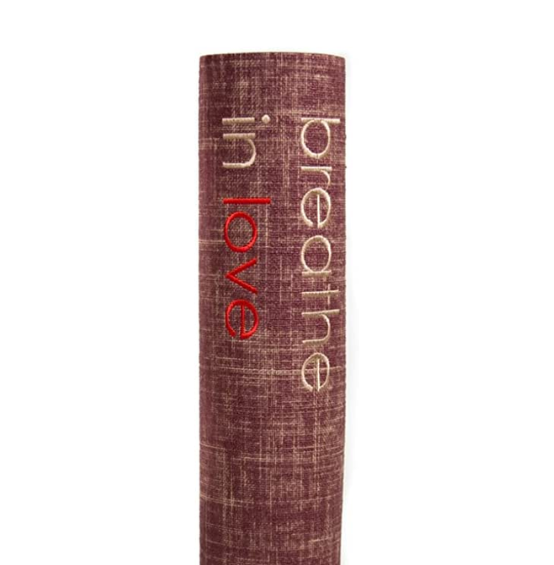 12. Affirmats non-toxic yoga mats 
Price: From $66
Sustainable Materials: Biodegradable Jute, ECO-pvc blend
Last but not least, Affirmats' best eco-friendly yoga mats! These slip-resistant, sustainable yoga mats are biodegradable jute and eco-PVC materials, with inspiring affirmations printed on them. Consider them as a form, function, and inspiration, wrapped in pure love.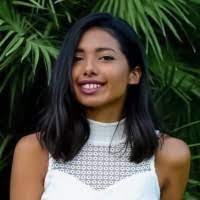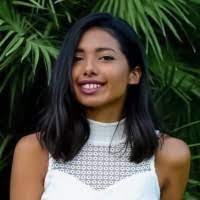 About Author
Konstantina Antoniadou
Freelance sustainability and fashion writer with an ongoing curiosity to explore new innovative technologies, and report on trends in "green" industries.