Best Sustainable Furniture Brands Your Eco-Friendly Decor Upgrade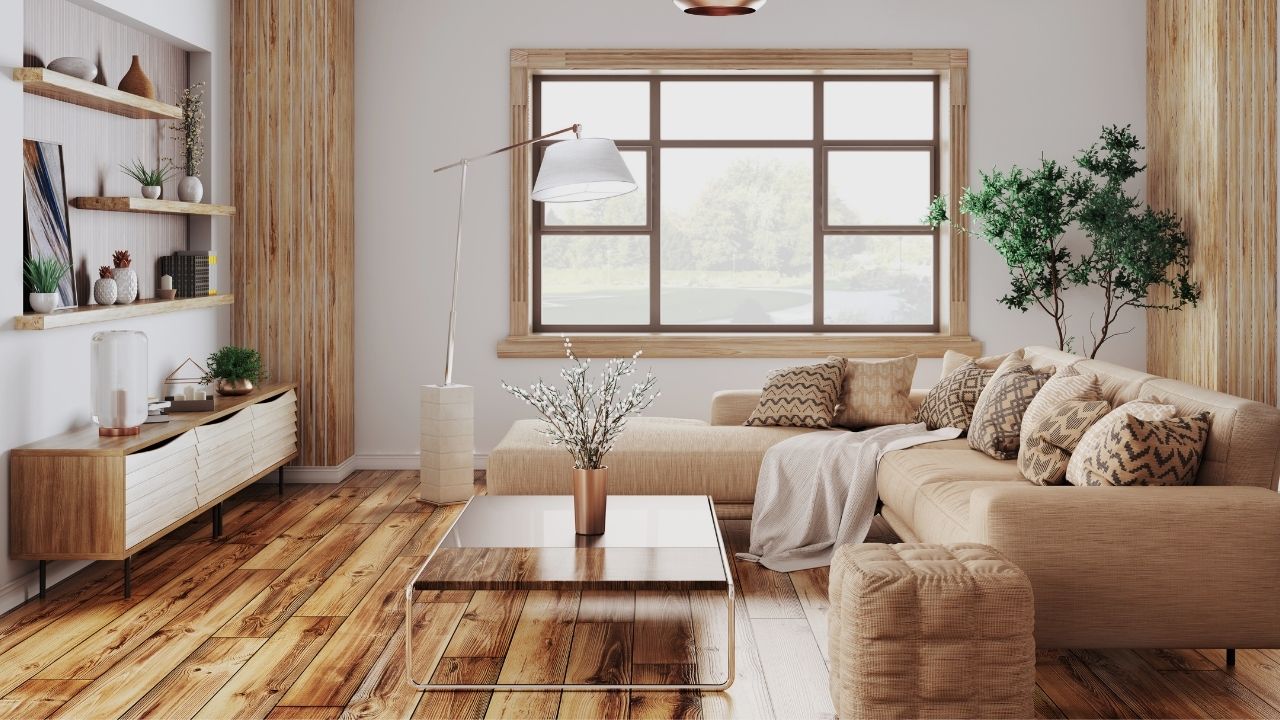 Eco-Friendly Furniture Companies To Take Your Sustainable Comfort To Whole New Heights
While many decor pieces come and go depending on our seasonal moods, eco-friendly furniture is arguably the true investment. Truth be told; sustainable furniture is a splurge, but only because of the numerous benefits that follow them. Unlike traditional furniture that is covered in flame retardants, along with many Volatile Organic Compounds ( VOCs), the best sustainable furniture brands use all-natural finishes and materials that pose no danger to our health (or to the environment).
Furniture off-gassing, for example, is a widely-known danger many people face. Basically, furniture can release toxic chemicals into the air we breathe which can cause headache, nausea, or dizziness – just to name a few of the symptoms. Especially in small spaces, the heat and humidity can drastically increase off-gassing. Yes, it does sound pretty scary.
That's why we rounded up a list of the best eco-friendly furniture companies with plenty of cozy textures, ethically-sourced materials, and striking colors to create a calming and comforting atmosphere. Take a look at our top all-natural sustainable wooden furniture options below.
Best Sustainable Furniture Brands With Luxurious Eco-Friendly, Toxic-Free Materials
1. Alabama Sawyer
Price Range: $95-$5500
Sustainable Materials: Natural tree waste
Alabama Sawyer deserves a place on your best sustainable American furniture brands checklist thanks to their ongoing efforts to preserve the environment in every way possible.
The family-run company offers an array of eco-friendly furniture options made crafted from local tree waste which is gathered from houses and businesses. The trees then get transported to their facility in Birmingham where the toxic-free furniture-making process begins.
In fact, thus far, they have successfully saved hundreds of logs from entering the landfills by turning them into modern sustainable furniture including shelves, dining tables, storage, cutting boards, and vases – just to name a few.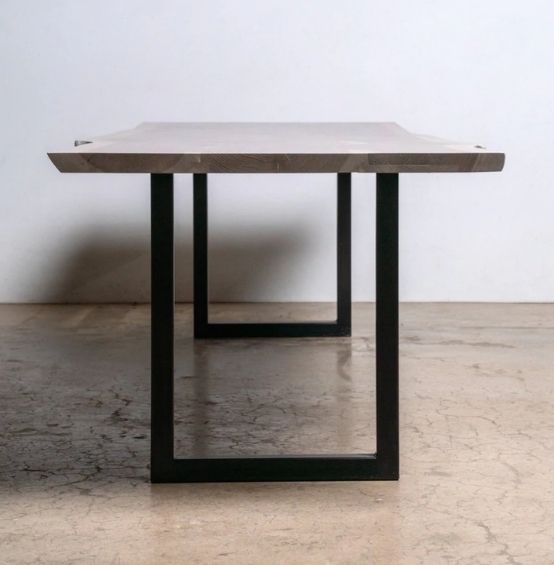 2. Burrow
Price Range: $195-$2252
Sustainable Materials: Wood, strengthened steel hardware, and ethically-sourced Italian leather
You might have seen Burrow's couches circulating the internet for quite some time. Touted as one of the best eco-friendly furniture brands of 2022, the company uses sustainably-forested wood, strengthened steel hardware, and top-grain Italian leather to craft their desks, chairs, sofas (stain-resistant, and pet-friendly), ottomans, and rugs.
Thanks to the modular, easy-to-move design, your toxic-free furniture can enhance your current home and the next one! To top it all off, everything is shipped out in recyclable packaging.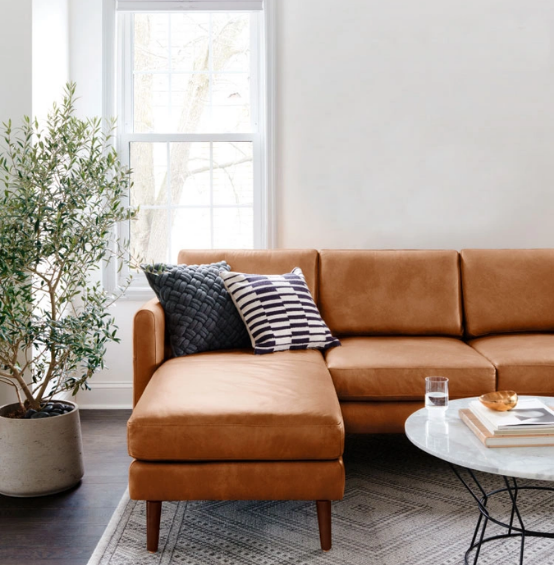 3. Medley
Price Range:  $70- $3,286
Sustainable Materials: Solid bamboo, kiln-dried alder, walnut, maple, CertiPUR-US®-certified foam, certified organic latex, GOTS certified organic cotton, OEKO-Tex 100 cruelty-free Eco wool, natural polishes
Medley's mission to "dress" our home with the safest and most high-quality materials is what makes them one of the best eco-friendly furniture brands since 2005.
Their collections run the gamut from sofas and accent chairs to beds, tables, dining tables, storage solutions, and many more coveted sustainable furniture options that proudly hold an array of certifications. Medley's uses solid bamboo and domestically-sourced kiln-dried alder as well as walnut and maple sourced from FSC-certified forests.
On top of that, you can find cushions made from CertiPUR-US®-certified foam and Global Organic Latex Standard certified organic latex. Additionally, their affordable eco-friendly furniture line also features natural beeswax, carnauba wax, and olive oil polishes.
Did we mention that the toxic-free furniture is made in Chicago?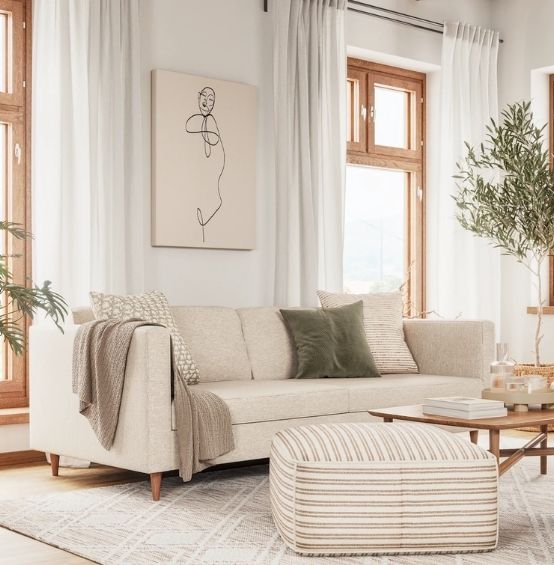 4. Greenington
Price Range: $376 $2242
Sustainable Materials: Hand-harvested natural mature bamboo
If you are looking for sustainable furniture brands for an affordable eco-friendly furniture upgrade, Geenington's bamboo collection is for you.
The company crafts artisan ethical furniture for all your living room, office, kitchen, or bedroom decor needs in ISO 9001 certified factories. What's even more amazing? This rapidly renewable natural material is actually stronger than steel which guarantees quality and longevity.
You can opt for the natural honey-toned bamboo hue or choose one of their darker color options depending on your aesthetic.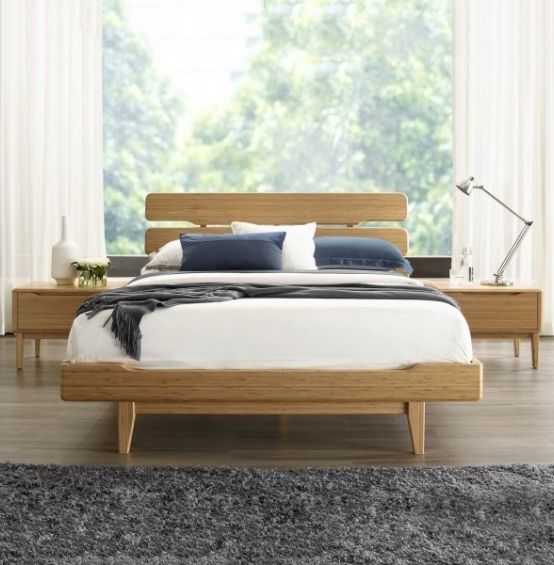 5. Avocado
Price Range: $695-$2,325
Sustainable Materials: FSC & GREENGUARD Gold certified reclaimed wood
Avocado's organic mattresses definitely have a cult following. But did you know that the Certified B Corp also offers sustainable furniture locally made in the palm tree-laden city of California using 100% reclaimed wood?
The factory uses certified renewable energy and the company is in fact, climate-neutral. Plus, they closely monitor their entire supply chain and ensure optimal ecological impact and social responsibility. If you love the look of natural wood, these FSC & GREENGUARD Gold certified eco-friendly furniture are definitely for you.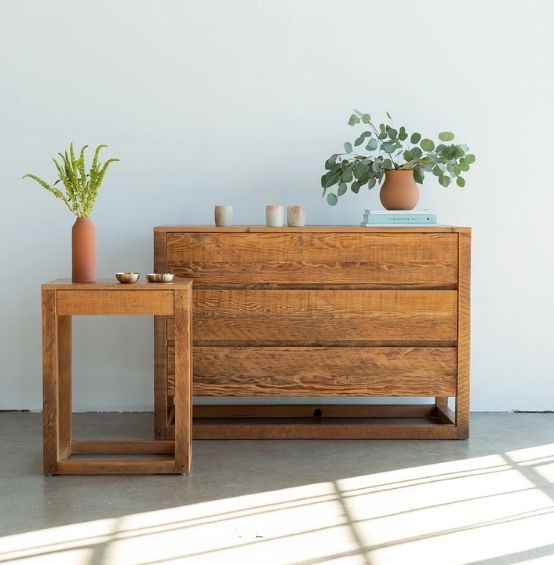 6. What WE Make
Price Range:  $1425-$2395
Sustainable Materials: Lightweight concrete, hand-welded metal, and old-growth wood
If the idea of outfitting your home with sustainable wooden furniture that gives off gorgeously rustic and modern vibes sounds exciting to you, What WE Make's eco-friendly furniture collection will tick all your quality and aesthetic boxes.
Known as one of the best sustainable furniture brands, they offer a plethora of handmade pieces with eco-friendly finishes. for over 15 years. Apart from their ethically sourced, natural materials like their special-blend lightweight concrete, hand-welded metal, and old-growth wood, this eco-friendly furniture are also custom made-to-order to eliminate material waste.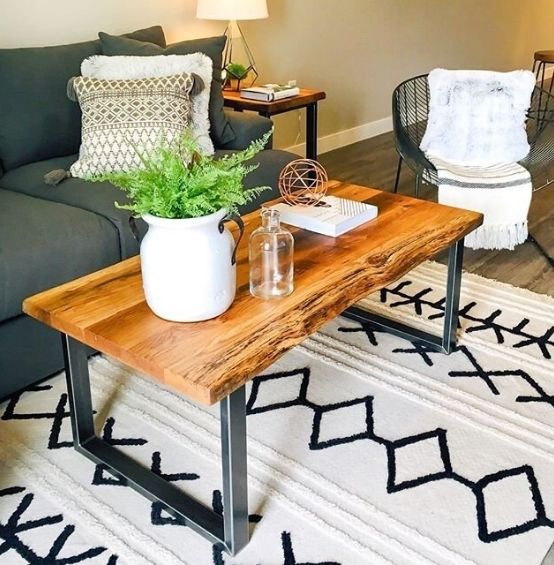 7. Sabai
Price Range: $395-$2495
Sustainable Materials: Recycled & upcycled fibers, FSC certified wood
While most eco-friendly furniture brands cover dozens of different categories, Saibai's sustainable furniture collection is pretty eclectic.
They solely offer 7 superhero pieces (sofa, sectional, loveseat, chair, and ottoman) crafted from FSC certified wood and upcycled materials derived from recycled water bottles. The options might be limited, but the customization opportunities are endless.
The made-to-order service allows you to choose your favorite cushions, fabric, and legs knowing that each affordable eco-friendly furniture option is modular, scratch-resistant, and water-resistant.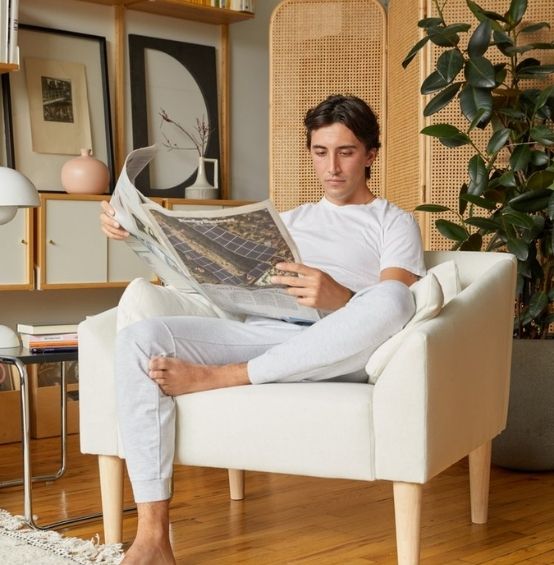 8. Knoll
Price Range: $509-$14,164
Sustainable Materials: Certified Clean Air GOLD, FSC & GREENGUARD certified wood & more
Knoll has been dominating the sustainable furniture scene for over 80 years offering us the perfect mix of Scandinavian design and modern comfort.
The company's FSC & GREENGUARD certified eco-friendly furniture covers all our safe-space's needs with an array of benches, sofas, bar stools, as well as an ethically-made coffee table and outdoor furniture options.
Also, the brand lets us pick our favorite finishes, Upholstery types, and colors. On top of that, they are committed to Life Cycle Assessments (LCAs) to measure environmental impacts.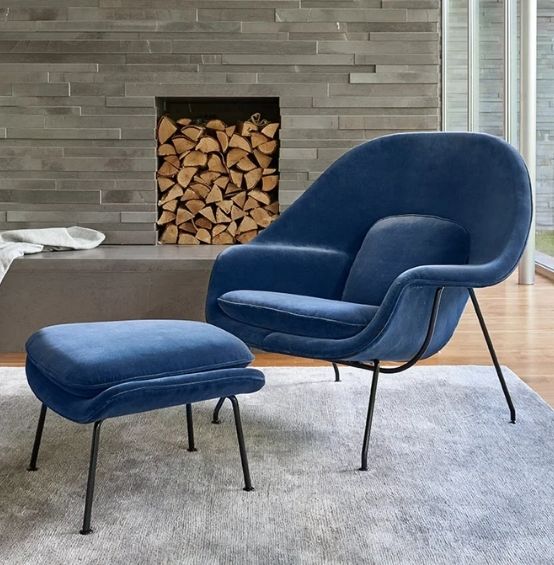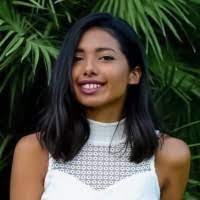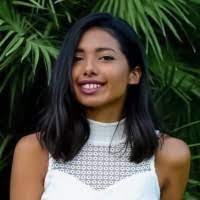 About Author
Konstantina Antoniadou
Freelance sustainability and fashion writer with an ongoing curiosity to explore new innovative technologies, and report on trends in "green" industries.