9 Eco-Friendly Men's Activewear & Gymwear Brands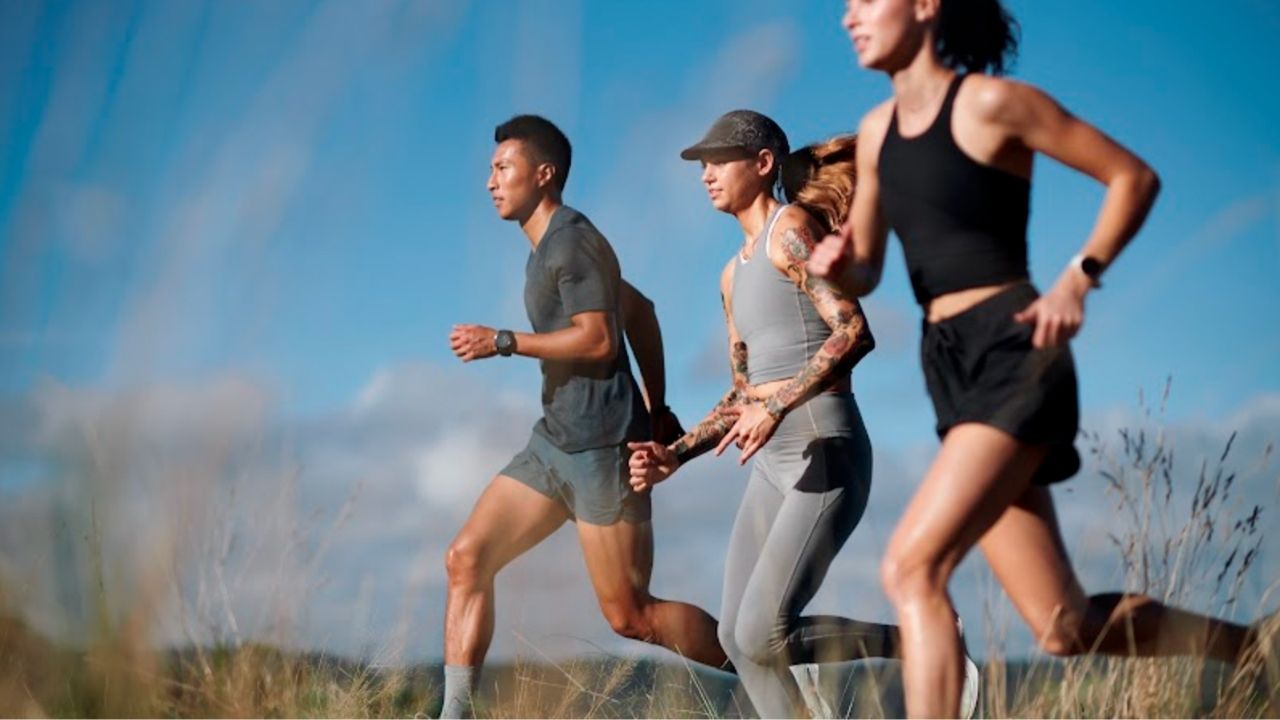 Forging the path of change one workout at a time
If you love fitness as much as we do, you probably have a ton of activewear sitting in your closet. You arguably need more activewear than any genre of clothing in your closet. What if our closets filled up with sustainable pieces? Pieces that left no carbon footprint behind?
With all the sweat-wicking shirts these days, they are full of chemicals. Those chemicals also are getting released into the atmosphere by our factories. The easy thing is always going to the brands we know we love. With a little research, you can fill your closet with some dope men's activewear brands that are forging the path to the future. And the future is sustainable!
Price Range:
$58-$100
Sustainable Materials:
Merino wool, Recycled nylon, Recycled polyester, Tencel™ Lyocell
The brand's first performance apparel collection has nature at its core, putting front-and-center Allbirds's low-carbon and naturally thermoregulating, moisture-wicking, odor-reducing blend of Eucalyptus Tree fibre + Merino Wool.
The Natural Run Collection was tested over thousands of hours to meet industry benchmarks for breathability, sweat-wicking, quick-drying and comfort stretch without compromising on low-carbon impact. The Natural Legging even proved to be up to 2x more breathable than leading synthetic pairs on the market, demonstrating that natural materials can go toe-to-toe with plastic – and win.
The collection includes the Natural Legging & Bike Short, Natural Run Form Tank, Natural Run Tank & Tee and Natural Run Short. Designed to move with you, without going against nature.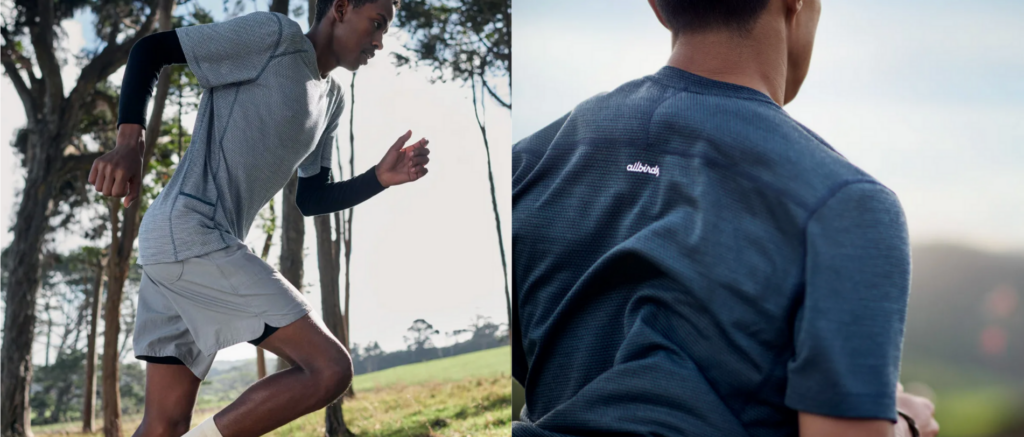 Price Range:
$15-$160
Sustainable Materials:
Recycled materials from discarded threads and plastic
Coalatree is an outdoor brand that focuses on making clothing for the adventurer. They make most of their products from recycled or repurposed materials. They use old yarn and plastics and melt them down to form new materials. Coalatrees factories are working towards zero-emission use as well. They use sustainable energy sources, solar lighting, and water-saving machinery.
They only work with facilities that are bluesign approved. This ensures no toxic chemicals are being used during production. They even use recycled materials for their hangtags. Coalatree also has a partnership with adopt-a-native-elder program. They give back 10% of their sales to a navajo elder in need. They also give away waterproof blankets made from extra materials to the homeless.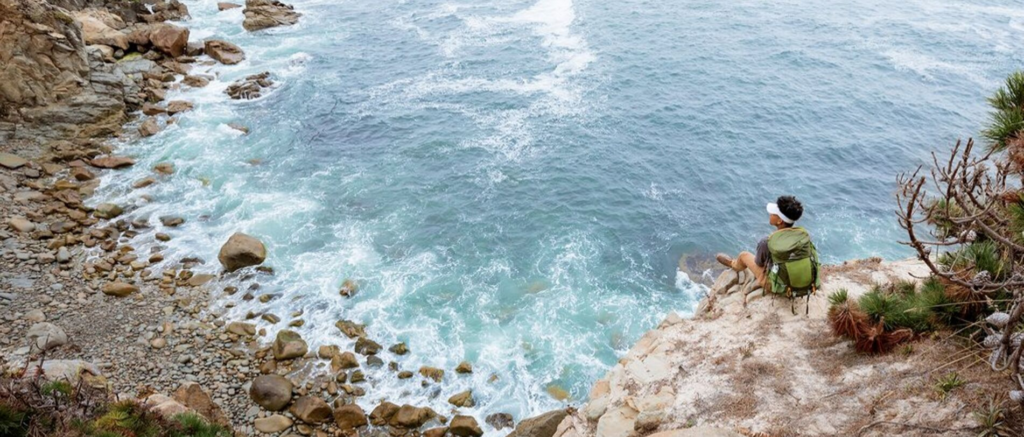 Price Range:
$125-$180
Sustainable Materials:
Organic Cotton, Natrual Rubber
Okay, you've probably seen Veja Shoes at this point, but did you know they made athletic kicks? Veja shoes don't just look fresh AF; they look REALLY, REALLY fresh.
These sneakies are competing with some of the biggest sneaker companies in the game! Veja has a full vegan shoes line, but all of their shoes are made with as much sustainable materials as possible!
We love the Condor Running shoes. A versatile shoe with 100% Recycled plastic bottles,  33% Organic Cotton, 67% Recycled Polyester.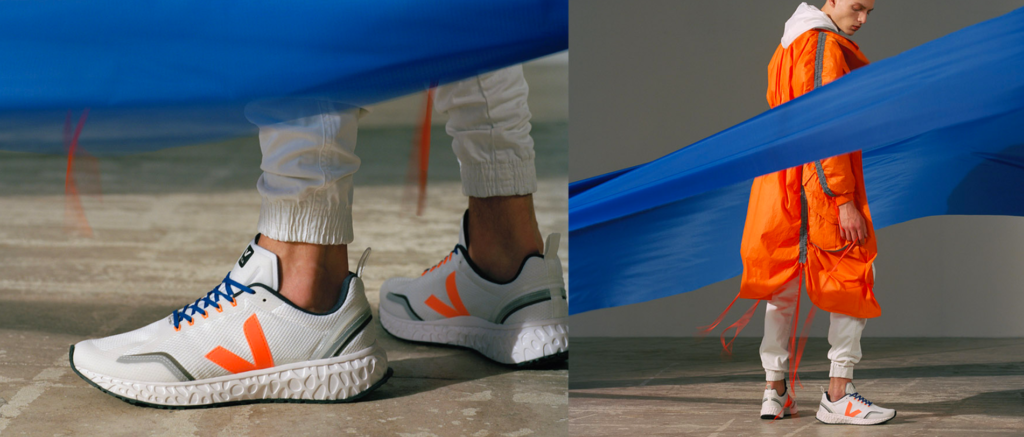 Price Range:
$30-$195
Sustainable Materials:
Recycled Polyester, Cotton & Nylon
Janji is an activewear company that funds clean water projects around the globe. They believe clean water is a human right. Janji picks a new country every year to focus on and creates new lines inspired by that country.
They link up with local artists to collaborate on prints and designs. From there, they pick a local npo partner. Together, they work on providing sustainable clean water solutions for that country. After the line is finished, 5% of proceeds go back to the npo partner to help with the water crises.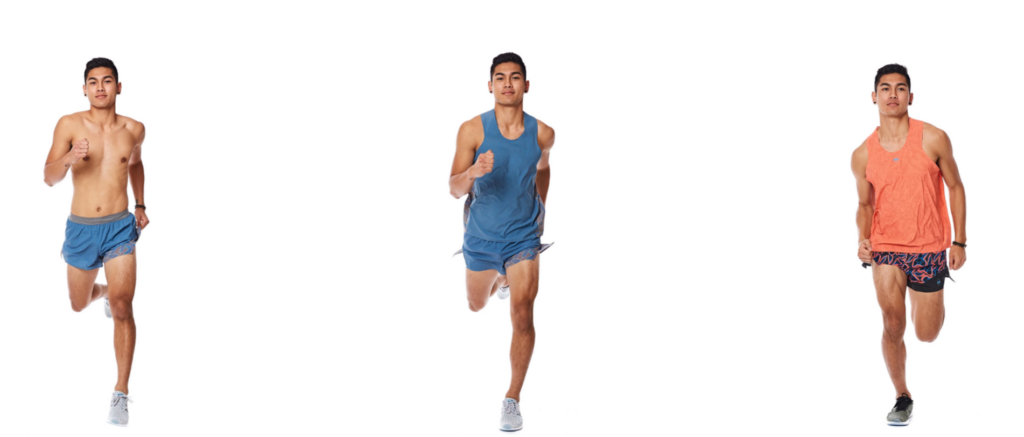 Price Range:
$35 – $84
Sustainable Materials:
Organic Cotton, Hemp, Recover Textiles
Kozm's goal is to give its customers transparency and honesty within their men's activewear brand. They create an elevated level of customer service from start to finish. Kozm products are made in the USA in small batches. They use the most sustainable materials available and pay their worker's fair wages. They focus on to make fewer products but a product that lasts.
Kozm even encourages their customers to send back their used clothing. They then upcycle or recycle the old clothing. Kozm hand wraps its shipments in Skelly Wrap. Skelly Wrap is FSC certified paper, containing recycled content printed and cut in the US. It is also tied with scrap fabrics that can be repurposed to as a bracelet or to tie your yoga mat.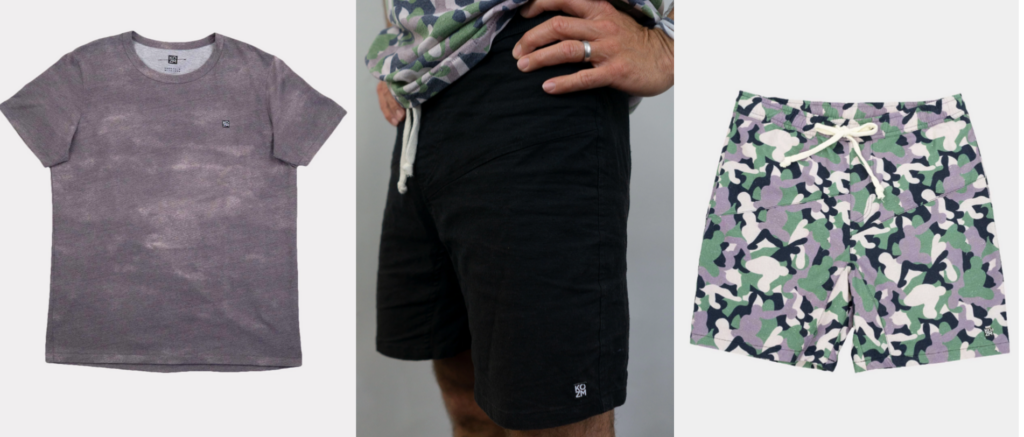 Price Range:
$44-$140
Sustainable Materials:
Tree Rubber
Ten Thousand is a shorts company that understands minimalism.  They only focus on men's activewar essentials. Ten Thousand understands what it's like to be busy and want you to save your time. They focus their line on only a few pairs of premium shorts, socks, & shirts. With a small focus, they can ensure they all perform amazingly. They believe there is no need to overcomplicate the buyers process.
They even take out the middleman and don't sell wholesale so they can get you their shorts at a cost you can afford. They even have a clothing recycling program called "one in, one out". Every time you purchase a pair of shorts, you have the chance to send back old workout clothes you want to get rid of.  If you do, you receive 10% off your next order.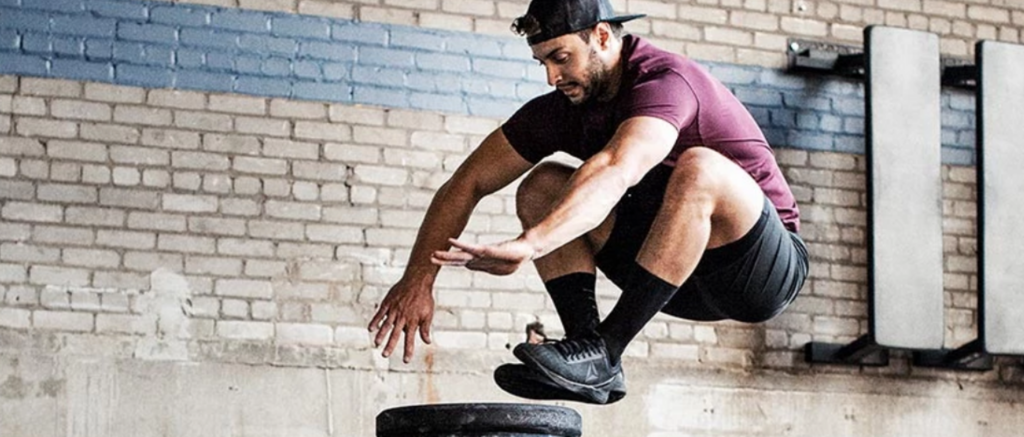 Price Range:
$30-$120
Sustainable Materials:
Organic Cotton, Recycled Wool, Responsible down, and bluesign textile production.
This European brand was started by husband and wife with a passion for running. They love running so much, they even met through running. They had trouble finding clothing that was both technical, stylish and made sustainably. They realized all the brands around them weren't made with quality materials. They experinced that often they were thrown away after a year's wear.
They were determined to make one themselves and that's exactly what they did. They produce all of their garments in northern Portugal. Their base layers and beanies are made in the UK. They use state of the art technology and they believe in investing in your running clothing. Buying better, but less.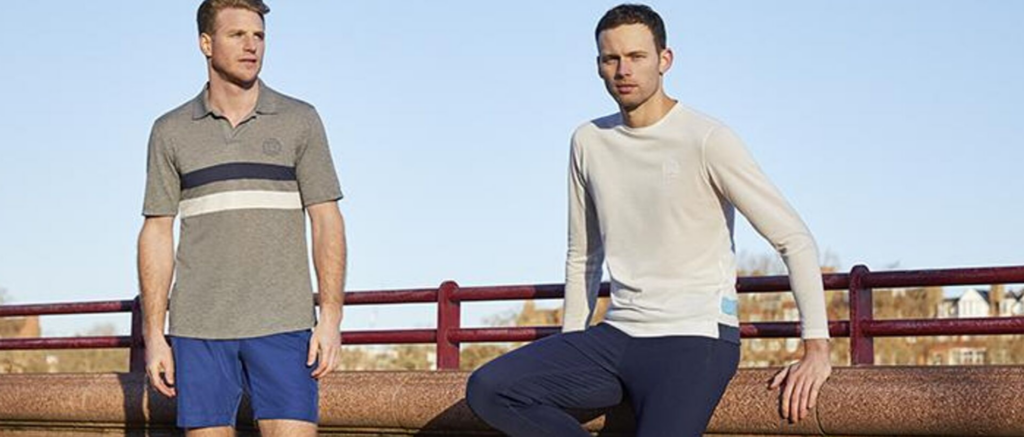 Price Range:
$30-$200
Sustainable Processes:
Partners of The Renewal System that takes discarded apparel and textiles and turns them into upcycled materials or recycling feedstock.
Vuori's men short was voted best gym short. Voted by Men'sHealth, Men's Journal, Entrepreneur, Outside and more. This company started in Encinitas California by Joe Kudla. Joe was trying to blur the lines between activewear and lifestyle cl0thing.
Vuori's line of men's activewear is made for the activity driven athlete. All peices are made to be interchangeable. Whether you're biking to work,  traveling, training, going to yoga, Vuori has your back.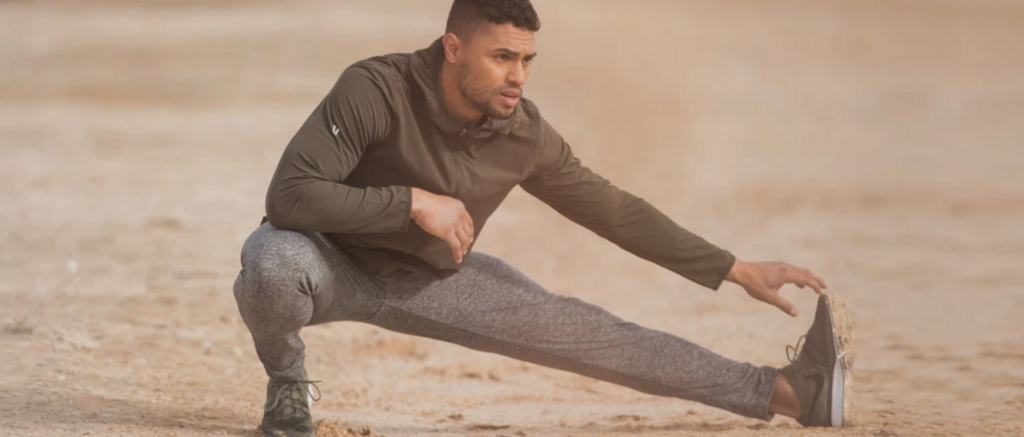 Price Range:
$50-$100
Sustainable Materials:
Organic Cotton, Recycled Wool, Responsible down, and bluesign textile production.
This men's activewear brand was founded by a Latin American Native named Davis Smith. The name Cotopaxi is named after a powerful volcano. Davis visited at Cotopaxi National park when he was younger and saw this volcano. This brand stands for doing good. Through every phase of the product lifecycle that is the focus. The workers that touch their products are treated with the utmost respect.
They also put 1% of their profits to poverty struck communities in the hope to support and develop them. They also have given 42 grants to date to improve the human conditions in 6 countries.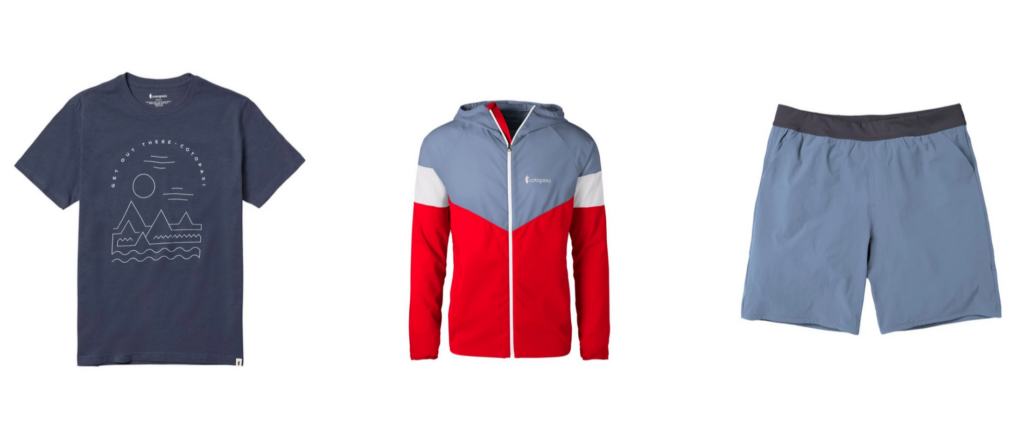 Being sustainable doesn't have to be hard. It can be really fun finding new men's activewear brands that you are excited to support. It's a new world now, everyone is hopping on the sustainability train. We hope this shopping guide makes finding new sustainable activewear brands easier!
Want to shop some of the most revolutionary companies? IndieGetup makes it easier for you to have access to clothing with a conscience. Click here to visit more brands we love that are creating a greener future.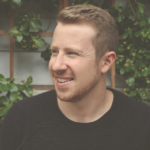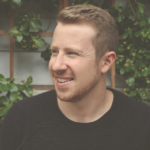 About Author
Brandon
Owner of IndieGetup, the premier sustainable marketplace for men to shop ethically.