8 Best Sustainable Rain Jackets for Men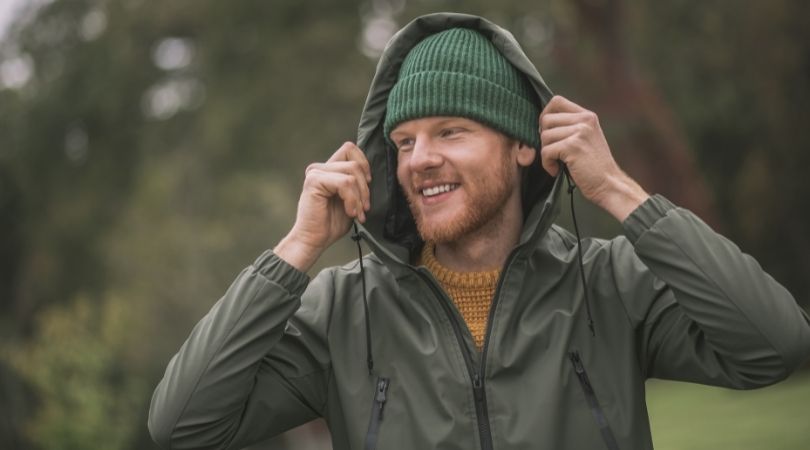 Sustainability, Breathability, and Waterproof Ability
Spring is in the air – can you believe it? Warmer weather means more time outside… but also more of that life-giving goodness that comes with this time of year: rain.
Finding reliable and comfortable rain gear is important – and finding sustainable rain gear that doesn't negatively impact the beautiful green outdoors is just as important. That's why we compiled a list of the best rain jackets that will leave you feeling good, both because you'll stay dry and you'll be supporting brands that truly care about the planet.
Read on to discover 8 of the best men's sustainable rain jackets.
Best Sustainable Rain Jackets Available for 2022
Price:
$120
Sustainable Materials:
Recycled Nylon
If you needed to take one jacket on a trip, this would be it. Versatile, comfortable, and perfectly stretchy, the Viento was born to explore. In addition to its lightweight protection, this jacket feels great on the skin.
Another functional, sustainable, and stylish option from Cotopaxi, one of the best brands in the business when it comes to eco-friendly garments.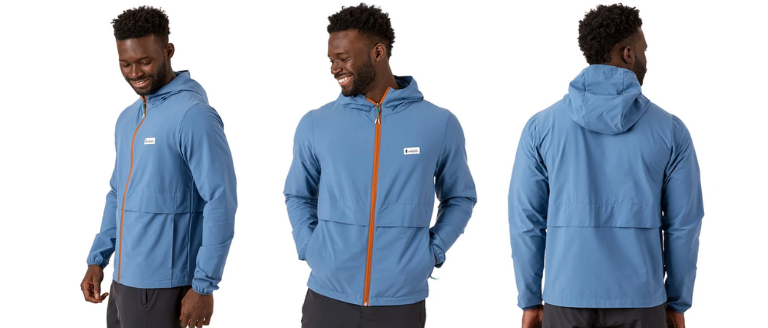 Price:
$128
Sustainable Materials:
Recycled Polyester
Waterproof yet breathable 2-layer fabric, this product is made in GOTS-certified factories from sustainably-sourced materials.
United By Blue believes business not only has the ability to be a part of environmental solutions, but also a moral responsibility to address them. And they're doing a pretty good job with their rain jackets and other exceptional products.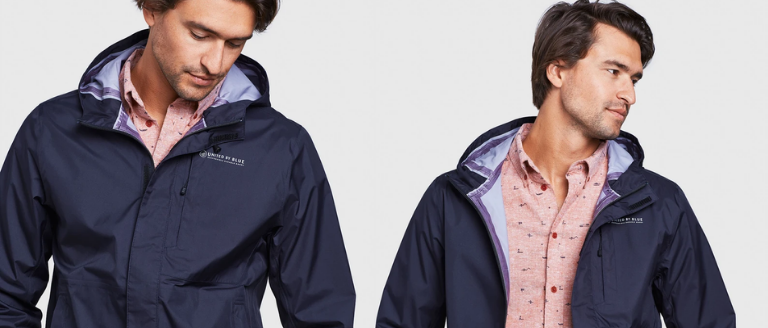 Price:
$131.49
Sustainable Materials:
100% GRS-Certified Recycled Polyester
This jacket is fully waterproof with a 10mm Hydrostatic Head waterproof rating. Throw in a microporous breathable membrane, and it's the perfect active waterproof for your adventures, wherever they take you. Finisterre did a great job when creating this sustainably-made rain jacket that will keep you dry at all times.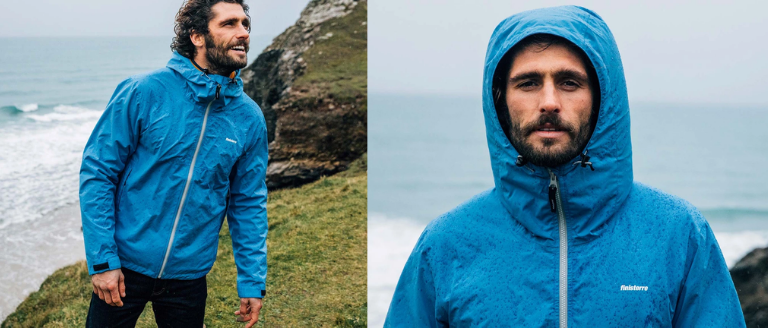 Price:
$89.95
Sustainable Materials:
Recycled Ripstop Nylon
The Rainier Rain Jacket is waterproof, breathable and windproof. REI Co-op has created the perfect, eco-friendly option that makes it fun to go outside and play, no matter what's falling out of the sky (unless it's ash or meteors, in which case you should probably go inside as quickly as possible).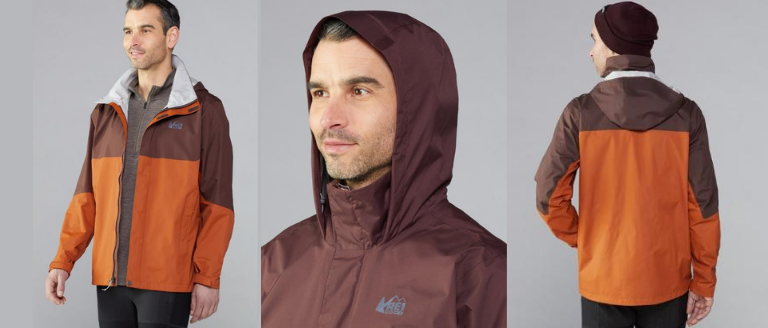 Price:
$325
Sustainable Materials:
100% Recycled Polyester, Wool, Cotton, PET, and Nylon
Ecoalf, which started with truly innovative recycled shoes, has now created a truly innovative recycled jacket.
The recycled polyester used to make this Canada jacket is water-repellent, waterproof, and breathable – perfect for trips to the mountains or for everyday city wear, as it is lightweight and durable.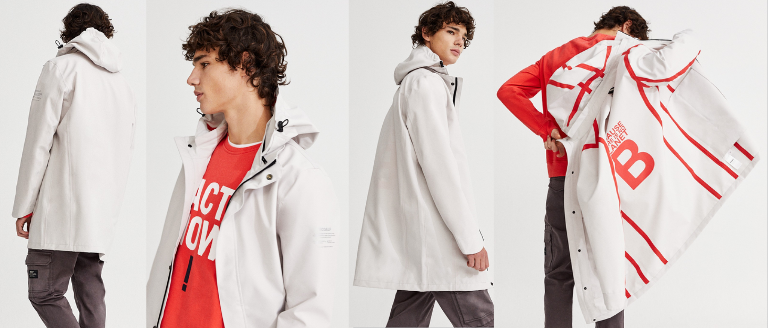 Price:
$129
Sustainable Materials:
Recycled Nylon and Nets
Patagonia is a leader in outdoor wear, and their Torrentshell Pullover is no exception.
Simple and unpretentious, this jacket uses 3-layer H2No® Performance Standard technology for exceptional waterproof and breathable performance.  You can count on all-day comfort and long-lasting waterproof durability with this beauty.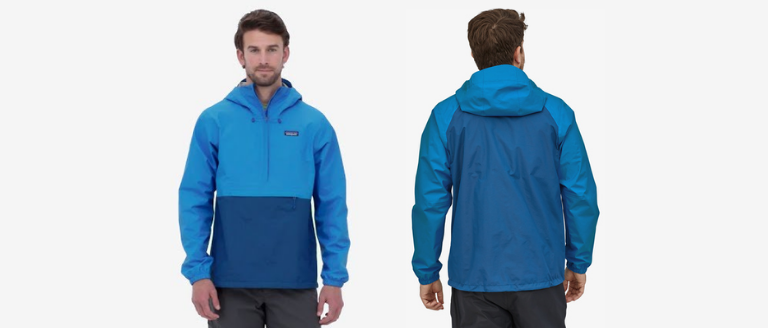 Price:
$59.99
Sustainable Materials:
100% Recycled Nylon
Meet Marmot's vision of the environmentally conscious and high-performing next generation: the lightweight PreCip Eco Rain Jacket.
The waterproof yet breathable, recycled nylon face fabric lasts longer than their previous creations, thanks to the advanced technology of new microporous coating. Sturdier and more durable than ever with a patented dry-touch finish, this is a packable water-repelling jacket that stuffs into its own pocket will become an everyday piece that you can feel good in and about.
Price:
$175.41
Sustainable Materials:
PET Bottles, Fishing Nets, Castor Oil, Tencel
Vaude wants to create options for outdoor sports, for everyday life, and for the advancement of sustainable products.
This particular lightweight 2-layer bike rain jacket with a thin mesh lining offers reliable protection from the wind and rain during your daily cycle. The hood can be rolled up and stowed in the collar. And it comes standard with countless reflective elements.
Stepping out of your comfort zone is never easy – especially if it's raining outside! These brands not only make the best rain gear to keep you comfortable when the elements are difficult, they are the best options to make that metaphorical step as comfortable as possible, too. These are all great options to help the environment while staying as dry as possible in a pouring downfall. One product a time, we can make the world a greener place.
Want to shop some of the most revolutionary companies? IndieGetup makes it easier for you to have access to clothing with a conscience. Click here to visit more brands we love that are creating a greener future.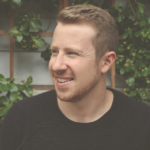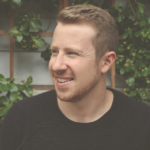 About Author
Brandon
Owner of IndieGetup, the premier sustainable marketplace for men to shop ethically.