Sustainable Alternatives: Chubbies
Sustainable, Yet Stylish Swimwear!
It's swimsuit season and we're back with another Alternatives blog! Today, we're giving you seven sustainable alternatives to Chubbies! We love educating the masses on all the alternative possibilities available to brands we know and love. However, most of these brands, Mother Earth does not love. Can you blame her, though? Would you like someone who was destroying you? The truth is, there are so many excellent options too, it just takes a bit of digging.
We did the dirty work, and we're coming atcha with seven sustainable alternatives to Chubbies. All the sustainable swimsuit options you could ever wish and dream of!
Top 8 Sustainable Alternatives To Chubbies
Price Range:
$99
Sustainable Materials:
SEAQUAL, Recycled Polyester
"Swimwear is an entirely new category for us so we spent a lot of time researching technical fabrics as well as working out how to combine an athletic approach into something that could still work as a more tailored short," shares co-founder August Bard Bringéus. "Any garment is only ever as good as the fiber it is built on, so we're thrilled to have found SEAQUAL INITIATIVE, who have developed a source material that doesn't compromise on the product's technical integrity." In addition to the main body fabric, where possible every element of the ASKET Swim Shorts are made from recycled polyester, from the mesh to the drawstrings as well as the trims (eyelets, zipper, thread, everything except the elastic waistband).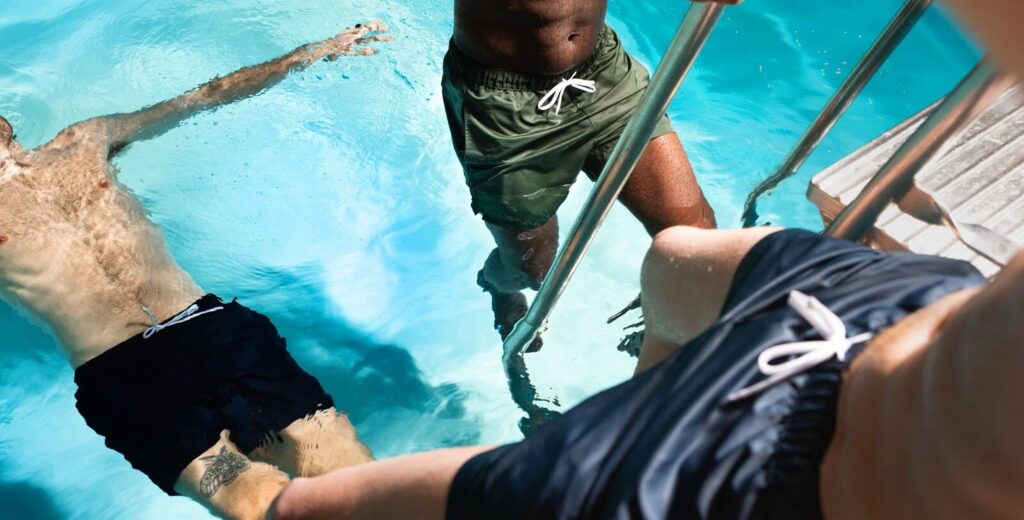 Price Range:
$50 – $70
Sustainable Materials:
4Ply Supplex
First up is Toad & Co. To be honest, Toad & Co has always been a fan favorite. They are that type of brand that reminds you that there are so many good people doing exceptional things. From their eco materials, reusable shipping, and their renewable fashion initiatives, they are doing the most for the Earth. Sustainability is not an option for them. It's a requirement.
Their swim trunk selection is something to write home about, too. All their trunks are made of 4-Ply Supplex, which is Toad & Co's performance-proven nylon. This fabric is incredibly durable and quick-dry, making it the perfect swim trunk fabric. You can do more than swim in them, though. You can snorkel, paddle, surf, swig a margarita, play frisbee, and even head to town in them.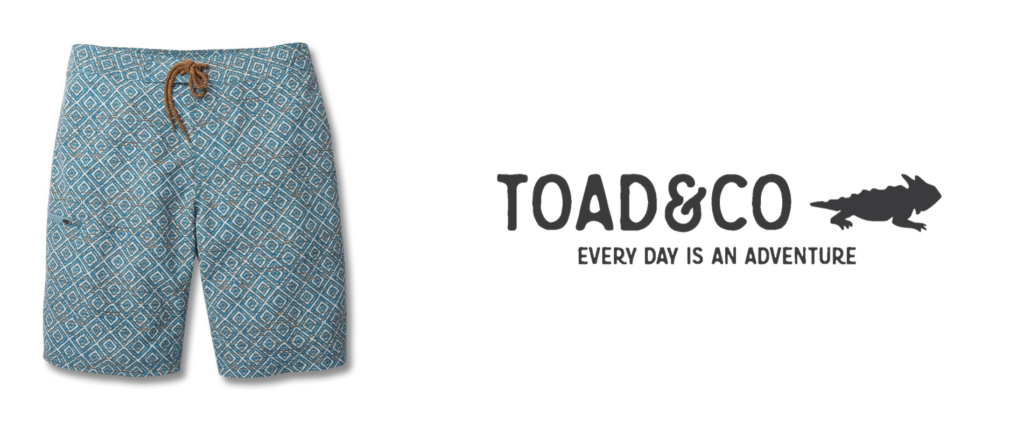 Price Range:
$68 – $150
Sustainable Materials:
86% recycled polyester and 14% spandex with Quick Dry.
The Apex Trunks By Outerknown and Kelly Slater are top-of-the-line swim trunks. They are designed for the people AND the planet. They are even sewn in a Fair Trade Certified facility. This means that the makers have been paid premium price points for their work, and collectively decide how to use the extra funding to better their lives.
Now let's talk about the actual trunks, Kelly Slater, 11x World Champion developed and tested these trunks. They have over 15 colorways to choose from and are guaranteed mobility, quick-dry, and durability. The trunks are also built with a bonded back pocket with Aquaguard zipper and a key loop! Can you ask for more?!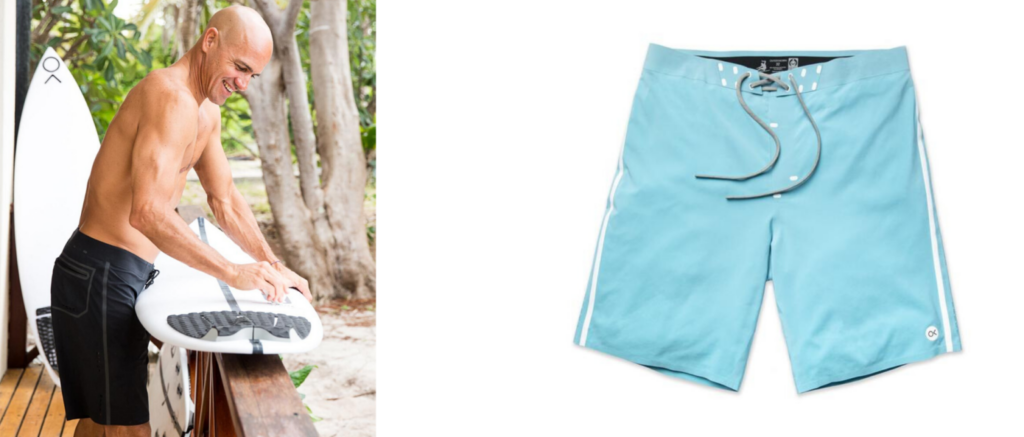 Price Range:
$60 – $90
Sustainable Materials:
80% Recycled Polyester (made from 11 plastic bottles), 12% Cotton, 8% Spandex
Fair Harbor was quite literally made for this! They have some of the most stylish, good looking swim trunks we've seen. If you love a good print, you're going to LOVE Fair Harbor. These swimmers are made with durable, high performance, quick-drying fabric, have side pockets, a built-in cool max liner, and a comfortable elastic waistband! The Bayberry Trunks, in particular, come with built-in compression underwear that will keep you cool and dry after a swim or a run! Our favorite part? 11 Plastic water bottles were made in the making of these trunks!
Fair harbor does so much as a brand as well. It was started by two siblings who grew up on Fair Harbor, Fire Island, and started their company to reduce ocean plastic. With so many brands not thinking about the Earth, it's so refreshing to find one that does finally. They've recycled over 2.5 million plastic water bottles, and on the way to 3 million next year!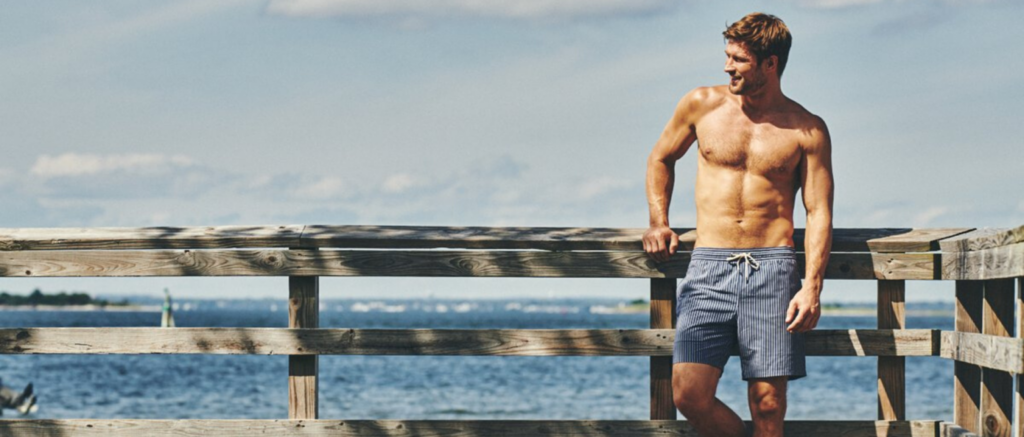 Price Range:
$95
Sustainable Materials:
92% Recycled Polyester, 8% Spandex
The Tropics keep the Earth in mind with everything they do. Their vision is much greater than creating a brand, but it's having a positive impact on the Earth and establish a source of inspiration for individuals to connect, collaborate, and make a lasting difference.
Their standard Trunk in Plunge is a timeless piece that will look good at the beach, on the boardwalk, or at a sandy dinner. Built with recycled polyester and spandex, these are as comfortable as they get. This pair of trunks is made of 11 plastic water bottles, too! Some might even say it's "the best pair of boardshorts they've ever owned!"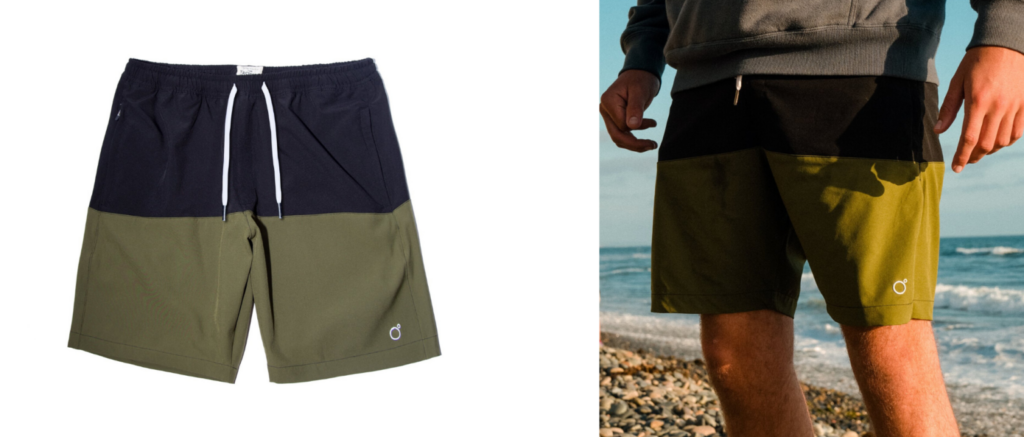 Price Range:
$50-$70
Sustainable Materials:
36% Polyester from Coconut | 34% Recycled Polyester | 20% Cotton | 10% Spandex
Have you heard of Vissla? If not, you're in for a treat! This brand is one of our favorite sustainable alternatives to Chubbies! They use the process of upcycling to turn waste into treasure. They use Cocotex yarn made of coconuts and blend it with Repreve recycled polyester yarns to create a perfect performance boardshorts. Vissla has been so innovative and user-focused. These boardshorts fight odor, stretch, breathe, and, most importantly, last a long time!
Their boardshorts are built for style, comfort, and sustainability. We especially love these retro-fit board shorts made of coconut and recycled poly fibers. They have a 4-way stretch and tethered waistband. We know you'll be in the sun with these too, so they have built-in UPF 50. We promise, as soon as you try these, they're going to become a season staple.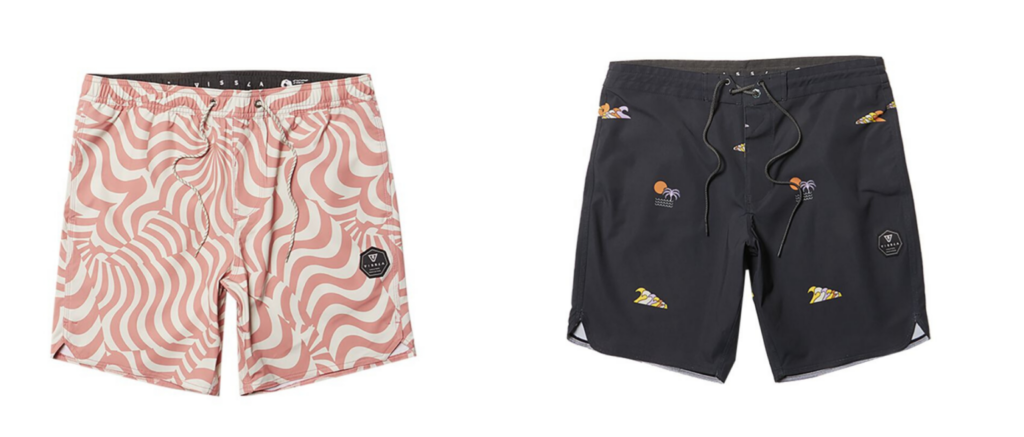 Price Range:
$60-$70
Sustainable Materials:
60% recycled polyester, 36% organic cotton, 4% elastane
If you have been following us for some time, you already know we are a big fan of United by Blue. For every product purchased, United By Blue removes one pound of trash from the ocean and waterways! So far, they have removed over 3 million pounds of trash! They know the ocean and trash pollution problem is one of the most pressing issues of our time. United By Blue leads by example and is a part of the solution rather than the problem.
We love their Men's Organic Scallop Board Shorts. It comes in 5 colorways and made with a cotton/poly blend. These shorts are detailed with a gusset fly and drawcord waistband. Whether you're swimming, tanning, surfing, or lounging, these will keep you looking comfortable and cool.
Price Range:
$50-$70
Sustainable Materials:
Recycled water bottles, Recycled coconut shell button on back pocket
Myoli Bay is named after a small island off East of Cape Town, South Africa. Their brand focuses on all-day comfort and freedom in your swimwear, and every beach should be heaven on Earth. That's why they do what they do! They make swimwear out of other people's trash, and they dedicate 15% of their sales to ocean and beach cleanup!
These trunks made the list because they are genuinely a great alternative to Chubbies. They have that shorter swimsuit look for those men who have been squatting all winter, and ready to show off the quads. No shame, we agree, ya look good! They also ditched the mesh liner and replaced it with a "privacy screen" to protect you from oversharing. They are nice and stretchy, so if you literally want to squat in them, you can!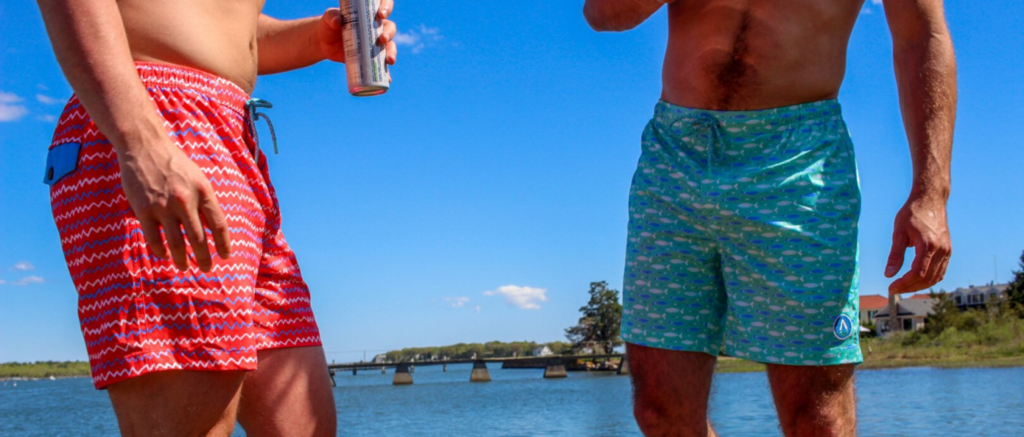 We know it's easy to fall back on the brands we know. There are so many great sustainable alternatives to Chubbies that are high quality, affordable, and leave no carbon footprint. These amazing brands are changing the swimwear game and doing so much good for the earth. Investing your dollar to support these sustainable alternatives to Ray-Ban is such an easy way to vote for a greener planet!
Want to shop some of the most revolutionary companies? IndieGetup makes it easier for you to have access to clothing with a conscience. Click here to visit more brands we love that are creating a greener future.
If you liked this article and want to find out more coverage on these brands be sure to follow us on all social networks. Not seeing a brand and think it deserves the spotlight, DM us on Instagram and we'll see if we should update the list.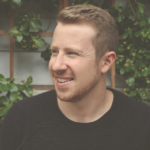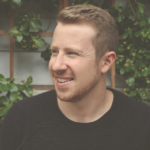 About Author
Brandon
Owner of IndieGetup, the premier sustainable marketplace for men to shop ethically.