9 Sustainable Men's Dress Shoes for the Conscious Luxury Consumer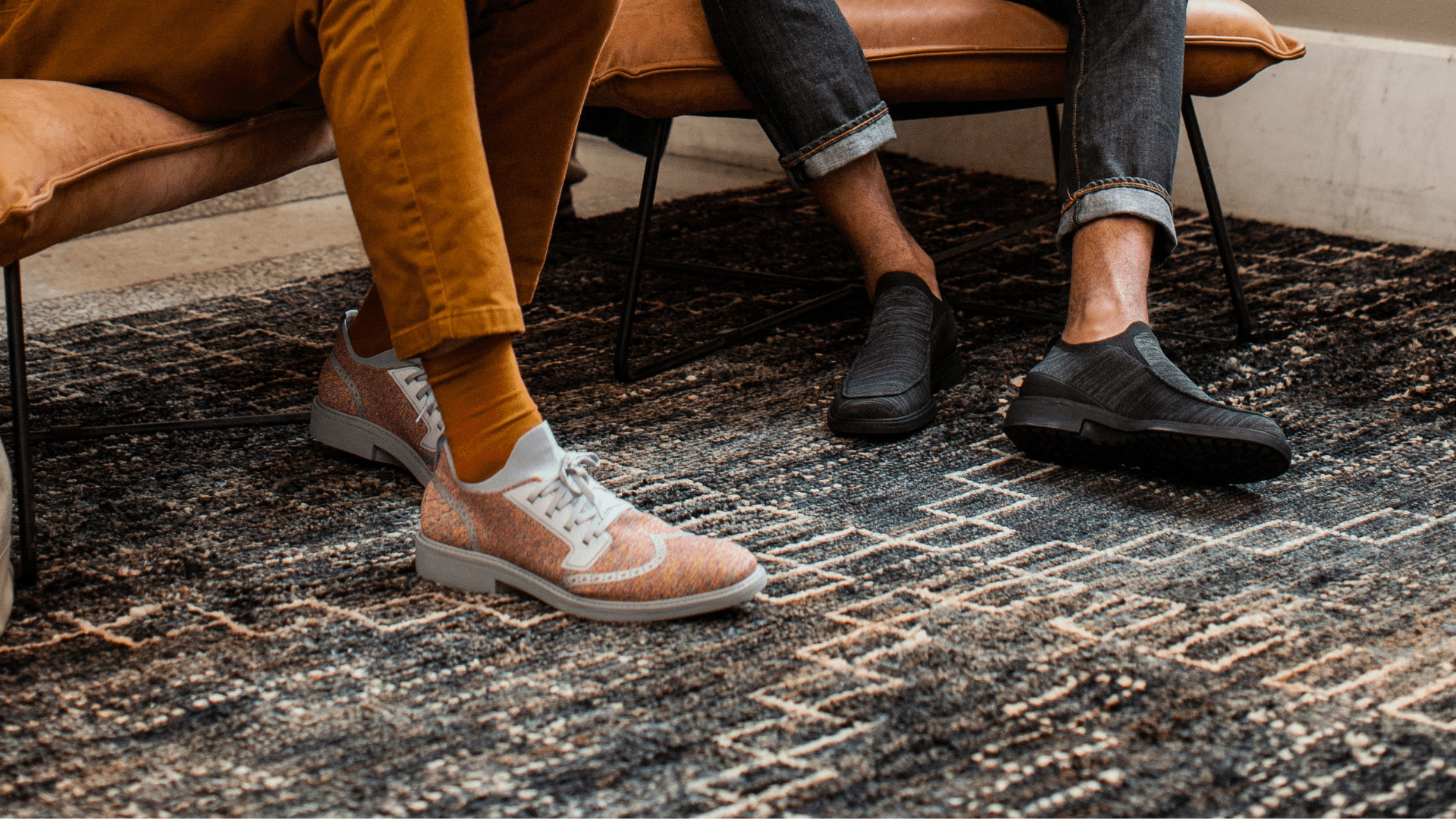 Finding the perfect dress shoe for your style – and for the environment
We all want to look good and feel good. And they say it's not the clothes that make the man – it's the shoes.
Finding good shoes that are good for the environment are tricky, though. Sometimes it's hard to feel good when you know that the shoes you are wearing look great but come at the cost of animal or environmental welfare.
That's where we come in. We did all the heavy lifting and found 9 sustainable men's dress shoes that will have you looking and feeling good, with every last one of them being sustainable and GOOD for the environment.
Read on to discover 9 sustainable dress shoes that men everywhere should check out!
01
The Luca
Adelante Shoes Co.
$75
Adelante employs expert artisans in Pastores — all of whom earn over the Living Well Line — to handcraft men's and women's leather shoes and accessories. Adelante's are made-to-order and shipped directly to your door in less than two weeks. After your order is placed, you'll receive personal updates from your individual craftsman throughout the shoemaking process.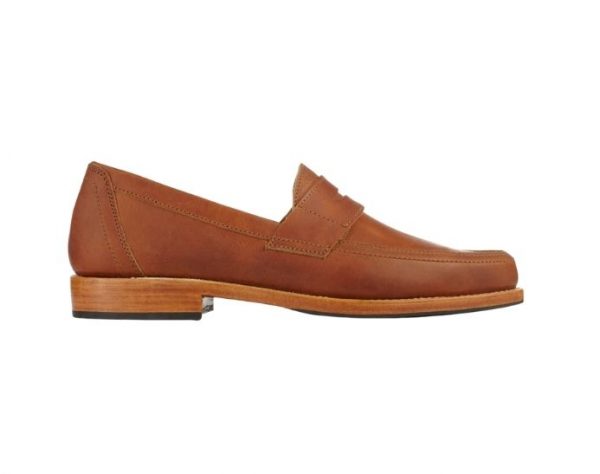 02
The Derby in Ash Gray
Oak Studio
$165
Oaka Studio redesigned the dress shoe from scratch fixing all of the things we hated about traditional dress shoes in order to improve health, mobility, and comfort.
The whole shoe is soft and flexible for extreme comfort. The upper is made from flyknit fibers that helps reduce production waste compared to more traditional manufacturing processes.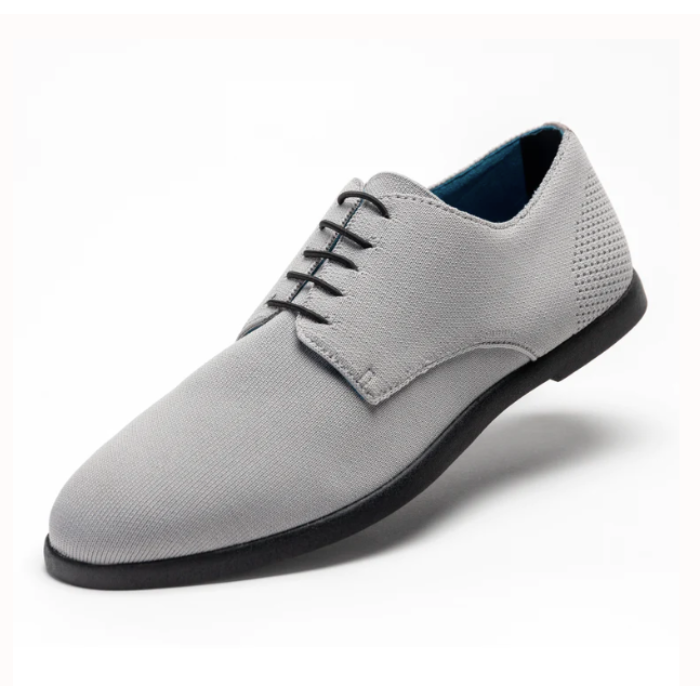 03
The Alrigo
M. Gemi
$248
M. Gemi is a form-breaking movement in premium Italian craftsmanship that brings artisanal factories a new way to thrive. They pride themselves on small-batch quality and are committed to partnering with small artisanal workshops across Italy – all of their shoes are handmade by families who have been honing their craft for generations.
This beautiful, classic lace-up shoe is one of their best men's dress shoes on offer. It is distinguished by a brand-new construction yielding a surprisingly flexible and stunningly comfortable sole. It is finished with handsome perforated brogue detailing that will spiff up any occasion.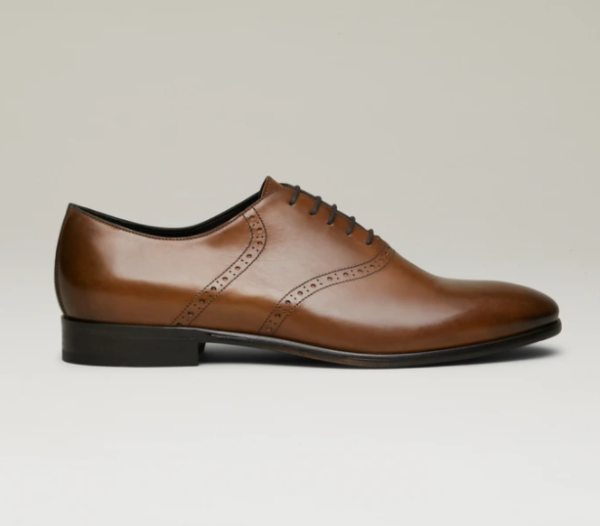 04
Jake Brown Vegan Leather Shoe
Nae Vegan Shoes
$179
Meet Jake, the classic blucher-style men's shoes from Nae Vegan Shoes, a Portuguese footwear brand with a vegan philosophy and concerned with environmental sustainability – with all products hand made in Portugal under fair working conditions.
These formal shoes with a minimalist design are lined in OEKO-TEX STANDARD 100 certified microfiber, which is a form of eco-friendly vegan leather produced in a CO2-free system. On top of being stunning and incredibly comfortable, this shoe is highly water resistant and breathable, making them perfect for any season – as well as any occasion.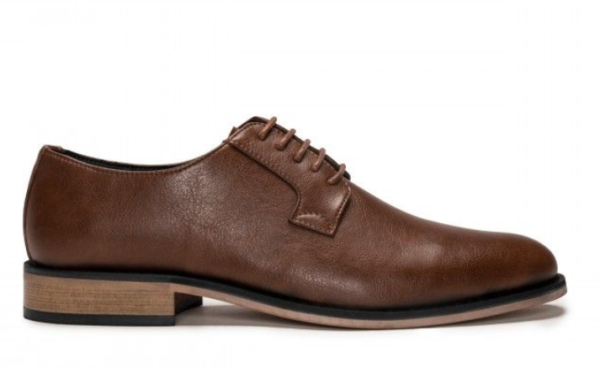 05
Men's Vegan Dress Boots
Will's Vegan Store
$139
Wow! Talk about ethical – these might be the most sustainable men's dress shoes on the market from start to finish. These elegant, stylish dress boots are ethically made in Portugal under European Union employment, discrimination and health & safety law.
They are certified carbon neutral from sourcing to delivery and are packaged in sustainable non-treated paper and cardboard. To top it off, they are made from always and forever vegan leather. Like we said: Wow!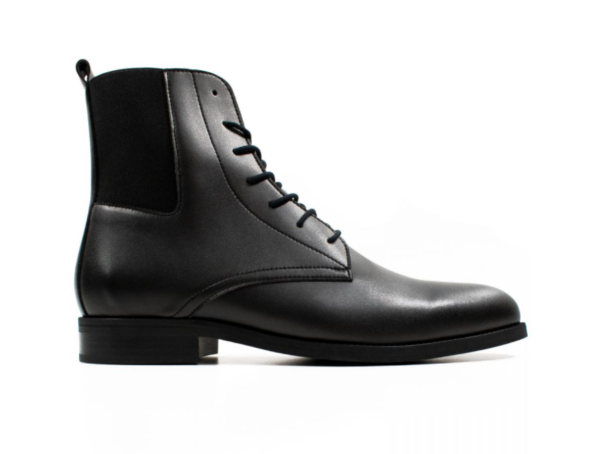 06
SNEAK Black Apple Skin Shoe
Po Zu
$129
This may not be the dressiest shoe in the world, but it is still a beautiful, functional example of footwear that will go well with several different styles. They have a high-grip natural rubber sole, which is stitched for durability, water resistance, and eco-friendliness. The Apple Skin that comprises the bulk of the show is a vegan alternative to leather, and it features a natural latex & cork sole for added comfort and bounces underfoot. These useful, attractive, more-casual-than-dress shoes are made in Portugal, like so many other great sustainable footwear products.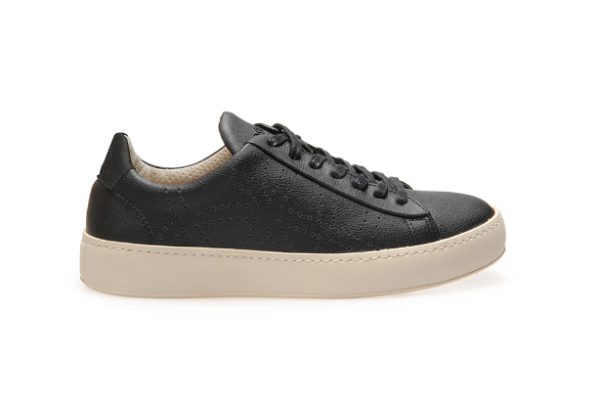 07
Alton Shoe
Matt & Nat
$175
Stylish, elegant, sophisticated – this men's Chelsea dress boot is the perfect accompaniment for formal attire. The elastic gore fabric, pointed toe, and 1.5" heel outsole give this shoe a distinguished look. Made by MATT & NAT, this shoe is made with all the core values that this brand exemplifies, including social responsibility, excellence, inclusiveness, integrity, learning, authenticity and, of course, love. Inspired by the textures and hues of nature and, to better protect it, Matt & Nat aim to constantly be better. That's something we can definitely get behind.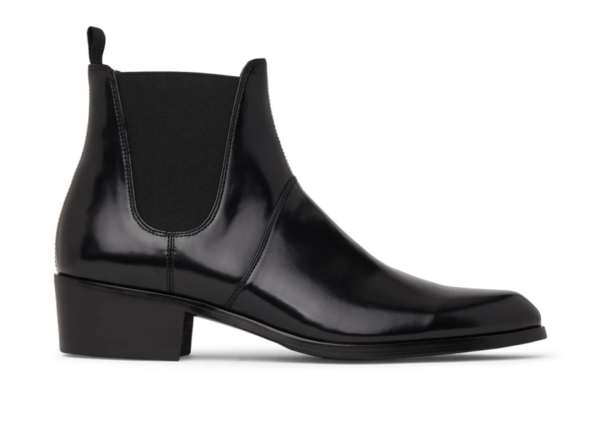 08
Travel Derby Shoe
Nisolo
$104
For those that want to travel without compromising on style, Nisolo created the perfect travel dress shoe. They combined soft leather with an XL Extralight® sole to make the Derby 3x lighter than your average shoe at less than 1lb per pair – and they are designed to be completely collapsible so that you can easily pack them for your next trip!
Travelers everywhere will immediately grasp the impact that these light, collapsible shoes have on their suitcase, as well as their peace of mind: the Travel Derby is handcrafted in an ethical factory that Nisolo owns and operates in Peru.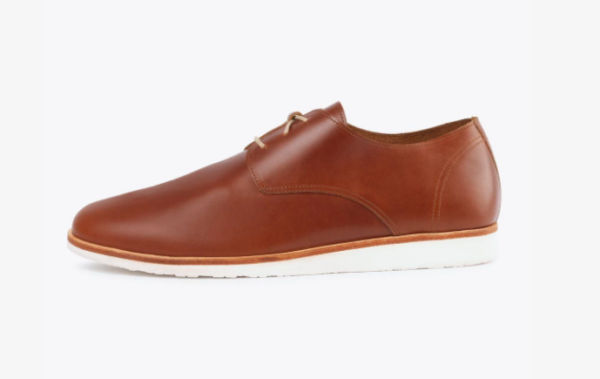 09
Wasteland Boot
Brave Gentleman
$220
Designed in New York City by Joshua Katcher, the updated Wasteland Boot is a suave, upscale take on the classic desert boot. This boot, alone with the entire Brave Gentleman footwear collection, is expertly made in Brazil using future-leather – a gorgeous, durable, Italian-milled material made from Oeko-Tex® Standard 100-certified hi-tech PU microfibers.
In addition to its stunning look and unique style, the Wasteland boot is fully vegan and eco-friendly from sourcing to its ethical manufacturing in Brazil.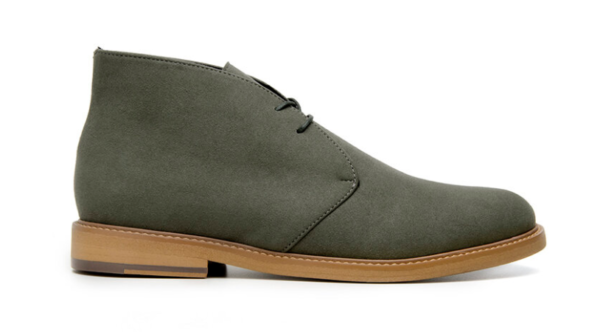 Alright guys, that's a wrap! 9 sustainable men's dress shoes that you're sure to love! Sustainable fashion shouldn't be hard, yet we know shopping sustainably can be overwhelming at times. One article at a time, we hope to make it a bit easier! Discover a full list of sustainable menswear brands here.
Want to talk more about eco-friendly fashion or anything else on your mind? Get in touch! We love to talk about all things indie garb-related!
If you liked this article and want to find out more coverage on these brands be sure to follow us on all social networks. Not seeing a brand and think it deserves the spotlight, DM us on Instagram and we'll see if we should update the list.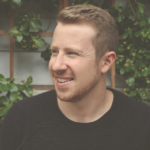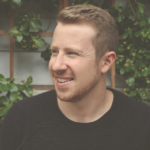 About Author
Brandon
Owner of IndieGetup, the premier sustainable marketplace for men to shop ethically.