13 Sustainable Men's Jeans and Denim Brands Every Guy Needs to Check Out
Gents, we found the best eco-friendly jean / denim brands to fill your wardrobe. Oh, and #FuckFastFashion.
Eco friendly fashion, the slow fashion movement, ethical clothing. You've heard all the buzz terminology, but what does it actually mean?
Slow fashion is all about ethically created and sustainably sourced clothing. Consumers across the globe are embracing this new trend in fashion. Does it have staying power, though?
It needs to. The fast fashion industry, including popular stores like Forever 21 which churn out mass-made clothing at an alarming rate, pollutes the earth. That makes it a big contributor to global warming.
The power to save the earth by supporting eco friendly clothing brands starts with you. Read up on these eight sustainable jean brands every guy out there needs to know about!
Sustainable Men's Jeans and Denim Brands 2022
1. Warp + Weft
Price Range: $74-$98
Sustainable Materials: Non-toxic, nonstick ceramic coating, stainless steel & nesting beechwood spatula.
There's a lot to love about Warp+Weft. First of all, they're incredibly focused on sustainability in their production.
You might think that just because their textile factory is humongous, there's no way it concerns itself with sustainability. Wrong. It's actually one of the most sustainable in the world.
A normal pair of jeans takes about 1,500 gallons of water to product. At Warp+Weft's factory, it takes only ten gallons. Not only that, but 98% of the water used gets treated and recycled.
They also use U.S.-sourced raw cotton, and German Liquid Indigo whenever they can. It's a super eco friendly dye that only twelve mills on earth currently use, which puts Warp+Weft among the sustainable elite.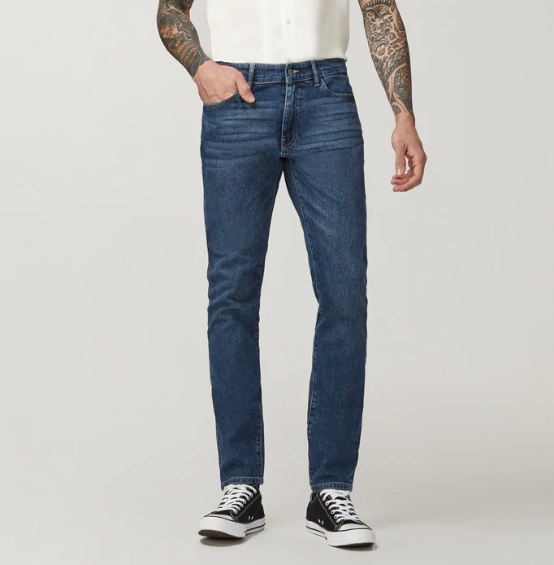 2. Friendly Blues
Price: $100
Sustainable Materials: Repreve
Friendly Blues aims to provide their eco-conscious community with premium, sustainably produced, affordable denim, that is eco-friendly, but doesn't sacrifice quality and comfort. Their dream is to expand their sustainable fashion offering and help lessen the impact on the environment by producing eco-friendly jeans that put a premium on both quality and comfort.
To drive real change, you need a fresh, innovative approach. Friendly Blues are able to manufacture their jeans by collecting cotton waste from produced pairs, and combining them with their recycled fabrics transformed from plastic bottles. By using Recycled French Terry Fabric in their jeans, they have created eco-friendly jeans that are not only sustainable but super soft and comfortable too.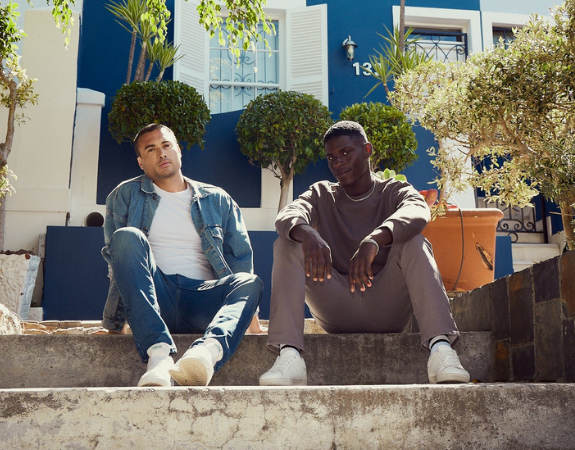 3. Outerknown
Price Range: $128 – $148
Sustainable Materials: Stainless steel skillet and pot with no coatings.
Outerknown makes a modern, slim jean that's stylish enough to wear to a trendy bar yet comfortable enough to wear on an airplane.
Outerknown commits themselves to sustainability. They certify all their jeans as fair trade, and they only partner up with others in the industry that share this same commitment.
They cut and sew all their denim in Vietnam at the Saitex factory, which is one of the top sustainable denim factories on earth. Their lifetime guarantee also embodies their commitment-if your jeans wear out or tear, OuterKnown will replace or repair them at no cost.
It gets better, too. Once you're all done with your OuterKnown jeans, you can send them back to be upcycled into useful material, like housing insulation. Reuse, indeed.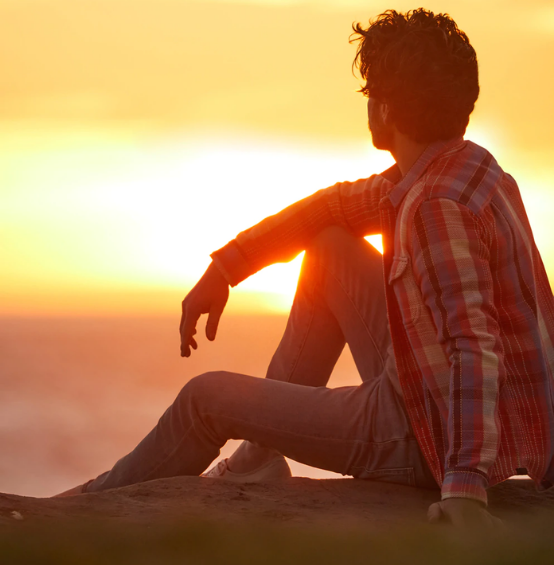 4.Organic Basics
Price Range: $135-$150
Sustainable Materials: Organic cotton
When it comes to the most sustainable Denim Brands For Men, Organic Basic's newly-launched collection reigns supreme. Fueled by their mission to create a 100% circular line of jeans, Organic basics eliminated all synthetic blends and opted for ethically-sourced pure organic cotton so that every pair can be recycled for as long as possible.
Currently, there are 5 different styles available in mid-rise and slim fit. On top of that, you can upgrade your denim chinos collection or choose the highly-coveted unisex denim jacket for all your future casual outings.
What's even more impressive? This inherently cool sustainable denim line along with every other piece on this B Corp's virtual catalog has saved 2.43 tonnes of waste from entering landfills due to their ethical business practices thus far.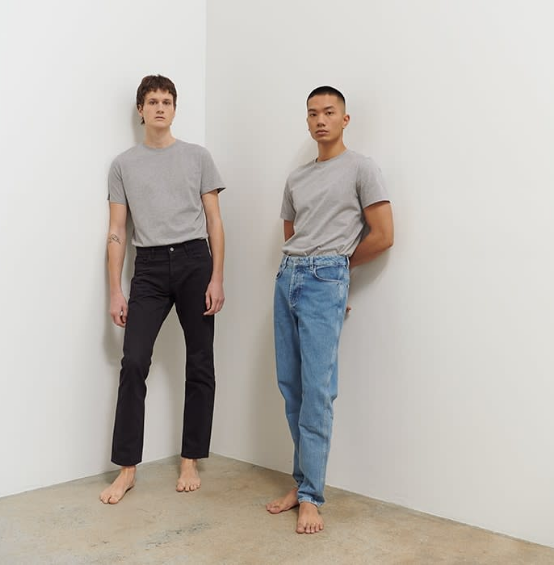 5. Taylor Stitch
Price Range: $128-$168
Sustainable Materials: Organic cotton
If you are on a quest to find the most sustainable denim brands for men that refuse to forgo comfort or style, Taylor Stitch's collection is for you.
Their 100% organic cotton slim jeans were not only woven on old-school shuttle looms, but also come in an array of different colors. The brand puts a modern twist on timeless basics meant to be worn for a lifetime.
Plus, if the old-fashioned American craftsmanship fails you for some reason, they are more than happy to repair or replace any defect outside of normal wear for the life. Lastly, the brand also carries some great certifications including Fair Trade Apparel, Schoeller Textiles AG, and more.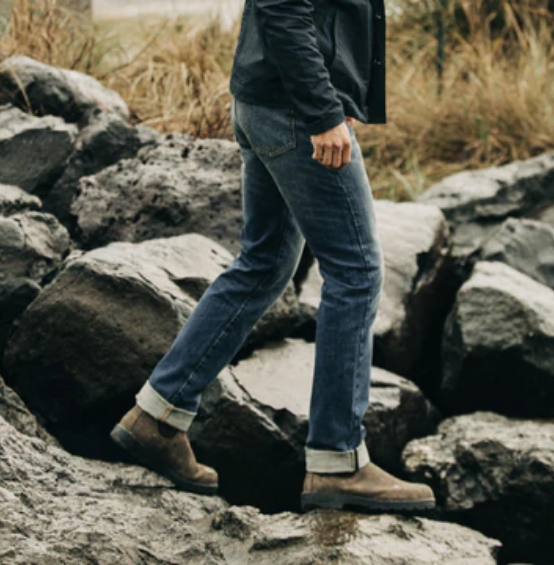 6. DL1961
Price Range: $125 – $178
Sustainable Materials: Non-stick ceramic, aluminum core, & stainless steel handles.
Here's the skinny on DL1961's jeans: they're comfortable as all get-out.
Their premium cotton is hand-chosen and ethically sourced, but it's not the only ingredient in their legendary denim. A dash of polyester and a sprinkle of lycra make these the yoga pants of men's denim (except nicer looking).
Their fibers are antibacterial and breathable, which means these jeans are great for long days out. Other jeans would get hot and uncomfortable, but these bad boys will stay comfy all day.
They're also, of course, mindfully made. DL1961 commits themselves to sustainability, energy efficiency, and innovative manufacturing practices.
7. Frank and Oak
Price: $118
Sustainable Materials: Burgundy clay
Frank and Oak have a wide variety of skinny to athletic fit sustainable jeans that look great. They are made with Hydro-less processing in a responsible denim lab, which means that they have eco-dye (ecofriendly dyes without chemicals) and are part of circular denim. They give denim a second life by upcycling instead of recreating more than they need to!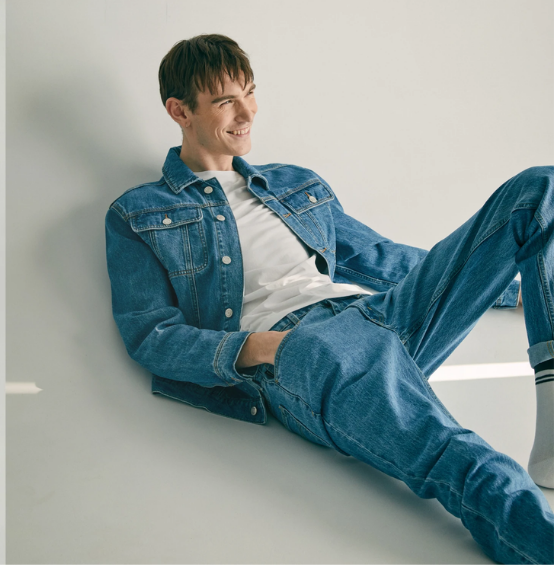 8. Mud Jeans
Price: $135
Sustainable Materials: 100% pure ceramic.
In your search for ethical fashion, you'll likely come across some brands that are all talk. Mud Jeans isn't one of them.
They're committed to innovation, which means they're always on the prowl for new and better ways to dye their jeans sustainably. Currently, their jeans get their color through ozone and laser only-no chemicals or water are used at all.
They also care about the hands that make their product. They've even gone so far as to pay a visit to their Tunisian factory, Yousstex International, as a team to see how the sausage gets made. They loved the family feel of the workplace, and are proud to support it.
Did we mention that their jeans are made with at least 23% post-consumer recycled cotton, too?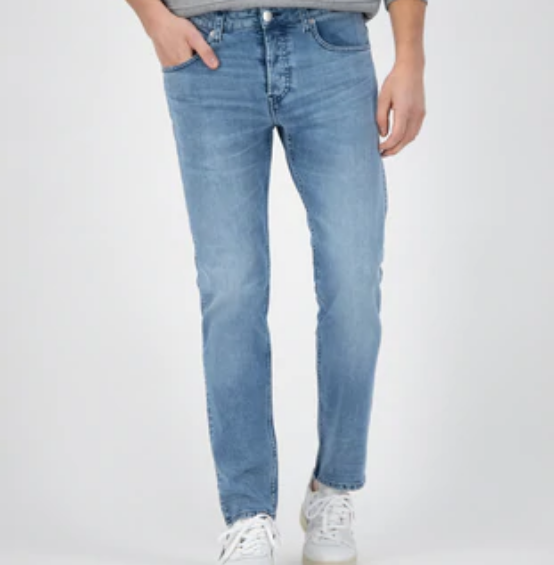 9. Asket
Price:  $155
Sustainable Materials: 100% recycled copper and cast bronze.
A monumental garment and the cornerstone of timeless style, no wardrobe is complete without it. The Raw Denim Jean has been engineered – from the first thread, to the last button – to shape after your body, fade with wear and mold according to your everyday life.
Cut from a rigid 13oz Japanese heritage raw denim and sewn to perfection in Italy, there's no garment that will age as well as this.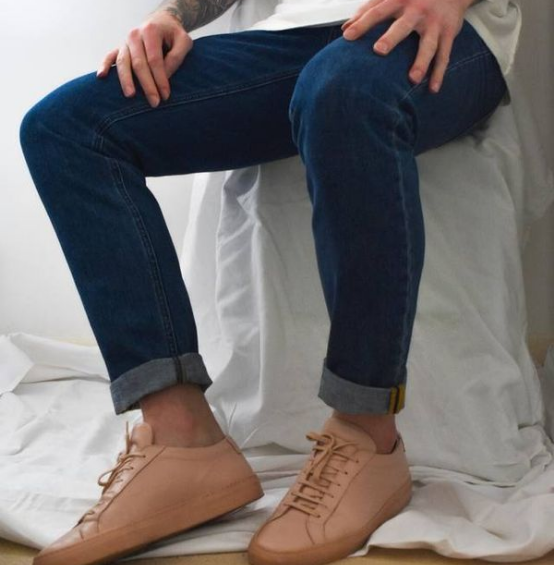 10. Kuyichi
Price Range: $100-$120
Sustainable Materials: GOTS, OCS, and GRS-certified organic cotton and 20% post-consumer recycled denim
Kuyichi is arguably one of the best sustainable denim brands men opt for on repeat. With over two dozen different styles ranging from straight classic blue and modern tapered wash-out designs to short, vintage blue options, they have all our basic sartorial needs covered.
To take the ethical men's jeans game to a whole new level, the brand utilizes 79% GOTS, OCS, and GRS-certified organic cotton and 20% post-consumer recycled denim to craft their collection.
What's even better? Unlike regular denim which needs 70 liters of water for a conventional wash, Kuyichi's jeans only need 11 liters of water for the rinse!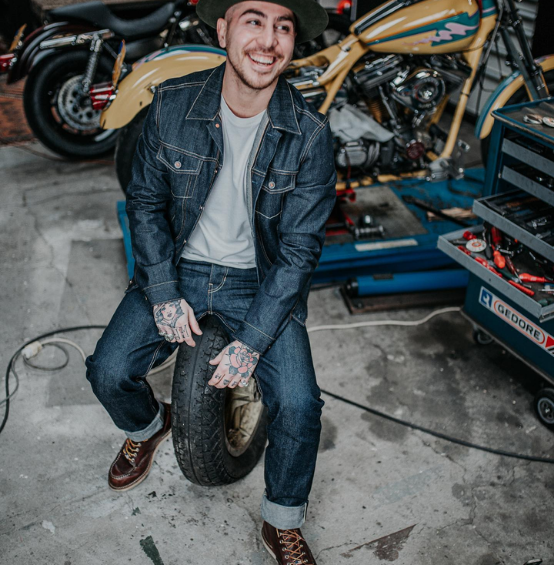 11. Unrecorded
Price:$139
Sustainable Materials: GOTS-certified cotton
Not many brands can rival the clean, modern aesthetic of the eco-conscious brand Unrecorded. They strive to maintain the highest environmental standards while also partnering with ethical factories that put the safety and health of their workers first.
No wonder why they are currently one of the most coveted sustainable denim brands for men. Whether you are interested in cropped jeans, straight jeans, hats, shirts, jackets, or even tote bags, you'll be happy to know that each product is ethically manufactured in Portugal.
On top of that, there is a breakdown of all the materials used for every pair of jeans along with their initial prices – pretty cool, right?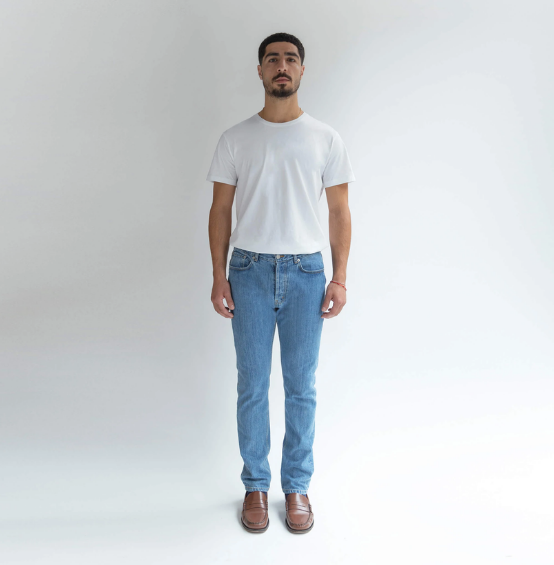 12. Unspun
Price: Starts at $200
Sustainable Materials: 79% better cotton initiative [bci] cotton and 14% recycled polyester
Unspun uses 3D body scanning technology to upgrade our wardrobes with high-quality staples that will last a lifetime.
Essentially, the 3D body scanning tech gives us a chance to create and upload our own digital avatars from the comfort of our homes using our phone's camera.
Once the process is complete, the brand designs our jeans on our digital models. This way you will also be able to "visualize your jeans" before purchasing and change the color, fit, waist rise, and hem according to your liking.
Consider it as a virtual changing room! In fact, some styles were designed for circularity and disassembly in accordance with the Ellen MacArthur Jeans redesign program.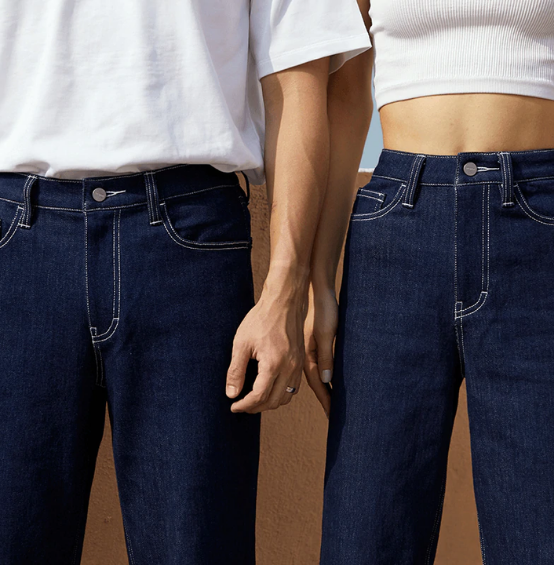 13. Outland
Price: $195
Sustainable Materials: 98% organic cotton and 2% elastane
As one of the most sustainable denim brands for men, the Outland, explains jeans have a dirty reputation. Luckily, they are on a mission to change that through their own collection of sustainable men's jeans cut and sewn in Cambodia from ethically sourced, traceable denim.
Whether you like to have an easy tapered fit or prefer skinny-fit jeans, this organic cotton collection will make you appreciate sustainable basics even more.
As they put it there is "No smoke. No mirrors. No greenwashing. Only genuine impact."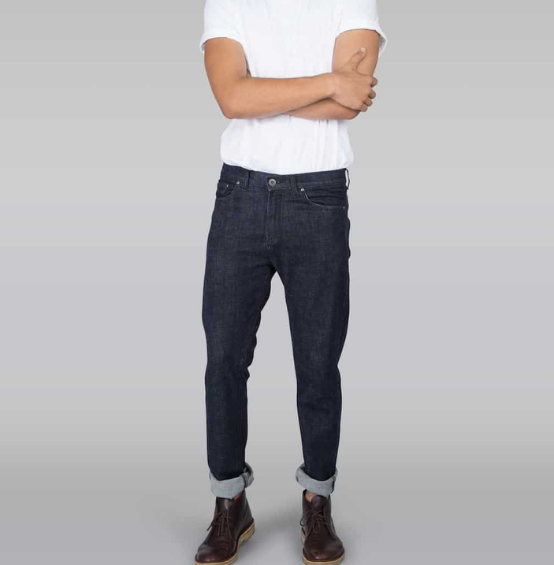 Now that you've read up on the some of the best eco-friend denim brands for you gents out there. You're ready to go forth and make a difference in the world. You're armed with your choices. Make them wisely.
Want to talk more about eco-friendly fashion or anything else on your mind? Get in touch! We love to talk about all things indie garb-related!
If you liked this article and want to find out more coverage on these brands be sure to follow us on all social networks. Not seeing a brand and think it deserves the spotlight, DM us on Instagram and we'll see if we should update the list.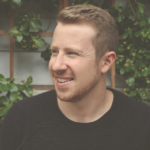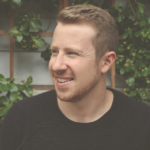 About Author
Brandon
Owner of IndieGetup, the premier sustainable marketplace for men to shop ethically.