8 Top Sustainable Running Shoes for Men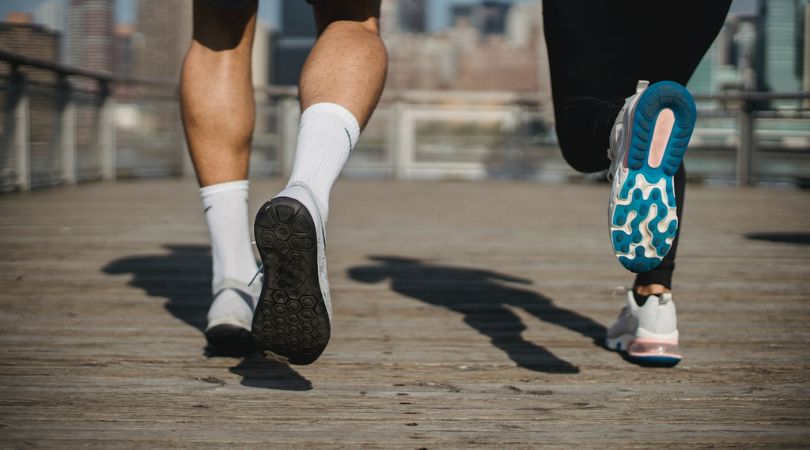 Sustainability In Every Stride!
Fast fashion isn't just about clothes – it's about shoes, too. This includes those footwear essentials known in some places as trainers, or, in the United States at least primarily as running shoes. But there's no need to worry: a few top brands are on it, and they've created truly sustainable shoes so you can go for a jog without feeling like you're harming the beautiful environment you're running in.
The shoe industry in general has been a little slower than the larger clothing industry in creating sustainable alternatives. That's why it's imperative to check out these products and see if they are a good fit for you – both figuratively and literally.
Read on to discover 8 top sustainable running shoes for men for 2023.
Top Sustainable Running Shoes Available for 2023
Price:
$110
Sustainable Materials:
Recycled Plastic
Vivobarefoot is the OG brand when it comes to toe shoes. But they're not just different because of how they look – they are different because of how they are made. This brand is constantly working on ways to make their footwear stay in use longer, with real end of life solutions when the time comes. The Revivo is an off-road favorite shoe for rocky terrains and landscapes that are best felt, rather than just seen.
Price:
$137
Sustainable Materials:
PET, Recycled Plastic Bottles, Cotton and Corn Leather, 100% Ricinus oil,  Rice Waste.
Veja came up with the 1st post-petroleum running shoe. It is ideal for daily workouts and running activities, and, unlike so many types of shoes and clothing in production today, it is made with 0% oil or petroleum products. Though you'd never know based on how these shoes feel.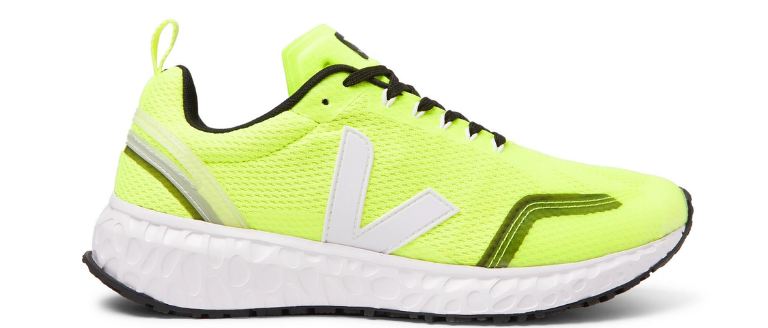 Price:
$99.90
Sustainable Materials:
100% Recycled Nylon, 100% PU, Recycled Polyester, EVA
Ecoalf is one of the pioneers of converting waste into shoes. And their men's vegan lace-up trainers (we'll call them trainers instead of running shoes because Ecoalf is a European company) are made from recycled nylon.
We can't say enough good things about this brand and the shoes they put out – though we will add one more by mentioning they are the first fashion brand in Spain to be awarded a certified B Corp. designation.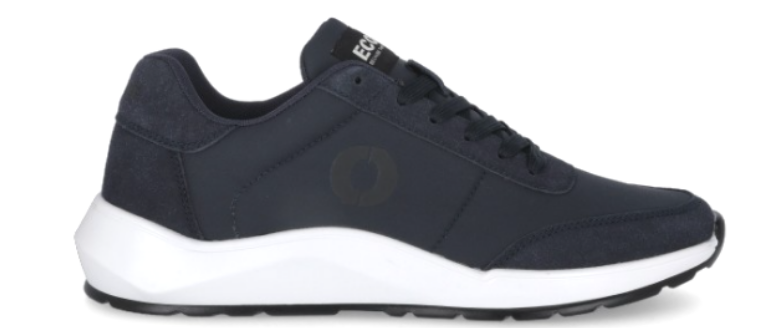 Price:
$130
Sustainable Materials:
Corn Fibre, Algae Bloom, Water Based Glue, Organic Cotton, Natural Rubber, Castor Bean Oil.
Weighing in at only 215g (0.5 pounds), this is a  lightweight and superfast running shoe for the gym, out and about, or your everyday run. The fact that it's sustainably made out of sustainably produced materials makes it even better.
Price:
$75
Sustainable Materials:
100% Vegan, Vegetable Fibre, Cotton.
These fully vegan, ultra comfortable, and breathable knit runners feature a specially cushioned footbed for performance-ready support. This is a shoe of the future with a classic white sneaker look that skillfully harkens back to the good old days. It's a feel-good shoe all around.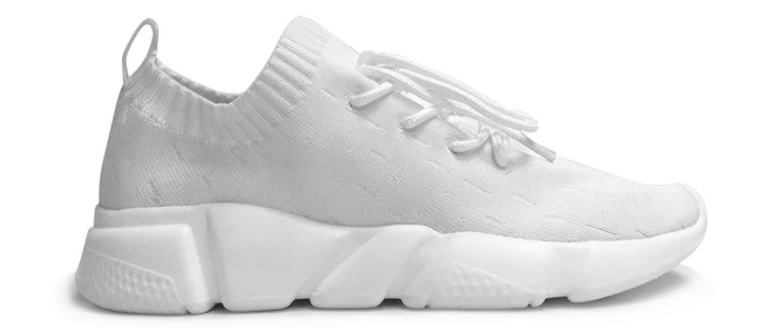 Price:
$125
Sustainable Materials:
Renewable and Natural Materials
Allbirds' most technical shoe yet, the Tree Dasher reimagines the traditional running shoe with natural materials engineered for serious performance. Each pair of shoes saves 5.6 plastic water bottles and roughly 160 gallons of water. This is the gold standard of function pairing with sustainability.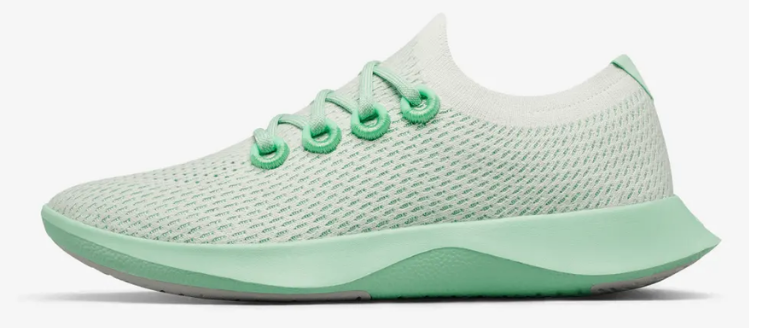 Price:
$150
Sustainable Materials:
Recycled Biodegradable Materials
The men's Levitate 4 Road-Running shoe features DNA AMP cushioning that's 20% lighter than before, all while providing the best energy return out of any comparable runners. It's hard to beat the technical performance of this shoe – even more so because it is made from sustainable materials in an ethical manner.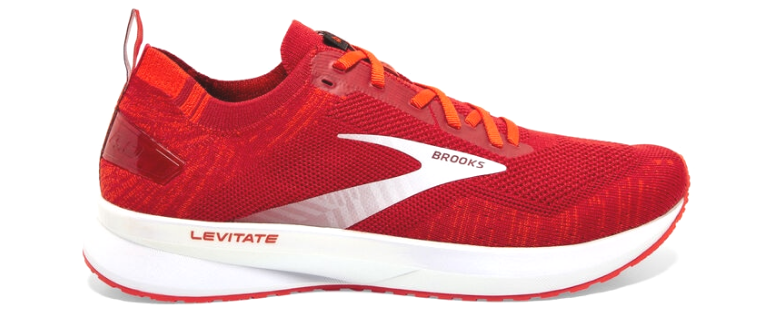 Price:
$175
Sustainable Materials:
100% Recycled PET Polyester, EVA and BLOOM Foam, Recycled Fish Nets, Recycled Polyethylene, Recycled Rubber
A minimalistic and agile shoe with ground control, extreme mud traction and low wet weight. A snug fit upper on a low drop platform create the feeling of wearing a sock with tractor tires. This shoe is perfect for fast running in very difficult terrain. But the best part of all is how well it is made from such good-for-the-planet materials.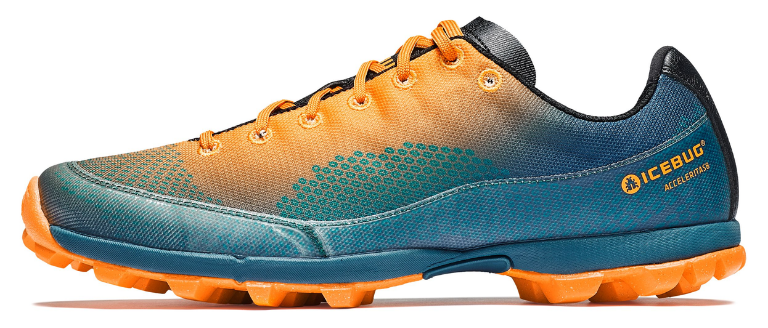 Stepping out of your comfort zone is never easy – and these brands are the best options to make that step as comfortable as possible. These are all great options to help the environment without having to give up your daily run or any exercise that requires running shoes. One step a time, we can make the world a greener place.
Want to shop some of the most revolutionary companies? IndieGetup makes it easier for you to have access to clothing with a conscience. Click here to visit more brands we love that are creating a greener future.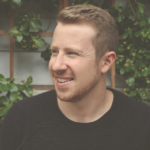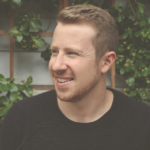 About Author
Brandon
Owner of IndieGetup, the premier sustainable marketplace for men to shop ethically.