6 Sustainable Suits for Men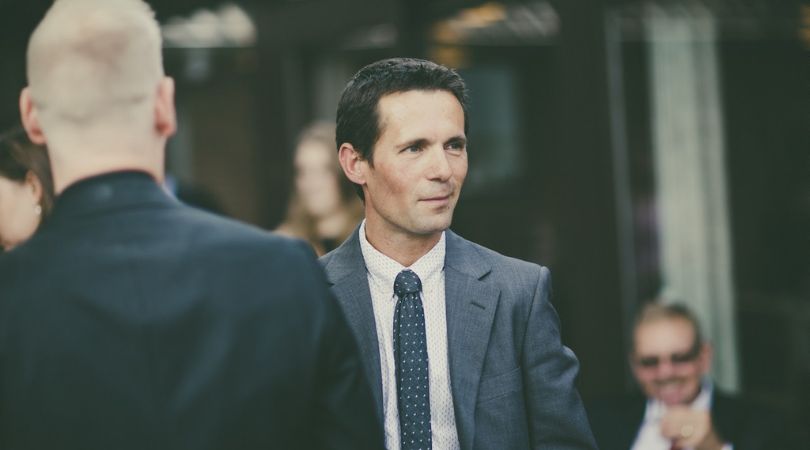 Every man should have a sustainable suit in his wardrobe.
Every man needs a well-tailored suit that makes him look and feel good. We know, there are so many options out there, it's almost overwhelming finding the right one. Have no fear; we did all the heavy lifting. We looked near and far, and we found the best sustainable suits for men. These brands didn't take any shortcuts. They found the most durable and sustainable materials and created top-of-the-line suits. Don't believe us? Read on to discover six brands that make the best sustainable suits for men.
Sustainable Men's Suits | The Complete List
Price Range:
$248
Sustainable Materials:
Organic Cotton, Recycled polyester, 9oz mid-weight Orbital premium performance twill,
Tact and Stone could have taken the easy way out, but that's just not how they do things. They commit to 100% sustainable fabrics and ethical manufacturing. Their entire supply chain is made of ethical partners that share their vision of changing the industry. They also believe in transparency. You can read all about their partners and their values on their supply chain page on their website.
The Traveler Blazer is one of the best sustainable, versatile, and stylish blazers we have found thus far. You can dress it up or down, and it never disappoints. One of our favorite things about this blazer is that it saves 228 gallons of water in the process, and uses recycled polyester which diverts plastics from the ocean. Now that's something to celebrate!
Price Range:
$98
Sustainable Materials:
98% Italian Wool, 2% Elastane
Everlane's Italian Wool Trouser suit is everything you could ever want in a suit. It's a slim-fit suit, and the wool is straight from Tollegno, Italy. The price is pretty much unheard of. Everlane added a 2% stretch and breathable recycled linen for comfort. If that doesn't sell you, take a peek at what it looks like. Everything made by Everlane is designed to last. They believe in quality over quantity. You can bet on wearing this suit for years to come.
Everlane is an exceptional brand that knows the positive impact it can have on the world. They spend time finding the right factories to work with. Factories that are ethically in line with their morals. They create real relationships with factories and use audits to ensure that the workers have reasonable hours, wages, and a great environment.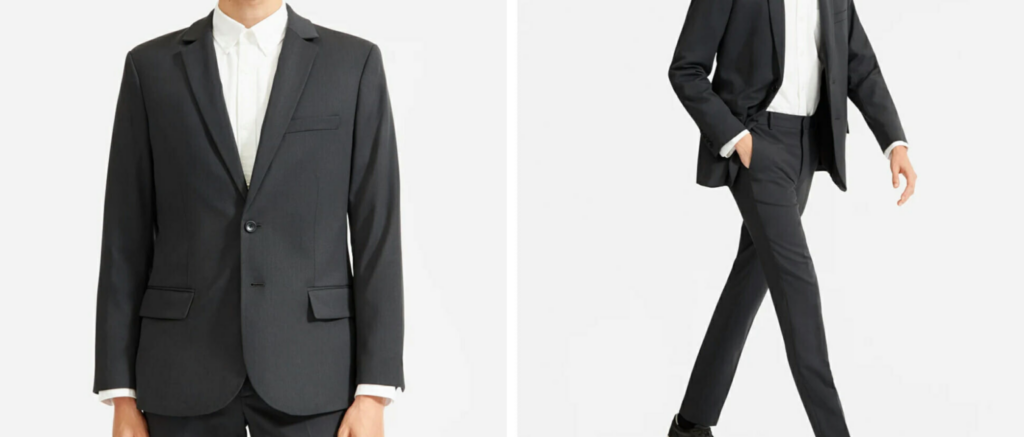 Price Range:
$289
Sustainable Materials:
100% Vegan – Cotton, Comfort Stretch, Solid weave
We found a gem of a brand and its Hangrr. They specialize in making perfect custom suits. Hangrr celebrates individuality. Their suits are perfectly fitted by A.I. Instead of making standardization the norm, they know being unique is something to be celebrated, and they do that by creating custom clothing unique to every individual. Hangrr is also doing big things for the designers and artisans behind the suits. They get paid 2x more than the local averages, due to eliminating the middlemen and completely reinventing the process.
We need to talk to you about something serious… You NEED the Pebble Brown Khaki Cotton Vegan suit. It's where relaxed meets formal wear, and we guarantee that you will probably be wearing it on your next island vacation. Its breezy, vegan, perfectly fitted, and handcrafted with love! The fabrics used are cotton, comfort stretch, and solid weave. As for your size, it's made easy by A.I., and you receive your unique sizing during checkout.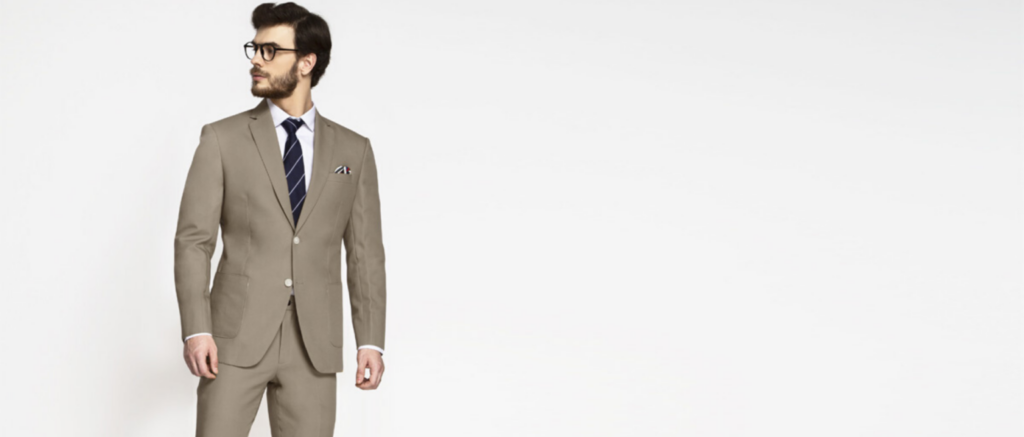 Price Range:
$300-$700
Sustainable Materials:
71% Recycled Polyester, 29% Viscose
Don't you love that feeling of putting on a suit and looking and feeling great? We love that. But you know what we love even more? Knowing that suit helps the environment rather than hurting it. When we found Moss Bros, we knew they felt the same way. They have a ton of sustainable suits for men to choose from. They have an Eco-Suit line cut from recycled polyester-blend cloth and canvas and trims chosen for their low impact on the environment.
The Moss London Slim Fit eco Blue Check Suit is as spiffy as it gets. It saves 45 plastic water bottles from the ocean and has 100% natural and biodegradable corozo nut buttons. If that's not enough to make you choose this suit, it also has lining fabric made with 99% post-consumer recycled polyester. This one will have some heads turning.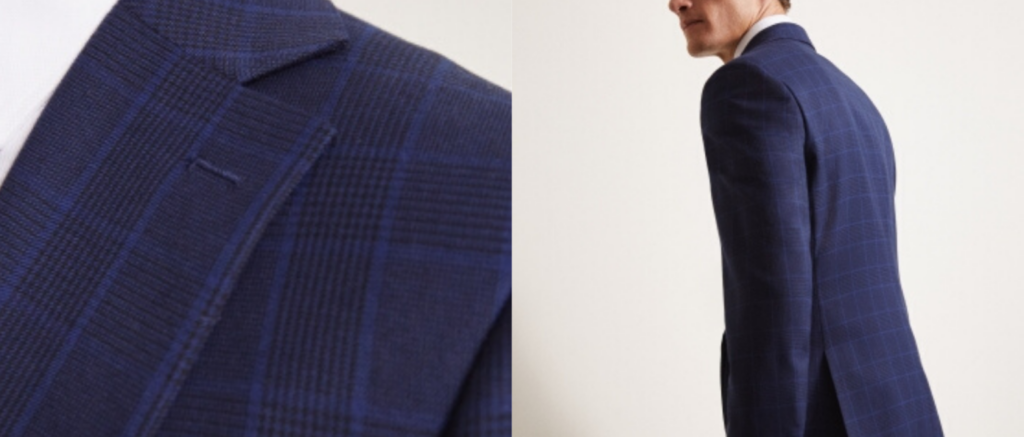 Price Range:
$150-$170
Sustainable Materials:
100% organic fair-trade cotton (bioRe® sustainable cotton)
It is Carpasus's mission to combine style with sustainability and quality. They live by making quality clothing that has the best durable and sustainable materials. All their materials are environmentally friendly and natural materials from organic farmers. Not only that, but they are ethical, too! They commit to long term collaborations with their partners in their supply chain. They choose to pay them fairly and have high social standards. Transparency is important to them. You can find where and when your shirt was made from their website.
Now, let's get into the good stuff and talk about why they made the cut. Carpasus makes top of the line dress shirts, oxford shirts, and formal shirts like no other. These timeless pieces are made in Portugal with organic cotton! The buttons are made of natural corozo. They are designed in Switzerland and Sewn under fair working conditions in Bosnia and Herzegovina. If you want a custom made shirt, they do those, too! Just visit the "tailor-made" part of their website to learn more!
Price Range:
$2500
Sustainable Materials:
100%, Italian-milled Bamboo, Tagua Nut Buttons
Brave Gentleman fully embraces the slow fashion movement. Even their sustainable suits for men are made-to-order. They invest in sustainable innovation, superior vegan materials, ethical labor, and classic styles made with quality. Brave Gentlemen does not believe that animals belong in the fashion production system, or any industrial system for that matter, that is why none of their clothing uses animal products. Of course, this was not easy, but it was worth it.
Their suits are something to write home about, too. Today we are highlighting their classic suit, in dark gray. It is made of 100%, Italian-milled bamboo. It is free of animal fibers, comes with tagua nut buttons, made in the USA, and comes complete with two pieces. You can also add a vest upon request.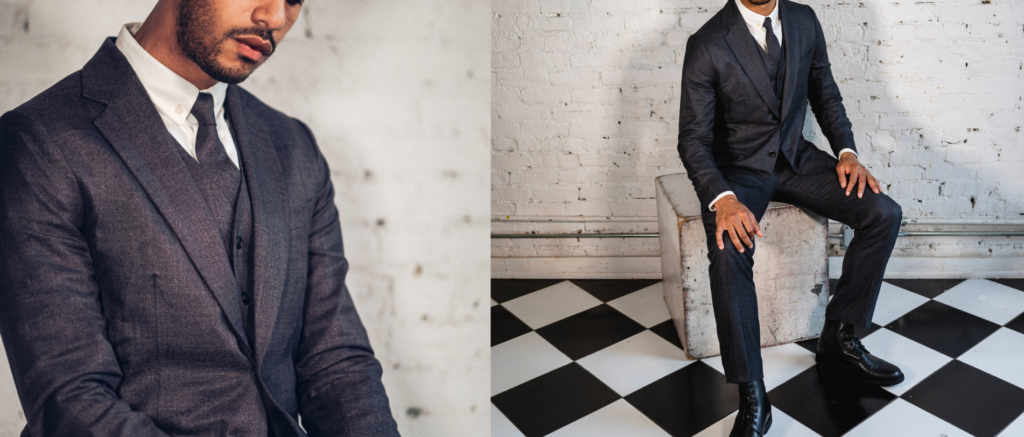 We hope you discovered some awesome brands and found the perfect suit! Stepping out of your comfort zone is never easy. All these brands are carving the path to the future. One suit at a time, we can make the world a greener place.
Want to shop some of the most revolutionary companies? IndieGetup makes it easier for you to have access to clothing with a conscience. Click here to visit more brands we love that are creating a greener future.
If you liked this article and want to find out more coverage on these brands be sure to follow us on all social networks. Not seeing a brand and think it deserves the spotlight, DM us on Instagram and we'll see if we should update the list.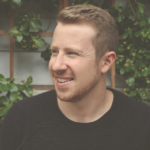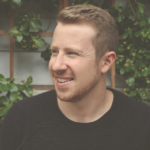 About Author
Brandon
Owner of IndieGetup, the premier sustainable marketplace for men to shop ethically.