8 Best Polyester-Free & Organic Underwear for Women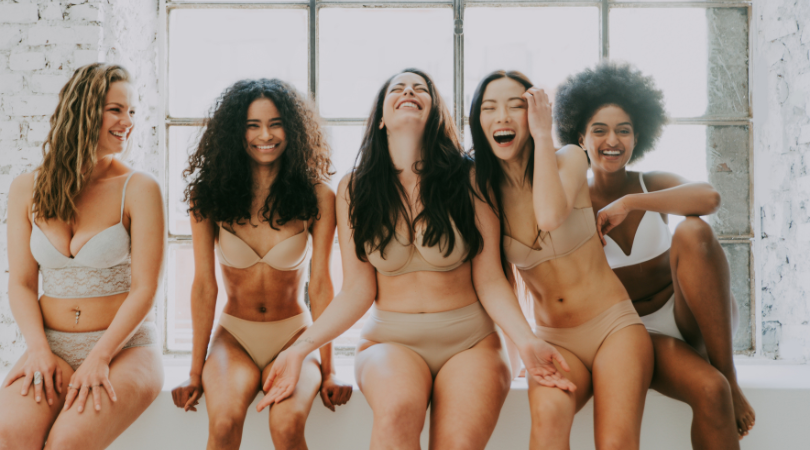 If you are on the hunt for the best polyester-free and  organic underwear for women who cherish comfort and sustainability above all else, you're in the right place. Our all-inclusive sustainable underwear list below will help you tackle all your top-drawer needs–that's a promise!
It's no secret that, despite our best efforts, there are some worn-out and washed-out undies in desperate need of replacement. Your once-sculpting, now-sagging pair of briefs has reached the end of its lifecycle. However, picking the right affordable organic cotton underwear is by no means an easy task. And since they're the pieces you don every day, it's worthwhile to do some research before pressing "add to cart".
Why Choose Polyester-Free & Organic Underwear for Women?
We already know that synthetic materials help all kinds of infections thrive. Organic cotton breathable underwear, on the other hand, can absorb any extra moisture and significantly reduce your chances of developing an infection. On top of that, polyester-free underwear requires way less energy, releases fewer greenhouse gases, and due to the lack of chemicals, they are the perfect option for super sensitive skin. Luckily for us, the best eco-friendly and organic underwear brands are here to upgrade our natural underwear lineup with ethically made, skin-loving, and earth-friendly options for every taste.
For those whose minimalistic aesthetic applies to what's hidden underneath their sustainable clothing, we have neutral-colored briefs and brands that go with everything. And if you looking for ethical underwear with a bit of personality, there are plenty of options below with 10+ color options–ranging from vibrant pink to blue and emerald green.
The Best Eco-Friendly & Organic Underwear Brands For Women
1. Organic Basics
Price:
From $30 
Sustainable Ingredients:
Organic Cotton or Tencel
Organic Basics is the mecca of affordable organic cotton underwear women opt for on repeat. The eco-conscious company works with safe, fair-trade factories to craft ethical underwear for virtually every taste. Each pair comes with its own "Impact Index" which is amazing. On top of that, Organic Basics is also BSCI-compliant and a member of Sedex.
Aside from offering the best organic cotton underwear, the brand also incorporates Tencel – a fantastic alternative to non-biodegradable synthetic fibers. Breathable, lightweight, and skin-friendly, each pair of neutral and pastel cheeky thongs, 80's briefs, and hipster is designed to last for years and years.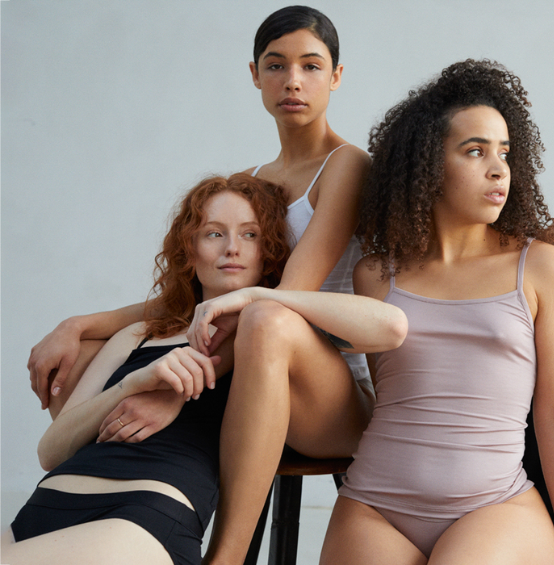 2. Wama Organic Underwear
Price:
From $17+
Sustainable Materials:
Hemp, Organic Cotton & Spandex blend
Wama is not only one of the eco-friendly and organic underwear brands for women, but also a fantastic shopping destination for everyone who wants to reap the temperature-regulating benefits of hemp. Their undies are crafted ethically in BSCI-certified factories in China with a blend of organic hemp and GOTS organic cotton.
You also can opt for splurge-worthy packs, or choose your new favorite sustainable bras, bralettes, hipster, bikinis, thongs, and boy shorts separately. Either way, Wama's natural underwear will take you everywhere from the gym to afternoon branch and late-night dates.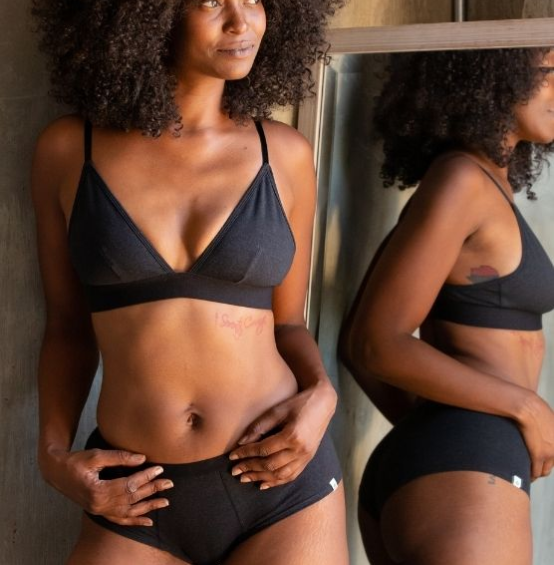 3. Pact
Price:
From $21 
Sustainable Materials:
100% Organic Cotton
Pact underwear has been a top-drawer favorite for years. Their wide range of 100% cotton underwear not only feels much lighter, cooler, and dryer against the skin, but it's also extremely durable. Aside from using eco-conscious materials with minimum environmental impact like most eco-friendly and organic underwear brands, Pact also creates "Earth's Favorite™ Clothing" in fair trade factories.
So rest assured that your sustainable bras, high-cut briefs, classic fit bikinis, and flirty thongs were all created in a healthy and safe working environment. All you gotta do is choose your preferred color/print or splurge on a bundle.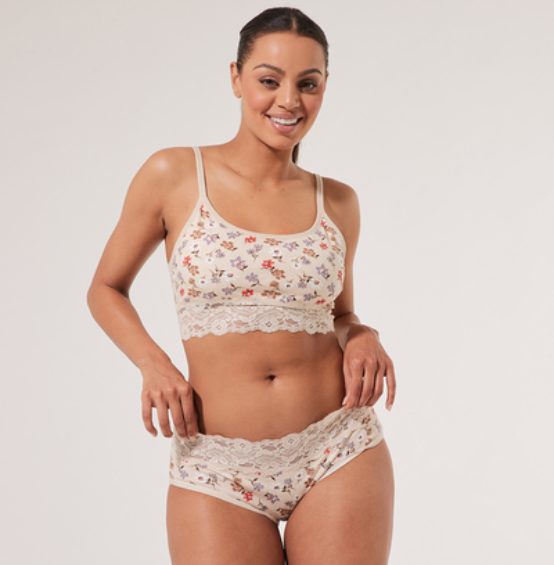 4. Knickey Cotton Underwear
Price:
From $17 
Sustainable Materials:
GOTS Organic Cotton
Organic cotton breathable underwear that fits like a dream? Yes, please. Knickey offers sustainable underwear for women who want coverage that doesn't feel like wearing granny panties. Their fantastic range of Fair Trade, GOTS, and OEKO-TEX-certified undies are ideal for all body types–including plus-size gals who want to look gorgeous without foraging sustainability.
Rest assured that your new bras, low-rise bikinis, thongs, hipsters, and briefs pose no threat to the environment. In fact, you can also send them your used-to-death natural underwear to be recycled into mattress fillings, etc. Circular fashion at its finest!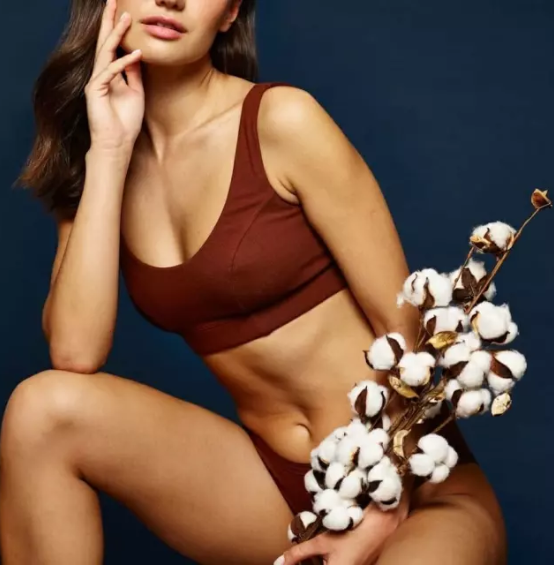 5. Allbirds
Price:
From $16
Sustainable Materials:
Tencel, Lyocell, Recycled Nylon, and ZQ Merino Wool
Allbirds underwear is made of eco-conscious, renewable materials with odor-minimizing and moisture-wicking abilities. More precisely, the brand thrives on creating carbon-neutral, performance underwear from Tencel, Lyocell, Recycled Nylon, and ZQ Merino Wool. Yes, merino wool for undies!
This means that each pair is antibacterial and thermoregulating not to mention extremely durable and long-lasting. What's more, the factory uses renewable energy which is one of the reasons why Allbirds is a proud, B-certified corporation,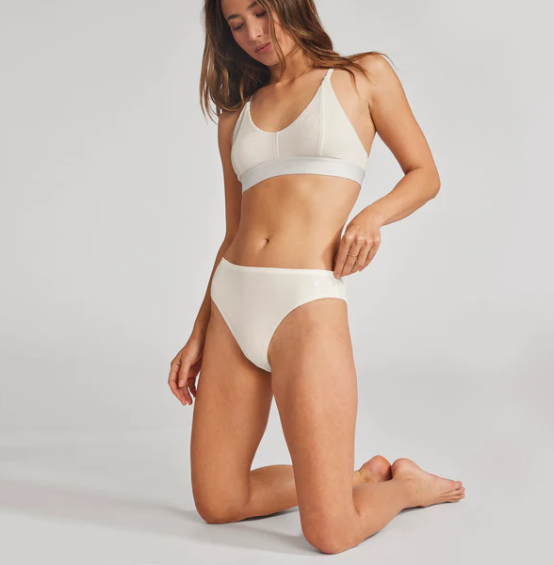 6. Wear Kent  
Price:
From $24
Sustainable Materials:
100% GOTS Certified Organic Pima Cotton
Wear Kent is on a mission to create organic underwear for women that's "plastic-free, landfill-free, and compostable at end-of-life." The reason why Wear Kent is one of the best eco-friendly and organic underwear brands women choose on repeat is their amazing bundles. The "weekly bundle", for example, includes 7 signature styles in 9 different colors. Think organic cotton briefs, thongs, bikinis as well as wear-me-everywhere crop tops.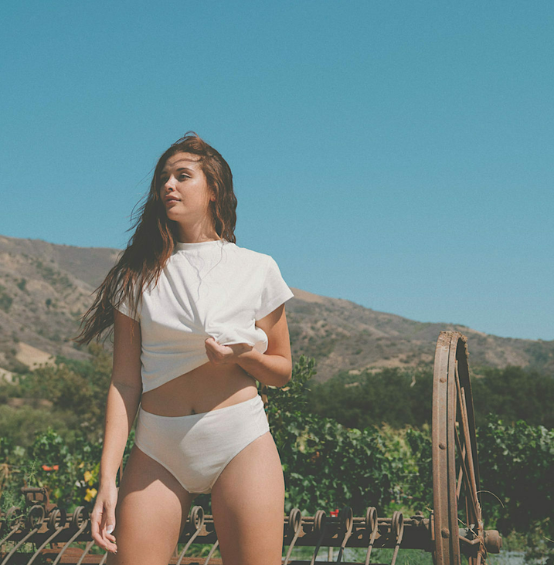 7.  Brook There 
Price:
From $28
Sustainable Materials:
Organic Cotton, Spandex
Brook There's clean, minimalist yet figure-flattering silhouettes score them a place in pretty much every list of sustainable underwear for women.
The reason is simple. On top of offering a great lineup of sustainable bras with light or maximum support, bikinis, and briefs as well as hipster and thong options, they also pay attention to materials sourcing and manufacturing.
Every pair is cut and sewn right here, in the U.S. ethically and consciously. Additionally, their Organic cotton breathable underwear comes in an array of different neutral and vibrant tones to match every aesthetic. 
8. The Girlfriend Collective 
Price:
From $18
Sustainable Materials:
 Recycled plastic bottles (RPET), spandex, COOLMAX
The incredible size-inclusive and body-positive brand creates organic underwear women love regardless of their size with up to 13 different color variations. Whether you are an XXS or a 6XL, you'll definitely be able to find many high-rise, classic, sports briefs and thongs, bralettes, and sports bras that promise to fit like a dream.
As for their smooth, mold-to-your-body fabric, it's a stellar combination of recycled plastic bottles (RPET) and spandex enhanced with moisture-wicking COOLMAX® liner at the gusset. Let's not forget that every organic underwear for women can easily be recyclable with ReGirlfriend.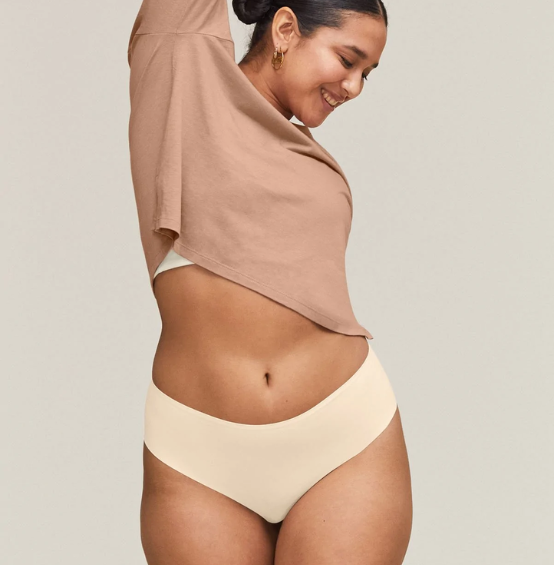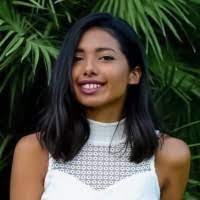 About Author
Konstantina Antoniadou
Freelance fashion and sustainability writer with an ongoing curiosity to explore new innovative technologies, and report on trends in "green" industries.