8 Natural & Organic Bodywash Soap For Men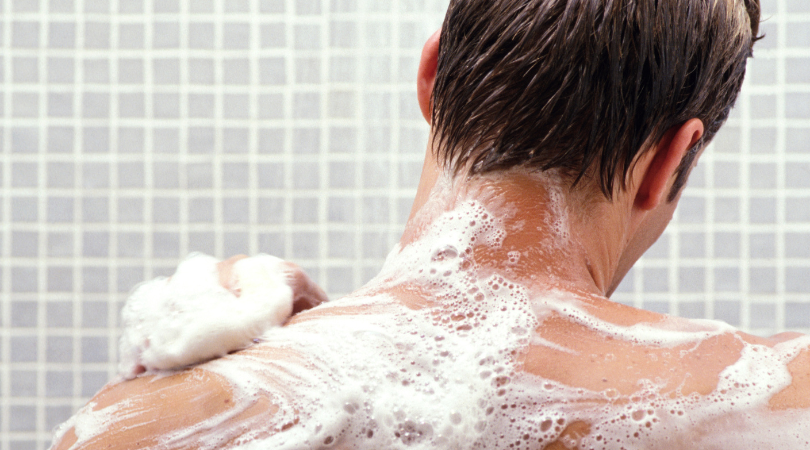 Looking for the best natural organic bodywash soap for men with ultra-nourishing, skin-friendly ingredients? Maybe you are ready to swap your traditional formula with a sulfate- and paraben-free body wash that can keep your dry skin from feeling like it's about to crack during the coldest months of winter. Or, you simply haven't found the healthiest body wash for your super-sensitive skin. In any case, this article is for you!
Between narrowing down the best organic cologne options and compiling lists of water-based pomade for men with no scalp-irritating chemicals like minerals, phthalates, and parabens, let's just say that we've already given you plenty of formulas that can audition for the #1 position on your shelf. But finding natural, organic body wash and shower gel options is by no means easy. Especially if you want to have a soap that smells like expensive perfume, cleanses like traditional foamy options, and has no chemicals. 
Our list includes options ranging from zero-waste organic body wash soap for men in bar form as well as plenty of natural body wash gels. So no matter your preferences, there's certainly a soap for you.
Healthiest Natural & Organic Bodywash Soap For Men 2023
1. Oars & Alps Body Wash
Price:
$18
Sustainable Ingredients:
Alpine Caribou Moss,Jojoba Spheres, Aloe Barbadensis Leaf Juice & more
Oars & Alps is a fantastic natural skincare brand with an array of solid picks for our daily routine. The Oars & Alps Body Wash, in particular, offers all-day moisturizing by harvesting the power of vitamin E and jojoba oil. Instead of using harsh ingredients known to strip your skin of its beneficial protection layer, the brand fuses soft ingredients that gently cleanse your skin.
As for the scent of this raved-about natural body wash for men, think a clean, fresh, citrus-forward sent reminiscent of a California beach –as they describe it.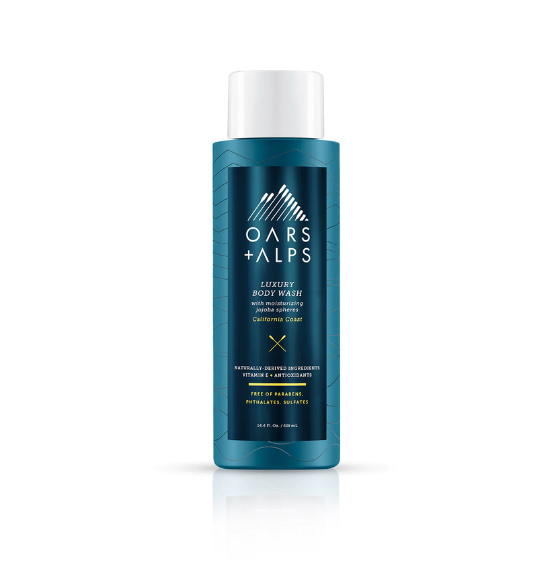 2. Native Eucalyptus & Mint Body Wash for Men
Price:
$19.94
Sustainable Ingredients: 
Coconut Oil, Food Grade Cleansing Salt, Citric Acid for pH balance
Native managed to create a stellar formula that can easily rival the traditional foamy experience of chemical-packed soap options –all thanks to coconut-derived surfactants. Known as one of the best options for natural organic men's body wash for sensitive skin, Native comes in 10 fantastic vegan, cruelty-free, and made scents with no parabens or sulfates.
This one is down to earth but smells dressed up due to the fresh, earthy aroma with bright notes of euxalyptus and mint. Don't believe us? Have a look at the 2000+ five-star reviews of this organic body wash soap.
3. Blu Atlas Body Wash
Price:
$25
Sustainable Materials:
Green Tea Extract, Aloe Barbadensis Leaf, Sugarcane & more
Here's another cult favorite–the best natural organic men's body wash by Blue Atlas. First and foremost, they offer a 100% percent money-back guarantee on all products. Yes, they are that serious about the performance of their formulas! The natural body wash for men carries a fantastic combination of aloe and shea butter, which are not only among nature's best hydrators but can also help repair broken-down skin cells.
Now, if you add sugar cane (the natural exfoliator) to the mix, you can get a pretty good idea of why the Blu Atlas Body Wash is so popular.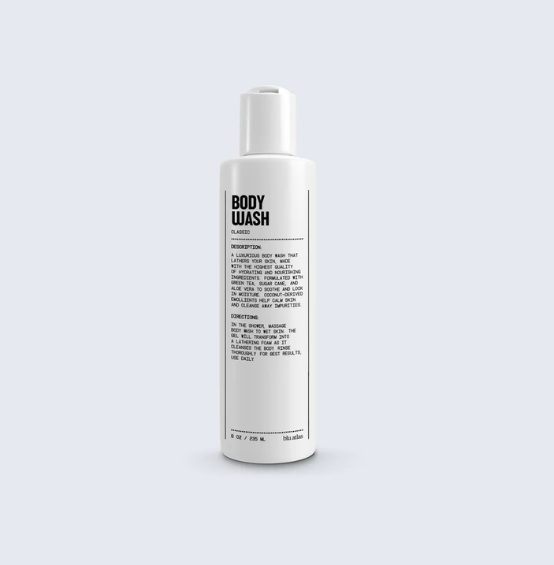 4. Soapwalla Activated Charcoal and Petitgrain Soap Bar
Price:
$18
Sustainable Ingredients:
Activated Bamboo Charcoal, Petitgrain,Tea Tree & more
Next up on our list of the healthiest body wash for men, Soapwalla and their Activated Charcoal & Petitgrain soap bar. Zero-waste, natural, and organic, this soap was designed to To clean & soothe sensitive skin without leaving a film, while nourishing and removing unhealthy toxins.
The stellar ingredients? A custom combination of Activated Bamboo Charcoal (from new growth forests), petitgrain and tea tree essential oil. The latter is amazing at combating body acne. The brand describes the experience as "liquid velvet," which is exactly what we need from a high-performing organic body wash soap for men.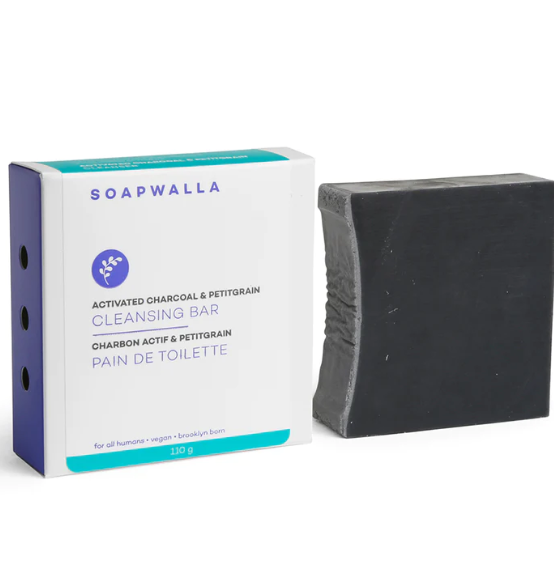 5. Public Goods Body Wash
Price:
$6.95
Sustainable Ingredients:
Surfactant From Coconut, Olive Oil, Essential Oils
If you are on the hunt for the best natural organic men's body wash powered by a blend of essential oils that cleanses, refreshes, and nourishes your body without drying out or distressing your skin, this one is for you.
The brand's best natural soap for men is fragrant with naturally derived scents of fresh grapefruit, juicy mandarin, and Mediterranean herbs. Yes, it smells like a dream! The best part? You can score this natural soap which is made in USA and Canada for under $7!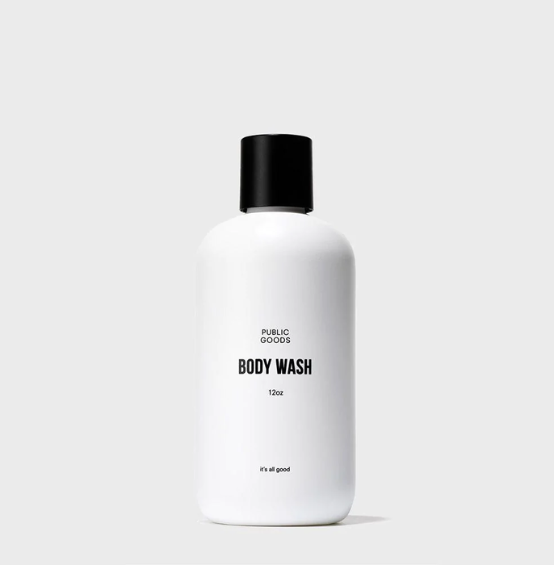 6. Being Naturals Tea Tree Body Wash
Price:
$13.98
Sustainable Ingredients:
Tea tree oil, Aloe vera, Eucalyptus essential oil, Rosemary oil, and Peppermint oil & more
This sulfate- and paraben-free organic body wash soap for men is locally made in the United States and overcharged with skin-loving ingredients. The list includes oils, tea tree, oregano, eucalyptus, rosemary, peppermint, and camphor wood – all known for not only fighting body odor, and athlete's foot, but also acne, dandruff, eczema, and more.
The brand also infused its healthiest body wash for men with stem cells and collagen which are believed to increase the longevity of skin cells and reduce signs of aging. Of course, it's also free of parabens and phthalates.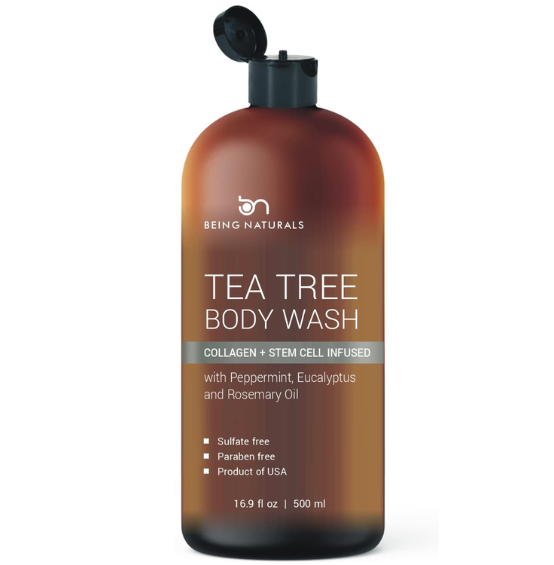 7. Ursa Major Morning Mojo Bar Soap
Price:
$14
Sustainable Ingredients:
Rosemary Leaf Oil, Eucalyptus Leaf Oil, Peppermint Oil, Volcanic Rock 
Ursa Major is not your basic natural and organic bodywash soap for men. On the contrary, made with Volcanic Rock that's a well-known exfoliator. The oil base comes from responsible and certified sustainable palm oil (RSPO). Plus, the calming yet extremely refreshing scent of eucalyptus and mint will keep you feeling clean for hours.
No parabens, no sulfates, and no packaging. To put it simply, this one is the best natural body wash for men with a sustainability pledge.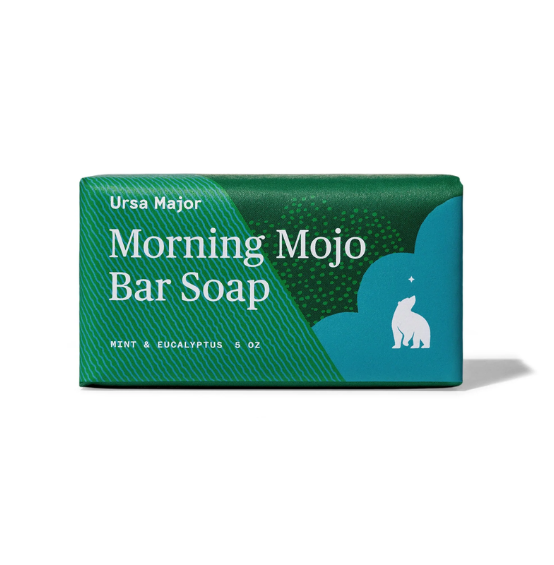 8. Dr. Bronner's Organic Sugar Soap
Price:
$24.99
Sustainable Ingredients:
Grape Juice, Coconut Oil, Hemp Oil &  More
You probably already know that Dr. Bronner's natural body wash for men has been a top-selling product in the United States for many years. But did you know that their innovative formulas date back to 1948? No synthetic preservatives, detergents, or foaming agents. Just a rephrasing blend of coconut oil, organic white grape juice, jojoba oil, hemp oil, and olive oil that moisturizes, nourishes, and leaves the skin feeling clean and fresh.
Dr. Bronner's organic sugar soap is USDA Organic, biodegradable, cruelty-free, vegan, paraben-free, nut-free, soy-free, sulfate-free, and triclosan-free.
Do you need another reason to choose Dr. Bronner's best natural organic men's body wash? The container is made from responsible packaging, and it can even be reused and refilled again and again!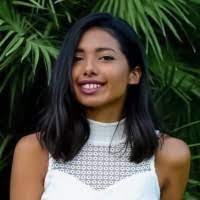 About Author
Konstantina Antoniadou
Freelance fashion and sustainability writer with an ongoing curiosity to explore new innovative technologies, and report on trends in "green" industries.