11 of The Best Organic & Sustainable Dog Beds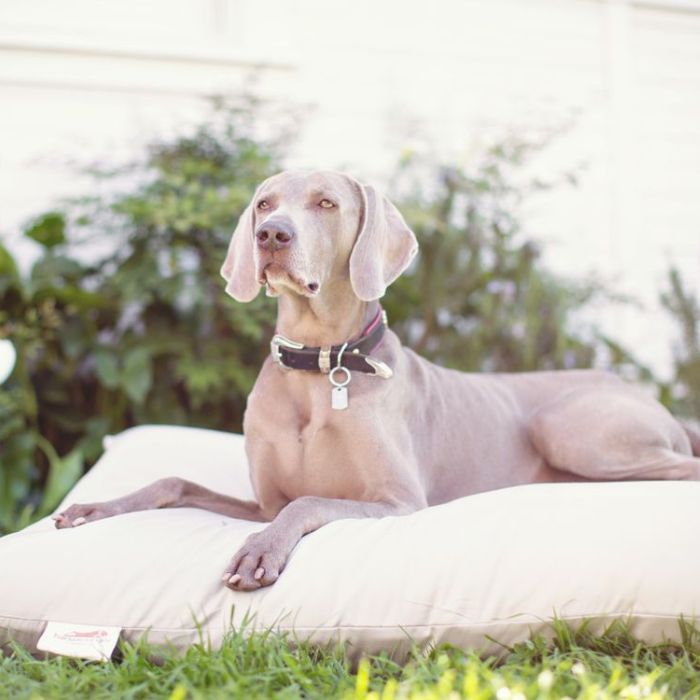 Looking for the best sustainable dog beds tried and tested by the world's comfiest pups? The organic dog beds below are not only ridiculously stylish but also eco-friendly and safe!
It's no secret that we spend hours upon hours doing the research before committing to a brand new organic mattress and natural bed. Partially because of the price tag and mostly due to the numerous benefits that come with a good night's sleep, beds are a big-deal purchase. As dogs grow old, they may, unfortunately, develop issues like arthritis, hip dysplasia, and other joint issues. That's exactly why opting for sustainable dog beds to cushion your pups' bodies and offer some much-needed pain relief is so important. Even for small dogs, the health effects of sleeping on hard floors are many – so why risk it while there are so many comfy non-toxic dog beds at our disposal?
Granted, most pups aren't ashamed to steal your bed, but the best organic and sustainable dog beds on the internet will most likely convenience your four-legged fur friends to stop snoozing on the couch or the floor.
We've done a deep dive into the top eco-friendly dog beds with the most noteworthy memory foam varieties, natural fibers, and durable construction to help your furry friend hit the hay comfortably.
The Best Organic & Sustainable Dog Beds With Non-Toxic Materials
Price:
$289
Sustainable Materials:
GOLS certified organic latex, organic wool, organic cotton, and organic kapok fibe
Aside from the array of organic mattresses and sustainable beds for humans, Avocado also carries a dedicated collection of non-toxic dog beds for your furry friends. Crafted from GOTS certified organic cotton and GOLS organic certified latex, these anti-odor and biodegradable pet beds are super soft, breathable, cool, and comfy.
The world's only Climate Neutral Certified mattress and bedding brand uses materials that boast hypoallergenic and antimicrobial properties. And just in case you want to take it one step further, you can always opt for the handcrafted Dog Bed Frame with upcycled scraps from the brand's Los Angeles-based wood shop.
2. Brentwood Home sustainable dog beds
Price:
Starts at $189
Sustainable Materials:
 Memory foam made with BioFoam, CertiPUR-US certified foams
Looking for fantastic organic dog beds with orthopedic support to relieve your pup's or kitty's joint pain? No matter if you've got a Yorkie or a Saint Bernard, Brentwood Home's line has you covered. The beds come in 4 sizes with layers of CertiPUR-US certified foams and nontoxic materials tailored to the needs of Arthritis-suffering pets. The brand makes all waterproof and non-toxic pet beds and replacement covers locally in California while also carrying the Greenguard Gold and Climate Neutral certifications.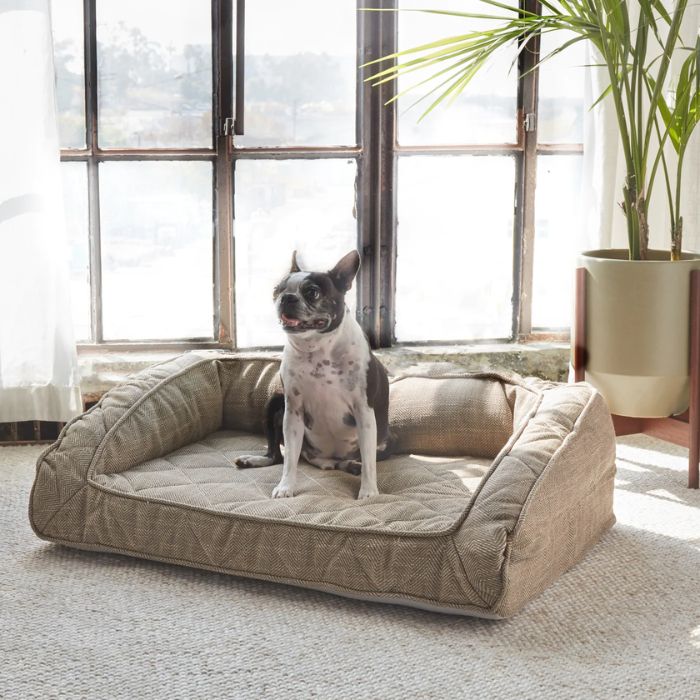 3. The Wolf Nest eco-friendly dog beds
Price:
Starts at $225
Sustainable Materials:
Deadstock fabrics and natural linen
Ideal for large breeds, The Wolf Nest uses deadstock fabrics and natural linen to create utterly comfortable and stylish sustainable dog beds in the heart of downtown Los Angeles. So it's safe to say that high-quality, functionality and thoughtful design are pretty much guaranteed. Every bed is crafted by a diverse network of communities and skilled artisans and features hypoallergenic memory foam to keep your pup comfy throughout the night. On top of that, the brand supports LA-based rescue centers with every sale.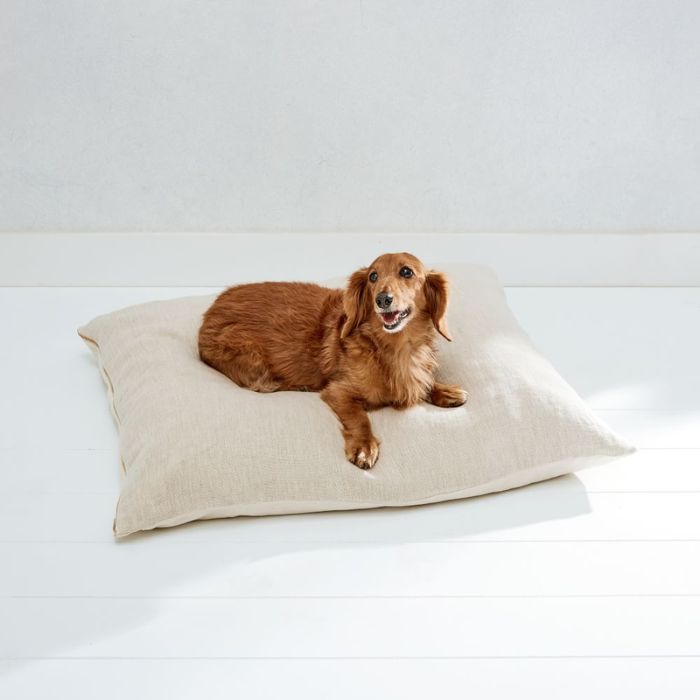 Price:
Starts at $59.95
Sustainable Materials:
Hemp Fabric, Cotton Inner Liner, Organic Latex or CertiPUR foam
Bean Product's wide range of sustainable dog beds is made ethically in the USA. You can choose between the two rectangular cushions with zippered removable hemp exterior. The only difference is in the interior; one is made from organic latex that's OEKO-TEX Class 1 certified and the other style features shredded CertiPUR foam.
Of course, both non-toxic dog beds won't' cause any off-gassing or discomfort to the pet. Currently, this Etsy shop has over 15,999 Sales and hundreds of glowing reviews backing up its quality and durability, so it's definitely worth a try.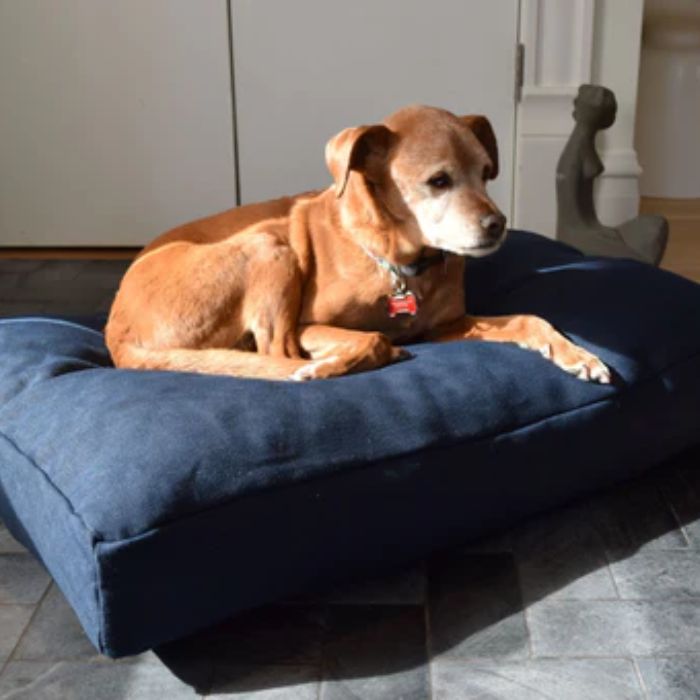 5. Hemp Organic Life hemp dog bed
Price:
Starts at $49
Sustainable Materials:
Hemp, linen, wool
Hemp Organic Life takes advantage of the odor-resistant, thermoregulating and hypoallergenic benefits of linen, wool, and hemp to create a collection of organic eco-friendly dog beds and mats. Their range includes biodegradable beds in a variety of sizes to keep your pet comfortable no matter the season. To top it all off, the products are created in a small US-based workshop with the help of a small team of only 4 seamstresses.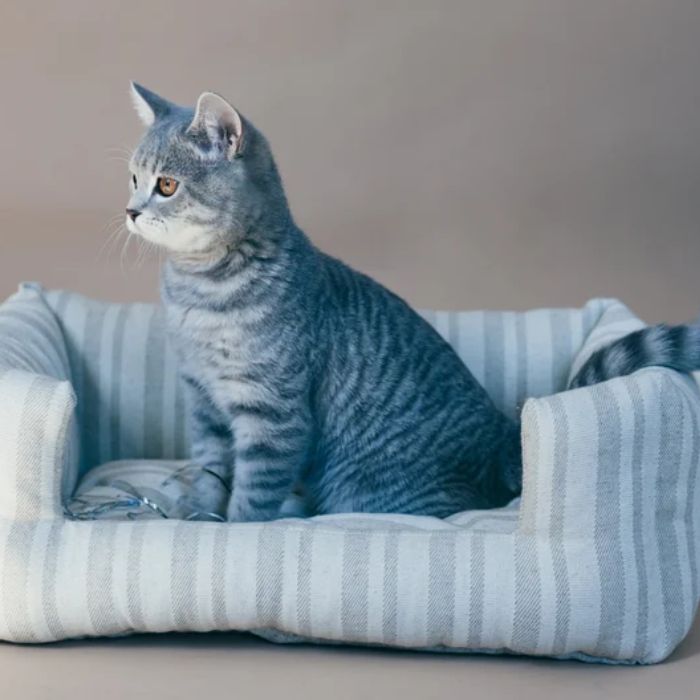 6. Essentia luxury organic dog beds 
Price:
$165
Sustainable Materials:
Organic cotton & natural latex
Essential promises to take sustainable dog beds to a "whole new level" with the help of a mix of three types of shredded foam: their patented natural memory foam and natural latex foams. Designed with breathability, pressure relief, and durability in mind, these non-toxic dog beds come with all-natural removable cotton free from any adhesives. The products are also handmade in a GOTS-certified organic factory in Canada and carry the GOLS, ISO, and Beyond Organic certifications.
7. The Futon Shop sustainable dog beds
Price:
$92
Sustainable Materials:
Natural Dunlop Latex, Coconut Coir, Natural Virgin Wool, organic cotton
The Futon Shop is known as one of the best organic bedding brands on the eco market for people with high sleep quality demands since 1976. However, they also offer many organic dog beds for our furry friends to enjoy. Handcrafted in San Francisco with organic cotton, natural Dunlop latex, natural coconut fiber coir infused with natural latex, and wool, these non-toxic dog beds are packed with excellent temperature regulating and naturally water repellent abilities.
Currently, there are 6 different colors available ranging from red to green – all you have to do is choose your preferred size, materials, and cover type!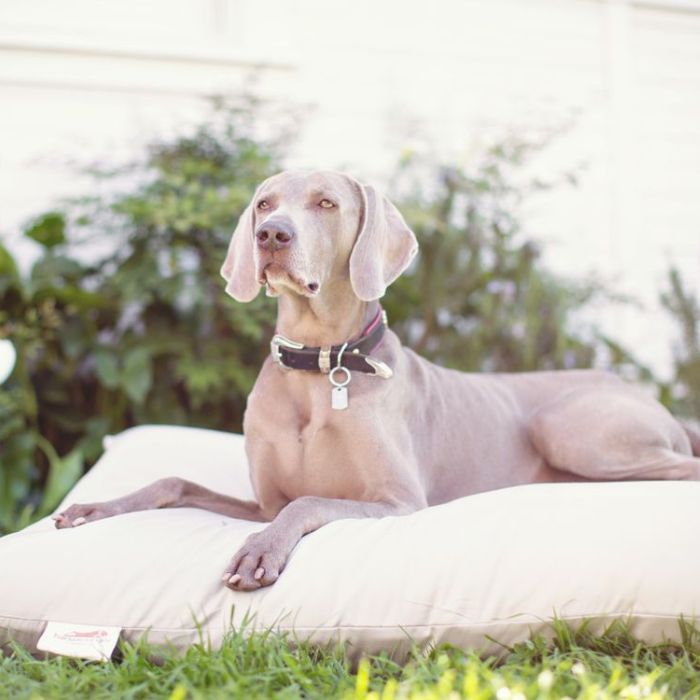 8. Harry Barker hemp dog bed dog
Price:
Starts at $130
Sustainable Materials:
Recycled materials
Dog beds made from recycled plastic bottles? You bet! This aesthetic hemp dog bed is packed with polyfiber from recycled plastics AND can be monogrammed. There are many more options available including the chambray sherpa bed and vintage stripe ortho lounger. No matter your preferences, all products are free from azo-free dyes and all other toxic chemicals – not to mention extremely giftable. From toys and collars to apparel, the brand uses only recycled and sustainable materials, while supporting organizations with our give-back initiatives.
9. OMI Organic eco-friendly dog beds 
Price:
$289
Sustainable Materials:
Organic cotton and buckwheat hulls, with natural Talalay rubber
OMI takes multiple chemical sensitivity seriously, and thus, they've created a collection of sustainable pet beds free from formaldehyde, anti-fungicides, pesticide-treated cotton, and other harmful chemicals. The covers are made from certified organic cotton canvas while the GreenGuard certified beds themselves feature organic cotton and buckwheat hulls. Plus, the brand gives you the option to move between the cooler buckwheat side during hot summer nights and the cotton-filled warm side when the temperature drops. Of course, everything is crafted ethically in the USA.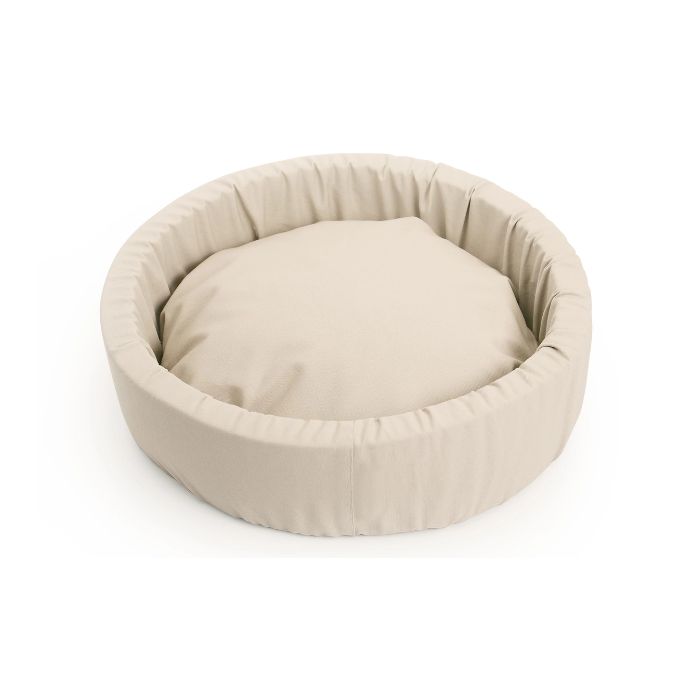 10. The Foggy Dog organic dog beds
Price:
$55
Sustainable Materials:
Recycled polyester woven liner and shredded memory foam fill
The cult-favorite minimalist brand pet lovers swear by employees artisans to handcraft their sustainable pet beds ethically in the USA. By using Sustainafill™ Insert with extra loft, the brand manages to prevent clumping, so your pup's bed remains fluffy and comfortable for years. They also mention the durable cover can " withstand even the toughest diggers". Every product is created with low-waste manufacturing practices. So the only thing you need to worry about is picking the right color and print to match your home's decor to a T.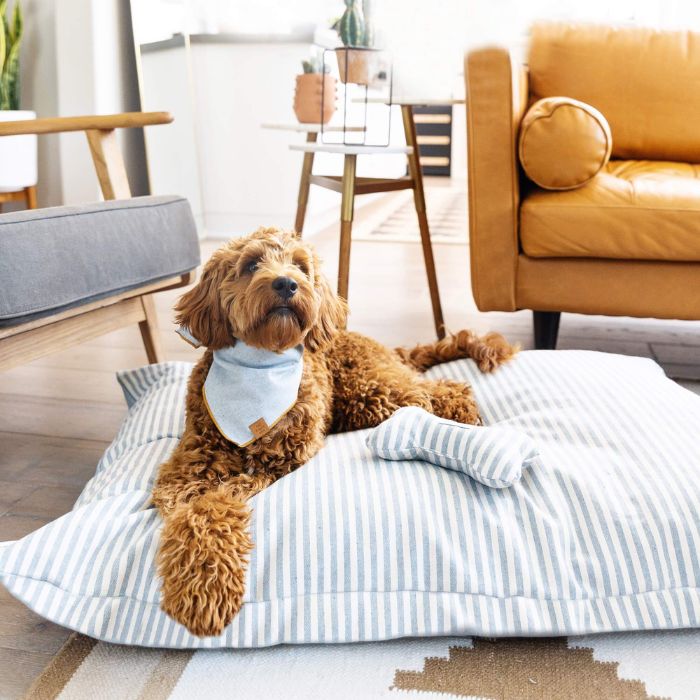 11. Whom organic sustainable dog beds 
Price:
Starts at $93
Sustainable Materials:
Certified sustainable wood, linen
Whom's organic dog beds are certainly not your average sleep-inducing product. They are crafted from FSC Certified wood harvested in the USA and are completely customizable. As for their factory, it maintains a zero waste policy which includes the reuse or recycling of all waste. On top of that, for each tree cut, they plant another 40 in its place. The highlight of the collection? The Little House on the Prairie Pet Bed, Tree Hugger Pet Bed, and Large Cupcake Pet Bed will make you wish you could cop one for yourself as well.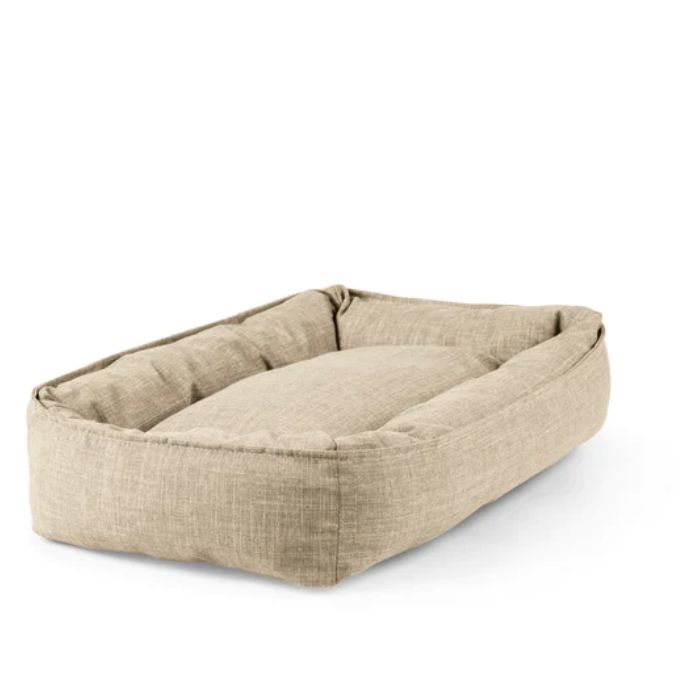 Promoted By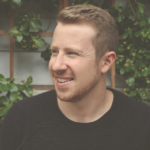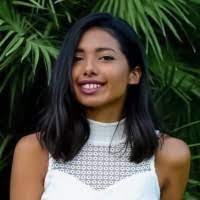 About Author
Konstantina Antoniadou
Freelance sustainability and fashion writer with an ongoing curiosity to explore new innovative technologies, and report on trends in "green" industries.