11 Sustainable Canvas Sneakers & Low Top For Men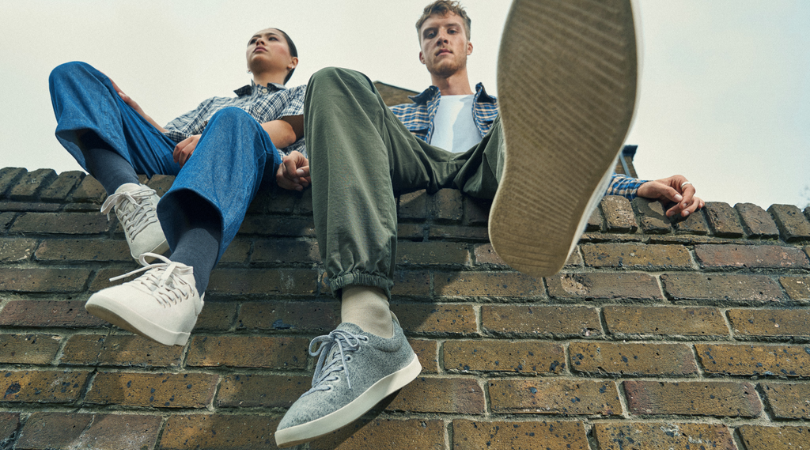 Despite the ever-changing yearly fads in the footwear sphere, seems like canvas sneakers always manage to be the sneaker of choice. Maybe, it's because of the throwback connotations of sustainable canvas sneakers and low-tops. Or, we can blame it on the fact that long before synthetic fibers took over the entire athletic world, canvas was the durable and all-natural material of choice — even if chemical-packed cotton was involved.
From the OG Converse Chuck Taylor to Vans Authentic all the way back to the very first pair of Adidas in 1920, men's canvas sneakers have certainly proven their lasting power.
Eco-friendly, rugged, and fairly inexpensive, 2022's best affordable sustainable sneakers made of canvas are available in nearly every color, but we picked the most neutral and versatile warm-weather-approved, ethical sneakers for you below. The materials of choice? Organic cotton, natural and recycled rubber, hemp, and recycled plastic bottles.
The Best Sustainable Canvas Sneakers and Low-Tops for Men in 2022
1. Everlane The Forever Canvas Sneaker
Price: $65 Sizes: 7-13 Materials: 50% Recycled cotton canvas + 50% cotton canvas upper, rubber outsole, recycled polyester laces
If you love Vans Authentic, Everlane's "Forever" sustainable canvas sneakers are a fantastic alternative. Clean, simple, and extremely easy to wear, these lightweight, fully recyclable men's shoes are made from ethically sourced organic and recycled materials in a Vietnamese factory where fair wages and safe working conditions are guaranteed. Plus, these affordable sustainable sneakers are the perfect match for your short-sleeve button-ups, jeans, t-shirts, and everything in between.
2. TOMS White Canvas Mens Carlo Sneaker
Price: $99.95 Sizes: 7-14 Materials: rubber outsole, OrthoLite® Eco LT insoles
If you are looking for 100% vegan and sustainable canvas sneakers men wear on-repeat, look no further than TOMS. "Carlo" is a low-profile, ultra-lightweight, and very flexible shoe due to the custom TOMS rubber outsole and strobel construction.
That's not all! TOMS uses OrthoLite® Eco LT insoles, a feathery-light cushioning made with plant-derived and recycled materials. Also, the brand sources 100% of our packaging from sustainably managed forests for a guilt-free unboxing experience which is always great to see.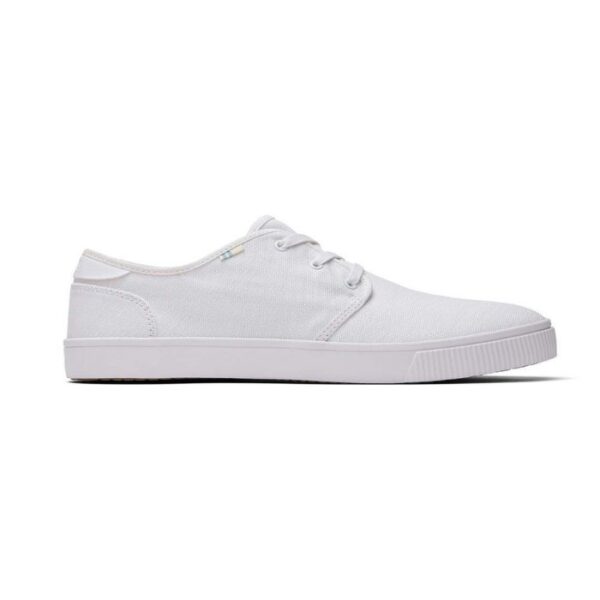 3. Saola Cannon Knit II
Price: 99,95 € Sizes: 40-47 Materials: Recycled water bottles top, 100% natural cork and natural algae insoles, organic cotton laces
Saola Shoes were born out of frustration when "a normalish guy couldn't find any cool looking, sustainable shoes to wear in his everyday life, " and thus, he decided to create some. The stylish sustainable low-top sneakers are made from recycled and bio-sourced materials with a truly positive impact on the environment.
4 recycled plastic bottles were used to knit 90% of the top of the shoe. As for the flexible insole that takes the shape of your foot, it's crafted with 100% natural cork and natural algae. Even the laces are 100% organic cotton. Lightweight, super breathable, comfortable, and versatile, what more can we ask for?
4. Patara Shoes "Nomad"
Price: 99,95€ Sizes: 8-14 Materials: Woven Cotton, recycled PET, Natural Cork and Recycled PU Foam, natural rubber, Braided Hemp Detail
Patara's sustainable canvas sneakers are definitely not your average ethical men's shoes. On the contrary, they are a travel-friendly coastal redesign of a classic derby silhouette with a mid to low collar for men who prefer a minimal aesthetic. Their premium cork and recycled foam insole minimizes odor and wicks away moisture which means that they can be worn comfortably with or without socks.
The brand has partnered with highly-skilled artisans, designers, and manufacturers around the world to create truly unique, artistically-inclined, and authentic collections each and every year – and the Nomad sneaker is no exception.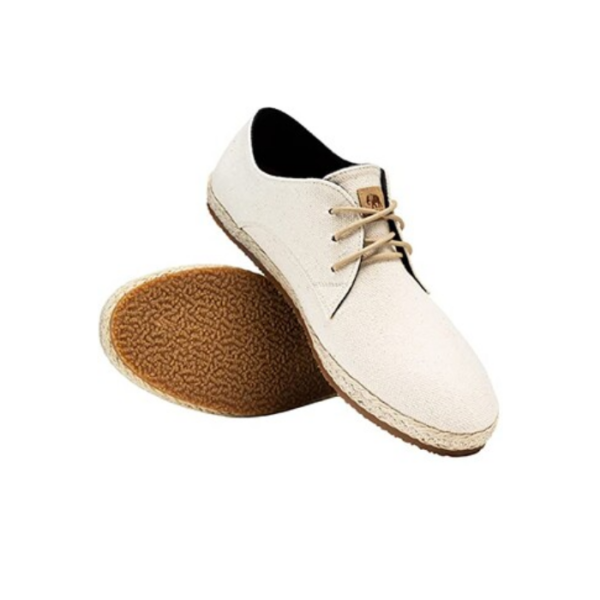 5. Cariuma Men's Low-Top Off-White Canvas Sneakers
Price: $79 Sizes: 5-13 Materials: cork bio memory foam & organic mamona oil, natural rubber, GOTS-certified cotton, recycled plastic bottles
Cariuma is lauded as one of the best ethical brands for affordable sustainable sneakers in an array of muted and vibrant colors — 16 to be exact. However, their off-white sustainable canvas sneakers are by far the most versatile option for everyday wear.
The old-school shoe is crafted with "new-school ethics" including high-end, raw materials and a classic cap-toe design for an ultra-comfy, go-to look. Think organic mamona oil and cork insoles, raw rubber outsoles, GOTS-certified cotton upper and lining, laces, threads, and labels from recycled plastics. Do you need another excuse to opt for these ethical sneakers? For every pair, the brand promises to plant 2 trees!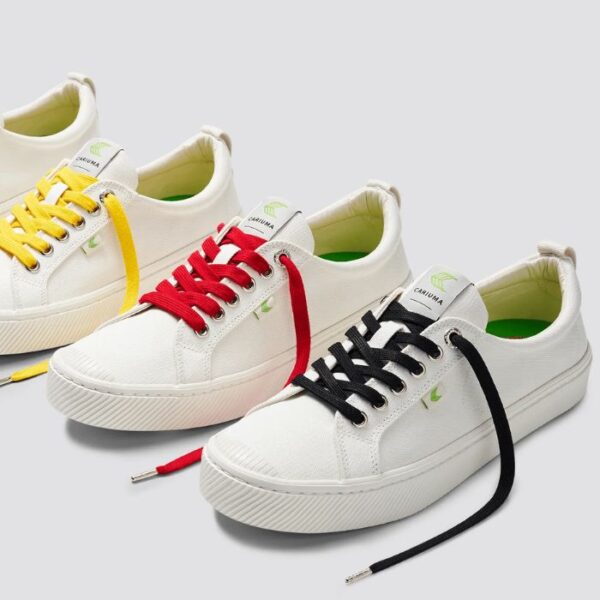 6. GREATS The Royale Knit
Price: $119 Sizes: 7-14 Materials: Upper made from recycled bottles, GREATS natural rubber theads
GREATS aims to outfit us with handcrafted sustainable canvas sneakers that guarantee to have a lasting impact on our wardrobes. The "The Royale Knit" shoes come in 7 different colorways and 400+ glowing reviews to back them up. The upcycled yarn is made with 7 recycled plastic bottles in a best-in-class factory, known for its ethics and transparent practices.
The premium footbed is packed with antimicrobial properties and extra cushioning for comfort while the custom outsole features GREATS' natural rubber tread pattern. It's no wonder why they are touted as one of the best brands for premium sustainable men's sneakers.
7. Allbirds Men's Wool Pipers Sneakers
Price: $110 Sizes: 8-14 Materials: ZQ certified Merino wool upper, SweetFoam® midsole made with sugarcane-based green EVA, laces from recycled plastic bottles, castor bean oil-based insole foam
For casual, comfy, and thermoregulating sustainable low-top sneakers look no further than Allbirds. The "Men's Wool Pipers" style is ideal for walking especially in cold weather thanks to the premium ZQ Merino wool. This carbon-neutral pair has an environmental footprint of 9.7 kg CO2e -which is very low compared to regular sneakers on the market. Also, the midsole is made from sugarcane-based green EVA while the insole foam is crafted with castor bean oil — a fantastic alternative to plastic and rubber.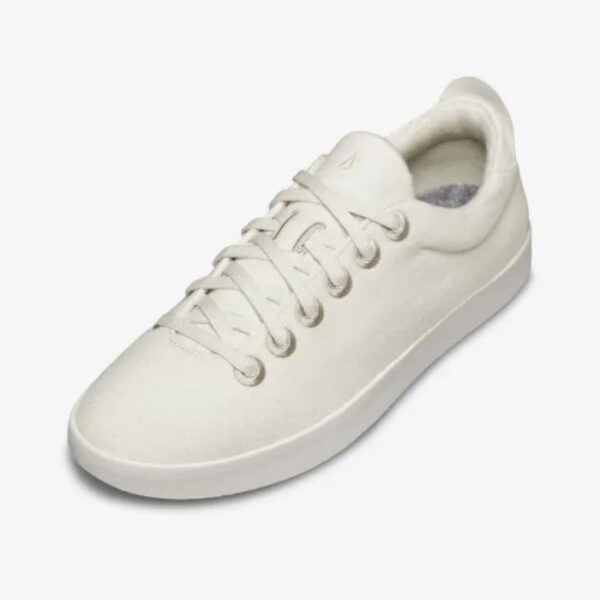 8. Rothy RS01 Canvas Sneakers
Price: $175 Sizes: 7-16 Materials: Recycled single-use plastic bottles
Consider Rothy's RS01 as a huge upgrade to your favorite, go-to sustainable canvas sneakers. Boasting game-changing comfort and durability, the clean, everyday ethical shoes features sturdy gum outsoles with grooves for added traction, a contoured footbed, and a terry-lined tongue for support. The superhero materials? Rothy's signature thread made from 28 single-use plastic bottles! With 600+ raving reviews, let's just say that these sustainable men's sneakers are certainly worth the mini-splurge.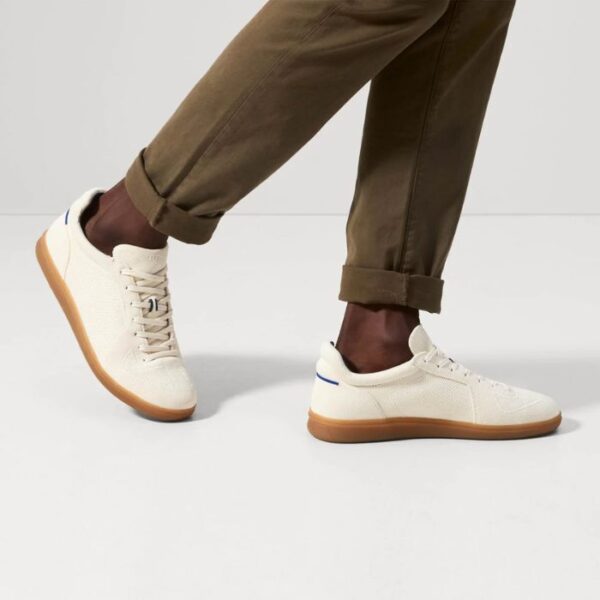 9. Collective Canvas Bal Sneakers
Price: $129.90 Sizes: 6-11 Materials: Organic cotton, natural latex rubber, and eco-Ortholite® natural cork
As the name suggests, Collective Canvas are pros at crafting sustainable canvas sneakers with classic basketball silhouettes of the mid 80 that somehow also look surprisingly modern. The brand uses organic cotton duck, natural latex rubber, and eco-Ortholite® natural cork across their entire collection which makes it not only eco-consious but very durable as well. Also, they are very transparent about their markups, and thus, they have a pricing breakdown for each model which is pretty amazing.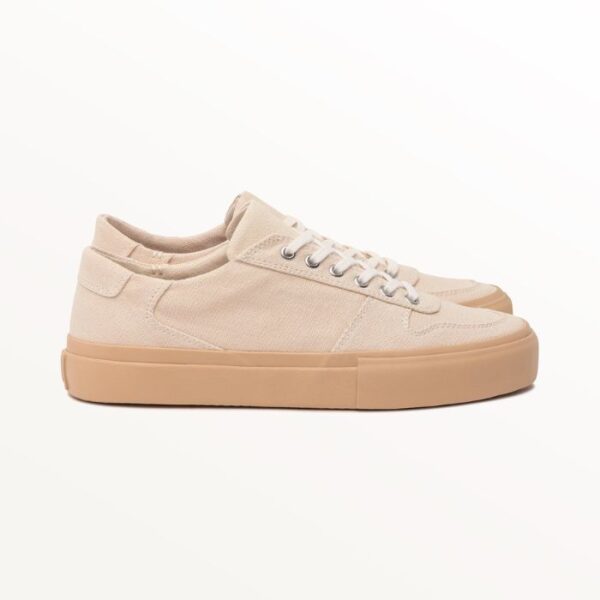 10. Nothing New Men's Classic Low Canvas Top Sneakers
Price: $95 Sizes: 7-13 Materials: GRS-certified 100% post-consumer recycled plastic, recycled rubber, recycled cork, and natural rubber
While most shoes harm the planet during the entire production process, Nothing New's sustainable canvas sneakers give a helping hand to reducing plastic waste and saving water in the process. The Men's Classic Low Top (available in 16 colors), helps divert 5.6 plastic bottles from the landfills as well as save 160 gallons of water.
They also feature True stitch construction, which is superior for both your feet and the environment as it creates a more flexible and durable bond between the outsole and upper and reduces the need for chemical-packed glues. So basically, the entire shoe is crafted with 100% recycled materials using renewable energy!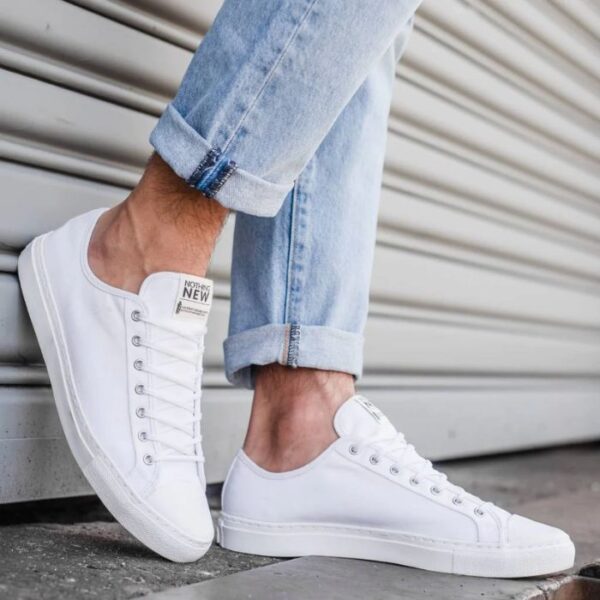 11. 8000 Kicks Hemp Shoes
Price: $137,85 Sizes: 7-13 Materials: Hemp & recycled rubber
If you've already updated your wardrobe with the help of the best hemp clothing brands on the eco market, maybe it's time to rethink your sneaker choices are well. 8000 Kicks offers sustainable canvas sneakers with recycled rubber bottoms and sleek designed hemp uppers boasting anti-bacterial and anti-microbial properties.
In fact, they are the world's 1st hemp insoles! The ethical sneakers weigh as low as 300g while also being water repellent! What's even more impressive? Each shoe releases only 5.3kg of CO2 compared to standard running shoes that go beyond the 14kg mark.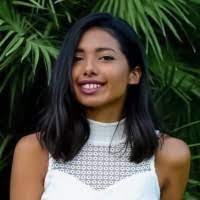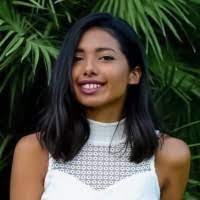 About Author
Konstantina Antoniadou
Freelance sustainability and fashion writer with an ongoing curiosity to explore new innovative technologies, and report on trends in "green" industries.