Truly Natural & Organic Conditioner For Men in 2023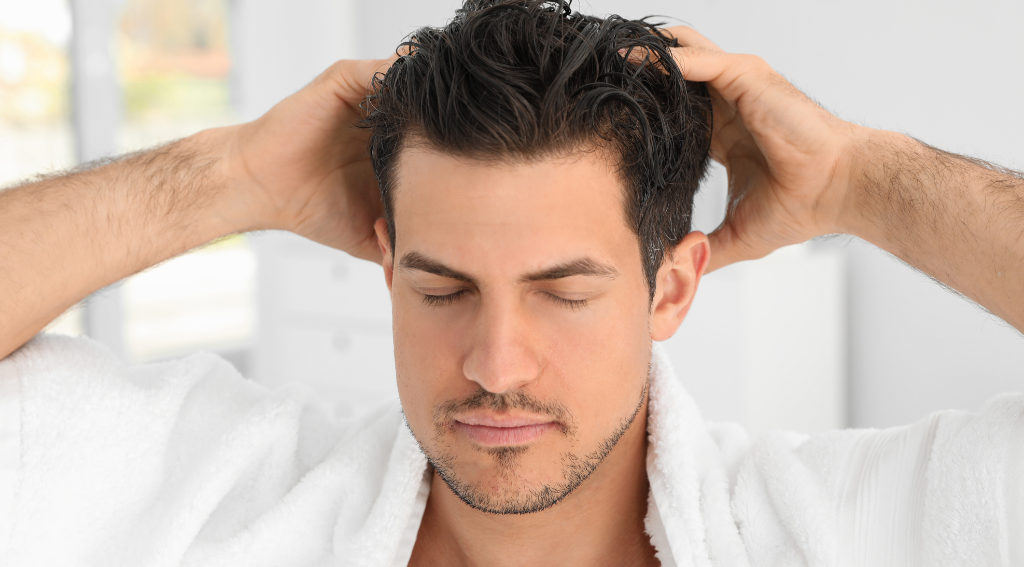 On the hunt for the best organic conditioner for men? Our roundup of natural conditioners for men's hair includes top-rated options for all types of hair. Whether you are team dry hair, thinning hair, curly hair, straight hair, or long hair, we've got you covered.
Best Natural Conditioner for Men's Hair
Just like your trusted organic mens shampoo, natural hair conditioners are, to put it simply, elixirs for your mane. Natural formulas are, brimming with benefits that can transform the way your hair looks and feels. From rejuvenating damaged hair to taming frizz and boosting shine, the best natural conditioner for men's hair is your ticket to hair that looks and feels amazing.  
Unlike "traditional" hair products that are chock full of a range of chemicals, some of which can have negative effects on your hair and overall health, organic mens conditioners are perfectly safe. Sulfates, for example, are used in haircare to create a foamy lather. They can strip the hair of its natural oils, leaving it dry, brittle, and prone to damage. Sulfates can also cause scalp irritation, especially for those with sensitive skin. Phthalates might be great at adding fragrances to hair products, however, they've been associated with endocrine disruption, and their use has raised concerns about reproductive and developmental issues. While silicones create the illusion of smooth, shiny hair, they can also create a coating that weighs down your hair, making it feel greasy and difficult to wash out. Over time, this can lead to product buildup.
Opting for natural and organic conditioners for men can help you steer clear of these potentially harmful ingredients while promoting healthier, more vibrant hair. Read on to find 2023's best natural conditioner for men's hair! We've also rounded up some amazing natural eye serums, face washes, and after-shave picks for your grooming routine.
Truly Natural & Organic Conditioner For Men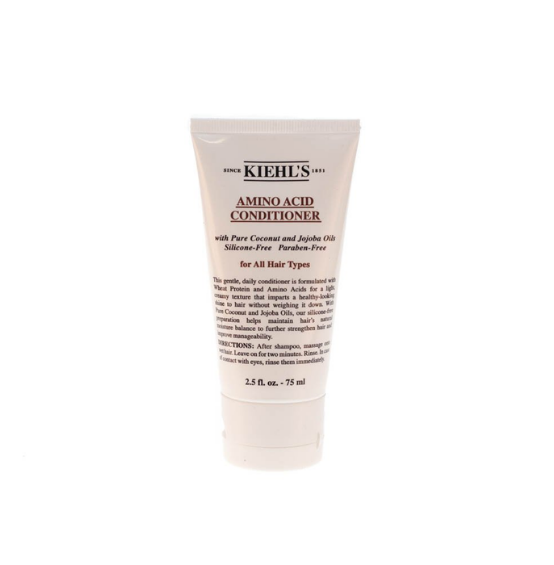 1. Kiehl's Amino Acid Conditioner
Price: From $15
Sustainable Materials: Amino acids, coconut oil, and jojoba oil
Kiehl's natural conditioner for men is a fantastic choice for guys of all hair types and textures. This conditioner has a gentle but super-effective formula that's great for your daily hair care routine. The amino acids cleanse your hair when they team up with fatty acids or fatty alcohol. Plus, they're experts at retaining moisture, which is key to keeping your hair looking and feeling amazing. The formula is also loaded with fairly traded coconut oil, which comes from the coconut tree. And let's not forget the jojoba oil, which adds a shiny, manageable touch to your mane.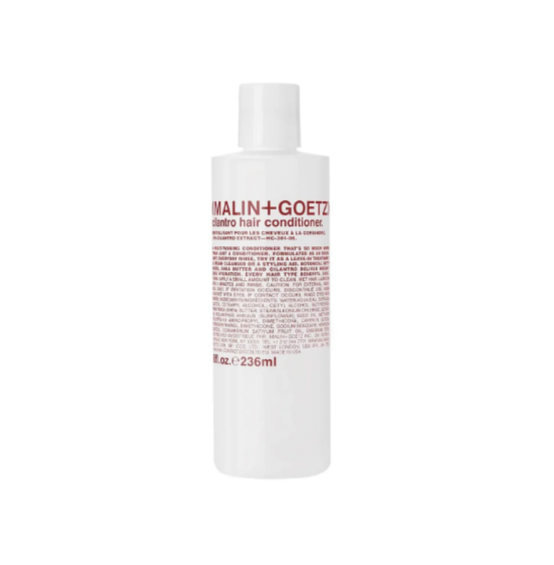 2.  Malin + Goetz Cilantro Hair Conditioner
Price: From $26
Sustainable Materials: Cilantro and shea butter
Matthew Malin and Andrew Goetz have created a fantastic four-in-one essential for all your grooming needs. This isn't your average mens all all-natural conditioner! It's a cleansing rinse, a styling aid, a conditioner, and even a leave-in treatment all in one! The secret to its power lies in the combination of natural ingredients and cutting-edge science. It's cilantro-based (yes, coriander leaves), which means it gently conditions your hair, helps untangle those pesky knots, and gives you a lightweight shield against the elements. Thanks to shea butter, you get unmatched levels of hydration, leaving your locks feeling soft and lush. Plus, it's vegan-friendly, so it's good for the planet, too.
3.  Aveda Botanical Repair Strengthening Conditioner
Price: From $23
Sustainable Materials: Avocado, green tea and more
Aveda's strengthening organic conditioner for men is formulated with a whopping 98 percent naturally derived ingredients. First, there's a plant-derived, bond-multiplying molecule that strengthens your hair at its core. Then, there's a macro-green blend of avocado, green tea, and sacha inchi that treats the cuticle, nourishing your hair from the outside. Lastly, there's a protective active complex that forms an invisible, water-resistant lipid layer. This layer seals your hair cuticle and prevents future damage, leaving your hair looking and feeling its best. Plus, it's vegan-friendly and suitable for all hair types! The conditioner has a delightfully fresh, light, and herbal aroma, thanks to ylang-ylang and marjoram. It does wonders for your hair by helping to detangle and prevent breakages without making your hair feel heavy.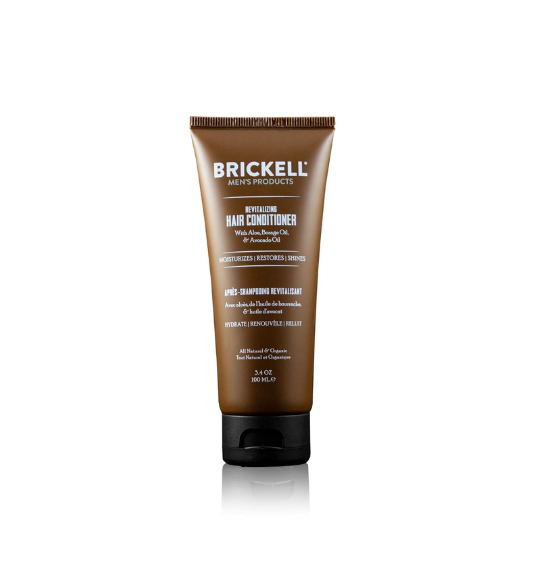 4. Brickell Revitalizing Hair & Scalp Conditioner For Men
Price: From $14
Sustainable Materials: Aloe Vera, Avocado and Borage Oil
When it comes to finding the best natural hair conditioner for men, look no further. This conditioner is a powerhouse, designed to give your hair the love it deserves. No matter what hair type you have, it's here to save the day. In fact, not only does it work wonders on your hair, but it also pampers your scalp with natural oils, which can even promote hair growth. What makes it truly special is the new and improved formula. It's packed with natural ingredients that are perfect for men who want fuller, healthier, and shinier hair. The base of thick aloe ensures that these powerful ingredients are delivered right where they're needed. Borage Oil, with its omega-6 fatty acids, promotes hair growth and keeps dandruff at bay. Avocado Oil, on the other hand, does wonders for each hair shaft, making your hair strong and silky smooth. And the addition of Peppermint gives your scalp a gentle, stimulating massage, encouraging hair growth and preventing dandruff, all while leaving you feeling invigorated with its refreshing scent.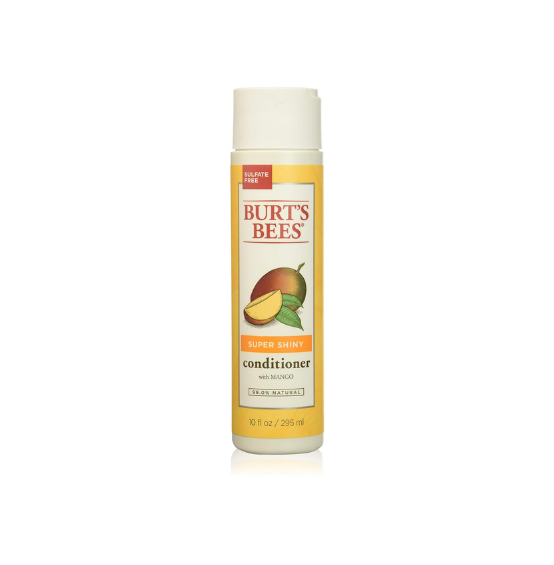 5. Burt's Bees Super Shiny Conditioner
Price: From $32.28
Sustainable Materials: Mango and avocado oils
When you pick up Burt's Bees best natural conditioner for men's hair, you might feel like you're going back in time to an old-school natural product. The formula has a thin, creamy consistency and doesn't foam at all. It's a unique experience, especially if you're new to the world of natural hair care. What sets it apart is its commitment to using nontoxic, salt-derived ingredients instead of harmful chemicals. This means it's good for you and the environment. Plus, it's enriched with mango and avocado oils. These oils not only add a lovely shine to your hair but also combat static, making your hair look super soft, shimmery, and free from frizz. All you need to do is work it through your hair thoroughly, rinse, and voila!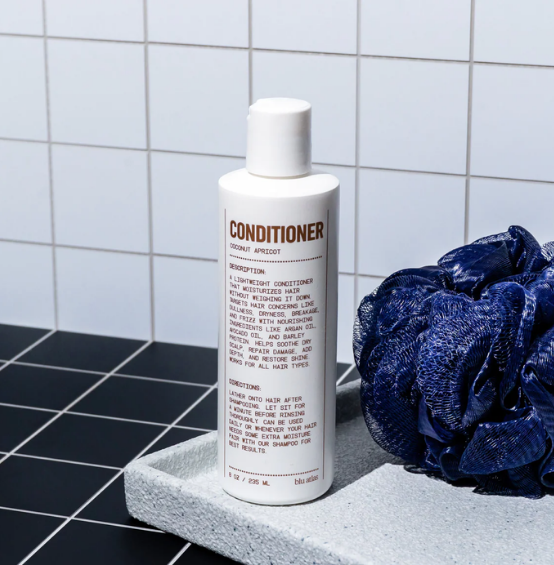 6. Blu Atlas Conditioner
Price: From $49
Sustainable Ingredients: Natural humectants
When it comes to top-notch men's grooming, Blu Atlas has a real gem on their hands. Their natural men's conditioner, made with 98% naturally sourced ingredients, is a clear winner in the hair care department. No worries, this conditioner isn't heavy or greasy. It's got a lightweight formula that's packed with powerful botanicals to tackle all your hair concerns. It soothes and hydrates your scalp while fortifying your strands. Thanks to the fresh-scented blend that includes natural humectants, it locks in moisture, keeping your hair hydrated and happy. And that's not all – it also contains barley protein to strengthen your strands. Plus, it's free of harmful parabens, phthalates, and sulfates, making it a safe choice for your hair care routine.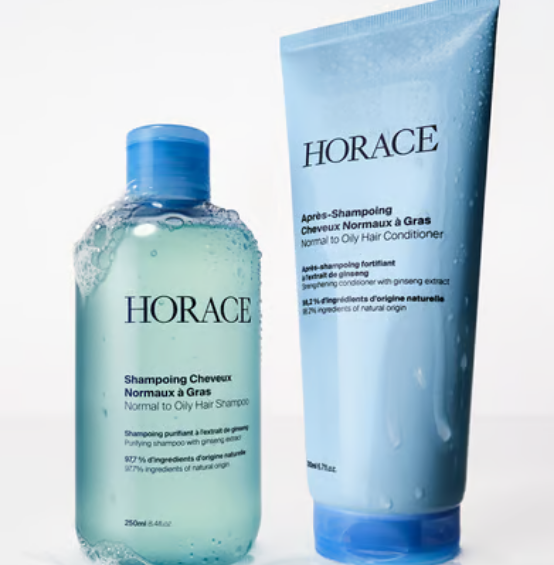 7. HORACE Nourishing Conditioner
Price: From $15
Sustainable Materials: Shea butter, Abyssian oil and mango butter
With an impressive 96.9% all-natural ingredients, HORACE's organic conditioner for men standout product in the world of hair care. his conditioner has a gentle formula that's a powerhouse for your hair. It hydrates and strengthens your locks with a blend of plant-derived moisturizers, including shea butter, Abyssian oil, and mango butter. Your hair is in for a treat with these high-powered ingredients. Plus, If you're conscious about what goes into your hair, you'll be pleased to know that this product is free of silicone, mineral oil, PEG, and parabens. It's clean and safe, ensuring you treat and nourish your hair the right way.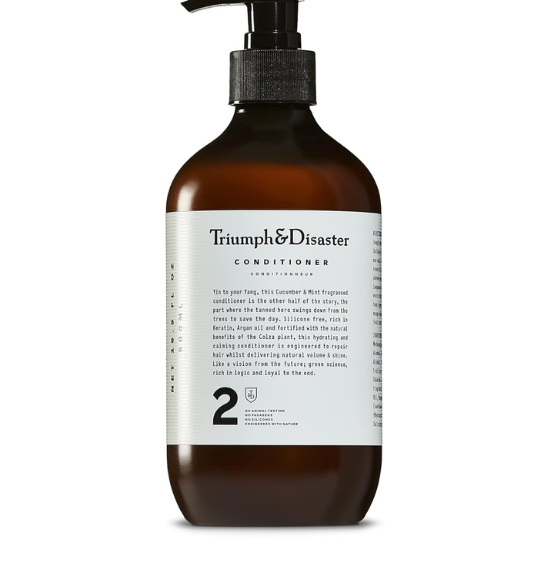 8. TRIUMPH & DISASTER Conditioner
Price: From $33
Sustainable Materials: Keratin, nourishing argan oil and an all-natural silicone
Last, but not least, is TRIUMPH & DISASTER's mens all natural conditioner. It's 100% natural and boasts a top-rated status with proven results. The conditioner is a lightweight formula that's excellent at detangling your hair. What's more, you'll love the enticing fragrance of mint and cucumber. It's like a breath of fresh air for your hair. With a rich dose of hair-fortifying keratin and nourishing argan oil, your hair is in for a treat. It'll be stronger and healthier than ever. What's even better is that it uses an all-natural silicone substitute to detangle your hair. So, you get the results you want without any harsh chemicals.