Stylish & Sustainable Shoes for Men to Wear in Summer 2023
Are you ready to break out of your shopping rut and discover the array of sustainable shoes for men that are currently available on the eco market? Granted, for years, the words stylish and eco-conscious could rarely be in the same sentence.
However, In 2023, the best sustainable shoes for men look nothing like their plain and simple predecessors. There is a refreshingly new wave of independent fair trade shoe brands and footwear designers ready to outfit us with street style-approved and summer-ready sustainable sneakers, loafers, derbies, and everything else in between.
Our list below includes the best of the best eco-friendly feet whips, crafted from recycled and natural materials straight from the virtual shelves of ethical footwear companies that closely monitor their environmental economic, and social impact.
Best Sustainable Men's Shoes for Summer 2023
1. Patara | Taj Black Nomad
Price: $98.00 Sizes: 8-13 Materials: Natural Cork and Recycled PU Foam soles, Braided Hemp Detail midsole, upper made with Handwoven Cotton from India
Patara gave the classic derby silhouette a modern, eco-friendly treatment without skimping on affordability. Featuring a mid to low collar height, these all-occasions-ready sustainable shoes for men offer a streamlined look to adhere to your minimal aesthetic.
The replaceable Natural Cork and Recycled PU Foam give these sustainable casual shoes an extremely lightweight feel and minimize odor without forgoing support. The midsole is made with a Braided Hemp Detail and for the upper part, they used Handwoven Cotton from India. Overall, it's a fantastic footwear choice for summer!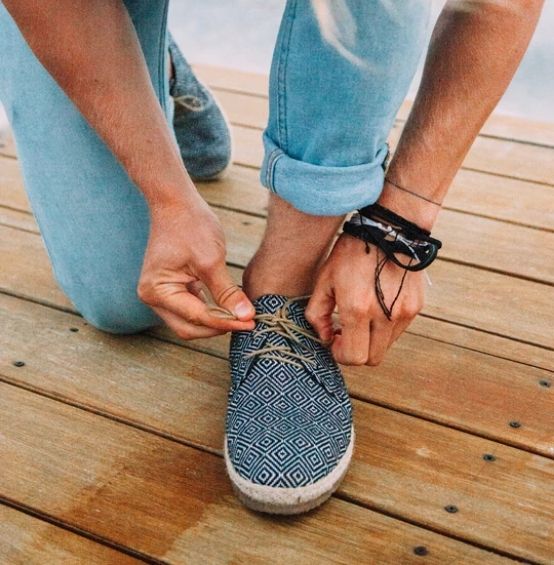 2. Rothy's | Driving Loafers
Price: $185 Sizes:7-16 Sustainable Materials: Recycled water bottles, Algae-based foam, Natural rubber outsoles
Everyone who champions summer loafers regularly can attest to the fact that comfort is the number one priority. Rothy's sustainable men's shoes are the wear-me-everywhere loafers you've been looking for. Featuring flexible design and dual-density insoles, the footwear is fully machine washable and doesn't stretch much.
The cool brown upper goes perfectly with virtually every color in your wardrobe. Plus, the gum outsoles add a whole new level of grip and durability. Rothy's signature thread is spun from plastic water bottles. These eco-friendly sustainable shoes for men required about 21 plastic bottles to knit be knitted – now, that's impressive!
3. Allbirds | Tree Dasher 2
Price: $135 Sizes: 8-14 Sustainable Materials:FSC-certified TENCEL™ Lyocell upper, sugarcane-based green EVA foam midsole, FSC-certified natural rubber outsole, Bio-based nylon eyelets, recycled plastic bottle laces, Castor bean oil-based insole foam, ZQ merino wool heel lining
The B-corp Allbirds is one of our top favorite Eco-Friendly Men's Activewear Brands that carries an array of Sustainable T-Shirts for Men and some of the best sneakers we've come across.
The Tree Dasher 2 is the upgraded version of their everyday running shoes. With a responsive foam, extra grip, and an improved fit, these carbon-neutral, sustainable men's shoes are perfect for everyday runs, walks, roads, and light workouts.
The No-Slip Heel keeps the ankle in place; the Cushier Crash Pad was designed to soften the impact. Overall, it's the perfect runner-approved eco-friendly sneakers.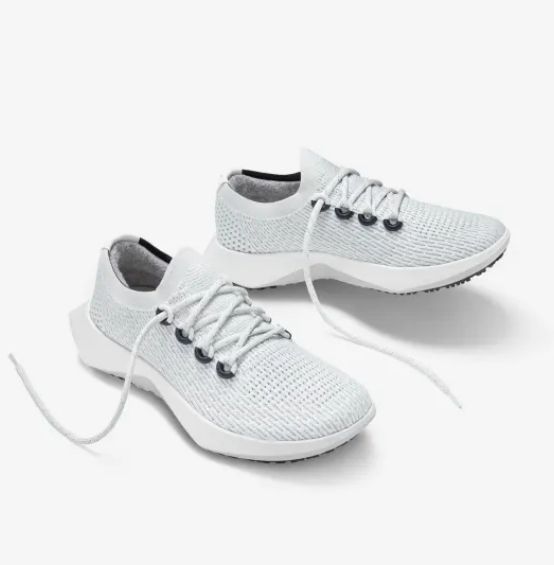 4. Cariuma | Gum Canvas
Price Range:  $79 Sizes: 5-13 Sustainable Materials: Natural rubber sole, vegan insole made from cork, bio memory foam & organic mamona oil, GOTS-certified cotton upper, Recycled Plastic lines, threads, and labels.
Cariuma's 100% vegan, stylish, and machine washable Gum Canvas are the most affordable sustainable shoes for men who love casual low-tops for their summer strolls. Available in 16 colors, this footwear is handcrafted in ethical factories using natural premium materials.
What stands out the most is the lightweight cushion technology and classic cap-toe design that offers supreme comfort. They arrive packed in recycled packaging via Carbon Neutral shipping. To top it all off, for every purchase of sustainable casual shoes, the brand plants 2 trees in the Brazilian rainforest.
5. Saola | Tsavo Black M
Price: $129 Sizes: 7.5-13 Sustainable Materials: Upper made of 6 recycled plastic bottles, 100% natural cork, harvested algae foam insoles and EVA, GOTS organic cotton laces
Minimalist comfort enthusiasts, rejoice! Saola's eco-friendly sustainable shoes for men are your new favorite affordable sneakers for every occasion. Made from recycled and bio-sourced materials, these ultra-comfortable and highly-breathable shoes come with a removable insole and weigh just about 200g!
This alone makes them the ultimate summer footwear for casual outings. By opting for these sustainable sneakers, you will also support Wildlife Trust, a Kenya-based organization that seeks solutions to distribute water to human communities and wildlife.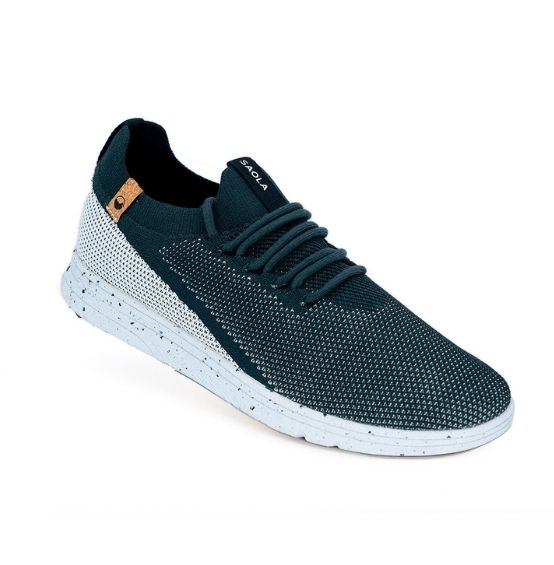 6. Adelante Shoes | The Nautico
Price Range:  $260 Sizes: 4-17 Sustainable Materials: Nubuck or full-grain leather upper, Calfskin lining, stacked vegetable-tanned leather heel
Are you having trouble finding the perfect fit? These sustainable men's shoes are made-to-order for any length and width. Ethically crafted in Guatemalan with Nubuck or full-grain leather, this loafer style features Adelante's signature high-quality construction and a super lightweight feel.
Originally, it comes in 6 colors, but you can personalize your Náutico pair with a simple click. The brand donates 50% of net profits every year to organizations working for social justice in their communities and is committed to bettering the lives of their workers by providing fair wages, healthcare, and an employee stock ownership plan.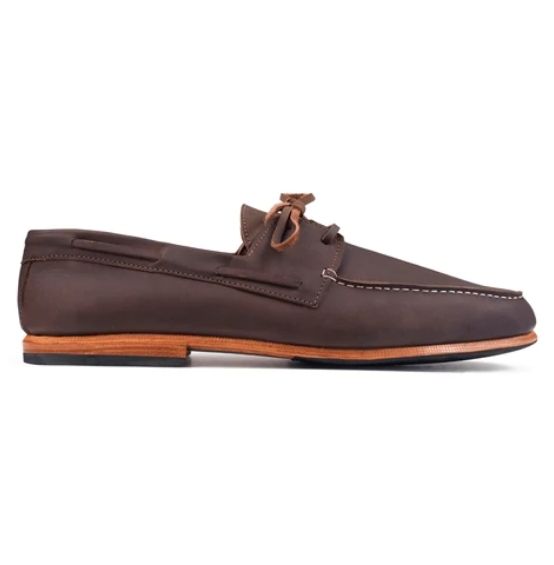 7. Psudo | Men's Court
Price Range:  $128 Sizes: 8-174 Sustainable Materials: Recycled plastic bottles, REPREVE technology and Sorbtek fibers
Psudo's Men's Court may look like your casual sneakers, but it comes with a twist. It's actually a slip-on style with printed laces! Slip-resistant and lightweight for maximum all-day comfort, these sustainable shoes for men are breathable, moisture-wicking, and antimicrobial.
On top of that, they come with water resistance, which makes them perfect for summer and winter! They are manufactured and sourced in the USA which means that they have a way lower carbon footprint.
The sustainable and ethical footwear company pitches a pair of sneakers at $128.00, which is pretty affordable if you consider how eco-friendly and fashionable it really is.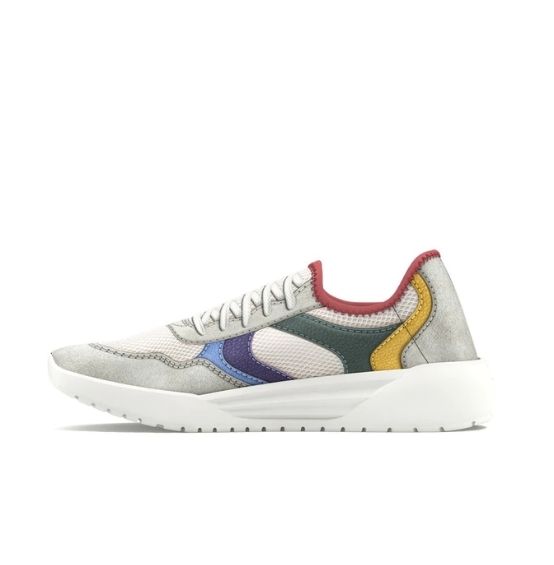 8. Pronto | Nimbus
Price Range:  $129 Sizes: 8.5-14 Sustainable Materials: Natural Rubber Outsole, Water-Repellent Recycled Leather Composite, Regenerated Tencel Fiber Lining, Recycled and Plant-Based Foam Insoles, Sugarcane-Based Foam Bottom
Consider Nimbus as a sneaker-dress shoe hybrid designed to be worn on any occasion. The end goal? To fight overconsumption and help you stay away from multiple purchases of different sustainable men's shoes for multiple occasions.
The unisex silhouette is made from recycled and bio-based materials that offer maximum comfort and style. On top of that, the shoes are water repellent, odor-resistant, and sweat absorbent! Apart from offering 1% of their profit to The Changing Tides Foundation, they also offset the carbon emitted from all freight & parcel shipping.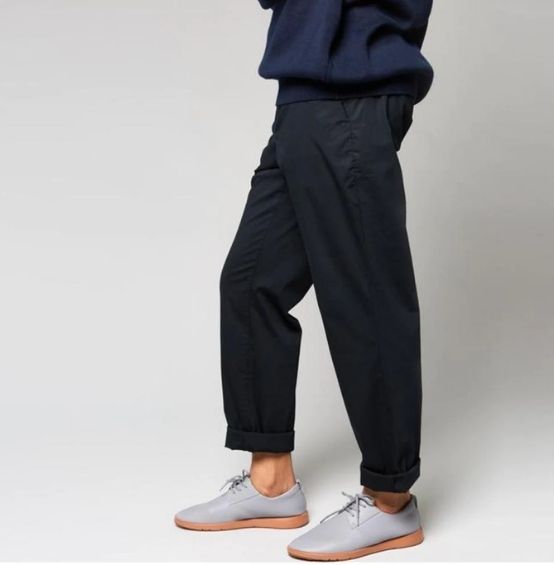 In Conclusion: Stylish & Sustainable Shoes for Men to Wear in Summer 2023
No matter your personal preferences, the aforementioned ethical footwear companies have all your warm-weather sartorial needs covered. Seriously, you can find stylish sustainable men's shoes for pretty much every occasion without having to spend an entire month's salary on your eco-friendly sustainable shoes for men.
If you want to find even more green-minded brands, take a look at our favorite Sustainable Sandals & Flips Flops picks or browse the complete sustainable men's clothing brands list.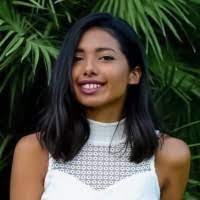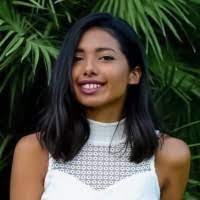 About Author
Konstantina Antoniadou
Freelance sustainability and fashion writer with an ongoing curiosity to explore new innovative technologies, and report on trends in "green" industries.