Sustainable Alternatives Dr Martens & Vegan Boots
If you're ready to rock the most stylish and sustainable alternatives to Dr. Martens this winter, we've got you! Our list of ethical and vegan boots includes many different styles of sustainable boots like Dr Martens in an array of colors.  
Granted, we all have a soft spot for the iconic, blister-causing boots that date back to 1945. However, even after years of being an absolute essential for most folks, the brand still hasn't decided to take the sustainable route. So, looking for fantastic sustainable dupes and ethical boots like Dr Martens is the easiest way to ensure that your lewks are equal parts eco-friendly, stylish, and kid to the animals.
Why Dr. Marten's Boots Aren't Sustainable?
The brand's shift to a fast fashion model has impacted everything! The company relocated its production from the UK to China and Thailand in 2003 – one of the countries with high labor abuse risks, if we may add. Dr. Martens lacks labor standards certification in its supply chain, and evidence supporting the payment of a living wage is absent.
While the brand has taken positive steps with a lifetime warranty collection and packaging from 100% post-consumer waste materials, the overall environmental rating is hampered by a reliance on resource-intensive leather. Despite tannery audits by the Leather Working Group, Dr. Martens lacks robust policies addressing energy use, water reduction, and carbon and greenhouse gas emissions, highlighting areas for improvement in their environmental initiatives.
From an animal welfare standpoint, Dr. Martens has taken a positive step by introducing a vegan line made entirely from non-animal origin materials. However, the commendable move is tempered by concerns. The labeling of the vegan material as "a non-leather synthetic material" lacks transparency, raising questions about the potential use of environmentally damaging Polyvinyl Chloride (PVC) plastic. The use of potentially harmful materials in the vegan line and the continued reliance on traditional materials like leather contribute to the brand's mixed ethical standing.
Luckily, there are many sustainable alternatives to Dr Martens in 2024! Read on to find some amazing options for men and women. 
You can also check out the 22 Sustainable Men's Shoes and Sneakers, men's dress shoes, and casual organic shoes guides.
Best Sustainable Alternatives to Dr Martens for Vegan Boots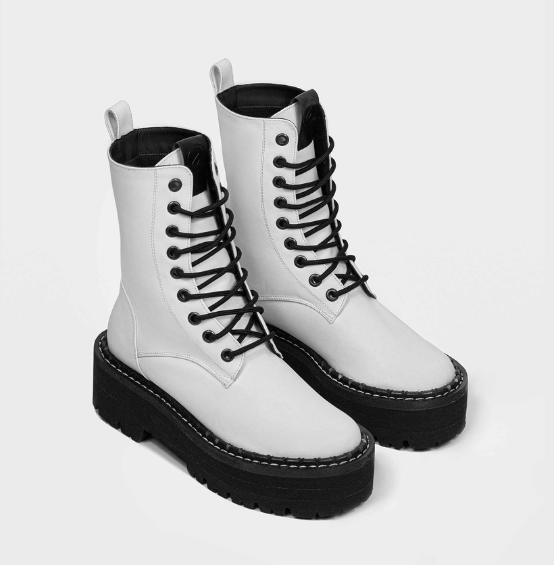 1. Bohema White Cactus leather Boots 
Price: $239
Sustainable Materials: Cactus leather
 The Cult Workers Vegan Classics are one of the best sustainable boots like Dr Martens! These vegan boots are consciously crafted with 100% vegan cactus leather ( Desserto®) and ultra-comfortable EVA Foam soles healthier in Poland. Desserto® is a highly sustainable, plant-based vegan leather made of the nopal cactus plant. It is extremely soft to the touch, with excellent durability and resilience. What's more, each pair carries the artistry and dedication of skilled craftsmen.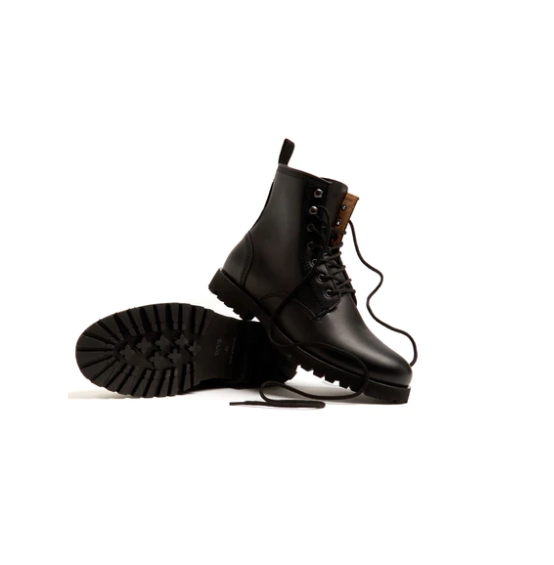 2. Wills Vegan Store "Rangers" Boots
Price: $134
Sustainable Materials: Recycled poly, vegan suede lining, 69% biobased content or Italian vegan suede uppers
Next up is The Rangers by Wills Vegan Store– a pair of vegan boots designed to stand the test of time. Made ethically with the utmost durability in mind, these rugged and sustainable alternatives to Dr Martens are set to become your trusted companion for years to come. The pairs are wrapped in the brand's signature Italian vegan leather boasting an impressive 69% bio-based content. They also feature double and triple stitching on the uppers, forming the classic 7-eye boot silhouette. And thanks to the deep squishy recycled insoles and solid rubber outsoles, you'll be able to navigate city streets or venture off-road with ease.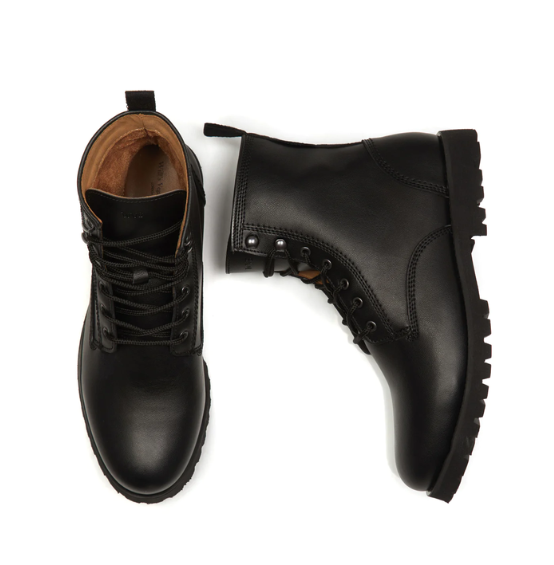 3. Noah Vegan Boots For All Weathers
Price: From $189
Sustainable Materials: Microsuede and micronappa, Synthetic fur, recycled materials
Crafted with meticulous care in Italy, Noah's Claude is a great option for everyone who wants sustainable boots like Dr Martens. The outer material is a combination of Microsuede and micronappa. The interior welcomes you with synthetic fur lining for a cozy warmth that extends throughout the removable insole. As for the profiled outsole, it's made from recycled materials which is fantastic. The women's model, Claudia, complements various outfits, from slim jeans and jackets to wide coats and classic ensembles. For men, Claudio pairs seamlessly with cargo pants and a tartan shirt for a laid-back look or opts for knitwear and a classic shirt to elevate your style on more formal occasions or at the office.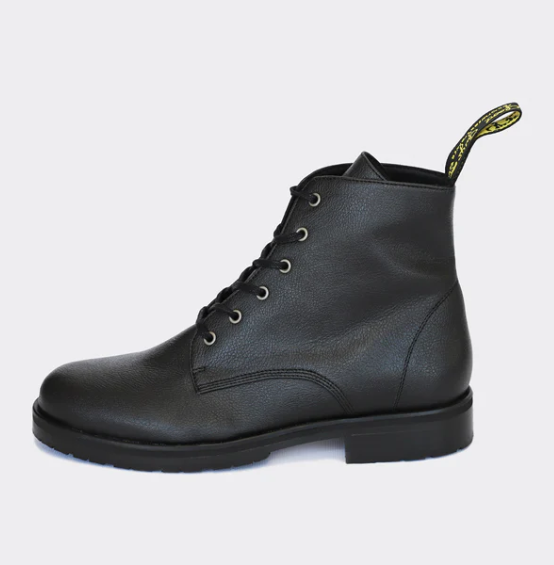 4. Good Guys Vegan Ankle boots
Price: From $134
Sustainable Materials:  Appleskin, bio-based corn, rubber sole, and cotton shoelaces 
The conscious brand Good Guys creates beautiful, cruelty-free boots for women and men. Made from the award-winning AppleSkin™ material, a 100% vegan leather proudly made in Italy, these boots are stylish and ethical! The innovative use of apple waste from a specific region in Italy results in a stunning material that mirrors the look and feel of traditional leather without the environmental impact. The lining is equally conscientious, made from bio-based corn and featuring an antibacterial microfiber for comfort that goes beyond expectations. Plus, All materials are sourced and crafted in Europe, with certification under the Oeko-Tex® Standard 100 class which ensures that every component meets stringent environmental and ethical standards. Whether paired with cuffed jeans, a dress, or colorful pants, these sustainable alternatives to Dr Martens effortlessly complement your wardrobe.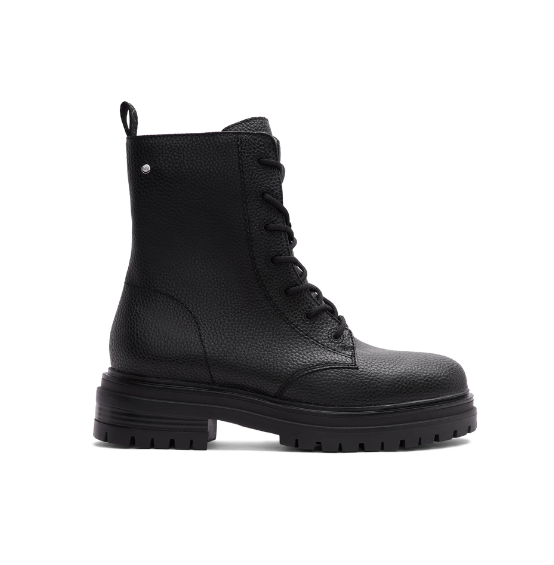 5. Matt + Nat Vegan Combat Boots
Price: From  $155
Sustainable Materials: Vegan and cruelty-free leather
These Women's Lace-Up Combat Boots are a stylish and sustainable choice for the conscious sartorial experimenters. Crafted with biodegradable PU material, and equipped with 1" outsoles, these vegan boots provide a sturdy foundation for urban adventures. Matt + Nat prioritizes ethical manufacturing practices, proudly adhering to the SA8000 standard in their factories, we aim to expand these high-quality work conditions across our production. Crtualte-free, vegan, and ethical – exactly as we like them!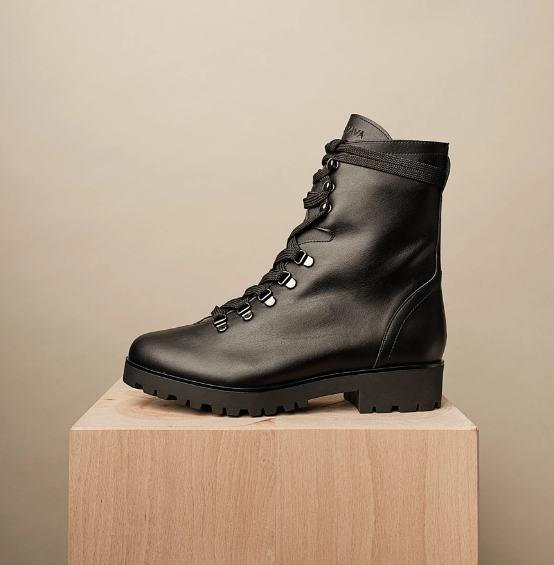 6. Bhava Rally Combat Hiker Boot
Price: $289
Sustainable Ingredients: European REACH certified vegan leathers, cork
Bhava's Combat Boot is back and features removable cork insoles for an added layer of comfort. Designed with meticulous attention to detail, these vegan boots showcase heavy-duty lace hooks, a comfort-flex rubber sole, and our renowned comfort insole technology. Each pair of Rally boots comes with two sets of laces – regular and extra-long, allowing for a versatile double-wrap at the ankle. Also, these sustainable alternatives to Dr Martens are manufactured in Alicante, Spain, where generations of artisans handmake each pair. The brand prioritizes not only style but also sustainability, with the choice of eco-friendly materials and a soft eco-breathe, solvent-free lining, all adhering to REACH EU certification standards.
Ethical Alternatives To Dr Martens (Non-Vegan)
7. Nisolo All-Weather Andres Boot
Price: $247.95
Sustainable Materials: Certified ethical Water-resistant leather upper, rubber soles
Nisolo offers an array of sustainable alternatives to Dr Martens for pretty much every taste! While not vegan, these boots are crafted with leather from a Leather Working Group Certified tannery which ensures responsible and ethical leather production. You can also enjoy the pure luxury of custom Cellfit™ memory foam removable insoles that mold to your feet to provide support and a personalized fit. Additionally, the slip-free rubber heel cap adds an extra layer of security, and the shock-absorbing, studded rubber soles are as durable as they can get! To top it all off, the brand is committed to offering 100% living wages for their craftsmen and maintaining a net-zero carbon footprint, contributing to a better world.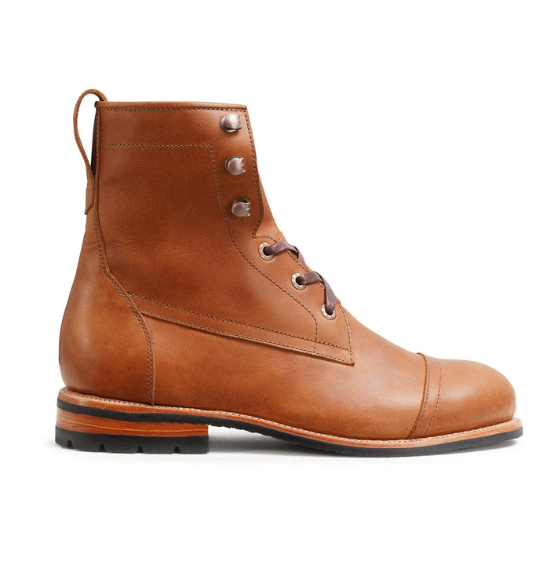 8. Adelante The Havana Boots
Price: $385
Sustainable Materials: Full-grain leather, High-density memory foam
Tailored to your own preferences, Adelante's sustainable boots like Dr Martens are made-to-order to give you a perfect fit for any length and width. Choose from full-grain leather in a range of captivating colors (caramel, desert, denim blue, pomegranate, cemento, onyx, chestnut) or opt for the luxurious feel of Nubuck (oatmeal, black, mahogany, white) leather. What's more, these ethical boots feature durable and resoaleable Goodyear welt construction. As for the high-density memory foam insoles, they're here to provide unmatched comfort and support! Lastly, each pair is handcrafted by skilled Guatemalan artisans, and you'll also be able to meet the craftsman behind your boots which adds a personal touch to your purchase.