7 Sustainable & Ethical Coastal Lifestyle Clothing Perfect for Summer 2023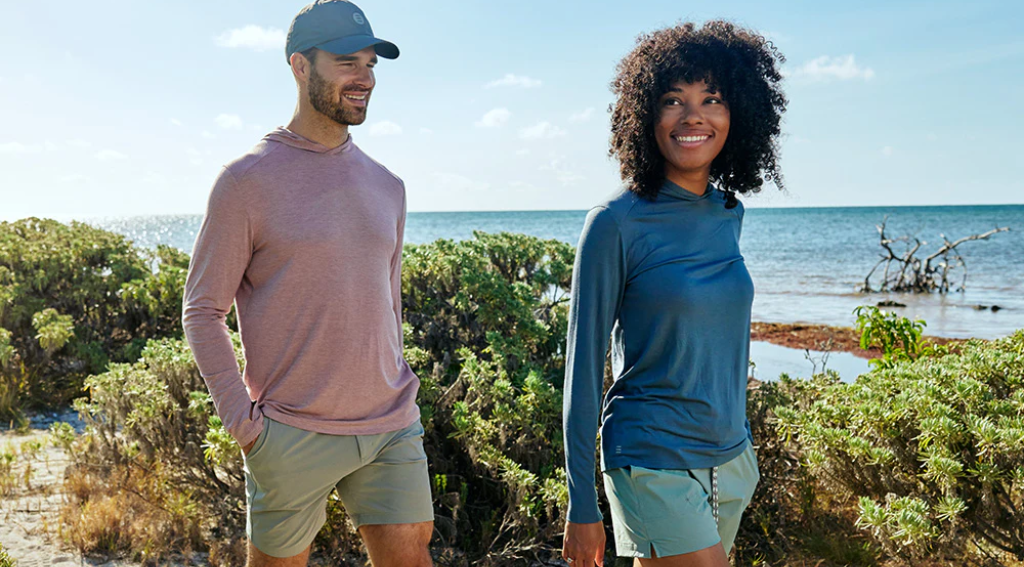 Loose-fitting linen shirts for leisurely walks on the beach; classic, practical, summery, and light shorts, khaki and chino pants; polos that match backdrops like sandy coastlines, rocky cliffs, and docks that have us ready to set sail. 2023's best sustainable coastal clothing brands know the winning sartorial formula of the relaxed seaside lifestyle.
Let's just say that all our favorite ethical wears are ideal for boating on the open waters, chilling by the sea, or golfing on your favorite courses. But that's not all. We cherry-picked sustainable brands that put their focus on using eco-friendly materials, working with ethical manufacturing partners, ensuring fair labor practices, promoting repair and reuse of their products, and reducing their environmental impact all while supporting environmental conservation.  
Read on to discover the most noteworthy coastal fashion brands that are adaptable enough for every high-temperature occasion.
Best Ethical Coastal Lifestyle Clothing For A Sustainable Summer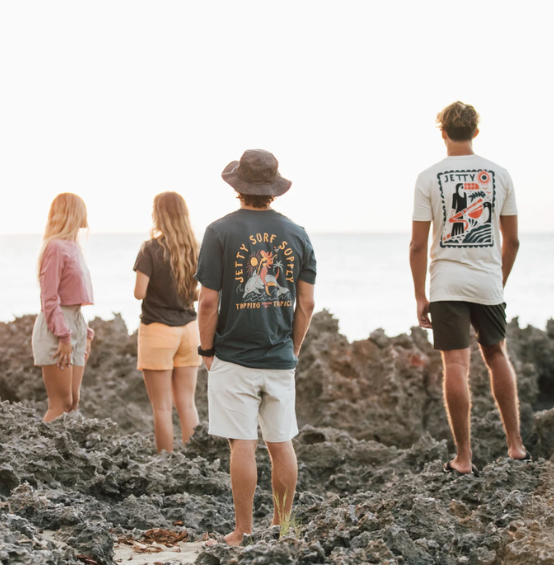 1. Jetty
Price: From $32.95
Sustainable Materials: Cotton, OYSTEX fabric, Bluesign certified dyes & more
Jetty is one of the most beloved sustainable coastal clothing brands on a never-ending " create kinship and community through our shared passion for water." Their assortment of ethical men's coastal clothing perfectly embodies our passions for surfing, travel, fishing, art, and a love for adventure.
From sustainable graphic shirts with an urban tropical aesthetic, palm-tree adorned shirts, and boardshorts to UV protection clothing, the sun-drenched colors and styles are all inspired by summers well spent. Their materials of choice? The B-certified corporation came out with a new eco-friendly OYSTEX fabric blend of pulverized oyster shells with recycled polyester (RPET) to create a soft and breathable fabric without limiting stretch or durability.
Lastly, the ethical clothing brand founded the Jetty Rock Foundation to protect our oceans and waterways and support those who build their lives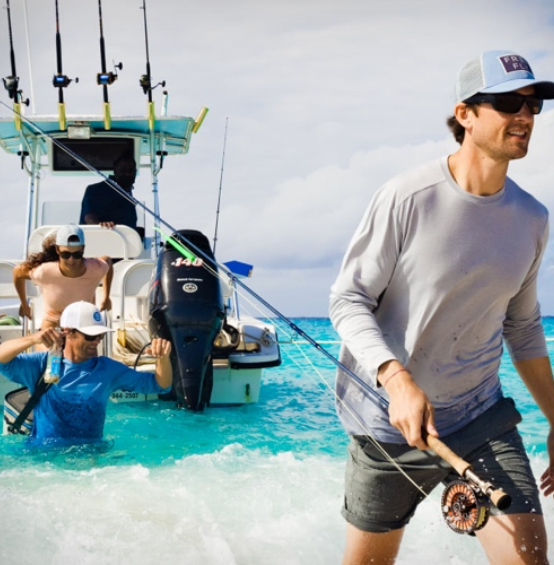 2. Free Fly Apparel
Price: From $39 
Sustainable Materials: Performance Bamboo
Are you on the lookout for the best ethical coastal lifestyle clothing brands that harvest the eco-conscious powers of panda-feeding bamboo? Free Fly makes sustainable men's clothing packed with natural UPF protection and breathability for the sunny days ahead.
Free Fly Apparel is committed to ethical manufacturing practices and works with factories that provide fair wages and safe working conditions for their employees. They also have a partnership with 1% for the Planet, donating 1% of their annual revenue to environmental causes.
So rest assured that your tops, bottoms, graphic tees, hats, and accessories will offer the much-needed comfort that flows with you through your day in the most ethical way possible.
3. Faherty
Price: From $58
Sustainable Materials:  Certified organic cotton, Tencel, Lyocell, Tencel Ecovero, cashmere, linen, recycled polyester
Faherty is online of the most raved-about sustainable coastal clothing brands every quintessential cool guy should keep on his radar. The brand uses organic cotton, recycled polyester, Tencel, Lyocell, Tencel Ecovero, cashmere, and linen to create their impressive range of shirts, polos, blazers, sweaters, hoodies, and outerwear.
In other words, they'll be with you in all your sunny new adventures ahead. They also use natural dyes and water-saving techniques in their production process. It's no wonder why they've managed to rack up over 38,1K reviews.
What's more, Faherty, which is a proud member of The Textile Exchange, BLUESIGN, and 1% for the Planet, continues to partner with Native and Indigenous designers, hire Native interns, host a Native Board member, and work with Native-led non-profits.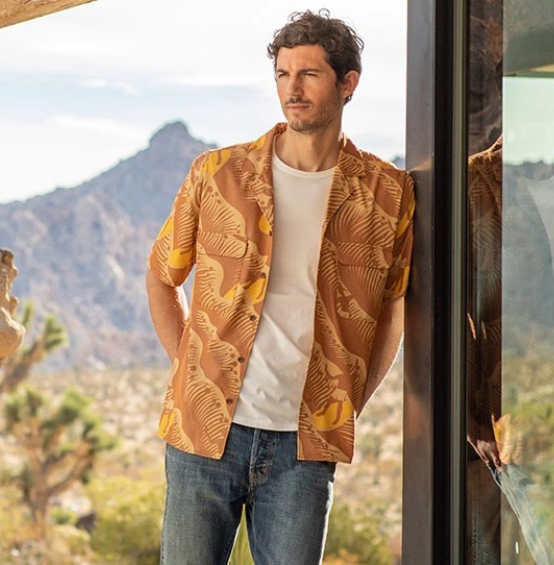 4. Outerknown
Price: From $40
Sustainable Materials: ECONYL, organic cotton, hemp, recycled cotton, responsible wool
Outerknown is a sustainable clothing brand that was founded in 2015 by professional surfer Kelly Slater and designer John Moore. So to put it simply, this ethical coastal lifestyle lineup was practically born out of their love for adventure with no limits. On their virtual shelves, you can find everything from Polos, Henleys, tees, and sweaters to shorts, trunks and so many more ethical coastal lifestyle clothing styles for every taste. Aside from working with partners who use sustainable manufacturing practices, such as water conservation and renewable energy, the brand is also committed to transparency and traceability in their supply chain. That's why their suppliers and factories are certified Fair Trade and Bluesign!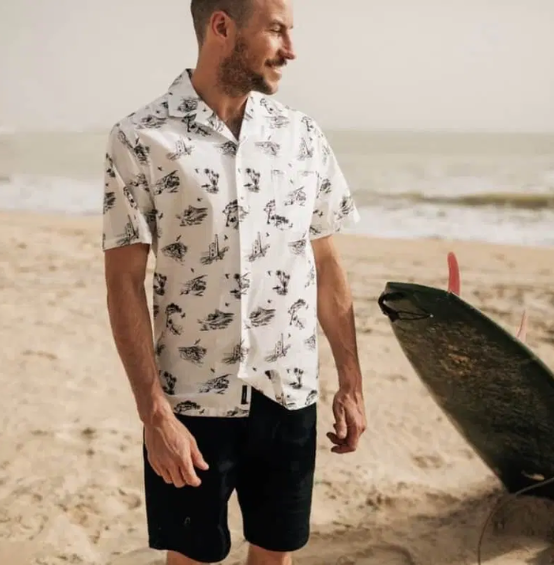 5. Finisterre
Price: From $51
Sustainable Materials: Bamboo, organic cotton, linen, hemp   
Aside from their premium quality rain jackets and sustainable puffers, Finisterre also offers a variety of ethical coastal lifestyle clothing for the warm-weather season! Wetsuits, swimwear, trousers, shorts, accessories – the ethical beachwear and leisure clothing options are endless.
Additionally, Finisterre is a certified B Corp, and everything they do is guided by their will to protect and conserve the ocean. From thoughtful design with durability in mind to their Lived & Loved repairs initiative, they're a sustainable fashion brand that truly walks the walk.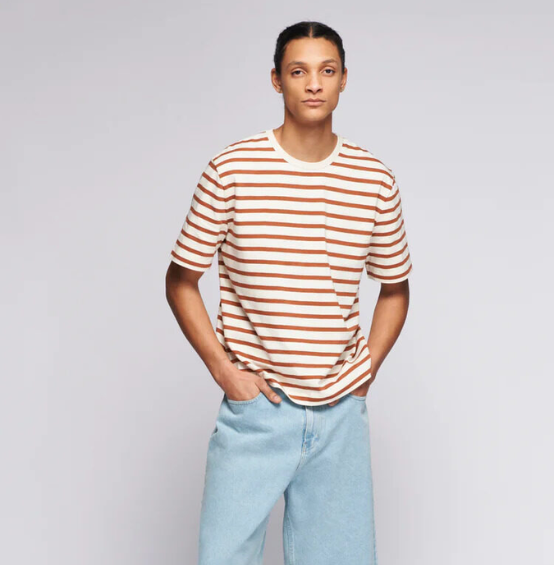 6. United by Blue
Price: From $30
Sustainable Materials: Tencel, wool, Micro Modal, Corzo, recycled polyester, organic cotton, hemp
This natural skincare brand offers a range of products that can double as aftershave, such as their soothing and hydrating facial oils. The cult-favorite Lapis Facial Oil is named for the precious blue oil it contains, Blue Tansy.
Moving on one of the most affordable sustainable coastal clothing brands that uses innovative materials like bison fiber and hemp which are, in fact, even more, eco-friendly than traditional materials like wool and cotton. We are talking about the Climate Neutral Certified company United by Blue –obviously!
The B Corp designs made-to-last resort wear and leisurewear on a slow fashion timeline. Think tops, bottoms, weekender bags, backpacks, and outerwear that reflect the easygoing relaxed feelings of the sun-drenched coast. Plus, for every product purchased, they remove one pound of trash from the oceans and waterways.
7. Patagonia
Price: From $55
Sustainable Materials: Organic cotton, hemp, fishing nets, rubber, wool
Last but not least, Patagonia, one of the most popular sustainable coastal lifestyle clothing brands – and a personal favorite. The company crafts sustainable outdoor clothing and gear for silent sports since 1985.
Granted, Patagonia is best known for their sustainable men's   eco-friendly ski clothing and activewear, but the range of products certainly doesn't end there! You can find lightweight, ultra-comfortable short-sleeved shirts and flannels, all-wear hemp shorts, men's boardshorts, and rashguards. But we do have an affinity for their Fair Trade Certified sewn tech tees that are made to handle all the uncomfortable moments.
What sets them apart from the rest of the ethical coastal lifestyle clothing brands? Patagonia promotes the repair and reuse of their products and offers a repair service for its products to extend their lifespan.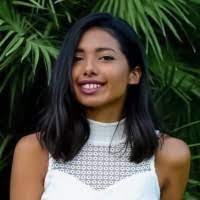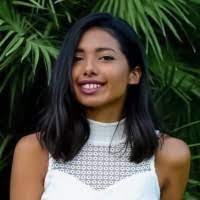 About Author
Konstantina Antoniadou
Freelance sustainability and fashion writer with an ongoing curiosity to explore new innovative technologies, and report on trends in "green" industries.