13 Sustainable Pants for the Conscious Gentleman
Finding the perfect pair of always-reliable sustainable men's pants that fit your style and help out the planet is certainly no easy feat. Granted, everybody knows the classic look of chinos. It's almost as if the soul of the west coast is infused into every pair, instantly making you feel like you're in California even if you're on the other side of the country and it's snowing outside.
As versatile as your perennial denim or sustainable t-shirts, these all-occasions-appropriate styles are here to help us create  ready-for-anything outfits –no matter the season.  But not all chinos and trousers are made equal – some are better for the environment than others. And it's always easier to feel good when you not only look good, but you also know that your style isn't harming Mother Earth's vibe.
That's why we went ahead and found 9 sustainable men's chinos and trousers that will have you looking and feeling good, with every single one of them being sustainable and GOOD for the environment.
Read on to discover the chinos that men everywhere should check out!
The Best Sustainable Men's Pants & Chinos
Price: From $177
Materials: 95% organic cotton, 4% recycled poly, 1% lyocell
Outerknown's commitment as a brand is to keep learning, exploring, and innovating. They have a great collection of gear for almost any occasion, and their trousers do not disappoint.
Modern, slim jeans for the guy who's looking for a little more style as he jets across the globe – that's what Outerknown delivers. These sit at the waist and are slim through the thigh and down the leg. They are the perfect pants whether you're heading for a tough day of work or just finished a full day of surfing.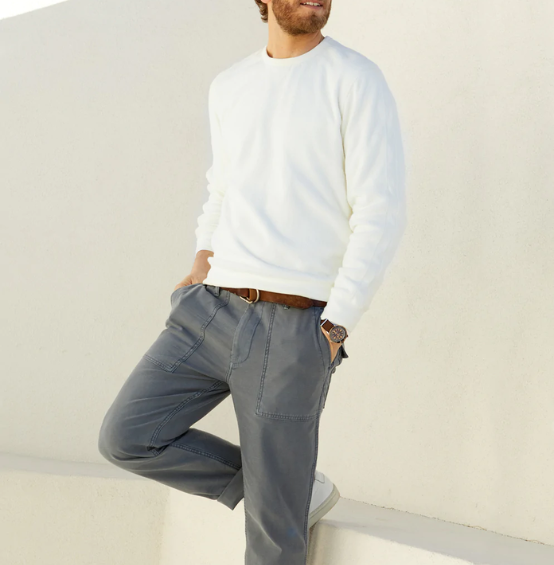 Price: From $118
Materials: Organic Cotton, 1% spandex
Taylor Stitch is the mecca of sustainable men's pants for everyone who cherishes comfort and style above all else. Constructed to perfection and responsibly built for the long haul, the Apres Pant is made of pure sustainable goodness from sourcing to factory to your closet.
This classic lounge pant is cut from a classic suit fabric that has been relaxed with an elasticated waist and hem. Whether you're riding your bike around town, or laying low around the house, few fabrics breathe easier and look sharper than this hearty, warm weather, truly sustainable staple. Oh, and don't forget to have a look at their Carnegie Pant and Weekend Pant as well. These classic, cozy casual options, which are made from wool,   can hold their own seven days a week.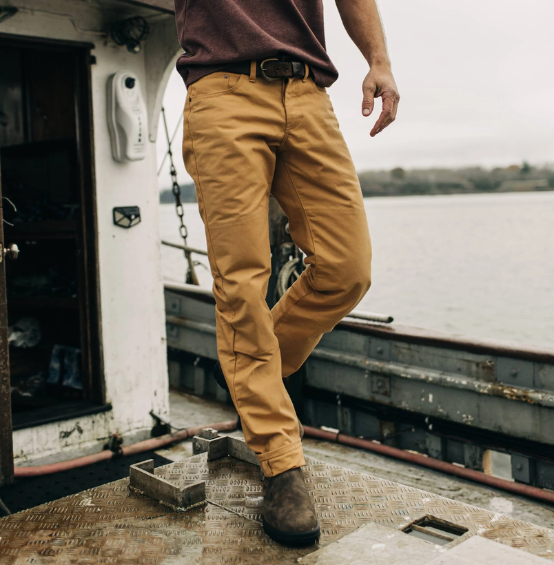 3. Warp + Weft 
Price: $98
Materials: Recycled and regenerative fibers, certified cotton, and clean dyes
When it comes to ethical denim, not many brands can rival Warp + Weft's inherently cool style and sustainable design. From vintage-inspired straight silhouettes and slim fit options to versatile tapered styles, these classic, mid-weight, strong-hold denim trousers combine innovative fibers and cotton to create an ultimate low-impact jean that looks vintage but feels modern. Beyond that, the brand treats and recycles 98% of the water they use. What's even more impressive? The extremely affordable price tag!Recycled and regenerative fibers.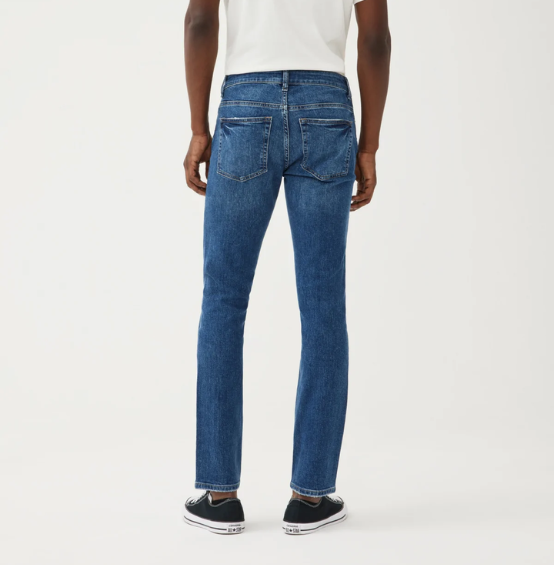 4. Everlane
Price: $119-$131
Materials: Cotton, Elastane
Everlane is on a mission to make the most beautiful essentials, at the best factories, without traditional markups. Take The Performance Chino, for example. Backed by a 365-day guarantee, these technical-pant features are sweat-wicking, quick-drying, and have a 4-way stretch without forgoing style. On top of that, the Cali-based brand is committed to revealing the true costs behind all of its products—from materials to labour, to transportation.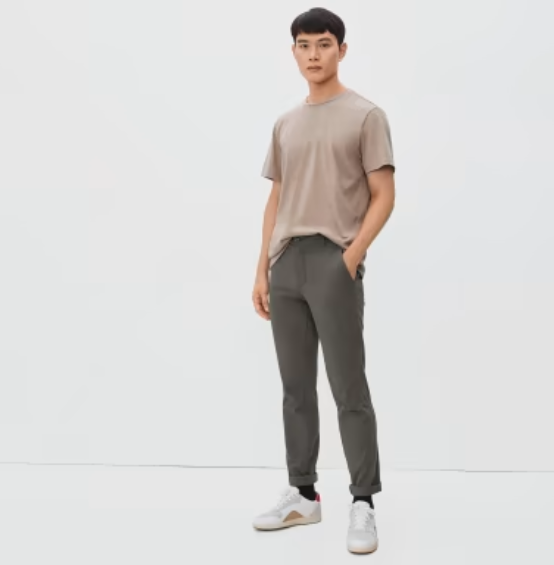 5. Toad & Co.
Price: $85-$95
Materials: Cotton, Poly, Spandex
Toad and Co. is here to equip us with sustainable men's pants that will forever remain a part of our capsule wardrobe. They decided to jack up the twill fabric with fresh threads and an updated fit for all da versatility.
Currently, there are more than 5 colors available – all featuring the same, universally-flattering regular fit that is somewhere between slim and relaxed, but never clingy or baggy. Let's not forget that Toad and Co. also uses renewable energy in its supply chain to reduce its climate impact. What's more, they also have a Code of Conduct that covers all of the ILO Four Fundamental Freedoms principles.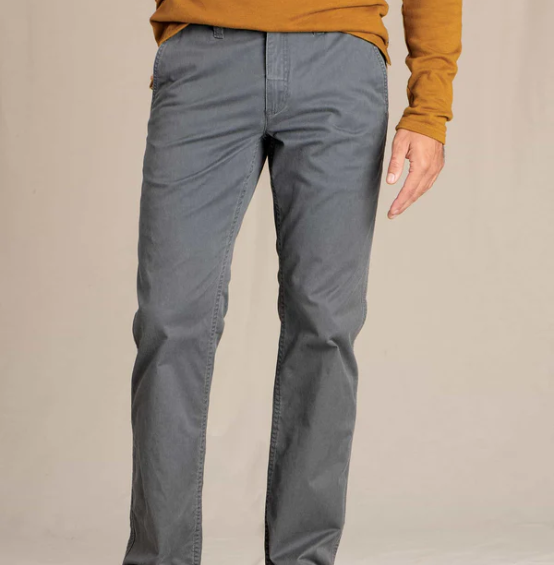 6. Faherty
Price: $85-$9
Materials: Cotton, Rayon, Lyocell, Spandex, Recycled Coolmax
Fueled by their mission to create modern American-heritage clothing in the most sustainable way possible, Faherty has given us yet another excuse to refresh our wardrobe with chinos, joggers, corduroys, and more consciously-made trousers. The brand uses the most earth-friendly materials and regenerated fabrics to create some of the most raved-about favorite pairs of jeans that somehow feel like absurdly soft sweatpants.
Other styles, like the "Movement" feature a sharp, tailored fit, and are crafted with 4-way stretch and COOLMAX® CORE Technology designed to keep you feeling cool all day long. No matter your sartorial preferences, these sustainable men's pants are certainly worth the mini investment.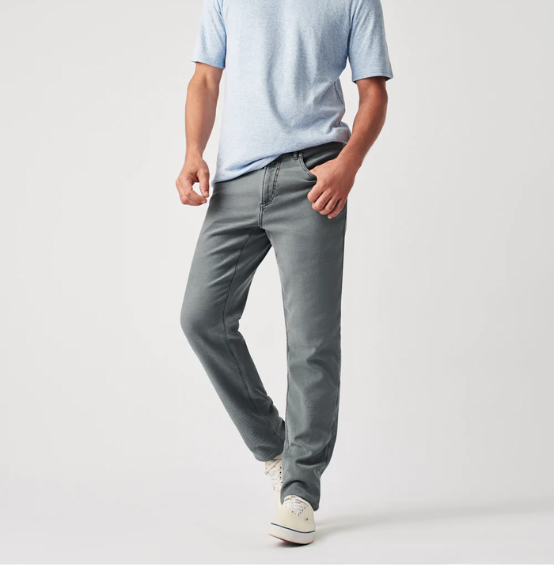 7. Patagonia  
Price: $79-$139
Materials: Cotton, hemp & more sustainable materials
Aside from their wide range of sustainable winter coats and jackets, Patagonia also offers an extensive range of travel-approved pants that are able to meet all your comfort demands. The brand prioritizes product durability because they know long-lasting, quality products are key to consuming less. </span
That's exactly why they use Hemp canvas, which is 25% more abrasion resistant than conventional cotton duck canvas and needs no break-in. You can also opt for Fair Trade Certified sewn organic cotton twill chinos, and ethically-made jeans. So whether you are an adventure seeker or simply want to feel comfy as you stroll the city stress, Patagonia's outdoor and travel styles should definitely be on your eco radar.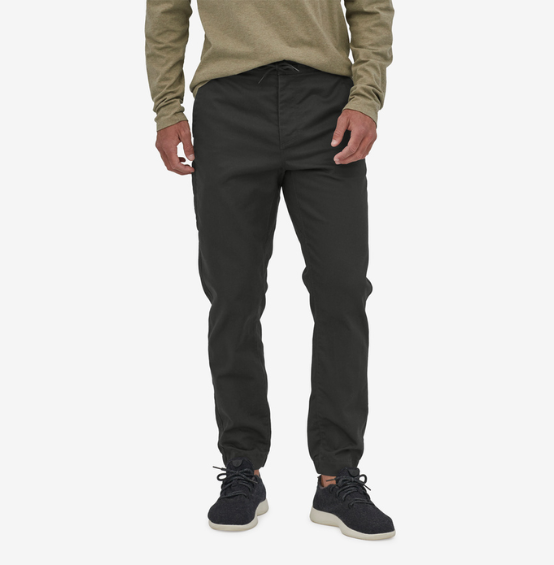 8. Prana 
Price: $95-$120
Materials:Recycled nylon, organic cotton, lycra & more sustainable materials
From the farm to the factory to the closet, Prana's sustainable men's pants collection runs the gamut from slim-fit chinos to straight-leg trousers, joggers, and, eco jeans. The earth-friendly brand uses ReZion™ recycled nylon blend stretch performance fabric as well as organic cotton and a pinch of Lycra Elastane to create staples for those who want something more laid back while still providing full functionality in the outdoors.
Some styles are also equipped with UPF50+ protection and are also sewn in Fair Trade Certified™ Factories that prioritize the health and safety of their workers. Whether you're hitting the gym, headed to the office, or out to dinner, these trousers will be with you for years to come.
9. Kotn
Price: $128
Materials: TENCEL, non-toxic dyes & more
Kotn's mission is to set the standard for conscious creation and consumption. They develop products around the principles of considered design, relentless quality, honest value, and positive impact – and their essential crew pants are as stylish and comfortable as any chinos out there.
Since Kotn's launch, they've provided private subsidies and resources to smallholder farms and impoverished communities, and advocated for environmental responsibility and stewardship, in addition to churning out some damn good pants. There's really nothing not to like with this brand.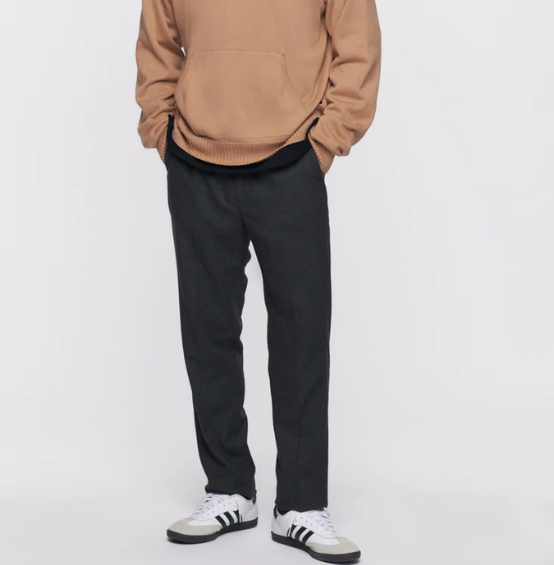 10. Archer 
Price: $240
Materials: Merino Wool
Archer is raising the bar for sustainable men's trousers with their Super 120s Merino Wool Dress Pant. This luxurious Italian high twist merino wool gabardine offers unsurpassed comfort, versatility, and style.
The Super 120s Merino Wool Dress Pant is Archer's signature performance-inspired dress pant. Boasting sartorial details inside and out that are both beautiful and durable. The subtle luster inherent in superfine gabardine twills offers an elegant, sophisticated look, ideals for the modern gentleman.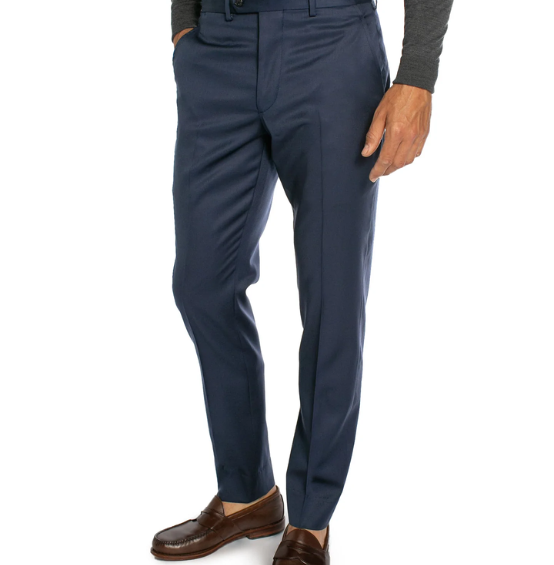 Price
: $275
Materials:
Cotton
Men who simplify their style have a greater opportunity to connect across generations and worldviews, establish a more relatable presence, and better position themselves in the workplace.
Todd Shelton helps men of all ages stay current and maintain a consistent, professional identity through clothing. By leveraging timeless style and minimal design, Todd Shelton transforms your wardrobe into a cohesive team of garments that work together – all while maintaining the highest ethical and eco-conscious standards during production.
Their flagship product, the Original Jeans, is the embodiment of everything this brand stands for.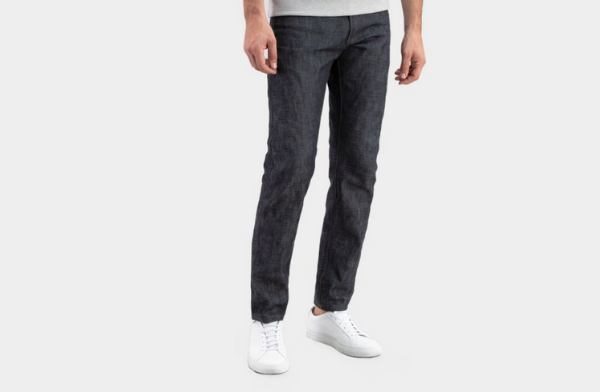 Price
: $88
Materials:
Cotton
United By Blue's commitment to using sustainable materials is proof that you can create a great-fitting, long-lasting product with the exclusive use of materials that are environmentally and ethically sourced. And their Organic Dyed Chino pants are as good to wear as they are for the environment – trust us: that's saying a lot.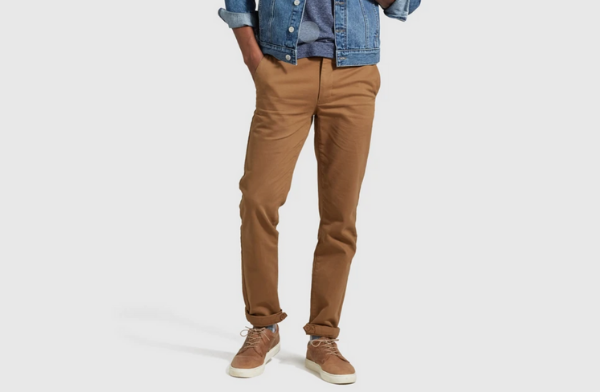 Lean Dean Jeans
$280
Nudie Jeans believes that the most ecological way to live would be if we all went naked, cultivated our own food, and asked our gut for advice instead of a Silicon Valley-based oracle. But their environmental policy doesn't reach that far. After all, they make jeans – advocating for not wearing pants would be a bad business model.
So, instead, they manufacture their products out of 100% organic cotton in a fair and ethical way. Plus, their jeans are not designed to be used a few times and then thrown away – they cherish the well-worn and mended jeans that become a part of anyone who wears them for a long enough time.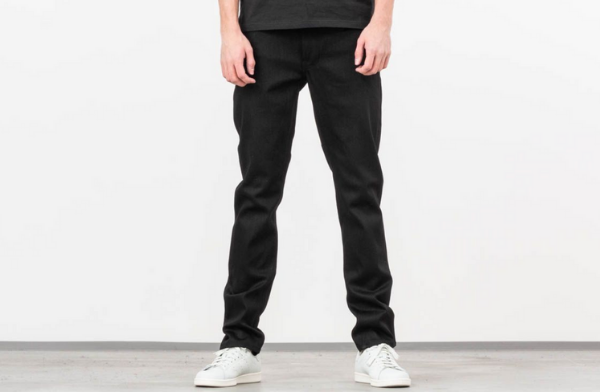 There you have it! 13 sustainable men's chinos and trousers that you're sure to love! Sustainable fashion shouldn't be hard, yet we know shopping sustainably can be overwhelming at times. One article at a time, we hope to make it a bit easier! Discover a full list of sustainable menswear brands here.
Want to talk more about eco-friendly fashion or anything else on your mind? Get in touch! We love to talk about all things indie garb-related!
If you liked this article and want to find out more coverage on these brands be sure to follow us on all social networks. Not seeing a brand and think it deserves the spotlight, DM us on Instagram and we'll see if we should update the list.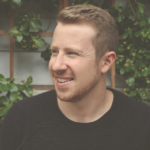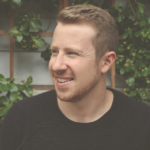 About Author
Brandon
Owner of IndieGetup, the premier sustainable marketplace for men to shop ethically.