9 Of The Best Polyester Free & Organic Underwear for Men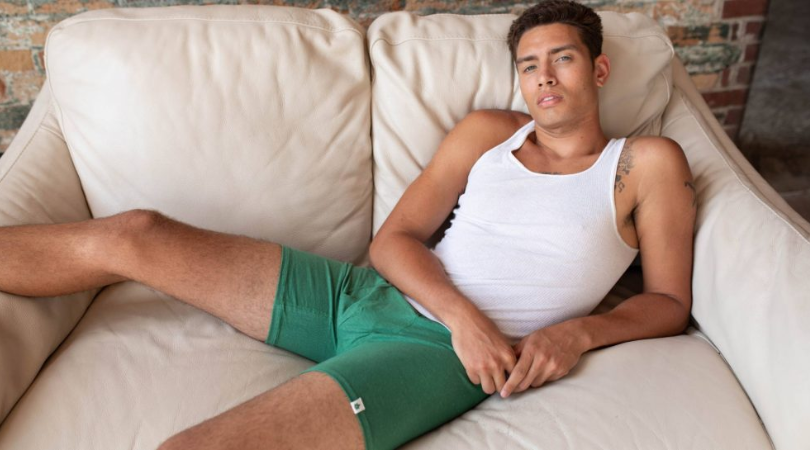 It's no secret that the quest to find the best polyester-free underwear for men is not nearly as exciting as scoring the most stylish V-neck shirts, winter coats or even backpacks. Nonetheless, these under-the-radar, hip-hugging essentials are destined to be with you (or, on you to be more precise) 24/7. So it's safe to say that they are the one true investment that almost always takes the back seat. Sure, opting for $5 undies might seem like a deal at first, but, in reality, these cheaply-made briefs aren't worth the risk.
Unlike the best organic underwear for men, polyester can cause rashes, itching, eczema, dermatitis, blistering, and many more skin issues. On top of that a study found that, among men who wore 100% polyester and a poly/cotton blend, sexual desire and activity were "significantly reduced." If all the aforementioned reasons weren't enough to convince you to switch to natural men's underwear, hear this; polyester does not biodegrade which means that it stays in the landfill for potentially hundreds of years.
Don't fret! We made a list of the best polyester-free underwear for men who want to reap the antimicrobial and odor-resistant benefits of natural materials, ahead.
Best Polyester Free & Organic Underwear Men Wear On-Repeat
1. Organic Signatures Boxer Briefs & Shorts
Price:
$49.99
Sustainable Materials: 
 100% organic cotton
Organic Signature's options run the gamut from soft men's boxer briefs underwear to organic cotton boxer shorts equipped with ethically made waistbands for extreme comfort.  The brand focuses on creating snug fit, low-rise waist organic underwear for me with a supremely functional vertical fly for guaranteed shrink-resistance.Plus, you can also find an array of other wardrobe staples like tank tops and crewnecks all made with the same earth-friendly materials.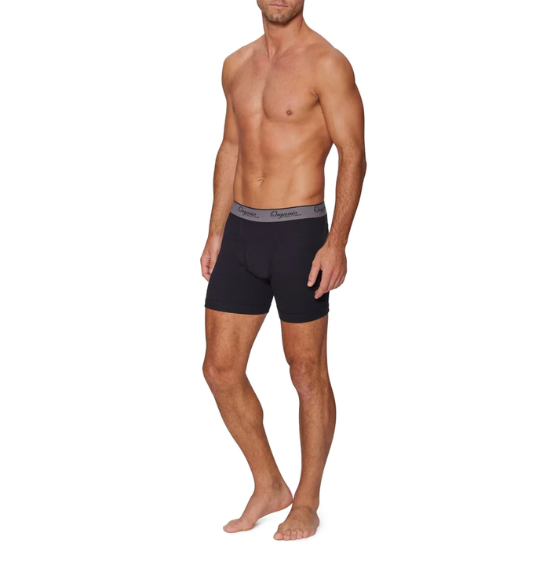 Price:
$24
Sustainable Materials: 
 65% TENCEL™ Lyocell, 28% Merino Wool, and 7% Spandex.
Granted, when you think of the best organic underwear for men, wool might not be the first material that comes to your mind — till now! Allbirds' Trino boxer briefs line offers combines some of the most beloved sustainable materials: TENCEL™ Lyocell, and merino wool, plus a hint of spandex for extra stretch. Aside from the s silky-soft seams, this polyester-free underwear for men are also known for being moisture-wicking and extremely odor-resistant! On top of that, they come with a surprisingly low carbon footprint of 3.38 kg CO2e and they are only $24!
Price:
$45 – $48
Sustainable Materials:
Wool, Nylon, and Spandex
Touted as one of the best Merino wool brands of 2023, WoolX offers a wide range of organic underwear for men who cherish comfort above all else. Aside from being extremely breathable, temperature regulating and moisture wicking, the boxer shorts, and briefs are also equipped with a no-roll waistband. The materials of choice? Non-Mulesed, Woolmark® Certified wool,  Nylon, and Spandex for some extra stretch. What's more, every Woolx purchase is backed by their money back guarantee!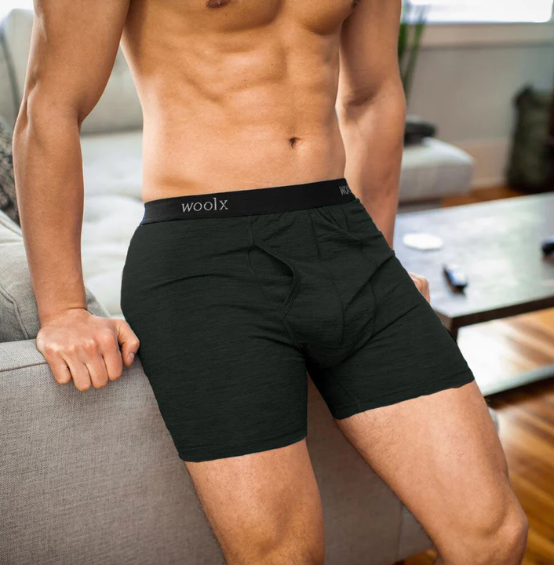 Price:
$45
Sustainable Materials:
 84% Merino wool, 12% nylon and 4% spandex
Unbound Merino is one of our favorite sustainable men's underwear brands on the eco market! Their boxer briefs are made from ultra-fine, Woolmark® certified Merino wool which is also reinforced with extra durable stitching to keep you warm and comfy all-day-long. Wool is a stellar temperature regulator with many added benefits such as wrinkle and odor resistance.
Last but not least, the brand went out of their way to ensure both the RWS and the WRAP certifications. This means that the raw materials are sourced and produced ethically while the brand adheres to the welfare of the sheep and their land.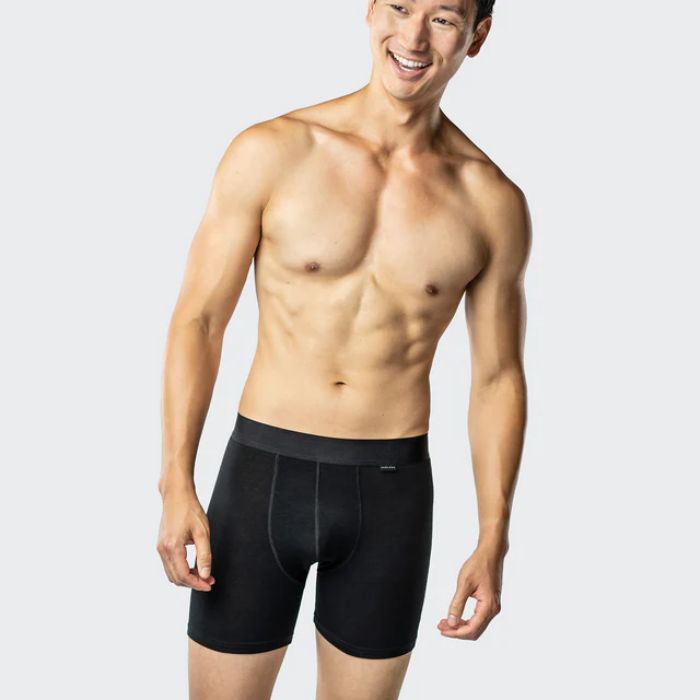 Price:
$28 – $32
Sustainable Materials:
 94% TENCEL™ Lyocell, 6% Elastane
Toad & Co is lauded as one of the best ethical clothing brands for sustainably-made sweaters, wear-me-everywhere pants, t-shirts, and, of course, polyester-free underwear men buy on-repeat. They specialize in utterly colorful and fun boxer briefs and trunks for everyone who wants to add some sparkle to their top drawer. Think blue van prints, plaid, forest prints, and so many more options!
As for their eco materials, they opt for Tencel – eucalyptus wood pulp-based fiber that's processed in a closed-loop system. Soft, naturally antimicrobial, and odor-resistant, their wide range of polyester-free underwear for men are practically a steal — most are under $28! And when your undies reach the end of their life circle, you can send them back to be recycled through thredUP and score some amazing credits for your effort.
Price:
$35
Sustainable Materials:
TENCEL Lyocell, Organic cotton
Tentree needs no introductions. From sustainable t-shirts and  flannels to organic underwear for men, the options are all in your favor. Incredibly soft and majorly comfy, the brand's slim-fit boxer briefs are made from TENCEL™ Lyocell and organic cotton.
The result? A ridiculously easy-to-wear medium 4-way stretch knit fabric that is as good for your body as they are for the earth. The sustainable fashion brand also uses a slew of innovative ways to enhance the circularity and traceability of their products —including recycling and resale programs to blockchain-based fiber tracing software. Plus, With every purchase they plant ten trees, so your decisions make difference.
Price:
$35 
Sustainable Materials:
95% organic cotton, 5% elastane
Asket's organic men's clothing are certainly timeless, but their sartorial appeal is not the only thing that makes them stand out. The brand's ethically manufactured pieces are fully traceable! This includes Asket's collection of polyester-free underwear for men, of course. Available in 4 colors, these natural undies are spun and woven from certified organic cotton to create the ultimate snug-yet-flexible fit. Soft, breathable, durable, and ethical —what more can we ask from the perfect pair of organic cotton men's underwear?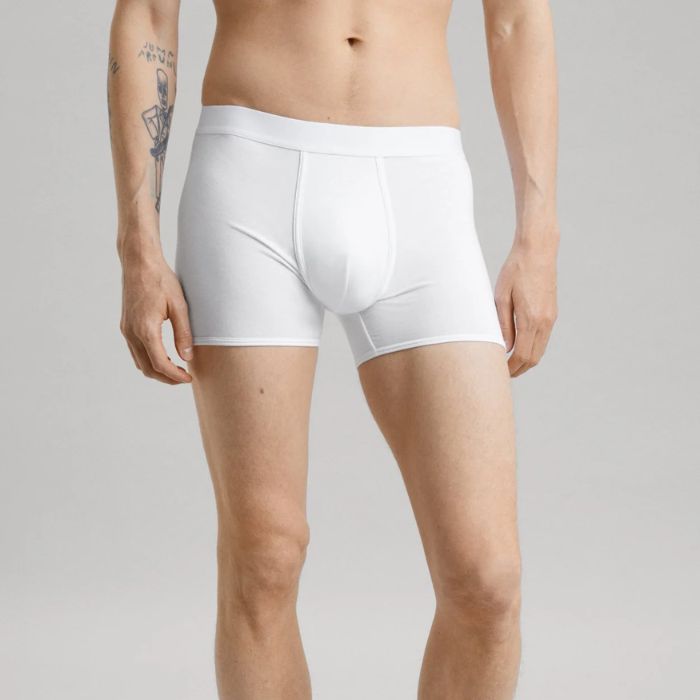 Price:
 $50-$65
Sustainable Materials:
 GOTS-certified organic
Organic Basics is very aware that the fashion industry is a very "dirty place" and thus they've created a fantastic line of activewear, everyday essentials, and organic underwear for men who cherish comfort and sustainability above everything else. Currently, there are 20 different styles to choose from! Every pair is made fairly in Europe using either GOTS organic cotton or Tencel; both are PETA Vegan Approved. Also, the brand uses renewable energy in its supply chain to reduce its climate impact; Even their online store prevents 70% of the carbon emissions. As for their aesthetic, it's pretty minimal with mostly white and neutral tones, so don't expect flashy colors and prints — we have Toad & Co for that!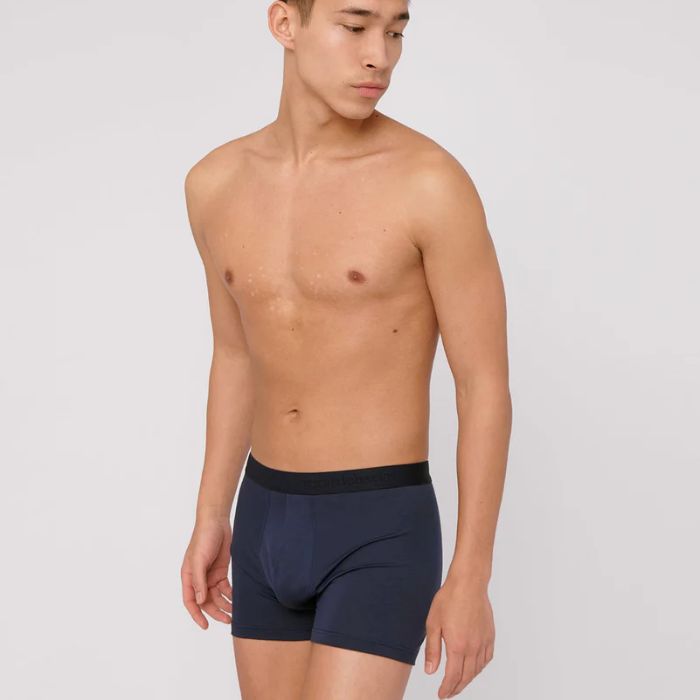 Price:
$28 
Sustainable Materials:
53% hemp; 44% organic cotton; 3% spandex
As soon as you hop into WAMA'S best polyester-free underwear for men you will refuse to wear anything but hemp for the rest of your life! The sustainable brand's line is made from the ultimate blend of organic cotton and hemp with carries anti-bacterial benefits. On top of that, these organic cotton men's underwear are breathable and durable —not to mention very size-inclusive.
You also can opt for splurge-worthy packs to score your favorite trunks, briefs, and boxers in 1 of the 7 amazon colors. But before you do, take a look at WAMA's Supply Chain to better understand why they are a Certified Green America Business and PETA-Approved Vegan brand.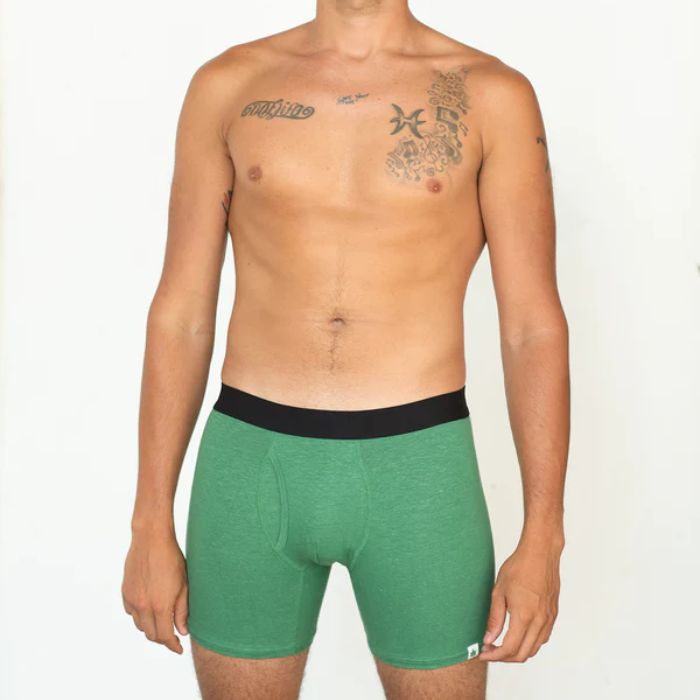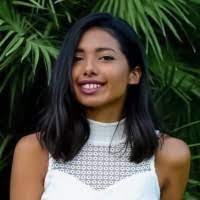 About Author
Konstantina Antoniadou
Freelance sustainability and fashion writer with an ongoing curiosity to explore new innovative technologies, and report on trends in "green" industries.